<! cd = 04/22/12 > <! MP3 04/22/12 > <! pix 04/22/12 > <! ALLBM 04/22/12 - no listing > <! icons 04/22/12 > <! UPDATES: 04/22/12 - posted >

---
Singer/composer/guitarist Tuca (b. Valeniza Zagni da Silva) is one of the lesser-known Brazilian performers of the tropicalia era... She recorded only three albums and a handful of singles, and died young in 1977. I learned about her while delving into French pop music when I found mention of her playing guitar on some records by '60s/70s ie-ie artists: Tuca left Brazil for several years and lived in France. Although she didn't release many records during this period, she apparently still made the scene and hung out with super-cool folks like Francoise Hardy, with whom she co-wrote and recorded the album La Question. Not bad for a homegirl from South America. Tuca recorded one album in France (the fascinating Dracula, I Love You) and eventually returned to Brazil. Tragically, she died young from a stroke, apparently the result of a radical weight loss program. Although none of her records have been reissued on CD, they are highly regarded and sought after by fans, while several of her collaborations with other artists can still be found, and are listed here as well.


<! Tuca is an almost forgotten about Brazilian singer from the late 60's to 70's, Also a composer, Tuca's first relevant appearence on Brazilian media was with Airto Moreira in 1966 at the Festival Nacional de Musica Popular - TV excelsior, they won the first price with the song Porta Estandarte. With only a hand full of albums, my sources say three, she started off as a traditional type brazilian vocalist somewhat remenicent of early Nara Lečo on her first two releases. After her second LP Tuca moved to France in 1968 but returned to Brazil in 1975. Upon her return she recorded her final release, Dracula I love you. On this amazing recording she not only developed her own singing style, but dove far more into the realm of Tropicalismo and experimentation. The result is a fantastic blend of soul, jazz, tropicalia and avant garde creating one of the most unique albums I have personally heard. Sadly, after 'Dracula I Love You' in 1977 Tuca passed away at only 34 years old due to a stroke. ************** Tuca put out a couple of records in Brazil in the sixties but then decamped to France, fleeing the dictatorship that took particular trouble to crack down on the nation's artists. In one year (1971) she arranged and played on two records I would take with me to that mythical desert island... Nara Lečo's Dez AĖos Depois (a two-record set of Jobim songs) and Franćoise Hardy's La Question (Tuca is also credited as a co-writer on this, Hardy's best record). > <! Uma artista Brasileira quase desconhecida e muitas vezes esquecida é a compositora e cantora Tuca, nome verdadeiro Valeniza Zagni da Silva. Tuca nasceu 17/10/1944 em Sčo Paulo. Formou-se em música erudita pelo Conservatório Paulista no ano de 1957. A primeira gravaćčo de uma canćčo de sua autoría em disco foi "Homem de Verdade", cantado pela cantora Ana Lúcia, no ano 1962. Na decada de 1960 Tuca participou de muitos festivais. No Festival Nacional de Música Popular da TV Excelsior (SP) em 1966, ficou em primeiro lugar cantando com Airto Moreira a música "Porta Estandarte" de Geraldo Vandré e Fernando lona. Tambem em 1966 participou do I Festival Internacional da Canćčo da TV Rio, apresentando "Cavaleiro", de sua autoria e Geraldo Vandré, classificada em 2ľ lugar na fase nacional do festival. Neste mesmo ano lanćou tambem seu primeiro LP com titulo "Meu Eu" >

---
Discography
---
Tuca "Meu, Eu" (Chantacler, 1966?)
A fascinating and impressive debut, with Tuca striking off in two directions at once, playing delicate and dexterous bossa nova guitar while simultaneously belting out her vocals in a Maria Bethania-like style. She was a triple-threat artist, though, composing many of these songs herself... Her husky voice was, I suppose, her Achilles heel -- it really is a bit much, although it's also her most distinctive point: hard to mistake her in a crowd. The sometimes-slinky, sometimes brassy arrangements -- apparently by Erlon Chaves -- take a sort of modernist-orchestral twist and it's hard to say whether they compete more with her, or her with them. Often, Tuca seems poorly miked, and blasts past the orchestra, calling attention to her roughness as a performer. This is a technically flawed album, but also quite striking and certainly worth tracking down. Who knows? Maybe the powers that be will dig this stuff up from the vaults and put it on CD someday. Let's hope so,


<! zecalouro could not check but it is supposed to be an obscure and mysterious Tuca Debut LP from 1966, Meu Eu, arranged by Erlon Chaves. (Chantacler? 1966?) 01 - Curtinha Nr 2 02 - Refrao Guerra e Paz 03 - A Estrada 04 - Medieval - Neo-Classica 05 - Yemanja 06 - Aconteceu de Repente 07 - Terra Triste 08 - Xango, Meu Santo e Forte 09 - Amor e Morte de Um Soldadinho de Chumbo 10 - Meio Sertao Andei 11 - Simplicidade 12 - Cirandando Neo-Classica This is the debut LP of an almost unknown Brazilian singer from the late 60's to 70's, Also a composer, Tuca's first relevant appearence on Brazilian media was with Airto Moreira in 1966 at the Festival Nacional de Musica Popular - TV excelsior, they won the first price with the song Porta Estandarte. >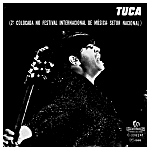 Tuca "2nd Colocada No Festival Internacional De Musica: Setor Nacional" (Chantacler, 1966)
This single, presumably capitalizing on her prize-winning performance at a different songwriting festival, features two tracks, inlcuding "O Calvaleiro," which was co-written with Geraldo Vandre, backed with "Cirandando," which also appears on her Meu, Eu album. <! Cirandando composed along with Consuelo De Castro. >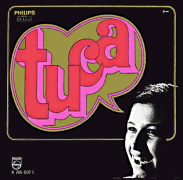 Tuca "Eu, Tuca" (Philips, 1968)
Here, Tuca is solidly enveloped in the Philips label's elegant house style -- tasteful arrangements, with well-balanced orchestrations that provide strong accompaniment and perfectly frame her vocals. She still sounds tentative, but the music is solid and quite listenable. Only about half the songs were written or co-written by Tuca, with other including oldies by Ataulfo Alves and newer material from the likes of Roberto Quartin and Mario de Castro... Interestingly, she never seems to have recorded a version of the song, "Porta Estandarte," with which she and Airto Moreira won first place in a 1966 song festival. Wonder why. Anyway, this is a nice album, the most consistent and accessible of her recordings, and definitely worth tracking down.


<! This is the debut LP of an almost unknown Brazilian singer from the late 60's to 70's, Also a composer, Tuca's first relevant appearence on Brazilian media was with Airto Moreira in 1966 at the Festival Nacional de Musica Popular - TV Excelsior, they won the first price with the song Porta Estandarte. At this same year, Tuca released this first LP - Tuca - Eu, Tuca (1968), with some of her compositions. Tuca left Brazil for a six-year hiatus in Paris, returning in 1975 to release her second and last LP. Tuca passed very young at the age of 34 with a stroke in 1977. Track list includes: 01 - Atire a Primeira Pedra (Ataulfo Alves - Mario Lago) 02 - Cuidado, Malandro (Velha - Matias de Freitas) 03 - O Cavaleiro e a Virgem (Tuca) 04 - Frevo (Tuca) 05 - Seresta (Joaquim Vaz de Carvalho - Roberto Quartin) 06 - Nao Fale Alto, Fale Baixo (Eli Halfoum) 07 - Verde (Antonio Carlos Duncan - Mario de Castro) 08 - O Cavaleiro Das Maos Tao Frias (Tuca - Consuelo de Castro) 09 - Curare (Bororo) 10 - Passarinho da Lagoa (Fernando Lobo - Evaldo Ruy) 11 - Ate Quarta - Feira / Carnaval Pra Valer (H. Silva - Paulo Satte / Miguel Gustavo) 12 - Abstrato N. 1 (Tuca - Zeka) >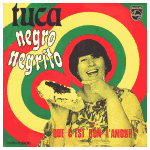 Tuca "Negro Negrito/Que C'Est Bon L'Amour" (Philips, 1970)
Apparently she did make at least one single while living in France, having one-foot-in-and-one-foot-out with one song in French and the other in Portuguese. Haven't heard it, but I sure am curious.


<! 150 x 150 > <! (Groovy album art, too, undercut only by the happy image of her holding up a huge slice of pie when, sadly, her premature death came as a result of a radical diet plan. Sigh.) >

Tuca "Xango/Umbanda" (Philips)
Not sure about the release date, but from the "et" between song titles, I'm pretty sure this single was recorded during her years in France...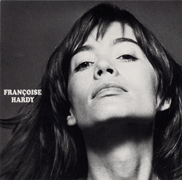 Francoise Hardy "La Question" (Sonopresse, 1971)



Dreamy and languid, with Francoise softly ululating to the sparing accompaniment of a flamenco-tinged guitar and delicate string section. Tuca co-produced and performs on this album, which is quite lovely, and said to be one of Hardy's personal favorites. Especially fun are the tracks where Hardy and the guitar "accidentally" fall out of synch with each other... a gentle jarring of a genteel sound. Highly recommended!

Nara Leao "Dez Anos Depois" (Philips, 1971)


Beautiful. On the face of it, this 2-LP collection is just all the same-old, same-old bossa nova classics, except that Leao manages to place a very distinctive stamp on each song, and make them sound bright, fresh and new. Perhaps is has something to do with the sessions recorded in France -- a euro-chanson sensibility, perhaps? At any rate, the spare arrangements and distinctive acoustic accompaniment by guitarist Tuca make this one of the best latter-day bossa nova records out there. If perhaps you've ever wearied of hearing the same damn Jobim songs over and over, give this album a try... it may make the classics seems fresh again!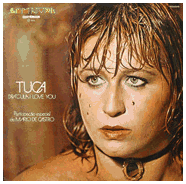 Tuca "Dracula, I Love You" (Som Livre, 1974)
(Produced by Tuca & Mario De Castro)
(Arrangements by Christian Chevalier & Francois Cahen & Tuca)
Awesome album title. Her last record, produced in France, was a pretty trippy disc, reflecting the eclectic vibe of the early '70s while making the most of the orchestral sleekness and precision of her Gallic hosts. On the front and back covers, Tuca is made up in Hammer horror-movie glam, and the record is about as weird inside as out... Her voice is as husky as ever, but finds a nice match with the swelling, sometimes challenging arrangements, sophisticated stuff but also with touches of the avantnik tone of Brazilian tropicalia ala Rogerio Duprat. I've only heard this one in bits and pieces, but I'd say it's probably her most accessible album and certainly the most in need of CD reissue. C'mon, powers that be, what are you waiting for?


<! Recorded in France? 01 - Girl 02 - Lastima 03 - Pra Voce com Amor 04 - Sorvete 05 - Oui, Je Suis Hereuse 06 - Dracula I Love You 07 - Ilha do Quartzo Azul 08 - Teia Viva 09 - 827 10 - Tempo Glacial 11 - O Canto do Cisne Negro >

---
Links
---
---



---