<! MP3 09/25/08, 02/17/11 > <! update 09/25/08 > <! pix > <! icons 02/17/11 >

---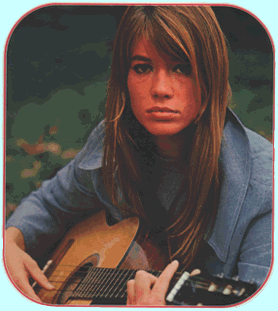 One of the most striking French singers of the 1960s, Francoise Hardy is considered part of the bubblegummy ye-ye scene, though her moody, elegant records are not as bouncy or perky as the more prefab female singers, such as France Gall or Brigitte Bardot. Besides being incredibly cool, Hardy is notable for being the first French "girl" singer to write and record her own songs, rather than music given to her by a producer. Her folk-rock take on the chanson tradition is marvelously alluring and warm. Hardy married psych-pop rocker Jacques Dutronc, a pop match made in heaven.
Francoise recorded sporadically during the 1990s, appearing mostly on compilation tracks, or as a guest on other folks' records. Her most recent collaboration was the track, "Jeanne," a guest vocal on a CD-single by the French pop-electronica band, Air.
---
Discography
---

Francoise Hardy "Touts Les Garcons Et Les Filles" (Vogue Disques, 1962)


Could she be any more adorable? A wonderful debut, even if it is a bit subdued and staid, in the then-typical chanson pop style. It took her a little while to bust out of the box, but still, there's nothing to complain about here. Check it out!

Francoise Hardy "Le Premier Bonheur Du Jour" (Vogue, 1963)
More pretty ballads, with crafty quotes of 'Fifties rock riffs... Never fear, though, Hardy is far above the normal path of lame French rock imitation... and this is quite lovely.
Francoise Hardy "Italian Songs" (Vogue, 1963)

Francoise Hardy "Mon Amie La Rose" (Vogue, 1964)

Francoise Hardy "L'Amitie" (Vogue, 1965)


Francoise Hardy "The Yeh-Yeh Girl From Paris" (Four Corners, 1965)


For decades, this was the most common Francoise Hardy album in America, an American reissue of some of her best early work on the Vogue label. Includes hits such as "Touts Les Garcons et Les Filles"... and that classic picture of Francoise on the cover! Recommended!
Francoise Hardy "Francoise Hardy In Germany" (Bellophon, 1965)

Francoise Hardy "La Maison Ou J'ai Grandi" (Vogue, 1966)

Francoise Hardy "Francoise Hardy In English" (Vogue, 1966)

Francoise Hardy "Ma Jeunesse Fout Le Camp" (Vogue, 1967)



Francoise Hardy "Comment Te Dire Adieu" (Vogue, 1968)



Beautiful, lavishly produced ballads, with lush strings and typically seductive vocals. Highly recommended -- this one's a doozy.
Francoise Hardy "Francoise Hardy En Anglais" (Vogue, 1969)

Francoise Hardy "Germinal" (Sonopresse, 1970)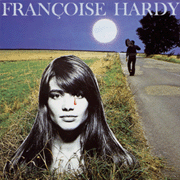 Francoise Hardy "Soleil" (Sonopresse, 1970)



A beautiful, immaculately orchestrated album with considerable input from guitarist Micky Jones and drummer Tommy Baker, who helped arrange and produce the album. It's filled with typical Hardy-ian nods towards '50s era rock, along with a far-ranging yet cohesive sample of early '70s rock style. Even with nods towards various rock and pop forerunners, this was a forward-reaching album, on a par with any other brilliant example of the eclectism that marked the best albums of the era. Historically-minded electronic and ambient music fans might want to check this out for the subtle keyboards that fill the album's soundscape, particularly the spectral keyboards on songs such as "Le Crabe," which are practically a direct swipe from Rod Argent's visionary work on the Zombie's Odyssey And Oracle. Hardy wrote only about half the songs on here, but all the music is in keeping with her personal style. Recommended!
Francoise Hardy "One-Nine-Seven-Zero" (United Artists, 1970)

Francoise Hardy "Traume" (Philips, 1970)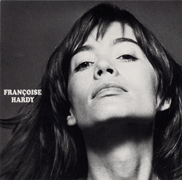 Francoise Hardy "La Question" (Sonopresse, 1971)



Dreamy and languid, with Francoise softly ululating to the sparing accompaniment of a flamenco-tinged guitar and delicate string section. Co-produced by Brazilian guitarist/arranger Tuca (who later worked with ex-Mutante, Rita Lee...), this is quite a lovely little album, and is said to be one of Hardy's personal favorites. Especially fun are the tracks where Hardy and the guitar "accidentally" fall out of synch with each other... a gentle jarring of a genteel sound. Highly recommended!
Francoise Hardy "L'Eclairage" (Sonopresse, 1971)


Francoise Hardy "If You Listen" (Virgin, 1972)



An English-language album featuring material by Neil Young and Randy Newman, among others... Much of it sounds a bit stilted (though not unlike Mary Hopkin or Marianne Faithfull's early work...) with Hardy's voice sounding unconfident and thinner than usual, while she hits the wrong stresses on, oh, so many lines. Still, for folks who are drawn to vintage "space-folk" psychedelic pop, this is certainly a noteworthy release. Two tracks stand out in purely musical terms: Hardy's own "Bržlure" (which is sung in French), the dreamy "Take My Hand For A While" (a cover of a Buffy Sainte-Marie song) and "Bown Bown Bown" (which she also recorded in French, on another album...) Echoes abound of early Pink Floyd or Nick Drake, or any number of English psychedelic folksters -- indeed, she even covers a Beverly Martyn tune, as well as several even greater obscurities. Although I can't honestly say this is an album I would listen to all the way through for recreational purposes, it definitely has its charms, and a few of the songs are as good as anything else in the genre. Worth checking out, although she certainly sounded much more at ease while singing in French.

Francoise Hardy "Et Si Je Mi'en Vais Avant Toi" (Hypnotam, 1972)



Hanging out in London for a while, Francoise gets a healthy dose of subtle, Richard Thompson influenced folk-rock, along with a glimmer of early glam, and an ironic echo of '50s-era rock. This is a mellow, but beautifully layered album, which combines her clear direction as an auteur with the best that the Brits had to offer at the time. Recommended! (I've also seen this listed as L'Eclairage, after the first song on the album...)
Francoise Hardy "Love Songs" (CBS, 1972)

Francoise Hardy "Message Personnel" (Warner, 1973)


Francoise Hardy "Entr'acte" (Warner, 1974)

Francoise Hardy "Star" (EMI, 1977)

Francoise Hardy "J'Ecoute De La Musique Saoule" (EMI, 1978)


Francoise Hardy "Gin Tonic" (EMI, 1978)


Various Artists "Emilie Jolie: Un Conte Musical De Philippe Chatel" (RCA, 1979)


Francoise appears on two songs and in a brief speaking role as The Sorceress, in this unusual children's record. This also features French heavyweights such as George Brassens, Julien Clerc, Sylvie Vartan, Yves Simon, Eddy Mitchell and others. This project is well-conceived and pretty entertaining - the story of a little girl on an Alice-like magical adventure. Hardy's songs are "Chanson de Sorciere" and "Chanson Du Debut De La Fin," and the musical numbers actually hold their own.
Francoise Hardy "Tamalou/A Suivre" (Flarenasch, 1981)


Apparently this new wave-oriented album has been issued under two different names... Features arrangements by Gabriel Yared.
Francoise Hardy "Tirez Pas Sur L'Ambulance" (Flarenasch, 1982)


Francoise Hardy "Decalages" (Flarenasch, 1988)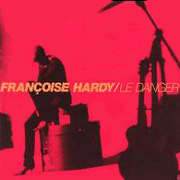 Francoise Hardy "Le Danger" (Virgin, 1996)



Hardy's return to the studio after an eight-year hiatus. It's perhaps-not-too-surprisingly strong release, which sounds very similar to Marianne Faithfull's later work (an irony, since Faithfull started out her career desperate to sound like Francoise...) Slick, glossy production but with rough-enough edges to keep your interest... Well worth checking out!
Francoise Hardy "Clair-Obscur" (Virgin, 1997/2000)



A classy, reserved album, which shies away from the rock-isms of Le Danger, preferring instead a sleek middleground between the chanson balladry of her youth, the '90s trip-hop, and good old-fashioned Tin Pan Alley standards. It's pretty nice. Guest singers include Jacques Dutronc, Etienne Daho and Iggy Pop (in a particularly beguiling English-language rendition of "I'll Be Seeing You"...) Also included playing guitar on several tracks is her son and heir apparent, Thomas Dutronc. Picky listeners could find fault with this record, but the rest of us could also find ourselves falling in love with it for a while.

Francoise Hardy "Tant De Belles Choses" (EMI, 2004)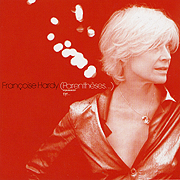 Francoise Hardy "(Parentheses)" (Virgin, 2007)



Wow... what a nice record. Pushing close to 64, Madame Hardy still sounds amazingly good. She has the gorgeous, crystalline voice of her youth, when she wants it, although, she also can summon a soulful, resonant raspiness that shows her maturity in full flower, a true, genuine expression of the world-weariness she sought to project in her youth. This laid-back, multi-textured set of electronia-drenched duets is one of the finest, most accessible albums of her entire career, featuring one stunning, lulling down-tempo gem after another. Working with the cream of the French indie-cabaret scene (Benjamin Biolay, Arthur H and others) as well as actors (Alain Delon and her own hubby, Jacques Dutronc), fellow rockers such as Alain Bashung and jazz old-timers like Henri Salvador, Hardy has created a masterpiece. If you thought other recent "comeback" albums such as Le Danger and Clair Obscur were good, check this one out: it's stunning. I could listen to it for day on end... and did!
---
Best Ofs
---
Francoise Hardy "L'Integrale Disques Vogue: 1962-1967" (Vogue-France, 1995)
A luscious 4-CD collection that spans her peak years, from 1962-1967. As is often the case with expensive box sets, you may find it more satisfying to check out the entire, original albums instead. Fortunately, many of Hardy's earliest and best albums have been reissued on CD in recent years, and are available at reasonable prices. But if you can spring for this, it's stellar from start to finish. However, beware of the fragile packaging.
Francoise Hardy/Jacques Dutronc "Le Meilleur Des Deux" (Vogue)


An incredibly overpriced import CD that is really a dual best-of, rather than a duets collection. Considering how many Francoise Hardy CDs are out on the market, you're probably better off keeping these two separate -- get whatever you like by her, and keep an eye out for the Dutronc discs, solo.
Francoise Hardy "Les Annees Des Flarenasch" (Sony, 1995)


An overview of Hardy's 1980s work on the Flarenasch label.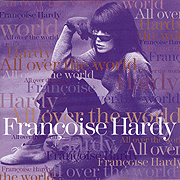 Francoise Hardy "All Over The World" (BMG, 1995)


She recorded a bunch of non-French language material aimed at various foreign markets: Italy, Germany, England and the U.S... and here's the definitive collection of that work. Many of the tracks are new versions of her French hits, often with radically different arrangements. Fun stuff - definitely worth checking out!
Francoise Hardy "The Vogue Years" (Vogue, 2001)


An excellent 2-CD overview of Hardy's early years on the Vogue level. A compact, thoroughly enjoyable set of ye-ye material and lovely ballads.
Francoise Hardy "Le Temps Des Souvenirs" (EMI-France, 2005)


A swell 2-CD set of her later work on EMI and its affiliated labels, as well as some classic early work... Yummy!
Francoise Hardy "Essentials" (EMI, 2004)


---
Video
---
Francoise Hardy "Temps Des Souvenirs" (DVD) (Virgin-France, 2005)

---
Links
---
---



French Music Index
French Rock Albums



---