<! cd = 05/30/12 > <! MP3 00/00/00 > <! pix 00/00/00 > <! ALLBM 00/00/00 > <! icons 00/00/00 > <! UPDATES: 00/00/00 >

---
Pianist and composer Luis Carlos Vinhas was at the heart of Rio's bossa nova scene, as a ubiquitous sideman and as part of the Bossa Tres trio. Vinhas played bossa nova and MPB, and as a solo artist became of of Brazil's leading jazz musicians. Here's a quick look at his work...


<! Pianista carioca, comećou a tocar na noite no fim da década de 50, participando rapidamente do movimento da bossa nova. Integrou o conjunto Bossa Trźs ao lado do baterista Edison Machado e do baixista Tičo Neto, com quem gravou trźs discos nos Estados Unidos em 1962. De volta ao Brasil, continuou a se apresentar com o Bossa Trźs paralelamente a outros trabalhos, ao lado de Jorge Ben, Quarteto em Cy, Elis Regina e outros. Em 1968 lanćou "O Som Psicodélico de Luiz Carlos Vinhas", seu primeiro disco individual. Entre o fim da década de 60 e o início da seguinte, tocou no bar Flag, no Rio, onde aconteciam shows de jazz e canjas de cantoras do porte de Sarah Vaughan e Liza Minelli. Consagrado como pianista "da noite", trabalhou em diversas casas noturnas e gravou discos esporádicos, incluindo CDs na década de 90 ("Luiz Carlos Vinhas e a Bossa Nova", "Piano na Mangueira"). >

---
Discography
---

Lennie Dale & Bossa Tres "Um Show De Bossa Nova" (Elenco, 1964)


A capable -- though underwhelming -- cabaret crooner, American expatriate Lennie Dale was certainly in the right place at the right time, recording several albums with some of the top talent in the bossa-era nightclub scene. Dale sang in a Mel Torme style, mixing newly-minted bossa hits with a variety of American pop-jazz vocal tunes. Here, he's backed by the Bossa Tres jazz trio -- Luiz Carlos Vinhas (piano), Tiao Neto (bass) and Edison Machado (drums) -- who provide swinging accompaniment in a warm live setting... The nightclub crowd seems very receptive to his performance, and you can sense mutual goodwill emanating both ways between artist and audience. A nice document of the times, and a good chance to hear the Bossa Tres band in full swing.

Bossa Tres "Bossa Tres" (Audio Fidelity, 1963/Ubatuqui, 2000)


A good overview of this bossa-jazz trio's work from 1963-64, at the tail end of bossa's glory years. Pianist Luis Carlos Vinhas was a stalwart of the scene -- particularly as leader of the house band of the famed Bottles nightclub. These recordings are primarily a showcase for his playing; it's bouncy, breezy material somewhat along the lines of Vince Guaraldi's recordings on fantasy, with dips into North American pop instrumentals such as Clifford Brown's "Blues Walk" and Gigi Gryce's "Minority"... This is a great collection if you want to check out one of those much-revered early Brazilian jazz combos... Still, if the truth be told, although these guys were pretty swinging, they don't seem particularly nuanced -- after a handful of songs you've probably got the gist of what they had to offer. Worth checking into, but not completely earth-shaking.


<! 109 x 108 >

Bossa Tres "Bossa Tres & Jo Basile" (Audio Fidelity, 1962)

Bossa Tres "...E Seus Amigos" (Audio Fidelity, 1962)

Luiz Carlos Vinhas "Novas Estruturas" (Forma, 1964)

Bossa Tres "Bossa 3 Em Forma" (Forma, 1965)


Pery Ribero & Leny Andrade "Gemini V: Show Da Boite Porao 73" (Odeon, 1965)


This concert album documents the "Gemini V" concert series, staged in Sao Paulo in 1965 by songwriter Ronaldo Boscoli and impressario Luis Carlos Miele, which turned out to be one of the most popular bossa nova shows of its time. The music is fairly typical of bossa-jazz albums of the time, marked by a fairly plinky trio accompaniment (courtesy of Luiz Carlos Vinhas and Bossa Tres), with a brisk, cabaret-tinged feel to it. Can't say I care much for jazz singer Leny Andrade's husky vocal tone, and her emulation of Ella Fitzgerald is a little too obvious (and ineffective, given the musical limitations). The robust Ribeiro, on the other hand, comes off pretty well in a live, duet-vocals setting -- it pushes him a little further than on solo projects I've heard elsewhere, and the richness of his voice stands out. Again, this is pretty typical of its times, but real jazz fans may find it a bit limited, even if Bossa Tres are a bit more nuanced and harmonically rich than many of their jazz trio contemporaries. Besides... those live medleys always give me a bit of a sweet pain...
Bossa Tres "Os Reis Do Ritmo" (EMI-Odeon, 1966)

Bossa Tres & Pery Ribeiro "Encontro" (EMI-Odeon, 1966)

Bossa Tres "Bossa Tres" (EMI-Odeon, 1966)

Gemini V "No Mexico" (Odeon, 1967)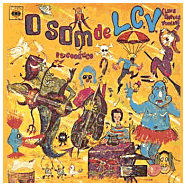 Luis Carlos Vinhas "O Som Psicodelico De Luis Carlos Vinhas" (CBS, 1968)
Some serious jazz, some lounge-y '60s pop kitsch and salsa-style Latin material, and not a lot of what I personally would call "psychedelic" music. About half the tracks are Vinhas originals, with some Brazilian samba and bossa oldies in the mix, along with several North American pop and jazz standards. A few cool tunes, but mostly I'd imagine this to be of interest primarily to kitschcore fans...


<! 02 - Tanganica (Luiz Carlos Vinhas) 03 - Yź-melź (Chico Feitosa, Luiz Carlos Vinhas) 04 - Zizź baiô (Chico Feitosa, Luiz Carlos Vinhas) 05 - Un jour Christine (Bruno Ferreira) 06 - Song for my father (Horace Silver) 07 - Chatanooga choo-choo (M. Gordon, H. Warren) Don't be that way (Goodman - Sampson - Parish) Tributo a Martin Luther King (Ronaldo Bôscoli - Wilson Simonal) 08 - Pourquoi (Caco Velho, Jadir Teixeira de Castro) Arrasta a sandália (Oswaldo Vasques - Aurelio Gomes) Morena, boca de ouro (Ary Barroso) Rosa morena (Dorival Caymmi) 09 - Birthday morning (Yester, Carmel) Can't take my eyes off you (B. Crewe - B. Glaudio) 10 - O diálogo (Chico Feitosa, Luiz Carlos Vinhas) >

Pery Ribero & Leny Andrade "Gemini -- Cinco Anos Depois" (EMI-Odeon, 1972)


A reunion show, marking the fifth anniversary of their well-recieved "Gemini" show...
Luis Carlos Vinhas "No Flag" (Odeon, 1970)

Luis Carlos Vinhas "Chovendo Na Roseira" (Tapecar, 1970) <! cassette? >

Luis Carlos Vinhas "Luis Carlos Vinhas" (Odeon, 1977)

Luis Carlos Vinhas "Baila Com Vinhas" (PolyGram, 1982)

Luis Carlos Vinhas "O Piano Magico De Luis Carlos Vinhas" (Som Livre, 1986)

Luis Carlos Vinhas "Piano Maravilhoso" (Som Livre, 1989)

Luis Carlos Vinhas "Vinhas E Bossa Nova" (CID, 1994)

Luis Carlos Vinhas "Piano Na Mangueira" (CID, 1997)

Bossa Tres & Wanda Sa "Wanda Sa E Bossa Tres" (Deckdisk, 2000)


Luis Carlos Vinhas "Um Piano Com Bossa" (CID, 2000) <! - this title w/ pic >

---
Links
---
---



---