<! cd = 02/20/14 > <! MP3 00/00/00 > <! outside 00/00/00 > <! pix 00/00/00 > <! 208-pix: 00/00/00 > <! styles: Hippiebilly > <! UPDATES: 03/11/14 - other Burrito albums? any best-ofs? >
---
Songwriter/guitarist John Beland is one of those guys whose career requires one of those hand-drawn flowcharts that map out the entire history of a musical genre... As a teenager enamored of country music, he hit the Los Angeles club scene in the mid-1960s and swiftly made his mark as a session player, bandleader and as a pioneer of the brand-new country-rock movement. Beland met fiddler Gib Guilbeau and formed the band Swampwater, which recorded two albums and worked as the back-up band for first Linda Ronstadt, then Arlo Guthrie; after Swampwater dissolved, Beland moved into support work for top artists such as Johnny Tllotson, Kris Kristofferson, Dolly Parton and finally as an arranger and guitarist for Ricky Nelson. In 1980, Guilbeau invited Beland to join the chronically capsizing Flying Burrito Brothers, and together they led the band through one of its most notable periods of commercial success... Here's a quick look at his work...


<! Any best-ofs? >

---
Discography - Albums
---
Swampwater "Swampwater" (King-Starday, 1970)



(Produced by John Wagner)
This album was recorded by country-rockers John Beland and Gib Guilbeau while they were working together as part of Linda Ronstadt's early backup band... It's an interesting example of early-vintage Southern California country-rock mixing with cajun country, with sort of a Doug Kershaw-meets-The Byrds vibe. The pop-rock production is a little on the light side, though the airy high harmonies are attractive -- sort of a bridge between the Hollies and the Eagles. There's also a relatively old-fashioned '60s folk vibe on several tracks... Several members of the band wound up working with Arlo Guthrie for a few years, while Beland and Gilbeau reunited years later in a commercially successful 1980's lineup of the Flying Burrito Brothers. But given that this album came out so early in the decade, it deserves its own special spot in the annals of country-rock. Certainly worth a spin!
Swampwater "Swampwater" (RCA, 1971)
(Produced by Larry Murray & Ken Mansfield)
The second Swampwater album gets lost in the shuffle a bit, but it featured a nice dose of the RCA studio sound, and rich contributions from guest musicians such as Herb Pedersen on banjo, steel guitarists Jimmy Day and Curly Chalker, and piano player Glen D. Hardin (who was later to join Elvis Presley's TCB band, an Emmylou Harris's Hot Band...) Quite a lineup! Around this same time the guys in Swampwater were trying to hustle up gigs anywhere they could, and worked as backup musicians on a bunch of budget-line albums. For more info about these records, check out the Gib Guilbeau discography site linked to below...


<! with: Gib Guilbeau, John Beland, Thad Maxwell, Stan Pratt Side one: Ooh-Wee California (Guilbeau) Headed for the country (Murray) Ol' papa Joe (Guilbeau) Mama Lou (Murray) A song I heard (Muehleison) One note man (Arnoldi) Side two: Back on the street again (Gillette) Dakota (Murray) Gentle ways of lovin' me (Guilbeau) Back porch harmony (Guilbeau) Medley: Swampdown (Trad. Arr.: Swampwater) The merry-go-round broke down (Friend/Franklin) >

John Beland "John Edward Beland" (Scepter, 1973) (LP)





<! with: John Beland, Sneaky Pete Kleinow, John Ware, John Selk, Paul Parrish Thad Maxwell, Alex DelZoppo, Joe Lamano, John Livigni, Johnny Tillotson. >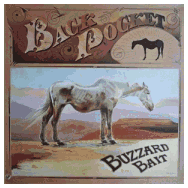 Back Pocket "Buzzard Bait" (Joyce Records, 1976) (LP)


(Produced by Pat Robinson & Pat Maroshek)
A one-off collaboration with various Southern California pickers, this band was led by songwriter Pat Robinson, who wrote all the material and sang lead in an amiable, lightly nasal twang that occasionally takes on a fragility that's suggestive of Neil Young. Also on board were the core members of the early '70s country-rock band, Swampwater -- guitarist John Beland, fiddler Gib Guilbeau and steel player Thad Maxwell -- as well as bluegrasser Larry McNeely picking banjo, and drummer Pat Maroshek, who I think was considered the band's co-leader with Robinson. The music is light, bouncy, bubblegummy country-rock material similar to some early Eagles recordings or the airier side of the Byrds -- kinda lightweight and lighthearted, but decent for the genre and a fine example of what the twangsters were up to at the time. This band never really went anywhere, but the album's worth checking out if you're a big fan of the late-vintage Burrito Brothers, or just SoCal country-rock in general. (And dig the so-very SoCal liner notes dedication to Scientology founder L. Ron Hubbard... groovy, man!!)
Swampwater "Reunion" (Appaloosa, 1987/Akarma, 2004)



A 1979 reunion gig which was recorded but left in the can for the better part of a decade... It was re-released in 2004 with two bonus tracks.


<! Note: 2004 Akarma Records released the "Reunion" album with two bonus tracks on CD. The bonus tracks are "You" (but that's the same song as "There'll never be no getting over you" which is already on the "Reunion" album - same version) and the second bonus track is "Cheatin' kind of love" which is released on the "Hollywood nights" CD. >

The Burrito Brothers "Hearts On The Line" (Curb, 1981) (LP)


(Produced by Michael Lloyd)
This was the first Burritos album to feature John Beland, Gib Guilbeau's songwriting partner and onetime bandmate from the group Swampwater...
The Burrito Brothers "Sunset Sundown" (Columbia, 1982) (LP)





<! probably others... http://www.burritobrother.com/beland6.htm >

Flying Burrito Brothers "Eye Of A Hurricane" (1994)


John Beland "Bare Bones" (2001)


(Produced by John Beland)

John Beland "The Very Best Of John Beland" (2002)


(Produced by John Beland)



<! lots of other self-released albums... >

---
Links
---
---