<! cd=03/30/05> <! MP3 04/10/09 > <! update 04/10/09 > <! outside 00/00/00 > <! pix 00/00/00 > <! 208-pix: 00/00/00 > <! icons 04/05/11 >
---
Suzy Bogguss is a Nashville artist that I really wish I liked better than I do... I love her voice and there are certain songs that really wow me... But when I really sat down and listened to all her records, I finally had to admit this just wasn't for me: she just isn't as down-home as I thought she was. Still, she's one of the more interesting female chart artists, and if you like Nanci Griffith or Mary Chapin Carpenter, you might wanna check Ms. Bogguss out as well...
---
Discography
---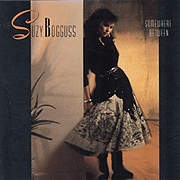 Suzy Bogguss "Somewhere Between" (Liberty, 1989)



(Produced by Wendy Waldman)
On her debut album, Suzy Bogguss made a convincing case as an oldies-oriented traditionalist, especially considering that her first few singles included such esoteric material as Patsy Montana's classic "I Wanna Be A Cowboy's Sweetheart" and a cover of an evergreen by 1930s big band leader Horace Heidt (which didn't make the cut for the LP release: track that collectable single down, kids!) Her giddy, western swingin' "I'm At Home On The Range" also has a bolt-from-the-blue quality to it... At about this point, you turn the album cover over and notice '70 LA pop-scenester Wendy Waldman listed as the album's producer and you think, "No! Really??" However, as Side Two kicks into gear, all becomes clear: suddenly some syrupy, overproduced pop-leaning stuff kicks in, and you realize you're in for more than just a cowgirl revivalist. The rest of her career follows this halfway in/halfway out pattern, offering a little for folkies, a little for fans of country-pop fusion as well, and maybe leaving both camps out in the cold from time to time. But this certainly is one of her most overtly roots-oriented albums, at least for the first half. Worth checking out!
Suzy Bogguss "Moment Of Truth" (Liberty, 1990)



Suzy Bogguss "Aces" (Capitol, 1991)



Her fans love this album, but I'm a bit skeptical. The impulse to contrast Bogguss to Nanci Griffith comes to the fore with this album's opener, "Outbound Plane," an upbeat tune Nanci recorded in 1988, and the comparison echoes throughout the rest of the album. Basically, Bogguss takes Griffith's folk-and-country-meet-adult-pop formula and makes it even drippier and more torpid. Nanci has a certain lilt, or personal sparkle that the overly serious Bogguss seems to lack. This album, in particular, is a bit unctuous and twee... A couple of songs are okay, such as her version of Ian Tyson's "Someday Soon," though most of the tracks are really cloying and overwrought. The second half of the album is particularly hard to listen to; the last six songs literally make me cringe when I listen to them, with the overwrought, stuffy arrangements, and Bogguss's bland, reserved, overly arty delivery. This one rates as skippable in my book; way too tame.

Suzy Bogguss "Voices In The Wind" (Liberty, 1992)



Although this album is much more vigorous than Aces, it still retains a certain overly-sculpted feel... all those echoing, shimmery guitars and smooth keyboard fills are a bit off-putting. But it's much more listenable than its predecessor, and I suppose it's one of ber better albums. Really, if you can get past the gloss. It's kind of a mixed bag: her affinity for swing jazz comes out on the rambling "Eat At Joe's," while "Other Side Of The Hill" is the kind of overly obvious trad-country toss-off that you simply can't resist, and several of the ballads are pretty resonant. "Letting Go," about a parent seeing their kids off to college, is a winner, an emotionally mature weeper that has more substance to it than anything else on the album (despite the sugary arrangements), and "How Come You Go To Her" is a subtle hard country gem. Worth checking out!

Suzy Bogguss "Something Up My Sleeve" (Liberty, 1993)



(Produced by Jimmy Bowen & Suzy Bogguss)
Yet another slightly too-perfect album of hers that I wish I liked better than I actually do. I mean, it's not like she's an over-the-top cheeseball like Reba or Shania, but there's still something too controlled and effete about her delivery that gets in the way of my really being able to kick back and enjoy her records. Still, I appreciate the consistent use of pedal steel as a backdrop for this album's arrangements, and there is an organic, palpable sense of country-ness to her work... Nonetheless, she's still a bit too sugary for me and this particular batch of tunes is pretty darn goopy. Features the hits "Just Like The Weather" and "Hey Cinderella," which were definitely highlights... I guess I like "No Green Eyes," too.

Suzy Bogguss & Chet Atkins "Simpatico" (Liberty, 1994)



(Produced by Suzy Bogguss)
Darn. This album opens with a fun, jauntily stripped-down acoustic version of the Jimmie Rodgers oldie, "In The Jailhouse Now" -- exactly the kind of sound I was hoping this album would have -- but it soon slides into soft, over-orchestrated Nashville pop, stuff that misses the mark, as far as I'm concerned. There are a couple of tunes that dip back into the simpler style (and they are also pretty nice), but this is one of those guess-they-just-can't-help-themselves outings in which two talented artists who have sometimes-rootsy leanings let their love of studio technique get the best of them. These two are, indeed, simpatico, but their compatibility extends to the poppy stuff as well as the more traditional.
Suzy Bogguss "Give Me Some Wheels" (Capitol, 1996)



Suzy Bogguss "Nobody Love, Nobody Get Hurt" (Capitol, 1998)



(Produced by Suzy Bogguss & Doug Crider)
She's got a great voice, but this stuff -- where she starts to drift into more mainstream pop terrain -- is a little too bland and yuppified for my tastes... Kinda like Nanci Griffith, though with a bigger, somewhat aggressive, more generic, sound on a lot of tracks -- more pop-driven, yet paradoxically somewhat removed from the simple melodic hooks that make this kind of material work in the first place. The title track, for example, is just way too clever and precious, though, and too damn wordy; one of those high-falutin', high-concept modern country songs that just falls flat on its face... The monotonous and maudlin "Family Tree" is even worse -- sounds like a castoff from some old James Taylor album, with an appallingly midless chorus. Still, if it was a choice between this gal or, say, Martina McBride, Bogguss is certainly a preferable option... Fortunately, there are more fish in the sea. I don't think this is her best work, but devoted fans or the soft-pop curious would probably enjoy it okay.

Suzy Bogguss "Suzy Bogguss" (Platinum, 1999)


(Produced by Suzy Bogguss & Doug Crider)
The hits had long since stopped coming by the time this independent-ish release came out, and the choice of a bland ballad, "Goodnight," as a single didn't do much to improve Bogguss's chances on the charts. Still, longtime fans will still probably like to check this disc out; it's slick and glossy, but still has a soulfulness underneath it all, and runs along at a pretty even keel. Still, even with all the good will I want to extend her way, I find this album a little too goopy for me, personally. Her voice sounds great, and the poppish production doesn't go heinously over the top the way albums by Trisha Yearwood and many other contemporary country artists do. But it's kind of tasteful to a fault, and never quite catches fire. But maybe that's what she wanted: the album also has a pretty personal feel to it, and she seems refreshingly relaxed and unconcerned with slavishly toeing the Nashville line of "whatever it takes to get a hit." Six of one, half dozen of the other, I suppose.

Suzy Bogguss "Swing" (Compadre, 2003)



(Produced by Ray Benson & Suzy Bogguss)
'80s/'90s Top 40 country hitmaker Suzy Bogguss tries her hand at singing jazz standards, with Asleep At The Wheel's Ray Benson backing her up and helming the show. The production is too slick and too reserved, and Bogguss comes off like a fish out of water. This suffers from the same aesthetic misfires as many recent Benson-related projects, although I will grant that her voice is easier on the ears.

Suzy Bogguss "Have Yourself A Merry Little Christmas" (Compadre, 2003)



With a career spent skipping across the boundaries between commercial country and Americana, it's only natural that Suzy Bogguss would have a slightly different take on the whole country Christmas album thing. Adding a jazzy twist, Bogguss glides through a bunch of standards ("Sleigh Ride," "Winter Wonderland," "Rudolph," etc.) and a few new tunes that are off the beaten track. Like "Two-Step 'Round The Christmas Tree" and "Mr. Santa" (a take-off on the old Chordettes hit, "Mr. Sandman"). Generally speaking, this album isn't as twangy as some of her fans might have hoped, but -- as ever -- Bogguss has a lovely, lovely voice that helps place these sedate recordings a notch above the rest. Worth checking out; I'd take this over an Amy Grant album anyday. (For more Christmas msuic, see my Hillbilly Holiday section.)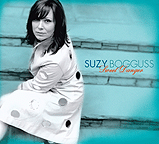 Suzy Bogguss "Sweet Danger" (Loyal Dutchess, 2007)



(Produced by Suzy Bogguss & Jason Miles)
Although former Top-40 country star Suzy Bogguss has been dabbling in jazz and pop vocals for a while now, she still felt obliged to slap a slightly odd cautionary sticker on this one: it reads, "Warning! This Music Is Not What You Expect! Listen With Open Mind" Hmmm. Funny choices all around. Anyway, there's talk of how this is another "jazz" record, a continuation of her 2003 album, Swing. I'd peg it more as a straight pop-vocals album, along the lines of '70s-era Jennifer Warnes or Karla Bonoff, someone like that -- an artist who's knowledgeable about rootsy music, but still goes for a slicker pop sound. In this case, Bogguss is paired up with producer Jason Miles, who's worked with folks like Sting and Luther Vandross... Definitely not my cup of tea, but I could see how some of her old fans could really enjoy hearing her just croon and interpret her little heart out. It ain't country but for the style, this is good.
Suzy Bogguss "Lucky" (Loyal Dutchess, 2014)


---
Best-Ofs
---
Suzy Bogguss "Greatest Hits" (EMI, 1994)



(Various producers)

Suzy Bogguss "Country Classics II" (EMI, 2000)


(Various producers)
Taking the opportunity to stretch out a bit on this import-only greatest hits package, Bogguss revisits some of her eclectic early hits, like her cover of Patsy Montana's 1930s novelty hit, "I Want To Be A Cowboy's Sweetheart," -- which barely cracked the Top 100 when it came out in 1988 -- and her spot-on rendition of the Eagles' "Take It To The Limit," which never charted, but stands out as one of this album's gems. Bogguss clearly marched to the sound of a different drummer: her first single was actually a cover of an evergreen by big band leader Horace Heidt (!), and a strain of western swing and standards singing has run throughout her career. Her most successful songs -- "Drive South," "Just Like The Weather," "Aces," "Hey Cinderella" -- are a little slick and restrained, and don't really do much for me, though her version of "Outbound Plane" retains the lively bounce of the Nanci Griffith original. Still, there's a Crystal Gayle-ish saccharine quality to much of her work that leaves me flat, even though I know that in theory she's supposed to be some sort of a true-country champion. At any rate, even though it leaves a few hits off, this British import is a pretty good introduction to Bogguss' tattermedallion career.
Suzy Bogguss "20 Greatest Hits" (Capitol, 2002)



(Various producers)

---
Links
---
---