<! MP3 04/14/09 - a few strays; 12/29/09 - all done > <! outside 00/00/00 > <! pix 00/00/00 - 04/09: REALLY need new pix! > <! 208-pix: 00/00/00 > <! icons 03/26/11 > <! UPDATES: 07/22/15 - added producer credits on all albums, updated links section & internal links - reposted 05/17/21 - DA. need larger pix 08/13/21 - RIP >
---
Nanci Griffith (1953-2021) was one of the most confounding artists in the present alt.country revival, precisely because for many years she shied away from identifying herself as a country artist, and slowly but surely she edged away from an overt hick identification, and into tonier, loftier terrain. Regardless, Nanci's early works are some of the enchanting albums in the "Americana" canon, and the intense devotion of her fans is well deserved. With her teensy, little-girl voice, her exceptional skill as a romantic songwriter and her knack for finding first-rate material to cover from a wide variety of sources, Griffith was one of the most notable artists from the '80s Americana scene. An utterly charming, understated performer and deft interpreter of song, her fans shared a powerful personal connection with the gal universally referred to simply as "Nanci..." Here's a quick look at her work....
---
Discography
---
Nanci Griffith "There's A Light Beyond These Woods" (B. F. Deal Records, 1978) (Rounder/Philo Records, 1986)
(Produced by Mike Williams & Nanci Griffith)
The most overtly folkie of her albums... and now that I finally realize how early on this was recorded, the stylistic gap between this and her other albums makes a lot more sense. This record has never really blown me away, but there's also nothing bad or embarrassing about it. It's just an early work, and very rooted in the poetic folkie tradition. Features and early version of the title song, and plenty of whistfulness for days and ways gone by. It's worth noting that the album's co-producer, Mike WIlliams also sings and plays guitar on the album, and that Nanci soon returned the favor, singing on his album, Comin' Atcha, which came out the following year.
Nanci Griffith "Poet In My Window" (Featherbed, 1982) (Rounder/Philo Records, 1986)
(Produced by Nanci Griffith, John Hill & Laurie Hill)
Also a very folkie, acousticky album... maybe a little too touchie-feelie for the most part, but worth checking out if you're curious.
Nanci Griffith "Once In A Very Blue Moon" (Rounder/Philo Records, 1984)
(Produced by Jim Rooney & Nanci Griffith)
Nice record. Here's where things really start to fall into place for Nanci -- the trademarks of her sound have pretty much gelled at this point: heartfelt yearnings, unabashed sentimentality, a poetic attention to lyrical structure which is (thankfully!) backed up with strong enough material and convincing performances. Over half the songs on here are Nanci originals, and the cover tunes are well-chosen. Look for Nanci's as-yet-unsigned fellow scruffy Texas alt-nik Lyle Lovett in a supporting role, both as a harmony vocalist and as a contributing songwriter (on a gender-flipped version of "If I Were The Woman You Wanted"). A lovely little album and, really, a must-have for the Nanci-curious and the Griffith-friendly.

Nanci Griffith "Last Of The True Believers" (Rounder/Philo Records, 1986)
(Produced by Jim Rooney & Nanci Griffith)
Although this has some of Nanci's best-beloved songs on it, there's a slightly hodge-podgey feel to the album... "More Than A Whisper" is one of my all-time faves, and "Love At The Five & Dime" is another classic of hers... I know Nanci fans who loathe the uptempo "Lookin' For The Time," but I don't mind it... it's a nice change of pace, for one thing. This album's not completely dazzling, but there are some nice jewels on here.

Nanci Griffith "Lone Star State Of Mind" (MCA Records, 1987)
(Produced by Tony Brown & Nanci Griffith)
Good golly... our gal's on a big ole major label!! And working with the much-vaunted producer, Tony Brown, no less. Success didn't spoil Nanci, though... far from it! This album starts off strong, and ends with one of her best songs, "There's A Light Beyond These Woods (Mary Margaret)," which looks back regretfully on long-lost dreams with small-town friends. A couple of tracks in between are only so-so, but most are quite nice. Griffith again shows her strengths as a song stylist - her version of Julie Gold's "From A Distance" is a classic, and Paul Kennerly's "Let It Shine On Me" is one of the more hummable tunes she's ever recorded. Another required record.

Nanci Griffith "Little Love Affairs" (MCA Records, 1988)
(Produced by Tony Brown & Nanci Griffith)
As far as Nanci's traditionalist country leanings go, this album is the peak. I love this album. You should, too. This disc is a doozy, full of shameless (and painfully effective) tearjerkers such as "I Knew Love" and "So Long Ago", as well as Robert Earl Keen, Jr.'s "I Would Change My Life." Three extra points to Nanci for writing "I Wish It Would Rain," which a sun-shunner like myself can take as an anthem, and also for nailing Harlan Howard's "Never Mind," a song that other hick singers might have tried as a novelty number. This album also marks the first appearance of former Amazing Rhythm Aces keyboard player, James Hooker, who went on to become Nanci's bandleader... Every song on here is great, and this album is a classic. Really.

Nanci Griffith "One Fair Summer Evening" (MCA Records, 1988)
(Produced by Tony Brown & Nanci Griffith)
An impressive live album which perfectly conveys Nanci's waiflike charm. The words "thank yew!" will never sound the same after you've heard her eager, mousy proclamations as the end of every song brings a warm round of applause. Say what you will about Nanci Griffith, she sure knew how to tug at an audience and hold it in the palm of her hand, and this is her performing at her absolute peak. This disc also functions as a semi-best of... collecting several of her best songs -- including the old Philo material -- in one place at one time, and in several cases the live versions are superior. Sure, her arrangements are starting to get really cheesy, but this is still richly and decisively in guilty pleasure territory.
\

Nanci Griffith "Storms" (MCA Records, 1989)
(Produced by Glyn Johns)
For the traditional and twang-minded among us, this is probably about as far as you want to go with Nanci. I like this album, but I know it's pretty cheesy and a little embarrassing... but this is still a moving and effective album. Even with all the tinkly keyboards and maudlin arrangements (Glyn Johns is the album's producer), Nanci hits the mark more often than not... She gets a bit preachy and socially conscious on "It's A Hard Life Wherever You Go" -- fair enough, her being a folkie and all, and besides the song still has a great chorus. But "Listen To The Radio" and "I Don't Wanna Talk About Love" remain part of the canon. A guilty pleasure, but a pleasure nonetheless.
Nanci Griffith "Late Night Grande Hotel" (MCA Records, 1991)
(Produced by Peter Van Hooke & Rod Argent)


Nanci Griffith "Other Voices, Other Rooms" (Elektra Records, 1993)
(Produced by Jim Rooney)
This stately songbook album was Nanci's big breakthrough to the mainstream... Sure, it didn't land her on the top of the Billboard charts, but it did elevate her folkie stylings out of the Americana ghetto, into a far wider audience. This turned out to be both a blessing and a curse, since her subsequent albums veered sharply towards even more yuppified, commercial arrangements and glitzy production. But this album itself is still pretty restrained, and Nanci's vocals are simple, elegant and direct. This is both a songwriter tribute -- among others, she covers Kate Wolf, Woodie Guthrie, Townes Van Zandt, Janis Ian and Malvina Reynolds -- and a guest-star lovefest, with Chet Atkins, Guy Clark, Bob Dylan and Arlo Guthrie among the many fine musicians who pitch in. Her duet with John Prine on "Speed Of The Sound Of Loneliness" is particularly nice. This is a well-conceived, seamlessly executed tour through the modern folk landscape. One of her nicest albums!


<! 131 x 130 >

Nanci Griffith "Flyer" (Elektra Records, 1994)
(Produced by Peter Collins & Peter Buck)
This album was rather instructive for me, because it was the first time I really got a sense of how Nanci's overproduction worked, and also because it's pretty much the last Nanci album that I can even kind of hang with. Here's the deal: a friend of a friend of a friend of Nanci's slipped me a cassette copy of the original, basic recording tracks for this album, before they added all the tinkly keyboards and cheesy synthesized percussion. The difference between the two versions is instructive. The demo version would have made a grrrreat album; the record that actually got released is a bit iffy. Perhaps, someday, a collection of simplified out-take versions from over the years will get put out for us traditionally-oriented types (as opposed to the "remix" albums she seems to favor...) Sigh.


<! 04/09: no MP3 >

Nanci Griffith "Blue Roses From The Moons" (Elektra Records, 1997)
(Produced by Don Gehman)
The last Nanci Griffith record I ever bought sight unseen... Sadly, Nanci broadly overplays her hand here, slathering every track with about two or three layers too much of high-gloss production filagree... Countless unnecessary garnishments mar each song -- percussive dollops, keyboard tinkles, a little extra shimmer on the guitar -- and all of it utterly gratuitous. Far from enhancing or underscoring the material, the cluttered production (courtesy of Don Gehman) endlessly distracts the listener from the flow and feeling of the songs. A lot of talent, wasted on an irritating mish-mosh of yuppie kitsch. She kinda lost me on this one.
Nanci Griffith "Other Voices, Too (A Trip Back To Bountiful)" (Elektra Records, 1998)
(Produced by Jim Rooney, Nanci Griffith & Don Gehman)


Nanci Griffith "The Dust Bowl Symphony" (Elektra Records, 1999)
(Produced by Peter Collins)
Nanci recording a bunch of old hits, along with the London Symphony Orchestra backing her up... On paper, that sounds pretty horrific, particularly given the drekky drift of her last few albums. But this actually isn't nearly as bad as it could have been. I mean, sure, this ain't really my cup of tea, but it's an effective performance, despite the colossal hubris of the concept. The Irish-isms of a few of the tunes (a Riverdance-y nod towards her huge Irish fan base) are the weakest elements of the album. On the whole, though, this is an okay record, still rather understated, although undeniably yuppified and not much of a creative stretch in terms of the material she tackles.
Nanci Griffith "Revisited" (Damian Music, 1999)
Multiple remixes of three songs: "Late Night Grande Hotel," "St. Teresa" and "Gulf Coast Highway." I haven't heard it myself, but I shudder to imagine how it sounds.

Nanci Griffith "Clock Without Hands" (Elektra Records, 2001)
(Produced by Nanci Griffith & Ray Kennedy)
This album features some of Nanci's best arrangements to date -- nothing too overwrought or glitzy this time around, but some adventurous and engaging stylistic gadding about. The songwriting gets a little dense in places, but that's to be expected in an album named after a Carson McCullers novel -- Nanci makes no bones about her literary interests. Mostly this is a pretty engaging album. Her vocals seem a little soft, though, lacking the sparkling brightness we've come to associate with Griffith's work... I guess time may be catching up with our winsome, perpetually youthful lassie... But if this album is an clue to how she'll be dealing with a change in her range, indications are good that we're still in good hands. Nanci fans will want to check this one out!

Nanci Griffith "Winter Marquee" (Rounder Records, 2002) (Produced by Nanci Griffith & Monty Montgomery)
Nanci has always excelled at her live performances, connecting with each audience in a way that seems impossibly intimate, yet with a winsome self-effacement that bowls them over every time. Although recent albums -- both studio and live -- have slowly crept towards a by-rote professionalism, this concert album is a decisive return to form, showcasing all that is best about Griffith's live persona. Its acoustic roots run deep; the tinkling piano riffs are held in check, her vocals are impassioned and direct. After gliding through some of her best love songs, Griffith gets a little bogged down in earnest folkie political material -- maybe a song or two too many in that direction, but you do get that she's really sincere about this stuff. Anyone who's seen her live will be enchanted by this new album; it really conveys that certain something that sets Nanci above the crowd. Recommended!
Nanci Griffith "Ruby's Torch" (Rounder Records, 2006)
(Produced by Peter Collins)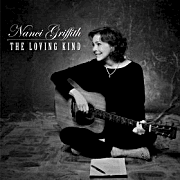 Nanci Griffith "The Loving Kind" (Rounder Records, 2009)
(Produced by Pat McInerney & Tom Jutz)
One of the things I've always loved about Nanci Griffith is how she nimbly straddled the subtle divide between "folk" and "country" -- from the very start she's been the quintessential "Americana" artist, blending the two styles. Recently, though, she's more clearly thrown in her lot with the "folk" scene, and that's especially true with this new album, which highlights her work as a songwriter (she wrote or co-wrote nine of the thirteen songs) and which takes a decided tilt towards the topical. Griffith has never shied away from politics, ranging back to Julie Gold's delicate pacifist anthem, "From A Distance" and more explicit appeals such as "It's A Hard Life Wherever You Go." Here, perhaps appropriately to the times, she is even more strident and direct, opening the album with "The Loving Touch," an homage to Mildred and Richard Loving, an interracial couple from Virginia who were jailed in 1958 for marrying each other, and who eventually won a landmark legal battle that made interracial marriage legal under Federal law. Griffith wrote the song after reading Mildred Loving's 2008 obituary, and the song is made more poignant and timely by a quote from the elderly Ms. Loving, who said she hoped her example would someday help establish the same civil rights for same-sex couples in America. It's a nice sentiment, although I have to confess I found the song itself to be a bit artless... Other songs are less blunt, but none quite hit the deft poetry of her early work. I think, perhaps, Griffith has come to a point in her life where she wants her songwriting to be less oblique, and more direct; her voice has also changed, with a definite and decisive shift into middle age, and a lot of that classic, youthful Nanci Griffith helium-voiced squeak has been replaced by a more mature, reflective purr. I'm sure many of her fans must be changing, too, and this disc may speak to them as well. I miss the lighter touch of her youth, but she's still an artist you gotta respect, and a thoughtful woman with real heart and soul.
Nanci Griffith "Intersection" (Thirty Tigers Records, 2012)
(Produced by Nanci Griffith, Pete Kennedy, Maura Kennedy & Pat McInerney,



<! 2012 album from the Country/Folk singer/songwriter. Intersection is not an album of resolution or closure; it's an album about difficulties, about anger, about things that slip away and things that explode. Griffith is beloved as a songwriter but also as someone who unearths others' songs and brings them to light. On Intersection, there are five covers including ones by Loretta Lynn and Blaze Foley. Recorded at her Nashville home, she surrounds herself by a crack team of musicians and backing singers. >

---
Best-Ofs
---
Nanci Griffith "Best Rounders" (Rounder Records, 1987)
(A Japan-only release; sort of a "best of" collection)
Nanci Griffith "The MCA Years: A Retrospective" (MCA Records, 1993)
The standard-issue CD best-of, this has a lot of Nanci's best material from 1987-91 on it... A couple of tracks where my attention starts to wander, but overall a very good choice. I'd recommend you try the original albums first, but if you only want to get a "hits" collection, this 18-track package is pretty nice.
Nanci Griffith "The Best Of Nanci Griffith" (MCA Records, 1993)
(Note: This is a non-U.S. collection which is essentially the same as The MCA Years, with a few different tracks and two songs not previously available on any album.)
Nanci Griffith "Country Gold" (MCA Records, 1997)
A budget-priced collection of only ten songs -- all previously released -- from several of Nanci's MCA albums... Nothing wrong with this set, other than the skimpy length...
Nanci Griffith "Wings to Fly And A Place To Be: An Introduction To Nanci Griffith" (MCA/Universal Records, 2000)
A 14-track import that doesn't waste any time with the iffy songs... This is an action-packed set of all Nanci's best material from her early years... All my favorites, at least. If you simply have to go the best-of route, this disc is an excellent choice.
Nanci Griffith "The Millennium Collection" (MCA/Universal Records, 2001)

Nanci Griffith "From A Distance: The Very Best Of Nanci Griffith" (MCA-Nashville, 2002)


Nanci Griffith "The Complete MCA Studio Recordings" (MCA/Universal Records, 2003)
Yet another MCA best-of... Yet this is the one that should settle the matter for once and for all. Weighing in at two CDs and 46 tracks total, this has all the material from the albums Lone Star State of Mind, Little Love Affairs, One Fair Summer Evening, Storms and Late Night Grande Hotel, with three tracks previously not released in the US of A: "Tumble And Fall," "Wooden Heart" and "San Diego Serenade." Whether to toss out all your copies of the earlier editions or not... I leave that up to you, dear listener. But this is a pretty definitive testament of Nanci's much-beloved middle years.
---
Links
---
Nanci Griffith's Official Website has all the usual info - a discography with sound clips, some adorable pictures of Nanci, song lyrics, etc... Nice site!
Wikipedia: Nanci Griffith <! 01/10, 07/22/15 KAPUT: http://www.eden.com/~dgrant/nanci.html David Grant's Discography is nice in that it includes comments on the records, as well as listings of non-album tracks and other extraciricular outings by Ms. Griffith. (UPDATE: this page seems to have disappeared for the time being. Hopefully he'll repost it with a new address soon.) >
---


Hick Music Index



---
"Thank YEW...!!"
---