<! cd = 09/20/13 > <! MP3 09/20/13 > <! outside 09/20/13 - WP > <! pix 00/00/00 > <! 208-pix: 00/00/00 > <! styles: Bluegrass, Hippiebilly, Americana > <! UPDATES: 09/20/13 - posted w/ review of '75 album >
---
Jim Rooney was an early participant in the 1960's American folk music revival, often partnering with banjoist Bill Keith. Rooney made an even bigger name for himself as a music producer and champion of artists such as folkie Townes Van Zandt and Nanci Griffith. In the '60s Rooney helped coordinate the Newport Folk Festival, moving from there to a job running the influential Bearsville Sound Studio and the Bearsville record label, which recorded many of the top rock, folk-rock and singer-songwriter artists of the era. Rooney has recorded extensively on countless albums, as well as several album of his own, which are reviewed below...
---
Discography - Albums
---
Bill Keith & Jim Rooney "Bluegrass: Livin' On The Mountain" (Prestige Folklore, 1963) (LP)


The debut album by banjo picker Bill Keith and guitarist Jim Rooney, whose creative partnership would continue for decades: Rooney plays on most of Keith's records for years to come. This is a nice, straightforward bluegrass set, one of many groundbreaking albums that set the benchmark for the folk-scene bluegrass revival of the early 1960s. Definitely worth tracking down!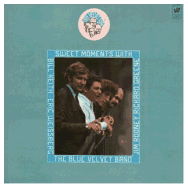 The Blue Velvet Band "Sweet Moments With The Blue Velvet Band" (Warner Brothers, 1969) (LP) & (CD)



(Produced by Erik Jacobsen)
A smooth but sweet major-label album made when the '70s newgrass scene was still just around the bend. There's certainly a power-packed lineup: Bill Keith and Jim Rooney join up with fiddler Richard Greene (who had just served his own apprenticeship with Bill Monroe) and guitarist Eric Weissberg in his pre-Deliverance days... people often cite this as a pioneering bluegrass record, but I just don't hear much high-lonesome here, rather, it seems like a tradition-oriented hippie country set, with most of the "rock" sensibility set aside in favor of old-fashioned twang and a little bit of Bakersfield bounce. The repertoire is a swell mix of Hank Williams, Bill Monroe, a Luke Wills western-swing oldie and a cover of Merle Haggard's "Somebody Else You've Known," with these guys scooping the Flying Burrito Brothers by a year or two. The also show deep folk scene roots with a reading of "The Knight Upon The Road," and version of the Appalachian murder ballad "Little Sadie." I think it's Jim Rooney singing lead, and I have to admit he's an acquired taste. For the first few tracks you might think there's a hint of parody in his voice -- after a while, though, you'll realize it's just the plain-spoked way that he sings, not some kind of nudge-nudge, wink-wink thing. There are only two original tracks on here, including one of the album's strongest songs, "Hitch-Hiker," a cheerful novelty number written by Weissberg that captures some of the feel of the times. I guess this has been reissued on CD, though the original LP is worth tracking down just to enjoy the hilarious "board game" drawing and text that Eric von Schmidt designed for the inside of the gatefold sleeve. A long out-of-print landmark album that is more of a quiet, iconoclastic nugget than a earthshaking stylistic game-changer.


<! The Blue Velvet Band consisted of Eric Weissberg (acoustic guitar), Bill Keith (banjo-autoharp-guitar), Richard Greene (violin) and Jim Rooney (acoustic guitar-vocals). Guests artists include Andy Kulberg (bass), Buddy Saltzman (drums), Gary Chester (drums), John Hammond (harmonica) and Pat Rebillot (piano). Ramblin' Man You'll Find Her Name Written There The Knight Upon The Road Weary Blues From Waitin' Little Sadie Hitch-Hiker Sweet Moments Somebody Else You've Known Fond Affection My Sweet Love Ain't Around The Nobody Knows About My Cares And Nobody Cares About My Nose Rag Sittin' On Top Of The World >

Mudacres "Music Among Friends" (Rounder, 1972)


Keith and Mooney also sat in on this groovy folk/bluegrass jam session, led by brothers Happy and Artie Traum, along with Maria Muldaur, John Herald, Eric Kaz, and others.
Borderline "Sweet Dreams And Quiet Desires" (United Artists, 1973)





<! Composed of brothers Dave and Jon Gershen and Jim Rooney, Borderline was at the center of the fertile '70s Woodstock scene. And when we say the center, we mean the center; not only did Rooney manage Albert Grossman's Bearsville Sound Studio, where Sweet Dreams and Quiet Desires was recorded in 1972, but it seems like virtually every famous musician in a 10-mile radius played on the record, including Neil Young's favorite sideman Ben Keith, fiddlers supreme Vassar Clements and Ken Kosek, drummer Billy Mundi, saxophonist David Sanborn, Band producer John Simon on piano and Band members Richard Manuel and Garth Hudson (billed as "Dick Handle" and "Campo Malaqua," respectively) on keyboards. The reclusive Van Morrison even chipped in with a personal testimonial. So, how come most folks haven't heard of, much less heard, this record? Well, usually in these cases, it's the record label's fault; and considering that Borderline's Sweet Dreams and Quiet Desires came out on an imprint of United Artists, Avalanche, that only survived long enough to release a small number of records, it's a pretty safe bet that promotion of the album was nil. The story gets even worse for Borderline recorded a year later in 1973, The Second Album (featuring such sidemen as the Brecker Brothers and Amos Garrett) was shelved by United Artists and didn't even see release until 2001, when EMI Japan dropped a now out of print and very expensive CD mastered from the only audio source they could find, a copy of an old acetate. Both records are considered country rock classics, eminently tasteful and redolent of that mellow, wistful, early '70s Woodstock vibe and both see an American CD release for the first time on this Real Gone release. Even better, we found the thought-to-be-lost original two-track album master tapes for both albums and remastered them at Capitol Studios (the Japanese CD of Sweet Dreams released in 2000 did not use the original mix)! Throw in new notes by Richie Unterberger featuring quotes from the three original members and photos from Jon Gershen's private archive and this release is an essential missing thread in the Americana music tapestry. >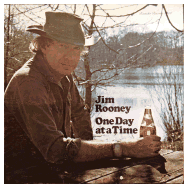 Jim Rooney "One Day At A Time" (Rounder, 1975) (LP)


(Produced by John Nagy & Peter Troisi)
A stalwart of the 1960's folk'n'bluegrass scene kicks back and gets loose with a country-flavored set, full of plenty of sweet picking and on-purpose not-great vocals, a resolutely DIY-sounding, back porch style that makes the music all the more delightful. Jamming with him are his "partners in crime," East Coast truegrasser Joe Val, guitarist Steve Bruton and Rooney's longtime collaborator, Bill Keith, playing banjo and pedal steel. The music stretches from folk and bluegrass to honkytonk and outlaw music, with songs by James Talley, Hank Williams, Dolly Parton, Willie Nelson and hillbilly old-timers Wiley & Zeke... A strikingly diverse set for a guy who's best known as a bluegrass revivalist. Highlights include Rooney's bouncy original composition, "Do You Think It Will Ever Go Away," which has some fun, Merle Travis-styled guitar licks. This is an album you have to place yourself in the right wavelength to enjoy, but once you do, it's very rewarding.
Jim Rooney & Rooney's Irregulars "My Own Ignorant Way" (JRP, 2002)





<! Appaloosa [ITA] AP-004 Ready For The Times To Get Better: In It For The Long Run; South In New Orleans; Only The Best; Tennessee Blues; I Recall A Gypsy Woman; Interest On The Loan; Broided Orange; The Girl At The End Of The Hall; No Expectation; Ready For The Times To Get Better - 01-80 (reissued as part of AP-067-2 in 1994) Waterfront [UK] WF 016 Hot Bluegrass: Blue ridge Mountain Blues; Riding High In Texas; Outlaw Love; Texican Badman; Caravan; Midnight Moonlight; Sleep With One Eye Open; Flint Hill Soecial; Tennessee Blues; Ald Lang Syne – 08-85 Peter Rowan, Bill Keith & Jim Rooney Appaloosa [ITA] AP-012 Brand New Tennessee Waltz: Brand New Tennessee Waltz; Be My Friend Tonight; Amanda; Heaven Come A Woman; Sabu; We Must Believe In Magic; Fish & Whistle; Dreaming My Dreams; Six White Horses; Satisfied Mind – 81 (reissued as part of AP-067-2 in 1994) >

---
Links
---
---