<! cd = 09/28/13 > <! MP3 00/00/00 > <! outside 00/00/00 > <! pix 00/00/00 > <! 208-pix: 00/00/00 > <! styles: Bluegrass, Fiddle > <! UPDATES: 00/00/00 >
---
Fiddler Richard Greene apprenticed in the 1966 edition of bluegrass patriarch Bill Monroe's band, the Blue Grass Boys, then moved into the rock-pop world as a founding member of the band Seatrain. As the 1970's bluegrass and newgrass scene picked up steam, Greene went back to his acoustic roots and began to record as a solo artists, as well as frequently collaborating with his former Blue Grass Boy, Peter Rowan. Greene has also played on countless sessions for other artists in a variety of styles -- here's a quick look at some of his work...


<! 31 October 1964 [live] Jordan Hall, Boston, MA Ð Bill Monroe 24503 SOLDIER'S JOY SF-40064 24504 EAST TENNESSEE BLUES SF-40064 24505 MIDNIGHT ON THE STORMY DEEP SF-40064 24506 HAVE A FEAST HERE TONIGHT SF-40064 24507 KATY HILL (W. PETER ROWAN & BILL KEITH) SF-40063 24508 RAWHIDE (W. PETER ROWAN & BILL KEITH) SF-40063 24509 Y'ALL COME (W. PETER ROWAN & BILL KEITH) SF-40063 5 September 1965 [live] Finecastle, VA- Bill Monroe & His Blue Grass Boys 24801 GET UP JOHN (W. PETER ROWAN) SF-40063 24802 KANSAS CITY RAILROAD BLUES (W. PETER ROWAN) SF-40063 24803 WALLS OF TIME (W. PETER ROWAN) SF-40063 24804 WHEN HE REACHED DOWN HIS HAND FOR ME (W. MAC WISEMAN & DON RENO) SF-40063 4 May 1966 [live] Caslight CafŽ, New York City- Bill Monroe & His Blue Grass Boys 24805 WATERMELON HANGING ON THE VINE (W.PETER ROWAN & RICHARD GREENE) SF-40063 24806 I LIVE IN THE PAST (W.PETER ROWAN & RICHARD GREENE) SF-40063 24807 FIRE ON THE MOUNTAIN (W. PETER ROWAN & RICHARD GREENE) SF-40063 26 August 1966 [live] Tex Logan's Home, Madison, NJ Ð Bill Monroe 24808 WATSON'S BLUES SF-40064 24809 TURKEY IN THE STRAW SF-40064 24810 WAYFAIRING STRANGER (W. PETER ROWAN & RICHARD GREENE) SF-40063 24811 COTTON EYED JOE (W. PETER ROWAN) SF-40063 24812 WHITE HOUSE BLUES (W. PETER ROWAN & RICHARD GREENE) SF-40063 24813 ROLL IN MY SWEET BABY'S ARMS (W. PETER ROWAN & HAZEL DICKENS) SF-40063 14 October 1966 [22:00-01:00] Columbia Recording Studio, 804 16th Ave. South, Nashville 3, TN Ð Bill Monroe (Peter Rowan, Philip Grier, James Monroe, Richard Greene. Producer: Harry Silverstein) 249 118062/NA 14302 WHEN MY BLUE MOON TURNS TO GOLD AGAIN 32075/DL 74896 250 118063/NA 14303 I WONDER WHERE YOU ARE TONIGHT DL 74896 251 118064/NA 14304 TURKEY IN THE STRAW -instr. DL 74896 3 November 1966 [22:00-01:30] Columbia Recording Studio, 804 16th Ave. South, Nashville 3, TN Ð Bill Monroe (Peter Rowan, Philip Grier, James Monroe, Richard Greene, Buddy Spicher. Producer: Harry Silverstein) 252 118149/NA 14324 PRETTY FAIR MAIDEN IN THE GARDEN 32075/DL 74896 MCA2-4090 253 118150/NA 14325 LOG CABIN IN THE LANE DL 75213 254 118151/NA 14326 PADDY ON THE TURNPIKE -instr.- unissued 6 December 1966 [18:00-21:30] Columbia Recording Studio, 804 16th Ave. South, Nashville 3, TN Ð Bill Monroe (Peter Rowan, Philip Grier, James Monroe, Richard Greene. Producer: Harry Silverstein) 255 118287/NA 14394 BUT THAT'S ALL RIGHT DL 74896 256 118288/NA 14395 IT MAKES NO DIFFERENCE NOW DL 74896 257 118289/NA 14396 DUSTY MILLER -instr. DL 74896 16 December 1966 [22:00-01:30] Columbia Recording Studio, 804 16th Ave. South, Nashville 3, TN Ð Bill Monroe (Peter Rowan, Philip Grier, James Monroe, Richard Greene. Producer: Harry Silverstein) 258 118347/NA 14421 MIDNIGHT ON A STORMY DEEP DL 74896 259 118348/NA 14422 ALL THE GOOD TIMES ARE PAST AND GONE DL 74896 260 118349/NA 14423 SOLDIER'S JOY -instr.- unissued 23 January 1967 [18:00-21:00] Columbia Recording Studio, 804 16th Ave. South, Nashville 3, TN Ð Bill Monroe (Peter Rowan, Philip Grier, James Monroe, Richard Greene. Producer: Harry Silverstein) >

---
Discography - Albums
---

<! other Bill Monroe albums? >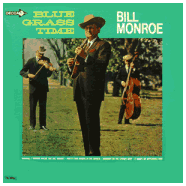 Bill Monroe "Blue Grass Time" (Decca, 1967) (LP)


This album features the mid-'60s Blue Grass Boys lineup that included future cosmic cowboy Peter Rowan along with fiddler Richard Greene, and Monroe's son, James, on guitar... I think this may be the only album with Greene on it, other than maybe some live recordings... (BTW, this was reissued in 1973 under the MCA imprint.)


<! Decca DL-4896/DL-74896 Bluegrass Time: Turkey In The Straw; I Wonder Where You Are Tonight; But That's All Right; All The Good Times Are Past And Gone; Pretty Fair Maiden In The Garden; Roll On Buddy Roll On; Blue Night; Midnight On The Stormy Deep; It Makes No Difference Now; Were You There When They Crucified My Lord; Dusty Miller; When My Blue Moon Turns To Gold Again Ð12-06-67 (reissued in 1973 on MCA-116) >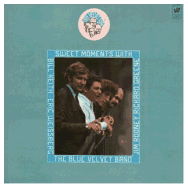 The Blue Velvet Band "Sweet Moments With The Blue Velvet Band" (Warner Brothers, 1969) (LP) & (CD)



(Produced by Erik Jacobsen)
A smooth but sweet major-label album made when the '70s newgrass scene was still just around the bend. There's certainly a power-packed lineup: Greene joins up with banjoist Bill Keith and singer Jim Rooney, along with guitarist Eric Weissberg in his pre-Deliverance days... people often cite this as a pioneering bluegrass record, but I just don't hear much high-lonesome here, rather, it seems like a tradition-oriented hippie country set, with most of the "rock" sensibility set aside in favor of old-fashioned twang and a little bit of Bakersfield bounce. The repertoire is a swell mix of Hank Williams, Bill Monroe, a Luke Wills western-swing oldie and a cover of Merle Haggard's "Somebody Else You've Known," with these guys scooping the Flying Burrito Brothers by a year or two. The also show deep folk scene roots with a reading of "The Knight Upon The Road," and version of the Appalachian murder ballad "Little Sadie." I think it's Jim Rooney singing lead, and I have to admit he's an acquired taste. For the first few tracks you might think there's a hint of parody in his voice -- after a while, though, you'll realize it's just the plain-spoked way that he sings, not some kind of nudge-nudge, wink-wink thing. There are only two original tracks on here, including one of the album's strongest songs, "Hitch-Hiker," a cheerful novelty number written by Weissberg that captures some of the feel of the times. I guess this has been reissued on CD, though the original LP is worth tracking down just to enjoy the hilarious "board game" drawing and text that Eric von Schmidt designed for the inside of the gatefold sleeve. A long out-of-print landmark album that is more of a quiet, iconoclastic nugget than a earthshaking stylistic game-changer.
Sea Train "Sea Train" (A&M, 1970) <! B001811DC4 (LP) >


This is the debut album from the band Seatrain, founded by fiddler Richard Greene, who was in the Bill Monroe band at the same time as Peter Rowan, and who remained a close collaborator over the years. I'm not sure if Rowan was onboard for this first record, but he certainly took part in all the others.
Seatrain "Seatrain" (Capitol, 1970)





<! (Produced by George Martin?) >

Seatrain "The Marblehead Messenger" (Capitol, 1971)





<! (Produced by George Martin?) >

Seatrain "Watch" (Warner Brothers, 1973)



Muleskinner "Muleskinner: A Potpourri Of Bluegrass Jam" (Warner/Sierra, 1973)



For some reason, I've misplaced my beat-up old copy of the Muleskinner LP. As I recall, though, in my senile haze, it's pretty similar to the Old & In The Way album reviewed below... A spirited, but somewhat raggedy acoustic album, recorded by what was meant to be a pickup band for a Bill Monroe gig on a local TV station. Maybe this isn't the most stellar bluegrass you'll ever hear, but it's certainly not the worst. The players were all top-flight traditionalists: Grisman, Rowan, flatpicker Clarence White, banjoist Bill Keith, and fiddler Richard Greene, who'd once been in Bill Monroe's band along with Peter Rowan. This is worth tracking down, just to check out what these guys were up to at the start of the decade, and also because it has an early example of Grisman working out his vision on a new acoustic music, on his original composition, "Opus 57," which later became a staple of his famed Quintet. (Addendum: hey, it looks like someone finally reissued the Muleskinner album on CD! Thanks to the folks at Runt Records for making this disc available again!)
Muleskinner "Muleskinner Live-- Original Television Soundtrack" (Sierra, 1974)


I'm not sure what the difference between these two Muleskinner albums is; maybe this "soundtrack" album includes the complete live set or something... Apparently there's a video out, too, which is probably pretty cool. (Perhaps the best info online about this project comes from the Byrd Watcher website, which talks in great detail about Clarence White's career.)


<! David Grisman/Bill Keith/Clarence White/Peter Rowan >
Richard Greene "Duets" (Rounder, 1978) (LP) <! 1977? >

Richard Greene "Ramblin' " (Rounder, 1979) (LP)

Richard Greene "Blue Rondo" (Sierra, 1982) (LP)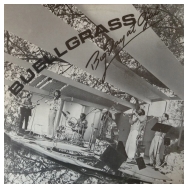 Buellgrass "Big Day At Ojai" (K2B2, 1983) (LP)


(Produced by Buell Neidlinger & Marty Krystall)
When David Grisman and his crew set their sights on forging a jazz-bluegrass crossover, they beelined to a relatively obvious choice of repertoire, the melodic, lead-oriented, highly simpatico 1930's gypsy jazz of Django Rinehardt and Stephane Grappelli... Grisman's "dawgjazz" set the tenor and pace for the space-grass of the era, but on this sweet, swinging live performance, bassist Buell Neidlinger taps into potentially more challenging jazz founts, the music of Charlie Parker and Thelonious Monk, as well as the smooth swing of Mercer and Duke Ellington. His sextet includes Andy Statman on mandolin (and clarinet!) as well as fiddler Richard Greene and distinctly un-Appalachian contributions from saxophonist Marty Krystall and Peter Ivers on harmonica. It's a nice blend; the performances are smooth but heartfelt, and the recording quality from this 1981 live show is quite good. The shadow of Grisman still looms large, as heard on Statman's Grisman-esque solo in the sprightly version of Hoagy Carmichael's "Stardust" which kicks the album off... But Beull and company go elsewhere, paying homage to the age of jazz standards with some concise, elegant musicianship, including a dash of klezmer when Statman plays clarinet. Acoustic swing fans will definitely want to check this out.
Richard Greene & The Greene String Quartet "Molly On The Shore" (Hannibal, 1988)

Richard Greene & The Greene String Quartet "The String Machine" (Virgin/EMI, 1991)

Richard Greene "The Grass Is Greener" (Rebel, 1995)



The sprightly debut of Greene's all-star, all-instrumental ensemble. This edition of the band features newgrass stalwarts such Bill Keith and David Grier, as well as a couple of talented young'uns (Kenny Blackwell on mandolin, Tim Emmons plunking the bass...) The overall vibe is cheerful and pleasantly melodic... A nice little record!
Richard Greene "The Wolves A'Howlin' " (Rebel, 1996)


Richard Greene "Sales Tax Toddle" (Rebel, 1997)



Here Greene includes several vocal tunes in honor of the recently-departed Bill Monroe, with his old pal (and bandmate in the late-'60s edition of the Blue Grass Boys, and later in Earth Opera) Peter Rowan chiming in on guitar and vocals. Sonny Osborne, Tony Trischka, David Greir and Butch Baldassari are the heavyweights who round out this band; bassist Buell Neidlinger brings up the rear and rounds out the sound. It's another goodle.
---
Links
---
---