<! cd = 11/22/03> <! MP3 03/30/09 - for cds already listed, new ones not researched, 05/26/13 > <! outside 00/00/00 > <! pix 00/00/00 > <! 208-pix: 00/00/00 > <! icons 11/15/10 > <! UPDATES: 05/26/13 - major update with new pix, reviews of all BF boxes. Recent best-ofs, 2003 on NOT added > <! JAMES MONROE albums, too >
---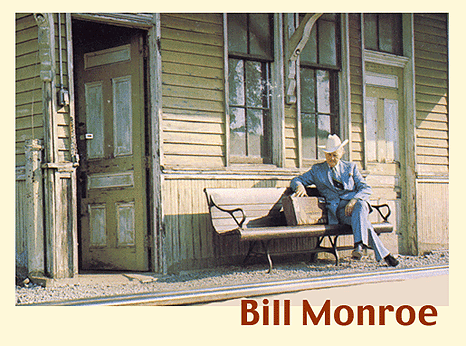 Bill Monroe (1911-1996) is known as the father of bluegrass music, a style he helped crystalize in the early 1940s, as American country and folk music hit a new crossroads with the popular culture. A Kentucky native, mandolinist Monroe originally set out on a showbiz career with his brother, guitarist Charlie Monroe, as part of a gospel-oriented old-timey "brother act." The Monroe Brothers duo lasted through the late 1930s, and when the two siblings parted ways, Monroe made the critical leap that transformed old-fashioned stringband music into the amped-up, rev-the-motor acoustic style known as bluegrass. Speeding up the sound, smoothing out the craggy, sometimes unpredictable rhythms, Monroe cultivated a music of precision and virtuosity, as well as a haunting emotional resonance. Although he had many influential rivals in the classic bluegrass pantheon, it is notable how many of the early stars, particularly the bandleaders Earl Scruggs and Lester Flatt, and practically every whizbang instrumentalist of note, first apprenticed in Monroe's band.
I will admit, I am (gasp!) not a Monroe loyalist -- I often find his "high lonesome" sound a bit too severe (and best taken in small doses...) But if you're in the right mood, he'll raise those goosebumps every time. Below is a semi-complete discography of Monroe's work on CD and LP, which I hope to add comments to as time (and my turntable stylus) permits... Because much of Monroe's best-known work was done in the era before long playing albums existed, and because numerous live recordings have found their way onto disc over the years, it is difficult to know exactly how to organize such a discography... For contrast, you might try some of the other Monroe-related websites that I link to below...
Welcome to Bluegrass country!!
---
Bill Monroe Collections
---

The Monroe Brothers "Feast Here Tonight" (RCA Bluebird, 1975) (LP)


Back before old Bill turned the crank a little faster & invented "bluegrass," he and his guitar-pickin' sibling Charlie Monroe were a Depression-era brother act, along the lines of the Blue Sky Boys and the Delmore Brothers. This hard-to-find 2-LP set is an awesome collection of their best work in the 1930s. It's a classy package, though (at last!) the dawning of the new millennium finds some of this stuff getting reissued on various CDs, which are reviewed below... This old gatefold LP is a pretty snazzy package, though... a class act.

The Monroe Brothers "Volume 1: What Would You Give in Exchange for Your Soul?" (Rounder, 2000)


The first of four CDs slated to reissue the entire Monroe Brothers output on the Bluebird label from 1936-39... This is dazzling stuff, the Rosetta Stone of old-timey music's evolution into bluegrass. Bill and Charlie Monroe distinguished themselves by their devotion to gospel material which, even with all the churchifyin' and preachin' going on at the time, was a still little unusual for country acts of the Depression era. And, man, were these guys good!! The 15 tracks on here have plenty of secular material as well, but all the songs are infused with Bill's stolid solemnity, the "high lonesome" sound in its infancy.
The Monroe Brothers "Volume 2: Just A Song Of Old Kentucky" (Rounder, 2001)


Bill Monroe & The Monroe Brothers "The Essential" (Rounder, 2001)



A goldmine for fans of old-timey and bluegrass music. Along with some 1940-41 tracks by the newly formed Blue Grass Boys, this disc includes several late '30s old-timey tracks by Bill and his brother Charlie, in the days before Bill jacked up the tempo and called it bluegrass. The Monroe Brothers were very similar in style and repertoire to other "brother acts" such as the Blue Sky Boys, concentrating on sentimental weepers and moralistic gospel tunes. Sadly, this disc is light on the pre-bluegrass material (which is really what makes it unique), and for the most part leaves out their gospel side. But if you want to hear the transition from the brother act material to the early bluegrass, this is a nice sample of both styles.
The Monroe Brothers "The Complete RCA Victor Bluebird Recordings, v.1" (Soundmark)

The Monroe Brothers "The Complete RCA Victor Bluebird Recordings, v.2" (Soundmark)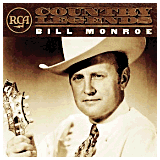 Bill Monroe "RCA Country Legends" (BMG, 2002)



This disc includes some of Monroe's earliest recordings, dating back to 1940, when bluesy singer Clyde Moody was in his band, and 1941, when fiddler Art Wooten joined. This is proto-bluegrass music, recorded before the war and it's a nice chance to hear how Monroe's ideas evolved during this crucial period; when he returned to the studio in '45, a lot had changed in the world, including Monroe's approach to mountain music.

Bill Monroe "Columbia Historic Editions" (Sony, 1989)



Originally issued as an LP, this modest selection of Monroe's Columbia recordings was reissued at its original, ten-song length. Great stuff, though there's not a lot of material on here... Nothing wrong with this album, but you can get a lot more material on some later collections that have superseded this one... Depends on how much Monroe music you want in your life!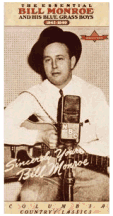 Bill Monroe "The Essential Bill Monroe" (Sony, 1992)



Two CDs worth of Monroe's late '40s work on Columbia -- the very dawn of bluegrass. Some bluegrass fans will gripe about the high proportion of alternate versions on this collection, others will relish the chance to hear the Blue Grass Boys work out their ideas. A nice entry point for the beginning Monroe fan.
Bill Monroe "16 Gems" (Sony, 1996)



A more compact reading of the Columbia years... Great stuff!!
Bill Monroe "The Father Of Bluegrass -- The Early Years: 1940-1947" (ASV, 1999)

Bill Monroe "The Essential Bill Monroe" (MCA, 1994)


Decca's, uh, I mean, MCA's first real attempt at a comprehensive Monroe retrospective. Starts off with some of the late '30s recordings with brother Charlie, skips over his formative late '40s work on Columbia (see above) and then luxuriates in thirty-plus years of yummy Decca/MCA goodness. Highly recommended.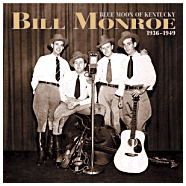 Bill Monroe "Blue Moon Of Kentucky: 1936-1949" (Bear Family, 2003)


If you really want to dig deep and cover all the bases, this authoritative 6-CD set from the world's greatest reissue label might be the way to go. With Bear Family's trademark sound quality and dazzling archival photos and liner notes, this LP-szed box set includes pretty much everything Monroe recorded over a thirteen-year period where he transformed mountain music into amped-up hillbilly drag-race music. This includes all the late '40s recordings with Lester Flatt, Earl Scruggs and fiddler Chubby Wise, in the historic band that dynamized and revolutionized the genre -- afterwards Flatt & Scruggs formed their own band, after taking part in the first bluegrass supergroup. For a true-blue, hardcore bluegrass completist, this collection is one of many worthy Holy Grails.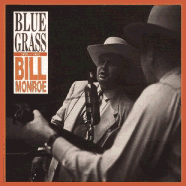 Bill Monroe "Blue Grass: 1950-1958" (Bear Family, 1994)


Pretty much everything Bill Monroe ever recorded was great -- from his early old-timey recordings with his brother Charlie, to his latest albums at the end of his career... It's all got the stamp of a great artist, and tremendous soulfulness. Normally I don't go fo these mongo box sets from Bear Family -- too much of a good thing -- but the Monroe boxes are different. A lot of his material from the early years is hard to come by -- most CD collections only scratch the surface. For the hardcore bluegrass fan, this 4-CD box set is a holy grail. All killer, no filler. Might be best taken in small doses, but still completely amazing -- other volumes cover his work in the 1960s and '70s, which is also great stuff, but not as intense, or as essential.


<! year? > <! also B0000282ZS >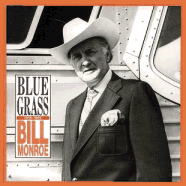 Bill Monroe "Blue Grass: 1959-1969" (Bear Family, 1994)


By the early '60s, the turf wars of the Golden Age of bluegrass were pretty much settled: Bill Monroe was the great patriarch, the Stanley Brothers were the softer, more soulful side of the traditionalist camp and Flatt & Scruggs, having pretty much proved what total badasses they were, made the leap into a more commercialized crossover career path that arguably paved the way for the progressive styles that came in their wake. For the most part, Monroe held the line and stuck to the classic "high lonesome" sound, although throughout he fostered an astonishing array of talented young players: Richard Greene, David Grisman, Bill Keith, Del McCoury, Peter Rowan and others who in turn would be in the vanguard of the progressive and "newgrass" movements. On this 4-CD set, you can also hear him working with established artists such as fiddlers Byron Berline and Vassar Clements, as well as his son, James Monroe, who helped anchor the band's many incarnations. These recordings aren't of the same historic calibre as his '40s and '50s recordings, but they are all rock-solid performances and show Monroe bringing new talent and new songs into fold. More great stuff.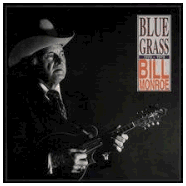 Bill Monroe "Blue Grass: 1970-1979" (Bear Family, 1995)


Bear Family continues its astonishing reissue efforts on this 4-CD volume covering Monroe's work in the 1970s. All around him, the bluegrass world was going through wild changes and transformations, and while his band was still held up as the gold standard of stylistic purity, he did slowly accommodate himself to some new, modern production styles and even to a few mainstream Nashville country touches. Mostly, though, it's Monroe doing what he does best, playing straightforward trad-grass with that same curious severity that colors his career. He also wasn't playing quite the same role as a discoverer of new talent as he had before -- anyone could start their own band and play however they wanted to -- but you can hear plenty of bright new talent popping up in these recordings, notably Butch Robins and Blaine Sprouse, as well as Alan O' Bryant, who joined the Blue Grass Boys after working in James Monroe's band, and who went on to form the highly-regarded Nashville Bluegrass Band in 1984. More nice stuff, with Monroe softening ever-so-slightly around the edges.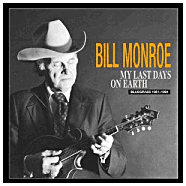 Bill Monroe "My Last Days On Earth: 1981-1994" (Bear Family, 2007)


They say the older the mandolin, the sweeter the song... Bill Monroe's twilight years are covered in this fab, final, four-CD set which rounds out Bear Family's monumental reissue project. By this time, Monroe's status as bluegrass music's patriarch was absolute, as was the affection felt for him by nearly everyone in the worlds of bluegrass, folk and country. And of course everyone and their brother wanted to work with him, so there are a lot of great collaborations with folks like Johnny Cash, Emmylou Harris, Willie Nelson, Ricky Skaggs, et.al., as well as late-life "crossovers" with other bluegrass elders such as Ralph Stanley, Mac Wiseman, Jim & Jesse and the Osborne Brothers. I saw Monroe play during this time period, in the late '80s, and he was notably frail and elderly but -- holy cow!! -- could he play that mandolin fast when he took a solo! He might have been a little old man, but you still couldn't see his fingers move because they were literally a blur. Do you need this last box set? Well, if you've made it this far, why stop now?
Bill Monroe "The Music Of Bill Monroe" (MCA, 1994)


Wow...!! The truly amazing thing about this 4-CD set is that it came out on a major label in the United States, where common wisdom prevails that the financial bottom line won't support such classy reissues and that respect for the past just doesn't pay. So, kudos to MCA for breaking the pattern of neglect, and making such a strong set of Monroe's music available for bluegrass fans here in the States. While not as exhaustive as the Bear Family boxes listed above, this is a comprehensive, sweeping set, which begins with Monroe's earliest recordings in 1936, and moves up to more modern times on the Decca/MCA label that for so many years was his home. An impressive collection that should put most bluegrass true believers into a state of bliss.
Bill Monroe "The Very Best Of Bill Monroe And His Blue Grass Boys" (MCA, 2002)



A slam-bang, single-disc best-of that includes twenty-two of, well, the very best of Bill Monroe's classic work on the Decca/MCA. This really is a great collection; the only thing "wrong" with it is that it has been definitively superceded by the equally strong, equally affordable 2-CD Anthology collection (below), which includes all the tracks on here, and twenty-eight more or the same high calibre. But this disc is still definitely a class act, and very generously programmed, particularly by the MCA label's current standards: well worth picking up.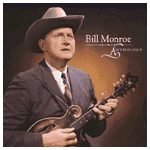 Bill Monroe "Anthology: 1950-1981" (MCA, 2003)



Quite possibly the ideal Bill Monroe set... This 2-CD retrospective is probably the perfect middleground between the humongous, ultimo-collector's box sets above and the more demure cheapo single-disc "best-ofs" that lie at the other extreme. Fifty songs on two CDs is probably just about right for most eager, twang-loving record buyers: maybe not every great song is on here, but chances are you'll actually listen to this collection more than once. Nice sound quality and great song selection: the 1940s and 1970s are both skipped in their entirety, but one disc covering the 'Fifties and a second one covering the 'Sixties is still pretty sweet. The friendly, generous liner notes also provide all the info on recording personnel, which is particularly useful when tracking the efforts of young'uns such as Peter Rowan, Richard Greene and Bill Keith, who apprenticed in the mid-'60s editions of the Blue Grass Boys, before going on to get found the modern bluegrass movement. Truly, a top-notch collection... highly recommended!
Bill Monroe "The Millennium Collection" (MCA, 1999)



The cheap and quick introduction to Monroe's work. Budget line and brisk -- it's too short for real fans, but a nice way to test the waters if you're still sitting on the fence.
Bill Monroe "At His Best" (Hollywood, 1989)


Live recordings, reissued without much in the way of liner notes to explain where they came from... But welcome music, nonetheless!

Bill Monroe "Live Recordings: 1956-1969" (Smithsonian Folkways, 1993)



A treasure trove of rare Monroe performances, from various folk fests and concerts. For the most part these live renditions don't capture the full intensity of Monroe's music, but there's certainly not a bad cut on this album. The best bit, though, is a track called "Monroe Family Segment," which consists of Q&A dialogs with fans and festival moderators asking Monroe to explain his techniques and how he learned them from various family members... Interesting in and of itself, but also a great glimpse at Bill's rapport with his fans.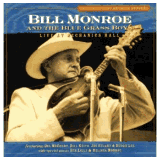 Bill Monroe & The Bluegrass Boys "Live At Mechanic Hall" (Acoustic Disc, 2004)



These live recordings, featuring Bill Keith in a 1963 edition of the Bill Monroe band, come to us courtesy of bluegrass archivist David Grisman, who recorded this show in New England as he began his own ascension into the bluegrass firmament. Keith's banjo picking was a big show-stopper, blending dazzling hot licks and preternatural finesse. Also of note is Monroe's daughter, Melissa singing a wonderfully twangy version of Buck Owens' "Love's Gonna Live Here," as well as fiddler Joe Stuart who ably compliments Keith's fretwork. A nice snapshot of some major bluegrass talents during the folk scene revival era.


<! Del McCoury, guitar; Bill Keith, banjo; Joe Stuart, fiddle; Bessie Lee Mauldin, Bass) >

Bill Monroe & Doc Watson "Live Duet Recordings: 1963-1980, v.2" (Smithsonian Folkways, 1993)


Bill Monroe "Live From Mountain Stage" (Blue Plate, 1999)


Bill Monroe "Live, Volume 1" (Rural Rhythm, 2001)


Recorded live at the 1990 Bean Blossom festival; Monroe with a small quartet that included Tom Ewing, Tater Tate. and Blake Williams.
---
LP Discography
---
Bill Monroe "Knee Deep In Blue Grass" (Decca, 1958) [DL-8731]
Monroe's first LP was, unlike many of his early albums, not a collection of old 78s, but an actual studio album recorded in '57. A stellar lineup, including Don Stover handling the vocals, fiddlers Gordon Terry and Kenny Baker, and Doug Kershaw (of all people!) playing guitar... A classic!
Bill Monroe "I Saw The Light" (Decca, 1959) [DL-8769]
Another contemporary album, recorded in '58, with Decca studio producer Owen Bradley joining in to add a churchy organ, amid the keening harmonies and stripped-down sound.
Bill Monroe "The Great Bill Monroe" (Columbia Harmony, 1961) [HS-11335]
The late '40s edition of the Bill Monroe band found its LP debut on this budget line album... Ten sizzling tracks from the Columbia years... what's not to love?
Bill Monroe "Mr. Blue Grass" (Decca, 1961) [DL-74080]
A session from 1960 that includes Carl Butler on guitar, and several new songs to liven up the repertoire.
Bill Monroe "Bluegrass Ramble" (Decca, 1962) [DL-74266]
Buddy Spicher and Vassar Clements make their appearances as fiddlin' members of the Blue Grass Boys crew...
Bill Monroe "Bluegrass Special" (Decca, 1962) [DL-74382]

Bill Monroe "My All-Time Country Favorites" (Decca, 1962) [DL-4327]

Bill Monroe "I'll Meet You In Church On Sunday Morning" (Decca, 1964) [DL-4357]
Gospel material that was recorded in the early '60s
Bill Monroe "Bluegrass Instrumentals" (Decca, 1965) [DL-74601]
This material was drawn from over a decade of recordings, including various editions of his band.
Bill Monroe "The High Lonesome Sound" (Decca, 1966) [DL-74780]
More old stuff from the 'Fifties, with one new-ish track thrown in for good measure.
Bill Monroe "Greatest Hits" (Decca, 1967) [DL-75010]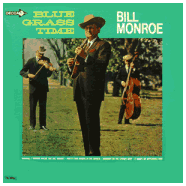 Bill Monroe "Blue Grass Time" (Decca, 1967) (LP)


This album features the mid-'60s lineup that included future cosmic cowboy Peter Rowan along with fiddler Richard Greene, and James Monroe on guitar... I think this may be the only album with Greene on it, other than maybe some live recordings... (BTW, this was reissued in 1973 under the MCA imprint.)


<! several ASINs, including 1973 MCA reissue: B00AG8GBQI > <! Decca DL-4896/DL-74896 Bluegrass Time: Turkey In The Straw; I Wonder Where You Are Tonight; But That's All Right; All The Good Times Are Past And Gone; Pretty Fair Maiden In The Garden; Roll On Buddy Roll On; Blue Night; Midnight On The Stormy Deep; It Makes No Difference Now; Were You There When They Crucified My Lord; Dusty Miller; When My Blue Moon Turns To Gold Again Ð12-06-67 (reissued in 1973 on MCA-116) >
Bill & Charlie Monroe "Bill And Charlie Monroe" (Decca, 1969) (LP)


Sadly, this was not the Monroe Brothers reunion one might have hoped for, but it was still nice of Bill to steer a few fans towards his sibling's band, the Kentucky Partners. The album alternates tracks featuring Bill & The Blue Grass Boys with those by Charlie and his band... I'm not sure of the exact vintage, but I think these songs were recorded contemporary to the album itself. Nice to hear Charlie's old-timey vibe in contrast to Bill's more rigid, aggressive style.


<! [DL-75066] >

Bill Monroe "A Voice From On High" (Decca, 1969) (LP)


Gospel recordings, originally made in the mid 1950s, before the label execs'd let Bill do a proper album. A whole slew of talented folks are on hand, including Jimmy Martin, Sonny Osborne and Vassar Clements, and even Bill's great rival Carter Stanley on vocals, as well as future hitmaking rock'n'roll songwriter Boudleaux Bryant. Great stuff... Praise the Lord!!


<! [DL-75135] >

Bill Monroe "Kentucky Bluegrass" (Decca, 1970) (LP)


The last hurrah of Bill's fabled young'uns lineup, with Peter Rowan, Richard Greene and Roland White among the high-powered pickers. Banjoist Bill Keith had already flown the coop, but this is a fine album nonetheless.


<! [DL-75213] >

Bill Monroe "Country Music Hall Of Fame" (Decca, 1971) (LP)


Half this album is new stuff, with a bunch of the young'uns in tow, while the other half is of fab vintage material, dating back to the early 'Fifties. The occasion? Bill's induction into the Country Music Hall Of Fame... (To which many a fan must've said: about time!!)


<! [DL-75281] >

Bill Monroe "Uncle Pen" (Decca, 1972)
Monroe pays tribute to his fabled fiddlin' uncle, Pen Vandiver, playing a lively set of old-time tunes that Uncle Pen would play when Bill was but a lad. Bending the bow on these sessions are no less than Kenny Baker, Red Hayes, Buddy Spicher and Tommy Williams... Not a bad group at all!


<! [DL-75348] >

Bill Monroe & James Monroe "Father And Son" (MCA, 1973) [MCA-310] *





Bill Monroe/Various Artists "Bean Blossom" (MCA, 1973) [MCA-8002]


Highlights from the 1973 Bean Blossom Festival (Monroe's big annual Kentucky bash...) In addition to Bill and the Boys, this disc features tracks by Jim & Jesse, Jimmy Martin, the now-solo Lester Flatt and by Monroe's son, James Monroe and his band the Midnight Ramblers.
Bill Monroe "Road Of Life" (MCA, 1974) [MCA-426]

Bill Monroe "Weary Traveller" (MCA, 1976) [MCA-2173] *

Bill Monroe "Sings Bluegrass Body And Soul" (MCA, 1977) [MCA-2251]
In addition to James Monroe and Kenny Baker, this album is also notable for bandmember Blaine Sprouse on fiddle, representing the booming newgrass scene.
Bill Monroe "Bluegrass Memories" (MCA, 1977) [MCA-2315]

Bill Monroe & James Monroe "Together Again" (MCA, 1978) [MCA-2367] *

Bill Monroe "Bean Blossom '79" (MCA, 1980) [MCA-3209]

Bill Monroe "Master Of Bluegrass" (MCA, 1981) [MCA-5214]
Norman Blake sits in on guitar, on this set of mostly-new tunes...
Bill Monroe/Various Artists "Bill Monroe And Friends" (MCA, 1984) [MCA-5435]
A guest-star lovefest, with Willie Nelson, Emmylou Harris, John Hartford, Johnny Cash, Waylon Jennings, and more overtly commerical artists, such as Barbara Mandrell, Larry Gatlin, Mel Tillis and the Oak Ridge Boys.
Bill Monroe/Various Artists "Bill Monroe And Stars Of The Bluegrass Hall Of Fame" (MCA, 1985) [MCA-5625]

Bill Monroe "Bluegrass '87" (MCA, 1987) [MCA-5970]

Bill Monroe "Southern Flavor" (MCA, 1988) [MCA-42133]


Bill Monroe "Live At The Opry" (MCA, 1989)


A nice, fairly reserved, live set, recorded in celebration of the 50th anniversary of Monroe's first appearance at the Grand Ole Opry. This late edition of the Blue Grass Boys included fiddler Clarence "Tater" Tate and lead singer Tom Ewing, running through many of Monroe's best-know classics. Ewing doesn't have quite the right voice to match the classic "high lonesome" sound, but then again, a little variety in the hardshell sound is also kinda nice. This group sounds great on the gospel harmonies, with a smokey sort of warmth that isn't always apparent on the older Monroe recordings. A nice glimpse at Monroe's live persona during his later years.

Bill Monroe "Cryin' Holy Unto The Lord" (MCA, 1991) [MCA-10017]


A fine gospel release, with strong ensemble work from Clarence Tate, Tom Ewing and Blake Williams, who formed the core of the Blue Grass Boys at the time, as well as numerous guest stars and contributors, such as Ricky Skaggs, Ralph Stanley, Jim & Jesse and Mac Wiseman. Bill himself seems somewhat subsumed by all the flurry of other musicians, but it's still a fine album, regardless. Recommended! (For more music like this, check out my country gospel section. )
Bill Monroe & James Monroe "Bluegrass Memories" (1999)

Bill Monroe "Live At Mechanics Hall" (Acoustic Disc, 2004)



A live show from 1963 with a top-flight edition of the Blue Grass Boys featuring Del McCoury and banjoist Bill Keith... The concert was captured on tape by a young fan named David Grisman who learned to pick a few licks on mandolin himself... And started a record label decades later!
---
Tributes And Related Records
---

Various Artists "LET THE LIGHT SHINE DOWN: A GOSPEL TRIBUTE TO BILL MONROE" (Rebel, 2011)



In celebration of Monroe's birthday centennial, Rebel released two compilation albums, one secular and one gospel, with a stunning lineup of artists: Red Allen, Del McCoury, the Country Gentlemen, the Seldom Scene, Don Stover & The Lilly Brothers, Ralph Stanley (solo and with the Stanley Brothers), Reno & Smiley, Tony Rice, Peter Rowan and many others. Great stuff. In musical terms, I prefer the gospel set, but both discs are quite strong. If you want a good snapshot of how three generations of musicians have interpreted the music of bluegrass music's founder, these two collections are highly recommended!
Various Artists "WITH BODY AND SOUL: A BLUEGRASS TRIBUTE TO BILL MONROE" (Rebel, 2011)



Although I preferred the spooky, soulful feel of the all-gospel set (and all those groovy harmonies!) this secular all is great as well. Plenty of well-known standards, such as "Uncle Pen," "Big Mon," "Kentucky Waltz," "Little Georgia Rose," "A Good Woman's Love," and the like, all by top-flight musicians with deep connections to the music. Definitely worth checking out!
---
Links
---
---



Hick Music Index



---

---
Top photo: Fred Toma, courtesy of MCA Records. <! Creation date = 11/22/03>