<! MP3 08/20/09 > <! update 00/00/00 > <! outside 00/00/00 > <! pix 00/00/00 > <! 208-pix: 00/00/00 > <! cd = 08/20/09 >
---
Fiddler Vassar Clements (1928-2005) was one of the greats -- a pioneer of bluegrass-jazz fusion music and a violinist who really knew how to swing. He started out (as many did) with a stint in Bill Monroe's band, moving from there to a late-1950s gig with Jim & Jesse. But somewhere along the line Clements gravitated towards a new kind of roots music. While working prolifically as a studio session player, he worked with hippiebilly reveler John Hartford, and old-timey revivalist Norman Blake, as well as jug band rockers such as the Nitty Gritty Dirt Band and the Grateful Dead. It was his association with the Dead that led him to become a founding member of the highly-regarded Old And In The Way, then during the mid-1970s he moved towards a more jazz-oriented approach, notably with his own band, Hillbilly Jazz. Here's a quick look at one of the most influential modernizers of American fiddle music.
---
Discography
---
Vassar Clements "Southern Country Waltzes" (Rural Rhythm, 1970) (LP)

Vassar Clements "Crossing The Catskills" (Rounder, 1973) <! 1970? >






<! with David Bromberg, Everett Alan Lilly and Mike Melford >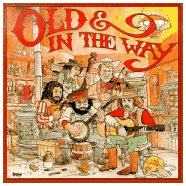 Old And In The Way "Old And In The Way" (Round, 1975)


Old-time fiddle whiz Vassar Clements was on hand for this iconic album which bridged the world of early '70s bluegrass and acidhead hippie folk-rock. The collaboration with David Grisman, Peter Rowan and the Grateful Dead's teddybear avatar, Jerry Garcia is news in and of itself -- the Greg Irons cover art (of later editions) was just icing on the cake, giving this disc ultimate counterculture status. The band itself wasn't together that long, and was a pretty informal gig to begin with. They were, as the saying goes, ragged but right -- a little haphazard when compared to the classic recordings of the bluegrass elders, but full of the right attitude. In some ways, it's actually kinda nice how loosey-goosey Old & In The Way were -- their relaxed, easygoing approach was a folk scene equivalent of the DIY punk explosion in rock. Doubtless many hundreds of fledgling pickers were encouraged to pick up an instrument after hearing this disc. Fun stuff, with nice versions of a couple of Rowan's best tunes, "Midnight Moonlight," and "Panama Red..."
Old And In The Way "That High Lonesone Sound" (Acoustic Disc, 1996)



Old And In The Way "Breakdown" (Acoustic Disc, 1997)



Poking around in his closets, mandolinist David Grisman discovered the material for these two excellent archival collections, which give a perfect, bird's eye view of Old & In The Way live and in action, during their all-too-brief prime. It's a shame the band wasn't able to stay together longer, just to see how much they would have tightened (or changed) their sound... But since Rowan and Grisman both went on to do some of the best work of their careers immediately after this, I guess we can't really be all that bummed. There's certainly little to complain about here... Again, the band is ragged but right; they may have been a little sloppy, but the music is still exciting. Recommended!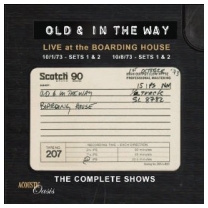 Old And In The Way "Live At The Boarding House" (Acoustic Disc, 2014)



Hippie bluegrass history, in a big way... This 4-CD set collects the complete live October, 1973 performances of Old And In The Way -- Vassar Clements, Jerry Garcia, David Grisman and Peter Rowan -- playing live at the (now-defunct) San Francisco nightclub known as the Boarding House. This box set includes the set they played the week before they recorded their fabled live album... and it's mighty sweet stuff! More groovy goodies from the vaults, courtesy of mandolinist David Grisman.
Vassar Clements "Vassar" (Mercury, 1975) (LP) <! Mercury 1022 >

Vassar Clements "Superbow" (Mercury, 1975) (LP)

Vassar Clements/Various Artists "Hillbilly Jazz" (Flying Fish, 1975)



A cheerful, but kinda slick, set of mostly-instrumental grass-country jazz crossovers, mixing big band standards with Bob Wills western swing oldies. Fiddler Vassar Clements helmed this good-natured outing, along with David Bromberg on guitar, and several other likeminded pals. I find this disc to be a bit sedate, but for the time mixing bluegrass and jazz was probably pretty "out there..." Smooth sailing, with a nice, relaxed feel; may be a little sugary in retrospect.


<! 11/11: MP3? B004V7FCGA >

Vassar Clements "The Vassar Clements Band" (MCA, 1977) (LP)

Vassar Clements "The Bluegrass Session" (Flying Fish, 1977)


This is meant to be a return-to-roots outing, with the bluegrass picking taking center stage, but Vassar's jazzy leanings don't take too long to assert themselves, and the pedal steel and piano on some tracks tend to pull this production in different directions, giving it a sometimes wobbly/often delightful feel... Still, with Bobby Osborne on board, there's a nice connection to old-school truegrass (including a perfunctory version of "Rocky Top" and an oddly clumsy "Nine Pound Hammer") and while this album never quite catches fire, it's a nice reminder of how eclectic the '70s acoustic scene was and it's got a pleasant, lively feel. Future klezmer king Andy Statman provides some concise mandolin licks throughout, steel player Doug Jernigan adds some sweet swing riffs, and the fiddling is, of course, pretty stellar. Apparently this set was recorded on election day, 1976, which helps explain the updated version of "White House Blues," with topical lyrics about Jimmy Carter, Gerald Ford and Richard Nixon... The tune is too rushed and manic to really make much impact, but it's still an interesting historical curio. Overall this album is okay, but not great... Worth checking out if you're on a Clements kick...


<! 05/13: no producer info >

Vassar Clements "Nashville Jam" (Flying Fish, 1979) (LP)


With Jesse McReynolds, Doug Jernigan, Buddy Spicher and others...


<! 12 Songs including Roanoke, Stella's Breakdown, Beaumont Rad, Doc's Place, Osmosis, Me and My Fiddle, Rawhide, Long Way 'Round, HCBT Blues, I Wonder Where You Are Tonight, Farewell Blues and Roly Poly. >

Vassar Clements "Vassar" (Flying Fish, 1980) (LP)





Vassar Clements "Westport Drive" (Mind Dust, 1984) (LP) <! date? >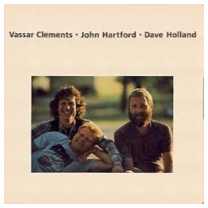 John Hartford/Vassar Clements/Dave Holland "Vassar Clements - John Hartford - Dave Holland" (Rounder, 1984) (LP)


(Produced by Harry Deane & Richard Adler)
A nice, simple set, mostly instrumental jams with Side One more down to earth and old-timey, and Side Two showing Hartford & Co. dipping into the jazzier side of twang, with gentle explorations such as "Evening Prayer" and more uptempo tunes like "Scapin' Out On The Roof" showing perhaps the influence of the Grisman-y "spacegrass" scene. It's a sweet record, though admittedly a little emphemeral, showcasing a definite jam-session looseness throughout. For fans of Hartford's novelty-song side, the missing gem on this one is "You And The Way You Do."


<! LP B00008FP5Z >

Vassar Clements "Hillbilly Jazz Rides Again" (Flying Fish, 1987) <! '86 >

Vassar Clements & Stephane Grappelli "Together At Last" (Flying Fish, 1987) <! date >

Vassar Clements "New Hillbilly Jazz" (Shikata, 1988) <! date? >

Vassar Clements "Grass Routes" (Rounder, 1991)


Vassar Clements "Once In A While" (Flying Fish, 1993)






<! (w/ Miles Davis' ex-band members) >

Vassar Clements "Vassar's Jazz" (Winter Harvest, 1996)



Yeex. Newgrass old-timer Vassar Clements fronts a glossy, truly outlandish set of pop-jazz-grass crossover tunes. Some pretty cheesy instrumentation, particularly the plinky, MIDI-ish keyboards. It's always nice to hear his fiddle, but... um... honestly? You can skip this one.
Vassar Clements "20 Fiddle Tunes & Waltz Favorites" (Rural Rhythm, 1998)



A collection of older recordings from the late 1960s and early '70s, mainly in a rigid, traditional style...
Vassar Clements "The Bottom Line Encore Collection" (Bottom Line, 1999)



<! 1975 concert >
Vassar Clements "Back Porch Swing" (Chrome/Cedar Glen, 2000)


Vassar Clements "Dead Grass" (Koch/Cedar Glen, 2000) <! date? >


Vassar Clements/Various Artists "A Night Of Bluegrass At Sherwood Forest" (2000)


<! (1985 concert) >
Vassar Clements "Full Circle" (OMS, 2001)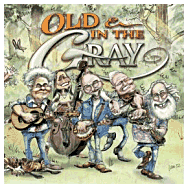 Old & In The Gray "Old & In The Gray" (Acoustic Disc, 2002)



A swell get-together of some of Grisman's grizzled, goofy bluegrass buddies. The lineup includes David Grisman, Peter Rowan, Vassar Clements and Herb Pedersen, along with young'un Bryn Bright. who plays a mighty fine bass. The vibe here is playful and relaxed, running through some old favorites and crowd pleasers... highlights include the album opener, "Good Old Boys" and the spine-tingling story-song, "The Flood," which details a river rising and a community rallying to meet the crisis. If you enjoyed Grisman's Retrograss album from a few years earlier, then you oughtta love this one, too!
Vassar Clements & Buddy Spicher "Runaway Fiddle" (OMS, 2004)


Vassar Clements "Livin' With The Blues" (Acoustic Disc, 2004)


---
Related Records
---
Vassar Clements/Various Artists "An Americana Christmas" (Winter Harvest)






<! with Norman Blake, Roy Huskey Jr. >

Vassar Clements "The Fiddle According To Vassar" (Homespun Tapes, 2005) (DVD)





<! Various Artists "Saturday Night Shuffle - A Celebration Of Merle Travis" (Shanachie) Old And In The Way "Old And In The Way" (BMG) Old And In The Way "That High Lonesome Sound (Volume 2)" (Acoustic Disc) Old And In The Way "Volume 3: Breakdown" (Acoustic Disc) Nitty Gritty Dirt Band/Various Artists "Will The Circle Be Unbroken - Volume II (30th Anniversary Edition) Capitol Records Nitty Gritty Dirt Band/Various Artists "Will The Circle Be Unbroken United Artists Nitty Gritty Dirt Band/Various Artists "Will The Circle Be Unbroken - Volume III Capitol Records Old & In The Gray" (Acoustic Disc) > <! Vassar Clements "The Man, The Legend" (Vassillie) 11/11: no ASIN Vassar Clements "Country Classics" (Vassillie) 11/11: no ASIN Vassar Clements "...Reunion With Dixie Gentlemen" (Old Homestead) 11/11: no ASIN Vassar Clements "Live in Telluride 1979" (Vassillie) Vassar Clements "Music City USA" (Vassillie) >

---
Links
---

<! Vassar Clements "Vassar" (Mercury) Vassar Clements "Superbow" (Mercury) Vassar Clements "Southern Waltzes" (Rhythm Records) Vassar Clements "Vassar Clements, John Hartford, & Dave Holland" (Rounder) Vassar Clements "Crossing The Catskills" (Rounder) Vassar Clements "Vassar Clements" (MCA) Vassar Clements "The Bluegrass Sessions" (Flying Fish) Vassar Clements "Grass Routes" (Rounder, 1991) date? B0000002KF B0010VGU9S Vassar Clements "Hillbilly Jazz" (Flying Fish) Vassar Clements "Hillbilly Jazz Rides Again" (Flying Fish, 1987) B000000MJC Vassar Clements "New Hillbilly Jazz" (Shikata) Vassar Clements & Stephane Grappelli "Together At Last" (Flying Fish, 1975) B000000MKN Vassar Clements "Nashville Jam" (Flying Fish) Vassar Clements "Westport Drive" (Mind Dust) Vassar Clements "The Man, The Legend" (Vassillie) Vassar Clements "Country Classics" (Vassillie) Vassar Clements "...Reunion With Dixie Gentlemen" (Old Homestead) Vassar Clements "Once In A While" (Flying Fish, 1993) B000000MSV B00106GDWW (w/ Miles Davis' ex-band members) Vassar Clements "Live in Telluride 1979" (Vassillie) Vassar Clements "Music City USA" (Vassillie) Vassar Clements/Various Artists "A Night Of Bluegrass At Sherwood Forest" (2000) B0000645CB (1985 concert) Vassar Clements/Various Artists "An Americana Christmas" (Winter Harvest) B000VAHR3M B001L0WLTG (with Norman Blake, Roy Huskey Jr.) Vassar Clements "The Bottom Line Encore Collection" (Bottom Line, 1999) B00000IM67 B000V9IL9M 1975 concert Vassar Clements "Vassar's Jazz" (Winter Harvest) Vassar Clements "Back Porch Swing" (Chrome/Cedar Glen, 2000) B000031VSN B0012D7P5M Vassar Clements "Dead Grass" (Koch/Cedar Glen, 2008) B001BJ65JO B001L26TPG Vassar Clements "20 Fiddle Tunes & Waltz Favorites" (Rural Rhythm, 2000) B00000DC6Q B001232OBC Vassar Clements "Full Circle" (OMS, 2001) B00005J9Y0 B000QZUUTA Vassar Clements & Buddy Spicher "Runaway Fiddle" (OMS, 2004) B00023GGCQ B000QZURRU Vassar Clements "Livin' With The Blues" (Acoustic Disc) Various Artists "Saturday Night Shuffle - A Celebration Of Merle Travis" (Shanachie) Old And In The Way "Old And In The Way" (BMG) Old And In The Way "That High Lonesome Sound (Volume 2)" (Acoustic Disc) Old And In The Way "Volume 3: Breakdown" (Acoustic Disc) Nitty Gritty Dirt Band/Various Artists "Will The Circle Be Unbroken - Volume II (30th Anniversary Edition) Capitol Records Nitty Gritty Dirt Band/Various Artists "Will The Circle Be Unbroken United Artists Nitty Gritty Dirt Band/Various Artists "Will The Circle Be Unbroken - Volume III Capitol Records Old & In The Gray" (Acoustic Disc) > <! Dates: per PF Vassar Clements "Southern Country Waltzes" (Rural Rhythm, 1970) (LP) B003XXDSUA Vassar Clements "Crossing The Catskills" (Rounder, 1970) (LP) B000WR98AE 1973? with David Bromberg, Everett Alan Lilly and Mike Melford Vassar Clements "Vassar" (Mercury, 1975) B003XXDSSW <! Mercury 1022 > Vassar Clements "Superbow" (Mercury, 1975 ) B000MU7XTE 1975? Vassar Clements "The Vassar Clements Band" (MCA, 1977) (LP) B0049R5WVW Vassar Clements "Vassar Clements, John Hartford, & Dave Holland" (Rounder, 1985) (LP) B00008FP5Z 1988? >


---



Hick Music Index



---

<! cd=08/30/09>