<! cd = 09/15/09 > <! MP3 09/15/09 > <! update 09/15/09 - some albums not found on Amazon, left off discography > <! pix 00/00/00 > <! 208-pix: 00/00/00 > <! icons 03/28/11 >
---
Peter Rowan is one of the great iconic hippie-bluegrass troubadours, an enduring presence over five decades of joyful musical expansion and widening of the horizons of traditional mountain music. His bluegrass debut came at the style's highest peak, as a member of Bill Monroe's Blue Grass Boys; from there he went on to found several of the most adventurous folk-fusion groups of the era, and to help reclaim bluegrass as a style open to shaggy longhairs and barefoot weirdos. In his own solo work, Rowan has embraced a sort of desert hillbilly mysticism, drawing on Tex-Mex, Native American and rock'n'roll influences to create a shamanistic persona. With his distinctive voice and chunky melodic style, Rowan remains a unique presence on the Americana scene... Here's a quick look at his work...
---
Discography
---

<! Mother Bay State Entertainers "The String Band Project" (Elektra, 1965) plays mandolin > <! Bill Monroe (1966) - other albums w/ Rowan on them? >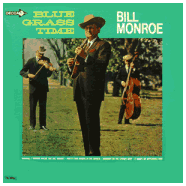 Bill Monroe "Blue Grass Time" (Decca, 1967) (LP)


This album features the mid-'60s Blue Grass Boys lineup that included future cosmic cowboy Peter Rowan along with fiddler Richard Greene, and Monroe's son, James, on guitar... I think this may be the only album with Greene on it, other than maybe some live recordings... (BTW, this was reissued in 1973 under the MCA imprint.)


<! Decca DL-4896/DL-74896 Bluegrass Time: Turkey In The Straw; I Wonder Where You Are Tonight; But That's All Right; All The Good Times Are Past And Gone; Pretty Fair Maiden In The Garden; Roll On Buddy Roll On; Blue Night; Midnight On The Stormy Deep; It Makes No Difference Now; Were You There When They Crucified My Lord; Dusty Miller; When My Blue Moon Turns To Gold Again Ð12-06-67 (reissued in 1973 on MCA-116) >
Earth Opera "Earth Opera" (Elektra, 1968)



Mandolinist David Grisman and singer-guitarist Peter Rowan had both served serious apprenticeships with real-deal bluegrass bands in the 1960s. With Rowan fresh from Bill Monroe's band, and Grisman an old stalwart with the Greenbriar Boys and Red Allen's band, the two embarked on an audacious acid rock-hick twang fusion. Earth Opera was a band that was very much a product of its time, and the results were a bit murky... I have to confess, I heard these albums many, many years ago and have never gone back to revisit them. I've always had the impression that the band was actually more Rowan's baby than Grisman's, especially since the the muddled feel of these discs seems so similar to the later pop-rock efforts of the Rowan Brothers in the early '70s. Hardcore fans who are able to track these discs down may find them rewarding, but most likely these albums will merely sound like well-intentioned curiousities...
Earth Opera "Great American Eagle Tragedy" (Elektra, 1969)


Sea Train "Sea Train" (A&M, 1970) <! B001811DC4 (LP) >


This is the debut album from the band Seatrain, founded by fiddler Richard Greene, who was in the Bill Monroe band at the same time as Peter Rowan, and who remained a close collaborator over the years. I'm not sure if Rowan was onboard for this first record, but he certainly took part in all the others.
Seatrain "Seatrain" (Capitol, 1970)





<! (Produced by George Martin?) >

Seatrain "The Marblehead Messenger" (Capitol, 1971)





<! (Produced by George Martin?) >

Seatrain "Watch" (Warner Brothers, 1973)



Muleskinner "Muleskinner: A Potpourri Of Bluegrass Jam" (Warner/Sierra, 1973)



For some reason, I've misplaced my beat-up old copy of the Muleskinner LP. As I recall, though, in my senile haze, it's pretty similar to the Old & In The Way album reviewed below... A spirited, but somewhat raggedy acoustic album, recorded by what was meant to be a pickup band for a Bill Monroe gig on a local TV station. Maybe this isn't the most stellar bluegrass you'll ever hear, but it's certainly not the worst. The players were all top-flight traditionalists: Grisman, Rowan, flatpicker Clarence White, banjoist Bill Keith, and fiddler Richard Greene, who'd once been in Bill Monroe's band along with Peter Rowan. This is worth tracking down, just to check out what these guys were up to at the start of the decade, and also because it has an early example of Grisman working out his vision on a new acoustic music, on his original composition, "Opus 57," which later became a staple of his famed Quintet. (Addendum: hey, it looks like someone finally reissued the Muleskinner album on CD! Thanks to the folks at Runt Records for making this disc available again!)
Muleskinner "Muleskinner Live-- Original Television Soundtrack" (Sierra, 1974)


I'm not sure what the difference between these two Muleskinner albums is; maybe this "soundtrack" album includes the complete live set or something... Apparently there's a video out, too, which is probably pretty cool. (Perhaps the best info online about this project comes from the Byrd Watcher website, which talks in great detail about Clarence White's career.)


<! David Grisman/Bill Keith/Clarence White/Peter Rowan >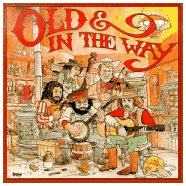 Old And In The Way "Old And In The Way" (Round, 1975)


An iconic album for early '70s bluegrass fans, and a big bridge from the world of acidhead hippies into the traditional folk scene. The gathering of David Grisman, Peter Rowan, old-time fiddle whiz Vassar Clements and the Grateful Dead's teddybear avatar, Jerry Garcia is news in and of itself -- the Greg Irons cover art (of later editions) was just icing on the cake, giving this disc ultimate counterculture status. The band itself wasn't together that long, and was a pretty informal gig to begin with. They were, as the saying goes, ragged but right -- a little haphazard when compared to the classic recordings of the bluegrass elders, but full of the right attitude. In some ways, it's actually kinda nice how loosey-goosey Old & In The Way were -- their relaxed, easygoing approach was a folk scene equivalent of the DIY punk explosion in rock. Doubtless many hundreds of fledgling pickers were encouraged to pick up an instrument after hearing this disc. Fun stuff, with nice versions of a couple of Rowan's best tunes, "Midnight Moonlight," and "Panama Red..."
Old And In The Way "That High Lonesone Sound" (Acoustic Disc, 1996)



Old And In The Way "Breakdown" (Acoustic Disc, 1997)



Thank goodness David Grisman is such a magpie... Poking around in his closets he came up with the material for these two excellent archival collections, which give a perfect, bird's eye view of Old & In The Way live and in action, during their all-too-brief prime. It's a shame the band wasn't able to stay together longer, just to see how much they would have tightened (or changed) their sound... But since Rowan and Grisman both went on to do some of the best work of their careers immediately after this, I guess we can't really be all that bummed. There's certainly little to complain about here... Again, the band is ragged but right; they may have been a little sloppy, but the music is still exciting. Recommended!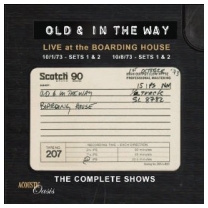 Old And In The Way "Live At The Boarding House" (Acoustic Disc, 2014)



Hippie bluegrass history, in a big way... This 4-CD set collects the complete live October, 1973 performances of Old And In The Way -- Vassar Clements, Jerry Garcia, David Grisman and Peter Rowan -- playing live at the (now-defunct) San Francisco nightclub known as the Boarding House. This box set includes the set they played the week before they recorded their fabled live album... and it's mighty sweet stuff! More groovy goodies from the vaults, courtesy of mandolinist David Grisman.

The Rowans "The Rowans" (Asylum, 1975)



At the same time that he as rededicating himself to hardcore high lonesome material with Muleskinner and Old & In The Way, Peter Rowan made forays into the pop market with his brothers, Chris and Lorin. Some longtime fans are wildly devoted to this rock-oriented material, but it may make Rowans twangier truegrass fans cringe. Still, this debut album includes a version of Rowan's signature song, "Midnight Moonlight" (albeit with drums and other poppy arrangements) and may appeal to folks who like, say, old Poco albums, or early Eagles. If you cherish musical crossovers just because they are crossovers, or are really into 1970s country-rock, then by all means check this one out -- it's certainly the strongest of the Rowans albums from this time period. But really, most folks won't be missing much by skipping this one altogether.
The Rowans "Sibling Rivalry" (Asylum, 1976)



The Rowans "Jubilation" (1977)



I probably still have this LP floating around somewhere, on some hidden shelf in the back corners of Chez Sixpack... It's not a great record, although I'm sure it must have its fans. In order to justify the shelf space the disc took up, I brainwashed myself into having a soft spot for one song, the delicate acoustic-pop ballad "Love's Secret Sighs," which is Peter Rowan's most distinctive contribution on here. By and large, though, the tortured disco-folk of the rest of the record is pretty much like the other Rowans albums -- nice in theory, but not really something you need to go back to anytime soon.
Peter Rowan "Peter Rowan" (Rounder, 1978)



A classic! Rowan's truegrass glory days came when he was in Bill Monroe's band back in the '66 edition, and then he went all traditional along with Jerry Garcia and the boys in Muleskinner and Old & In The Way... Somewhere in between came the disasterous would-be pop crossovers with Earth Opera and the Rowans (him and his no-account brothers...) Once all the dust settled, though, this turned out to be the album that he'll be remembered for, with several of his best-beloved (and most coherent) classic tunes. Notably, there's the ultimate stoner/smuggler/pot farmer anthem, "Free Mexican Air Force," propelled by the gorgeous Tex-Mex accordion of his pal Flaco Jimenez, as well as the heady, peyote-inspired spirituality of "Midnight Moonlight," two songs which Rowan fans will never tire of... This album also solidifies his Southwestern desert-mystic mythologizing, a schtick he kept at for years with steadily diminishing results. Here's where it all gels for Peter Rowan... If you ever wondered what the fuss was about with this fellow, try this one out.
Peter Rowan "Texican Badman" (Appaloosa, 1980)





<! -recorded in 1974 & 1979 >

Peter Rowan "Medicine Trail" (Flying Fish, 1980)


Peter Rowan "...And The Wild Stallions" (Appaloosa, 1981)





<! twangy roots rock/rockabilly & Rowans-y style pop balladry >

Peter Rowan "The Walls Of Time" (Sugar Hill, 1982)


Peter Rowan "San Antonio Sound" (Waterfront, 1983) (LP)


With Flaco Jimenez...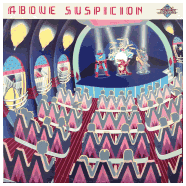 The Usual Suspects "Volume Three: Above Suspicion" (Suspex, 1983) (LP)
(Produced by Tom Stern)
Peter Rowan sings lead on several songs here... This album is part of a series spotlighting a variety of root-oriented SF Bay Area musicians -- blues, country and rock locals -- all invited together by producer Tom Stern, who just wanted to capture the relaxed, freewheeling vibe he heard in Marin County and environs. This particular volume starts off with some bluesy material, including vocals by Taj Mahal, and pianists Mark Naftalin and Mitch Woods tickling the ivories. But the disc takes a pronounced tilt towards more country-oriented material, with covers of tunes such as Harold Hensley's "You're The Reason" and Roy Orbison's "Dream Baby," sung by Peter Rowan, Tony Rice singing a straight-ahead bluegrass version of "Rock Hearts," and Don Reno and his family plunking out "Lonesome Hearted Blues," with Stern playing second banjo. (He plays a variety of instruments throughout the album...) Other participants include singer Vicki Randle, Joe Goldmark on pedal steel, and Darol Anger playing cello and violin on some 'grassed-up Bach variations, along with mandolinist Frank Wakefield. The sessions have a very relaxed feel and sound like what they basically were, a bunch of very talented folks dropping by to jam at somebody's home -- there's talent to spare, but they aren't stressing too much about making it sound a certain way, often taking chances or just plain enjoying themselves as they play. (By the way, does anyone know exactly which records came out when in this series, and which numbers each volume should be assigned? The info online is pretty contradictory...) At any rate, most roots music fans should find something to enjoy here.
Peter Rowan "...With The Red Hot Pickers" (Sugar Hill, 1984)

Peter Rowan "The First Whipoorwill" (Sugar Hill, 1990)



A first-rate bluegrass jamfest, steeped in the "high lonesome" style Rowan learned straight from Bill Monroe. Along for the ride are a slew of superpickers, including Alan O'Bryant, Sam Bush, Bill Keith and Richard Greene, all cheerfully galloping through a bunch of mountain music oldies. This is a fun album, one that anyone who doubts Rowan's hillbilly cred should really check out.
Peter Rowan & The Nashville Bluegrass Band "New Moon Rising" (Sugar Hill, 1988)


Peter Rowan "Dust Bowl Children" (Sugar Hill, 1990)


Peter Rowan "All On A Rising Day" (Sugar Hill, 1991)


Peter Rowan "Awake Me In The New World" (Sugar Hill, 1993)


Peter Rowan & The Rowan Brothers "Tree On A Hill" (Sugar Hill, 1994)


Peter Rowan "The Bluegrass Boy" (Sugar Hill, 1996)



This back-to-basics album was recorded in the wake of Bill Monroe's passing, both as a tribute to Rowan's old mentor, and as a halfhearted bid to fill Monroe's shoes as a bluegrass patriarch. (Turns out Rowan will have to wait in line after Ralph Stanley and Del McCoury...) Lots of sweet support by McCoury, Laurie Lewis and Richard Greene (who was in the same mid-60s edition of the Blue Grass Boys as Rowan was...) One of Rowan's more understated album (which is nice), and a good glimpse at his capabilities as a semi-strict traditionalist. Recommended.
Peter Rowan & Jerry Douglas "Yonder" (Sugar Hill, 1996)


A nice change of pace for both of these newgrass old-timers... Rowan and Douglas dip back into the old-fashioned blues styles of the Jimmie Rodgers/Big Bill Broonzy era, sparsely arranged, plaintive material with a stripe of old-fashioned, turn-of-the-century, Gilded Age vaudevillian "pop" running through it. This is a pretty eloquent, masterful performance, which fans of revivalist acts like Squirrel Nut Zippers and Asylum Street Spankers should definitely put on their wantlists.
Peter Rowan & Druha Trava "New Freedom Bell" (Compass, 1999)



Space-grass poet Rowan teams up with the once-bluegrassy Czech band Druha Trava, who by now have taken on more of a clunky folk-rock sound. This disc didn't do much for me; I found it difficult to focus on the songs because I didn't like the music. I'll pass.
Peter Rowan "Reggaebilly" (A Train, 2001)


Peter Rowan & Don Edwards "High Lonesome Cowboy" (Shanachie, 2002)


A nice set of cowboy tunes, with Tony Rice & Norman Blake pitching in on the picking...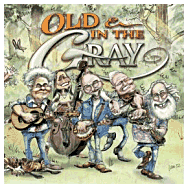 Old & In The Gray "Old & In The Gray" (Acoustic Disc, 2002)



A swell get-together of some of Grisman's grizzled, goofy bluegrass buddies. The lineup includes David Grisman, Peter Rowan, Vassar Clements and Herb Pedersen, along with young'un Bryn Bright. who plays a mighty fine bass. The vibe here is playful and relaxed, running through some old favorites and crowd pleasers... highlights include the album opener, "Good Old Boys" and the spine-tingling story-song, "The Flood," which details a river rising and a community rallying to meet the crisis. If you enjoyed Grisman's Retrograss album from a few years earlier, then you oughtta love this one, too!
The Rowan Brothers "Crazy People" (A Train, 2003)


Peter Rowan & Tony Rice "You Were There For Me" (Rounder, 2004)


Peter Rowan & Crucial Country "Live at Telluride" (There Records, 2006)


Peter Rowan & Tony Rice "Quartet" (Rounder, 2007)



Rowan and Rice renew their partnership with a fluid, melodic outing, digging deeper into their shared love of the folkie-poetic side of the bluegrass sound. They revisit several classic Rowan tunes -- "Midnight Moonlight," "Dust Bowl Children," "Walls Of Time," and others -- but also pick some intriguing cover tunes. Patti Smith's "Tresspasses," for example? Hmmm. Very interesting. Tony Rice, sadly, still can't sing due to a longstanding vocal injury, but he makes up for it in spades with his elegant, sometimes florid, guitar work. Rowan is in fine form, too, and keeps it simple with his own guitar work, while ceding the mandolin work to newcomer Sharon Gilchrist, who, along with bassist Bryn Davies, adds some lovely harmonies. Davies continues to impress as an accompanist -- one wonders how long it will be before her solo debut -- rounding out this compact, comfortable quartet. Worth checking out, especially if you enjoyed the last Rowan-Rice outing.
Peter Rowan "Legacy" (Compass, 2010)



(Produced by Alison Brown)
An all-star cast -- including Gillian Welch & David Rawlings, Del McCoury, Tim O'Brien and Ricky Skaggs -- joins Peter Rowan on this somewhat glum and weighty album, where he explores dark emotional preoccupations and spiritual disharmonies that are unusual, to say the least, in the tradition-bound world of bluegrass. The picking is pretty straightforward, truegrass-style acoustic stuff, with old-timer Jody Stecher helping anchor the band with his mandolin and harmony vocals. It's slow and sorrowful music, though, underscoring the melancholy tone of Rowan's lyrics, which delve into domestic abuse ("The Family Demon") death (numerous songs) and the dark side of Christian tradition. On "Turn The Other Cheek," Rowan exhorts his listeners to live with empathy and compassion, following the Golden Rule above all -- although he doesn't directly lay siege to the fundamentalism that is so prevalent in America these days, the critique is pretty close to the surface. Now a bluegrass elder himself, Rowan seems to have found urgency with age, and much of this album is stark and a bit grim: there seem to be a lot of things he wants to say while he still can, and a lot of it seems to me about dysfunctional social and family issues. It's powerful stuff, but not quite the sinaglong gospel that most bluegrass fans are used to... But it's hard to deny the potency of the message. Worth checking out, though it is kind of a downer.
Peter Rowan "The Old School" (Compass, 2013)


---
Links
---
---



Hick Music Index



---

<! cd=08/30/09>