<! MP3 04/07/09 > <! update 04/07/09 > <! outside 00/00/00 > <! pix 00/00/00 > <! 208-pix: 00/00/00 > <! icons 03/20/11 >
---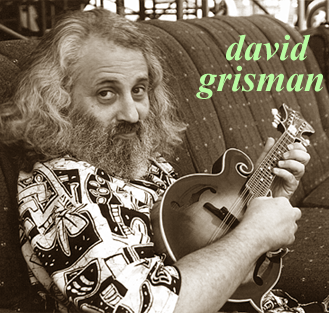 David Grisman is a mandolin picker's mandolin picker... He's probably done more than anybody this side of Bill Monroe to expand the popular appeal and stylistic range of the instrument, branching out from his early traditionalist roots into the open horizons of "dawg" music, a unique synthesis of bluegrass, jazz and classical influences. Gathered around him were many of the bluegrass scene's finest virtuoso performers, pickers and fiddlers such as Tony Rice, Sam Bush, Richard Greene, Jerry Douglas and Tony Trischka, newgrass players who were so ubiquitous on the acoustic scene during the 1980s that they became simply known as "the usual suspects."
Years after pioneering this new style, Grisman set out on a second career as an entrepreneur, launching the Acoustic Disc record label from his stronghold in Marin County, near san Francisco. Below are reviews and recommendations from Grisman's long career, and info on a few of his favorite cohorts.
---
Discography: 1960s-1970s | 1980s-Now | Best-Ofs
---
Even Dozen Jug Band "The Even Dozen Jug Band" (Elektra, 1964)



A folk-revival proto-supergroup which featured David Grisman on mandolin, along with other luminaries such as acoustic blues picker Stefan Grossman, singers Maria Muldaur and John Sebastian (later of the Lovin' Spoonful), guitarist Steve Katz and even arranger/pianist Joshua Rifkin. The album was full of salty old-time blues tunes, and presaged the work of Muldaur's next port of call, the Jim Kweskin Jug Band. Interesting early stuff from the heyday of the folk revival.
Red Allen "Lonesome And Blue: The Complete County Recordings" (Rebel, 2004)



This disc reissues two classic mid-'60s albums, Bluegrass Country, from 1965, and 1966's Red Allen & The Kentuckians, which were among the first records issued on the fledgling County label. Newgrass fans will note these records for their historical significance -- fiddler Richard Greene makes his debut on the first album (soon to move on to Bill Monroe's band, and later newgrass reknown), while an up-and-coming David Grisman, still testing his wings, was signed on to work his magic on the second. Neither, naturally, were as accomplished as they would later become, but they were still pretty good. While not as electrifying as other Allen albums, this is still pretty nice stuff, well worth checking out, and certainly a major milestone for those tracking the growth of the bluegrass revival.
Earth Opera "Earth Opera" (Elektra, 1968)



Both David Grisman and singer-guitarist Peter Rowan had served serious apprenticeships with real-deal bluegrass bands in the 1960s. With Rowan fresh from Bill Monroe's band, and Grisman an old stalwart with the Greenbriar Boys and Red Allen's band, the two embarked on an audacious acid rock-hick twang fusion. Earth Opera was a band that was very much a product of its time, and the results were a bit murky... I have to confess, I heard these albums many, many years ago and have never gone back to revisit them. I've always had the impression that the band was actually more Rowan's baby than Grisman's, especially since the the muddled feel of these discs seems so similar to the later pop-rock efforts of the Rowan Brothers in the early '70s. Hardcore fans who are able to track these discs down may find them rewarding, but most likely these albums will merely sound like well-intentioned curiousities...
Earth Opera "Great American Eagle Tragedy" (Elektra, 1969)



Muleskinner "Muleskinner" (Warner/Sierra, 1973)



For some reason, I've misplaced my beat-up old copy of the Muleskinner LP. As I recall, though, in my senile haze, it's pretty similar to the Old & In The Way album reviewed below... A spirited, but somewhat raggedy acoustic album, recorded by what was meant to be a pickup band for a Bill Monroe gig on a local TV station. Maybe this isn't the most stellar bluegrass you'll ever hear, but it's certainly not the worst. The players were all top-flight traditionalists: Grisman, Rowan, flatpicker Clarence White, banjoist Bill Keith, and fiddler Richard Greene, who'd once been in Bill Monroe's band along with Peter Rowan. This is worth tracking down, just to check out what these guys were up to at the start of the decade, and also because it has an early example of Grisman working out his vision on a new acoustic music, on his original composition, "Opus 57," which later became a staple of his famed Quintet. (Addendum: hey, it looks like someone finally reissued the Muleskinner album on CD! Thanks to the folks at Runt Records for making this disc available again!)
David Grisman/Bill Keith/Clarence White/Peter Rowan "Muleskinner Live" (Sierra, 1974)


I'm not sure what the difference between these two Muleskinner albums is; maybe this "soundtrack" album includes the complete live set or something... Apparently there's a video out, too, which is probably pretty cool. (Probably the best info online about this project comes from the Byrd Watcher website, which talks in great detail about Clarence White's career.)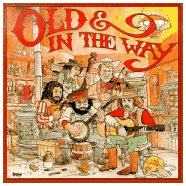 Old And In The Way "Old And In The Way" (Round, 1975)


An iconic album for early '70s bluegrass fans, and a big bridge from the world of acidhead hippies into the traditional folk scene. The gathering of Grisman, Rowan, old-time fiddle whiz Vassar Clements and the Grateful Dead's teddybear avatar, Jerry Garcia is news in and of itself -- the Greg Irons cover art (of later editions) was just icing on the cake, giving this disc ultimate counterculture status. The band itself wasn't together that long, and was a pretty informal gig to begin with. They were, as the saying goes, ragged but right -- a little haphazard when compared to the classic recordings of the bluegrass elders, but full of the right attitude. In some ways, it's actually kinda nice how loosey-goosey Old & In The Way were -- their relaxed, easygoing approach was a folk scene equivalent of the DIY punk explosion in rock. Doubtless many hundreds of fledgling pickers were encouraged to pick up an instrument after hearing this disc. Fun stuff, with nice versions of a couple of Rowan's best tunes, "Midnight Moonlight," and "Panama Red..."
Old And In The Way "That High Lonesone Sound" (Acoustic Disc, 1996)



Old And In The Way "Breakdown" (Acoustic Disc, 1997)



We're lucky that David Grisman is such a magpie... Poking around in his closets he came up with the material for these two excellent archival collections, which give a perfect, bird's eye view of Old & In The Way live and in action, during their all-too-brief prime. It's a shame the band wasn't able to stay together longer, just to see how much they would have tightened (or changed) their sound... But since Rowan and Grisman both went on to do some of the best work of their careers immediately after this, I guess we can't really be all that bummed. There's certainly little to complain about here... Again, the band is ragged but right; they may have been a little sloppy, but the music is still exciting. Recommended!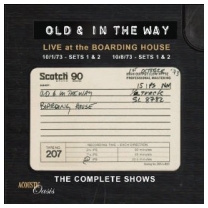 Old And In The Way "Live At The Boarding House" (Acoustic Disc, 2014)



Hippie bluegrass history, in a big way... This 4-CD set collects the complete live October, 1973 performances of Old And In The Way -- Vassar Clements, Jerry Garcia, David Grisman and Peter Rowan -- playing live at the (now-defunct) San Francisco nightclub known as the Boarding House. This box set includes the set they played the week before they recorded their fabled live album... and it's mighty sweet stuff! More groovy goodies from the vaults, courtesy of mandolinist David Grisman.


<! Forty years ago on a Monday night, a bluegrass band calling themselves Old & in the Way featuring Jerry Garcia on banjo, David Grisman on mandolin, Peter Rowan on guitar, Vassar Clements on fiddle and John Kahn on bass walked on to the stage at The Boarding House in San Francisco. They played again a week later and recorded what ould become one of the most influential albums in Bluegrass history. Now, forty years later, both shows are being released on 4 compact discs. This will be the first release of those historic shows with s 55 tracks, 14 of which have never been released in any format. >

David Grisman "The Rounder Album" (Rounder, 1976)



Gradually unveiling his grander schemes, Grisman gets superpicker Tony Rice, along with a bunch of other fellows (Ricky Skaggs, Bill Keith, Jerry Douglas, fiddle whiz Vassar Clements, Todd Phillips and Buck White) in on the ride, whipping out a picture-perfect batch of traditionalist bluegrass, some old-timey gospel, and a few early examples of his brand new obsession: dawg music (or instrumental jazz-grass). Whatever you want to call the new stuff, it's still a bit rough-hewn, but quite a delight. And the album as a whole is a good'un. Recommended.

David Grisman Quintet "The David Grisman Quintet" (Kaleidoscope, 1977)



A stunning, breakthrough album, one which would change the complexion and range of bluegrass music forever. Even after hearing the instrumental numbers on The Rounder Album, few people could have predicted the radical innovations on this album, a full-blown transistion into a new acoustic jazz. The debts to old jazz greats such as gypsy swing guitarist Django Rinehardt and instrumental pioneers like Joe Venuti and Eddie Lang, yet the album also oozes with a rich hillbilly traditionalism. The musical themes are exquisitely developed, with a combination of delicacy and drive; solo after solo soars past, bouyed up by intricate, puzzlelike arrangements. Those of a critical bent could pick this apart for its sugary character, or too-perfect aspirations, but really this record is an exhiliarating revelation. Highly recommended!!

David Grisman Quintet "Hot Dawg" (A&M, 1979)



This disc is an integral companion to the first Quintet album. For some reason, I always think that this one is my favorite, but really they are both sublime, and are practically inseparable in terms of style and tone. Grisman does seem to have figured out how to get the tone exactly right on this album, and sculpts impressive aural forms, augmenting the hot picking with a warm studio sound. Creeping around the edges is an overly-lush romanticism, which hints at the goopy dangers of later, Grisman-inspired "new age" acoustic music on labels such as Windham Hill. Yet even while dancing on the brink, Grisman and his gang remain fully in control, and this album is still very much in keeping with the gypsy swing tradition of Stephane Grappelli and Django Rinehardt; the Quintet's jazz chops are pretty unassailable, and the melodies are thrillingly strong. Grappelli himself plays on a couple of tunes: a breezy cover of the Grappelli-Rinehardt classic, "Minor Swing," and a Grisman orignal, "16/16." This disc also features some of the best guitar work flatpicker Tony Rice ever laid on wax. Another essential album for acoustic music fans.
---
Discography: 1960s-1970s | 1980s-Now | Best-Ofs
---
---