<! cd = 12/16/10, posted 10/16/11 > <! MP3 10/16/11 > <! outside 10/16/11 - WP > <! pix 00/00/00 > <! 208-pix: 00/00/00 > <! icons 10/16/11 > <! Updates: 10/16/11 - few solo album reviews >
---
Tony Trischka is one of the major innovators of modern bluegrass banjo... He was a stylistic innovator in the early 1970s, bringing in jazz and classical influences along with innovative techniques. Trischka helped build and facilitate the newgrass scene, and continued to foster creativity and innovation through the decades. Here's a quick look at his work....
---
Discography - Best-Ofs
---

Tony Trischka "The Early Years" (Rounder, 1998)



In case you're tempted to blame Bela Fleck and all those cats from the 1980s onwards for everything that's "gone wrong" with bluegrass, you might want to stretch back a little further and check out these ancient, early '70s recordings by genre-busting newgrass banjo whiz, Tony Trischka. Clearly influenced by Leo Kottke and his irreverent wing of the new acoustic movement, Trischka pushed his solo work way beyond the confines of the relative traditional recordings he'd done with the bands Breakfast Special and Country Cooking. This CD reissues all the material from Tony Trischka's first two solo albums, Bluegrass Light and Heartlands, from 1973 and '75, respectively. It's wild, exuberant stuff, with saxophones, multitracking, outlandish arrangements... you name it. And some of it's really fun. Definitely worth checking out if you're on the instrumental tip, and if you don't mind watching a few rules fly out the window.
Country Cooking "26 Bluegrass Instrumentals" (Rounder, 1988)



This digital-era reissue is an expanded version of the band's 1971 debut with twelve more tracks added... Crisp, fancy picking and plenty of it. A real fling-ding!
Skyline & Tony Trischka "Ticket Back -- A Retrospective: 1981-1989" (Flying Fish, 1998)


---
Discography - Albums
---

<! was he on ALL the Country Cooking albums?? >
Country Cooking "14 Bluegrass Instrumentals" (Rounder, 1971) (LP)


A real all-star, landmark album for the new generation of '70s bluegrass innovators... This features Trischka on his recording debut, along with Pete Wernick (also on banjo), guitarist Russ Barenberg, Harry Gilmore on mandolin and fiddler Kenny Kosek... This early Rounder release set the bar pretty high, and though short-lived, this band continued to deliver.


<! 10/11: original GIF blurry > <! Andy Statman also in band? >

Country Cooking & Frank Wakefield "Frank Wakefield With Country Cooking" (Rounder, 1972) (LP)

Country Cooking "Barrel Of Fun" (Rounder, 1974) (LP)







Tony Trischka "Bluegrass Light" (Rounder, 1974)



<! 10/11: no ASIN >

Tony Trischka "Heartlands" (Rounder, 1975) (LP)

Tony Trischka "Banjoland" (Rounder, 1976) (LP)

Country Cooking "...With The Fiction Brothers" (Flying Fish, 1976) (LP)





<! TT not on this one? >
Breakfast Special "Breakfast Special" (Rounder, 1977)





<! With its top-notch musicianship , its fantastic stew of American roots music influences, and pleasurably skewed rock/bluegrass sound, Breakfast Special was a band ahead of its time, creating music that still sounds fresh and forward-looking, some 25 years later. More than anything, Richard Crooks, Kenny Kosek, Roger Mason, Stacy Phillips, Andy Statman, Jim Tolles and Tony Trischka made music that's enjoyable on many levels, walking a line between audacious experimentation and clear reverence for their traditional sources. Originally released in 1977. >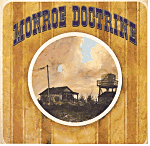 Monroe Doctrine "Monroe Doctrine" (Falls River, 1978) (LP)





<! With Love From Me To You,Time And The River Flowing Why Dones Love Got To Be So Sad,Anderson's Hotel Everything I Own,Charlie Brown,Timberline Falls River Road,Ruby,Chalk Up Another One,Floyd's Song >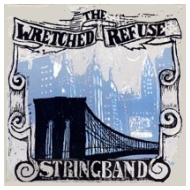 The Wretched Refuse Stringband "The Wretched Refuse Stringband" (Beet Records, 1978) (LP)


(Produced by Richard Schulberg)
This East Coast/NYC old timey/bluegrass ensemble was a loose-knit agglomeration of a lot of major talent, notably Tony Trischka and mandolin picker Andy Statman, as well as fiddlers Alan Kaufman, Johnny Wetz and Richard Schulberg, who all have a grand and glorious time sawing away on these rough-cut melodies. The plunking, heavy rhythms of old-time music predominate, with Trischka playing in a more rhythmic (and less modern, progressive) style than in his better-known bluegrass performances. Banjoists Andy Cahan and Marty Cutler chime in as well -- and a couple of tracks feature vocals, though mostly this is an all-instrumental, foot stomping affair. The liner notes are super-goofy (a tune entitled "Those Wheels Of Karma" is described thusly: "The oldest old-timey tune known (on this planet). The words were transcribed from an ancient parchment discovered in the Middle East: chemical analysis showed it to be part of a larger document carried from the Orient in the third millennia B.C.," gently mocking the competitive push for "authenticity" among the more-traditional-than-thou crowd...) but the giddiness of the writing reflects the joyful performances more than any avant garde, progressive musical leanings... This is a solid old-timey set from start to finish, and a delight for fans of the New Lost City Ramblers, et. al.
Tony Trischka/Bela Fleck/Bill Keith "Fiddle Tunes For Banjo" (Rounder, 1981)






<! pic >

Skyline "Skyline" (Flying Fish, 1983)



<! might be listed, but too hard to find >

Skyline "Late To Work" (Flying Fish, 1983) (LP)

Tony Trischka "Robot Plane Flies Over Arkansas" (Rounder, 1983)


Skyline "Stranded In The Moonlight" (Flying Fish, 1984) (LP)

Tony Trischka "Hill Country" (Rounder, 1985)


Skyline "Skyline Drive" (Flying Fish, 1986) (LP)

Tony Trischka "Dust On The Needle" (Rounder, 1988)


Skyline "Fire Of Grace" (Flying Grace, 1989)


Big Dogs "Live At The Birchmere" (Strictly Country, 1991)

Tony Trischka & Beppe Gambetta "Alone And Together" (Alcazar, 1992)


Tony Trischka "World Turning" (Rounder, 1993)


Psychograss "Psychograss" (Windham Hill, 1993)

Tony Trischka & Bela Fleck "Solo Banjo Works" (Rounder, 1993)


Tony Trischka "Glory Shone Around: A Christmas Collection" (Rounder, 1995)



Psychograss "Like Minds" (Sugar Hill, 1996)



The epitome of overly-clever, high-concept newgrass superpicking, featuring several members of the old "spacegrass" contingent and their pals... Fiddler Darol Anger, mandolin whiz Mike Marshall, bassist Todd Phillips, Tony Trischka on banjo and David Grier pickin' the old six-string. They run through a lot of familiar territory: lofty instrumentals that build and swell, playful, jazzy twists on old 'grass formulas and sidelong drifts into chamber music stylings, messed-up meters and all that kinda jam-bandy stuff. Most of the material is original, except for a Jimi Hendrix cover ("3rd Stone From The Sun") which is predictably (and intentionally) a bit wanky and over the top. The songs generally slide between polished virtuosity and show-offy interludes that border on tedium. If you like this sort of thing for its sheer musicianship, this disc will not disappoint, but the tunes are so obtrusively kooky that I find it hard to imagine most folks going back to it for more than a couple of listens.
Tony Trischka "New Deal" (Rounder, 2003)






<! Psychograss "Bend" (Rounder, 1999) - no AM listing? >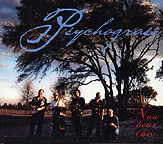 Psychograss "Now Hear This" (Adventure Music, 2005)



No surprises here, but plenty of solid jazz-grass virtuosic superpicking from Marshall, Grier, Trischka, Phillips and Anger... These guys have been playing together for years and they get some nice grooves going both on the slower, more down-home stuff that starts the album, and the more jagged, chops-heavy jazz that comes towards the end. It's not totally my cup of tea, but if you're a fan of the whole spacegrass sound, this album definitely will not disappoint. Worth checking out.
Tony Trischka/Various Artists "Double Banjo Bluegrass Spectacular" (2007)


Tony Trischka "Territory" (Smithsonian-Folkways, 2009)






<! Solo Album For Smithsonian Folkways • Untitled, to be released in 2007, solo and duos with Pete Seeger, Mike Seeger, etc. Psychograss "Live In Vermont" (xxxxxxxxxxxx, 2002) Grass is Greener Albums (with Richard Greene) for Rebel Records: • Sales Tax Toddle, 1997 (1998 Grammy Award nominee) • Wolves A'Howlin', 1996 > <! Solo Albums for Rounder Records: • Double Banjo Bluegrass Spectacular, Tony Trischka - with Bela Fleck, Steve Martin, Earl Scruggs, Alison Brown and others, 2007 • Glory Shone Around: A Christmas Collection (with Pete Seeger, Turtle Island String Quartet, Charles Osgood, others), 1995 • World Turning (featuring William S. Burroughs, David Grisman, Alison Krauss, Van Dyke Parks, members of REM, Syd Straw, others), 1993 • Rounder Banjo Extravaganza (with Tom Adams & Tony Furtado), 1992 >

---
Links
---
---