<! cd = 12/17/10 > <! MP3 12/17/10, 03/25/14 > <! outside 00/00/00 > <! pix 00/00/00 > <! 208-pix: 00/00/00 > <! icons 12/17/10 > <! UPDATES: 12/17/10 03/25/14 - added Buellgrass, updates ASINs > <! NOTE: a bunch of interesting comps w/ Statman on them listed at bottom, below tags >
---
Multi-instrumentalist Andy Statman was a Jewish kid from New York who caught the bluegrass bug during the 1960's folk scene -- he also became one of the major figures in the American klezmer revival, and over the years he's gracefully danced between the two styles, recording albums in one genre or the other as the mood struck him, with a little bit of jazz, classical and blues in there as well. Here's a quick look at his work...
---
Discography - Albums
---

<! Country Cooking—Barrel Of Fun, Rounder Records, 0033, U.S.A., 1972 (7 tracks reissued on Country Cooking—26 Bluegrass Instrumentals, Rounder Records, CD-11551, U.S.A., 1988) Breakfast Special—Breakfast Special, Rounder Records, 3012, U.S.A., 1976 (www.rounderarchives.com) The Wretched Refuse String Band—The Wretched Refuse String Band, Beet Records, BLP-7003, U.S.A., 1978 (reissued with additional material as The Wretched Refuse String Band, Betrayal Records, BCD-1001, U.S.A., 1990) B000000PVN Rowan, Greene & The Red Hot Pickers—Bluegrass Album, Better Days/NipponColumbia, YX-7225-N, Japan, 1979 and Peter Rowan—Hiroshima Mon Amour, Better Days/Nippon Columbia, YX-7227-N, Japan, 1979 (selections reissued on Peter Rowan—With The Red Hot Pickers, Sugar Hill Records, SHCD-3733, U.S.A., 1995) SwinGrass '83, Antilles Records, AN-1014, U.S.A., 1983 and Buellgrass: Big Day At Ojai, K2B2 Records, K2B2-2369, 1983 (Big Day At Ojai reissued on cd as Buellgrass: Across The Tracks, K2B2 Records, K2B2-2369, U.S.A., 1996) (Buell Neidlinger/Peter Erskine/Marty Krystall/Peter Ivers/Andy Statman/Richard Greene; also Fred Tackett on SwinGrass '83) (www.k2b2.com) The Wayfaring Strangers—Shifting Sands Of Time, Rounder Records, 11661-0484-2, U.S.A., 2001) B00005N8VS B0010TB860 These days, everyone wants to be eclectic and the mastermind of some hyphenated style, but very few fusioneers are as fearless as this new all-star acoustic ensemble led by violinist Matt Glaser and featuring Andy Statman (clarinet, mandolin), John McGann (guitar, mandolin), Tony Trischka (banjo), Bruce Barth (piano), Jim Whitney (bass), and Jennifer Kimball (vocals). The recording also includes cameos from Lucy Kaplansky, Tim O'Brien, and others. Hang onto your Stetson as "Man of Constant Sorrow," kicked off by Trischka's banjo and the craggy voice of Ralph Stanley himself, wanders into interludes of rolling jazz piano. Elsewhere, klezmer clarinet melodies rise out of the Appalachian mist, Emily Dickinson poetry soars to late-night jazz, and bluegrass classics are boldly yet gently reharmonized--a series of transformations and explorations with strong spiritual overtones. The Strangers are definitely on a quest, and listeners who suspend their expectations will be rewarded with music that's beautifully played and uniquely transporting. --Jeffrey Pepper Rodgers >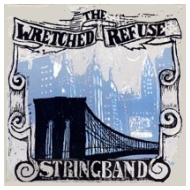 The Wretched Refuse Stringband "The Wretched Refuse Stringband" (Beet Records, 1978) (LP)


(Produced by Richard Schulberg)
This East Coast/NYC old timey/bluegrass ensemble was a loose-knit agglomeration of a lot of major talent, notably banjo whiz Tony Trischka and mandolin picker Andy Statman, as well as fiddlers Alan Kaufman, Johnny Wetz and Richard Schulberg, who all have a grand and glorious time sawing away on these rough-cut melodies. The plunking, heavy rhythms of old-time music predominate, with Trischka playing in a more rhythmic (and less modern, progressive) style than in his better-known bluegrass performances. Banjoists Andy Cahan and Marty Cutler chime in as well -- and a couple of tracks feature vocals, though mostly this is an all-instrumental, foot stomping affair. The liner notes are super-goofy (a tune entitled "Those Wheels Of Karma" is described thusly: "The oldest old-timey tune known (on this planet). The words were transcribed from an ancient parchment discovered in the Middle East: chemical analysis showed it to be part of a larger document carried from the Orient in the third millennia B.C.," gently mocking the competitive push for "authenticity" among the more-traditional-than-thou crowd...) but the giddiness of the writing reflects the joyful performances more than any avant garde, progressive musical leanings... This is a solid old-timey set from start to finish, and a delight for fans of the New Lost City Ramblers, et. al.
Andy Statman & Zev Feldman "Jewish Klezmer Music" (Shanachie, 1979)


Andy Statman "Flatbush Waltz" (Rounder, 1980)


Andy Statman & David Grisman "Mandolin Abstractions" (Rounder, 1983)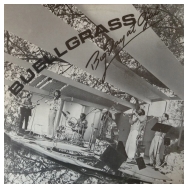 Buellgrass "Big Day At Ojai" (K2B2, 1983) (LP)


(Produced by Buell Neidlinger & Marty Krystall)
When David Grisman and his crew set their sights on forging a jazz-bluegrass crossover, they beelined to a relatively obvious choice of repertoire, the melodic, lead-oriented, highly simpatico 1930's gypsy jazz of Django Rinehardt and Stephane Grappelli... Grisman's "dawgjazz" set the tenor and pace for the space-grass of the era, but on this sweet, swinging live performance, bassist Buell Neidlinger taps into potentially more challenging jazz founts, the music of Charlie Parker and Thelonious Monk, as well as the smooth swing of Mercer and Duke Ellington. The sextet includes Andy Statman on mandolin (and clarinet!) as well as fiddler Richard Greene and distinctly un-Appalachian contributions from saxophonist Marty Krystall and Peter Ivers on harmonica. It's a nice blend; the performances are smooth but heartfelt, and the recording quality from this 1981 live show is quite good. The shadow of Grisman still looms large, as heard on Statman's Grisman-esque solo in the sprightly version of Hoagy Carmichael's "Stardust" which kicks the album off... But Beull and company go elsewhere, paying homage to the age of jazz standards with some concise, elegant musicianship, including a dash of klezmer when Statman plays clarinet. Acoustic swing fans will definitely want to check this out.
Andy Statman "Nashville Mornings, New York Nights" (Rounder, 1986) (LP)

The Andy Statman Klezmer Orchestra "Andy Statman Klezmer Orchestra" (Shanachie, 1992)

The Andy Statman Klezmer Orchestra "Klezmer Suite" (Shanachie, 1994)


Andy Statman "Andy's Ramble" (Rounder, 1994)


Andy Statman & David Grisman "Songs Of Our Fathers" (Acoustic Disc, 1995)


Andy Statman "Between Heaven & Earth: Music Of The Jewish Mystics" (Shanachie, 1997)


Andy Statman "The Hidden Light" (Sony Classical, 1998)


Andy Statman "Wisdom, Understanding, Knowledge" (Mayon, 2004)



Lubavitcher music...
Andy Statman "On Air" (Tradition & Moderne, 2005)


Andy Statman "Avodas Halevi" (Tzadik, 2005)


Andy Statman "East Flatbush Blues" (Shefa Records, 2006)



Statman gets back to his bluegrass roots with a plangent set that, while rooted in truegrass, comes with a hefty dose of be-boppin', upbeat jazziness. But while many of the modern-day spacegrass/twangjazz stars go in for big, slick production, Statman keeps it decidedly simple. This disc features a compact trio (Statman, accompanied by bass and drums) that, while lively and expansive, also sounds like they're sitting in the room right next to you -- no fancy, glitzy pop overtones here, just pure pickin' and improvisational drive. The disc kicks off with classic material, a couple of old Bill Monroe songs and a zippy version of "Arkansas Traveler," then moves into a series of original tunes, including several with traces of the Eastern European and Jewish that captured Statman's imagination, lo, those many years ago. I'm not a big jazz fan, so I may not be the right person to judge this, but for the right listeners, this album will be a gem.

Andy Statman & David Grisman "New Shabbos Waltz" (Acoustic Disc, 2006)



I suppose this is really more of a "world music" release, but many bluegrass fans'll want to keep tabs on what mandolin king David Grisman is up to, and this set of Jewish klezmer and related melodies is a nice, strong offering. It's a long-overdue followup to the classic Grisman/Statman album, Songs Of Our Fathers, another lively exploration of Jewish music that moves from reckless, ecstatic fast songs to more contemplative, sorrowful slow tunes, particularly those that feature Andy Statman's haunting, elegant clarinet work. The source material runs deep and delves into little-known compositions; there's also a surprising hint of a rock'n'roll backbeat, bolstered by veteran session drummer Hal Blaine, who adds a nice little kick to songs like "Anim Zemiros." If you're in the mood, this is a swell, soulful album.
Andy Statman "Awakening From Above" (Shefa, 2006)



A subdued, lyrical set, with Staman's clarinet offset by sparing, jazz-inflected percussion and a near-hidden acoustic bass... These religiously-themed Jewish tunes are played almost haltingly, yet with an underlying sense of joyfulness, as if shyly beckoning the listener to enter into an ecstatic realm, knowing that just an invitation can be easily rebuffed or seen as too overwhelming... Thus, the frantic, whirlwind release that typifies so much of Jewish klezmer music is always just around the corner... Though hardly dour, this set has a fascinating combination of release and restraint... A fine album, with a different feel than many of the other modern Jewish music albums. Definitely worth checking out.
Andy Statman "Old Brooklyn" (Shefa, 2011)



A nice, far-flung loveletter to all the kinds of music that Statman delights in... On this complex, confounding 2-CD set, Statman fearlessly mashes various genres together with good-natured, genre-busting glee. The title track, "Old Brooklyn" -- which opens the album -- is a kooky, freewheeling kaleidoscope of styles, typifying a number of musical movements that New York has been home to: bluegrass, klezmer, free-jazz and bebop, and even a bit of Bowery Street skronk, with banjo and mandolin taking wild dives into showy, self-indulgent improv. A number of high-powered guests and roots-revival stalwarts jump in and cut loose: banjoists Bela Fleck and Bruce Molsky, steel players Jon Scholl and Marty Rifkin, fiddler Byron Berline... even actor John Goodman sings a bit! It's an intentionally kitchen-sinkish affair, with Statman leaping ecstatically away from the confines of formalism, a grand romp through American folk, blues and jazz, and it's often a bit on the chaotic side, with balancing moments of elegance. Highlights include a few bluesy tunes -- "A Brighter Day" and "Since I Met You Baby" -- and a stunning duet where Statman, an ecstatic Hassidic Jew, finds common ground with Christian evangelical Ricky Skaggs on a stark, haunting gospel song, "The Lord Will Provide," Skaggs singing a capella at times, with Statman coming in to buoy him up on the clarinet. It's a fine example of the America that many of us still cherish: many voices, one song.
---
Links
---
---