<! MP3 04/07/09 > <! update 00/00/00 > <! outside 00/00/00 > <! pix 00/00/00 > <! 208-pix: 00/00/00 > <! icons 03/20/11 >
---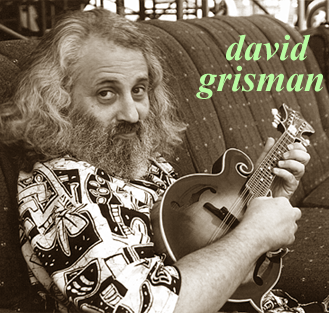 This is the third page of an annotated discography of bluegrass innovator David Grisman, a mandolin picker's mandolin picker who has helped change the face of modern acoustic music. This page covers Grisman's best-of albums, other projects and related media, and links to other Grisman-related sites. For a look at his regular albums, check out Page One of this discography.
---
Discography: 1960s-1970s | 1980s-Now | Best-Ofs
---
David Grisman Quintet "DGQ 20" (Acoustic Disc, 1996)



Holy cow! A 3-CD set lauding the 20th anniversary of the Grisman Quartet... a wide variety of style and plenty of classic material. Songs from the first few Grisman Quintet albums were off limits (this is material from Acoustic Disc catalog), but there's still a lot of groovy music on here...
David Grisman/Various Artists "Dawg Duos" (Acoustic Disc, 1999)



David Grisman & Jerry Garcia "Grateful Dawg" (Acoustic Disc/Sony Classical, 2001)



The soundtrack to a home-movie style documentary about the friendship and musical collaborations between Grisman and his longtime buddy, Jerry Garcia. Their friendship dates backs to the early 1960s folk scene, but became especially intense in the 1990s, when the two made a series of albums together for Grisman's Acoustic Disc label. This CD includes material from several of those albums, as well as earlier archival recordings from the Old & In The Way days. All of that music is available on separate Acoustic Disc releases, the "new" material on here includes an old ballad by English balladeer Ewan Maccoll, whom the lads claim as one of their inspirations. A nice, fluid collection, which drifts into indulgence with the 16-minute long jazz tune "Arabia," but nonetheless gives a nice look at an interesting musical synergy.
---
Related Records
---
Tony Rice "Manzanita" (Rounder, 1978)



One of my favorite albums, in any genre, featuring all the usual suspects -- mandolinist David Grisman, Sam Bush, dobro whiz Jerry Douglas, etc. While there's a hint of newgrass here, the instrumentals are more of bluegrass standards ("Wildwood Flower," for example) and the emphasis is on a fun set of songs, making this one of the best records to sing along with that I know of. Newgrass guitar icon Tony Rice has a wonderfully mahoganied voice, which is matched by his fluid guitar style. At the time, his bluesy, note-bending leads were very unusual in the bluegrass scene, although now they're widely imitated. Still, nobody does it as well as Rice, and this is one of his most awesome records.
Tony Rice "Acoustics" (Kaleidoscope, 1979)



After splitting off from the Grisman Quintet, Rice pursued acoustic grass-jazz tangents of his own. His instrumental records were fine, but not, perhaps, as inspired as the early work with Grisman. This album is fine, but a bit sugary and derivative... Grisman kicks in on the mandolin, and all the usual suspects are in tow.
Don Stover "Things In Life" (Rounder, 1972)



This album features some of the most understated mandolin work David Grisman has ever done; the whole album is a real pleasure. Humble, confident in its own worth, but back-porchy and still a little bashful; if you like the sweeter, more melodic side of say, Ralph Stanley, and don't feel the need for drag-racing bluegrass instrumental fire, then check this quiet, unassuming album out. I was surprised (but very pleased) when Rounder reissued this disc -- it's always been a favorite, but it's so low-key it doesn't seem that likely an album to have been brought back for our listening pleasure. So, hey, take advantage of its availability while you still can, before it goes out of print for another fifteen years!


<! Here Today B0010UZT64 >

---
Links
---

<! Discography * With Even Dozen Jug Band o Even Dozen Jug Band - 1964 * With Old and in the Way o Old and in the Way 1975 o That High Lonesome Sound 1996 o Breakdown 1997 o Old and in the Gray 2002 * Garcia & Grisman o Garcia/Grisman - 1992 o Not for Kids Only - 1993 o Shady Grove - 1996 o So What - 1998 o The Pizza Tapes (featuring Tony Rice) Ð 2000 o Grateful Dawg - 2001 o Been All Around This World - 2004 * Solo, with others, and with DGQ (David Grisman Quintet) o Soundtrack for Roger Corman's 1976 Film EAT MY DUST starring Ron Howard o The David Grisman Quintet - 1977 o Hot Dawg - 1978 o Quintet '80 - 1980 o Early Dawg - 1980 o Stephane Grappelli/David Grisman Live - 1981 o Mondo Mando - 1981 o Here Today - 1982 o David Grisman's Acoustic Christmas - 1983 o Dawg Jazz/Dawg Grass - 1983 o Mandolin Abstractions [live] - 1983 o Acousticity - 1985 o Svingin' with Svend - 1987 o Home Is Where the Heart Is - 1988 o Dawg '90 - 1990 o Bluegrass Reunion - 1992 o Common Chord - 1993 o David Grisman Rounder Compact Disc - 1993 o Dawgwood - 1993 o Tone Poems: The Songs Of The Great Vintage Guitars And Mandolins - 1994 o Songs Of Our Fathers - 1995 o Dawganova - 1995 o Tone Poems 2: The Sounds Of The Great Jazz Guitars, Mandolins, Mandolas, Mandocellos - 1995 o DGQ-20 - 1996 o Doc & Dawg - 1997 o I'm Beginning To See The Light - 1999 o Retrograss - 1999 o Dawg Duos - 1999 o Tone Poems 3: The Sounds of the Great Slide & Resophonic Instruments - 2000 o New River - 2001 o Traversata [live] - 2001 o Dawgnation - 2002 o Life of Sorrow - 2003 o Hold On We're Strummin' - 2003 o New Shabbos Waltz - 2006 o Dawg's Groove [live] - 2006 o DGBX - 2006 o Classic Dawg [DVD] [live] - 2006 o Satisfied - 2007 >

---
Discography: 1960s-1970s | 1980s-Now | Best-Ofs
---
---