<! cd=10/25/04> <! MP3 04/26/09 > <! update 04/26/09 - need to migrate strays from monthly column > <! outside 00/00/00 > <! pix 00/00/00 > <! 208-pix: 00/00/00 > <! icons 04/05/11 >
---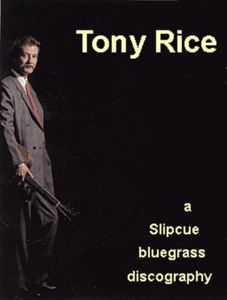 Flatpicking guitarist Tony Rice is one of bluegrass music's most influential modern stylists, having introduced a blues-inflected bent-note technique into the repertoire (borrowed from rock'n'roll, but it sounds mighty fine played acoustic...) Rice made his reputation playing in several influential groups, notably J.D. Crowe's dynamic New South band, the jazz-oriented David Grisman Quintet, and the deliciously traditionalist Bluegrass Album Band, one of the great newgrass supergroups on the 1980s. Rice's impact on modern bluegrass guitar playing can be readily heard in the work of practically any major contemporary bluegrass band... While I marvel at his picking, I've also always loved his voice; sadly, a medical condition has prevented him from singing for several years now... but he sure can make those strings ring! Here's a quick look at his work...
---
Discography
---

<! Bobby Atkins, Frank Poindexter & Tony Rice "The 1968 Session" (Old Homestead, 1980) (LP) >

Tony Rice "Guitar" (Rebel, 1973) <! 1970? >


J.D. Crowe And The New South "J.D. Crowe And The New South" (Starday, 1973)


The scrappy original line-up of the New South featured banjoist Crowe, along with the Rice brothers, Tony and Larry, backed up by studio hotshots Pig Robbins, Ray Eddington and others. The use of drums and pedal steel was an unconventional choice for a bunch of bluegrass whippersnappers to make, but these sessions were clearly made under the twin influences of the country-tinged progressive bluegrass of the Osborne Brothers and the hippie-billy honkytonk of Gram Parsons, whose "Christine's Tune" (aka "Devil In Disguise") is covered on the first half of this album. It's an uneasy mix at times, but certainly interesting to fans of these idols of the early newgrass scene. Rice sings one of his first Gordon Lightfoot covers ("Ten Degrees And Getting Colder"), and Crowe records several songs that would turn up later on various Rounder albums. More countrified than 'grassy, but still worth checking out. [Also released on CD as Bluegrass Evolution. ]
J.D. Crowe And The New South "J.D. Crowe And The New South" (Rounder, 1975)



The newgrass lads tightened up their sound and their repertoire, making this fab Rounder debut just as '70s bluegrass was really coming into its own. Ricky Skaggs has joined the band, along with dobro whiz Jerry Douglas and fiddler Bobby Sloane, all members in good standing of the "usual suspects" crew of the future bluegrass mafia. Tony Rice sings almost all the lead vocals, working out the smooth, smoky style that would crystallize on solo albums such as Manzanita and Tony Rice Sings Bluegrass. If you listen closely, there are a few rough edges here, particularly in the sometimes-stiff rhythm, but mostly this album is a delight. Great song selection, particularly the album's opener, "Old Home Place," which is one of my favorite tunes of the decade, some nice gospel stuff, and a pair of Gordon Lightfoot covers, one of Rice's particular specialties. An early Rounder classic, and one that still stands up today!
Tony Rice "California Autumn" (Rebel, 1975)



This was Rice's first solo album, recorded as the newgrass scene was gathering steam, and has been dutifully reissued and kept in print ever since. But, if the truth be told, it's hardly his strongest effort. Both the performances and engineering are a bit wobbly and uneven; although you can hear Rice working out some of the musical ideas that would become the staples of his style, he also makes a lot of mistakes and missteps. This sounds very much like an album produced on the cheap, with not enough money or time to go back and fix things up. Interesting for fans who want to check out Rice's early development, but maybe not the kind of record you'd want to hang onto or revisit frequently.

David Grisman "The Rounder Album" (Rounder, 1976)



Gradually unveiling his grander schemes, Grisman gets superpicker Tony Rice, along with a bunch of other fellows (Ricky Skaggs, Bill Keith, Jerry Douglas, fiddle whiz Vassar Clements, Todd Phillips and Buck White) in on the ride, whipping out a picture-perfect batch of traditionalist bluegrass, some old-timey gospel, and a few early examples of his brand new obsession: dawg music (or instrumental jazz-grass). Whatever you want to call the new stuff, it's still a bit rough-hewn, but quite a delight. And the album as a whole is a good'un. Recommended.

David Grisman Quintet "The David Grisman Quintet" (Kaleidoscope, 1977)



A stunning, breakthrough album, one which would change the complexion and range of bluegrass music forever. Even after hearing the instrumental numbers on The Rounder Album, few people could have predicted the radical innovations on this album, a full-blown transistion into a new acoustic jazz. The debts to old jazz greats such as gypsy swing guitarist Django Rinehardt and instrumental pioneers like Joe Venuti and Eddie Lang, yet the album also oozes with a rich hillbilly traditionalism. The musical themes are exquisitely developed, with a combination of delicacy and drive; solo after solo soars past, bouyed up by intricate, puzzlelike arrangements. Those of a critical bent could pick this apart for its sugary character, or too-perfect aspirations, but really this record is an exhiliarating revelation. Highly recommended!!
Tony Rice "Tony Rice" (Rounder, 1977)



A very strong album with several great truegrass performances -- traditional songs like "Mr. Engineer," "Hills Of Roane County," "Banks Of The Ohio" and "Way Downtown" -- along with a few lighter moments, such as the newgrassy instrumental "Plastic Banana." Some of the breakdowns are a little repetitive, but it's all top-notch musicianship. His Manzanita album is still my all-time fave, but this is a very close runner up!
Tony Rice "Manzanita" (Rounder, 1978)



One of my all-time favorite albums, in any genre, featuring the usual suspects -- mandolinist David Grisman, Sam Bush, dobro whiz Jerry Douglas, etc. While there's a whiff of newgrass jazz here, the instrumentals are mainly bluegrass standards ("Wildwood Flower," for example) and the emphasis is on plain old fun, melodic songs, making this one of the best records to sing along with that I know of. Rice has a wonderfully mahoganied voice, which is matched by his fluid guitar style. At the time, his bluesy, note-bending leads were very unusual in the bluegrass scene, although now they're widely imitated. Still, nobody does it as well as Tony Rice, and this is one of his best records. (And if you like this disc, then you also oughtta check out the Bluegrass Album Band, which featured many of the same musicians...)

David Grisman Quintet "Hot Dawg" (A&M, 1979)



This disc is an integral companion to the first Quintet album. For some reason, I always think that this one is my favorite, but really they are both sublime, and are practically inseparable in terms of style and tone. Grisman does seem to have figured out how to get the tone exactly right on this album, and sculpts impressive aural forms, augmenting the hot picking with a warm studio sound. Creeping around the edges is an overly-lush romanticism, which hints at the goopy dangers of later, Grisman-inspired "new age" acoustic music on labels such as Windham Hill. Yet even while dancing on the brink, Grisman and his gang remain fully in control, and this album is still very much in keeping with the gypsy swing tradition of Stephane Grappelli and Django Rinehardt; the Quintet's jazz chops are pretty unassailable, and the melodies are thrillingly strong. Grappelli himself plays on a couple of tunes: a breezy cover of the Grappelli-Rinehardt classic, "Minor Swing," and a Grisman orignal, "16/16." This disc also features some of the best guitar work flatpicker Tony Rice ever laid on wax. Another essential album for acoustic music fans.
Tony Rice "Acoustics" (Kaleidoscope, 1979)



After splitting off from the Grisman Quintet, Rice pursued acoustic grass-jazz tangents of his own. His instrumental records were fine, but not, perhaps, as inspired as the early work with Grisman. This album is okay, skillful, but a bit sugary and derivative... Grisman kicks in on the mandolin, and all the usual suspects are in tow. (PS - I'm not entirely sure, but is that the Great American Music Hall in the background of the front cover...?)
Tony Rice & Ricky Skaggs "Skaggs & Rice" (Sugar Hill, 1980)



A mountain music dream team album, pairing two top-flight newgrassers together at the height of their powers. Skaggs was just about to leave Emmylou Harris' Hot Band in search of Top 40 glory of his own; Tony Rice was being brought on board for Emmylou's all-star bluegrass extravaganza, Roses In The Snow, and heck, here they were just a couple of pals with nothing better to do than sit right down and record one of the best bluegrass albums of the decade. This is a tribute to the country music "brother acts" of the 1920s and '30s, groups such as Charlie and Bill Monroe, The Blue Sky Boys, and their pop-oriented heirs, The Louvin Brothers, who brought the art of close harmony singing to its apex. Rice and Skaggs get the mood just right, pearling off perfect versions of these perfect songs, but singing just high enough and with the right amount of vocal and spiritual straining to nail the old-timey feel right on the head. This is a beautiful album, which flirts with the over-perfection of the newgrass school, but manages to keep it real. My only complaint is that when the label reissued it in the '90s, they replaced the original graphics -- a facsimile of an old-time country music poster -- with artwork that is much more modern and bland. Otherwise, this is ace bunny killer.
Tony Rice "Mar West" (Rounder, 1980)

Emmylou Harris "Roses In the Snow" (Warner, 1980)



Emmylou started out the 80s with a bang, on this big, beautiful all-bluegrass album, featuring invaluable assistance from Tony Rice on guitar, Jerry Douglas on dobro and Bryan Bower's soulful autoharp strumming, as well as Ricky Skaggs and several othe guest artists. The two big radio hits -- "Wayfaring Stranger" and Paul Simon's "The Boxer" -- are the least of this album's charms. What's really great are the bouncy title track, a perky cover of "I'll Go Stepping Too", a plaintive version of the Louvin Brothers "You're Learning" and her spooky gospel duets with Willie Nelson ("Green Pastures") and Ricky Skaggs ("The Darkest Hour"). Right after this album came out, Skaggs started his own solo career as a Top Forty country traditionalist, with his contributions here as a sweet, welcome glimpse of things to come. From start to finish, this is a very fun, very listenable album... Highly recommended! (The 2002 re-release features a couple of non-bluegrass bonus tracks -- a fine cover of a Hank Williams tune, with Julie Miller singing harmony, and a Celtic-flavored folk tune written by Brian Ahearn's sister Nancy.)
Tony Rice "Backwaters" (Rounder, 1982)



Skillful and elegant, but a little too florid and muzak-y for me. The epitome of sugary, gooey spacegrass-jazz.
Tony Rice "Church Street Blues" (Sugar Hill, 1983)

Tony Rice "Cold On The Shoulder" (Rounder, 1984)






<! "Fare Thee Well" is gorgeous "Muleskinner Blues" is dull and perfunctory "Song For The Life" is nice, though flowery - Kate Wolf sings harmony >

Tony Rice "Me And My Guitar" (Rounder, 1986)


Tony Rice & Norman Blake "Blake & Rice" (Rounder, 1987)


The Tony Rice Unit "Devlin' " (Rounder, 1987)



A mellow, pretty set of spacegrass instrumentals. Doesn't cut any new roads for Tony, but it's sure easy on the ears, and flawlessly performed; this disc is mostly a reissue of material on the 1980 album Mar West, sans the original title track.
Tony Rice & Norman Blake "Blake And Rice 2" (Rounder, 1990)


Tony Rice "Native American" (Rounder, 1992)


Tony Rice "Plays And Sings Bluegrass" (Rounder, 1993)



Boy, does he ever! It's a deceptively unassuming title for such a high-calibre album. This doesn't break any new ground, but that's just as well -- here, Rice plays it straight, and produces yet another outstanding album, very close in tone and style to one of my all-time favorites, Manzanita. Mike Auldridge, Jerry Douglas and other usual suspects pitch in. Highly recommended.
Tony Rice & David Grisman "Tone Poems" (Acoustic Disc, 1994)


Tony Rice "Crossings" (Mountain Home, 1994)


An (almost) all-gospel album...
Tony Rice & John Carlini "River Suite For Two Guitars" (Sugar Hill, 1995)

Tony Rice "Sings Gordon Lightfoot" (Rounder, 1996)


A bluegrass-ballads tribute to songwriter Gordon Lightfoot. Sounds like it'd be cheesy, doesn't it? But Rice has been slipping these songs onto his albums for years, and this collection is excellent -- he has a real feel for Lightfoot's style... And Gordon Lightfoot is way cooler than most folks think! Recommended.
Tony Rice "Unit Of Measure" (Rounder, 2000)



Another instrumental excursion, taken with mandolinist Jimmy Gaudreau, Ronnie and Rickie Simpkins and brother Wyatt Rice on second guitar. Classy and sleek, almost to a fault; most tunes are mighty fine for the style, although a few, like "Shenandoah," meander horrifically. Just to show they've got the goods, though, the lads tack on a fine truegrass breakdown version of "Sally Goodin" at the end, recorded live in concert. Fans of slick pickin' will not be disappointed here.

Tony Rice/Jerry Garcia/David Grisman "The Pizza Tapes" (Acoustic Disc, 2000)



Just three pals hanging out, picking and plunking for fun, getting the munchies and sending out for a veggie special. The myth behind this notorious session is that while they were figuring out the tip, the pizza delivery guy noticed a reel-to-reel tape laying around, thought to himself, "...dude... isn't that Jerry Garcia??" and snagged the tape. It's apparently been passed around as a bootleg for years, and now here it is in its full sonic glory. A nice informal session, similar to other recent archival offerings from Grisman's label... the real value here is to hear how even the gods can goof up and be all loosey-goosey. It helps return bluegrass to its DIY folk scene roots. Plus, there are some great performances on here, particularly when Garcia tackles traditional old-timey ballads in that offhandedly graceful way he had. Nice.
Tony Rice & Peter Rowan "You Were There For Me" (Rounder, 2004)



Two newgrass oldtimers pair up for what is, remarkably, their first full-length collaboration together... Mystic poet-folkie Peter Rowan dominates the album in the sense that the songs are all Rowan originals, and guitarist Tony Rice (who also has a wonderful voice, but has been unable to sing for the better part of a decade, due to a medical condition...) limits himself strictly to fancy fingerpicking for the length of the record. They're joined by a compact backup band, anchored by bassist Byrn Bright, a rock-solid player who continues to prove herself one of bluegrass music's brightest new stars. It helps to be a Peter Rowan fan for this one; there isn't a very strong truegrass feel for most of the material, but Rice does roll out some beautiful and very sympathetic accompaniment. I'm always happy to hear his elegant fretwork, and this is a nice showcase for his softer side.
Tony Rice & Peter Rowan "Quartet" (Rounder, 2007)



Rowan and Rice renew their partnership with a fluid, melodic outing, digging deeper into their shared love of the folkie-poetic side of the bluegrass sound. They revisit several classic Rowan tunes -- "Midnight Moonlight," "Dust Bowl Children," "Walls Of Time," and others -- but also pick some intriguing cover tunes. Patti Smith's "Tresspasses," for example? Hmmm. Very interesting. Tony Rice, sadly, still can't sing due to a longstanding vocal injury, but he makes up for it in spades with his elegant, sometimes florid, guitar work. Rowan is in fine form, too, and keeps it simple with his own guitar work, while ceding the mandolin work to newcomer Sharon Gilchrist, who, along with bassist Bryn Davies, adds some lovely harmonies. Davies continues to impress as an accompanist -- one wonders how long it will be before her solo debut -- rounding out this compact, comfortable quartet. Worth checking out, especially if you enjoyed the last Rowan-Rice outing.
---
Best-Ofs & Collections
---
Bluegrass Album Band "The Bluegrass Album, Volume One" (Rounder, 1981)



Bluegrass Album Band "The Bluegrass Album, Volume Two" (Rounder, 1982)



Bluegrass Album Band "The Bluegrass Album, v.3: California Connection" (Rounder, 1983)



Bluegrass Album Band "The Bluegrass Album, v.4" (Rounder, 1987)



Bluegrass Album Band "The Bluegrass Album, v.5: Sweet Sunny South" (Rounder, 1996)



Bluegrass Album Band "The Bluegrass Album, v.6: Sweet Bluegrass Instrumentals" (Rounder, 1989)


Tony Rice "58957: The Bluegrass Guitar Album" (Rounder, 2003)


This collection gathers instrumental pieces from his many Rounder albums, tilting towards the traditional end of the spectrum... And it all sounds mighty fine!
Tony Rice "Night Flyer: The Singer-Songwriter Collection" (Rounder, 2008)



A nice collection of modern folk tunes recorded over the years by bluegrass guitar demigod Tony Rice. I find his voice to be a singular joy -- it is one of my favorites in the genre -- and since Rice has been unable to sing professionally for several years due to a condition known as dysphonia, it is even that much sweeter to hear an entire album's worth of vocal material from his back catalogue. Even if he does include the dreaded soprano saxophone on a tune or two. This gathers songs by Mary Chapin Carpenter, Bob Dylan, Bob Franke, Joni Mitchell, Mickey Newbury, James Taylor, Ian Tyson and others. It also includes original tunes from Rice himself, and one by his brother Larry, with three tunes that have been previously unreleased (such as Tony Rice's superb "Never Meant To Be," which opens the album.) Rounder also has issued a separate CD's worth of Rice covering the music of Gordon Lightfoot; this disc is the perfect companion to that one, and a welcome addition to the Tony Rice canon.
Bluegrass Album Band "The Bluegrass Compact Disc" (Rounder, 1986)



Just when everybody was starting to roll their eyes, throw up their hands, and declare that the too-perfect, newgrass scene had lost touch with its roots, Tony Rice organized this crackerjack ensemble, mysteriously known as the Bluegrass Album Band, and cranked out album after album of the good stuff. Rice's longtime banjo plunkin' pal J.D. Crowe, dobro whiz Jerry Douglas, fiddler Bobby Hicks, gospel bandleader Doyle Lawson and bassist Todd Phillips were his cohorts, and their albums rank as some of the best truegrass recordings of the decade, steeped in the lore of the elders. Gospel tunes with extraordinary vocal harmonies comingle with dazzling, lively picking, evoking Bill Monroe and all his followers, and showing quite clearly that the modern bluegrass crowd still has the goods. This CD reissue only a smattering of the songs from the BAB volumes 1-4; I strongly urge you to track down the original LPs, since a lot of great material has been left by the wayside... Also, it's lamentable that someone felt the need to "update" the band's otherwise-delightful name for the digital age, to the misleading "Bluegrass Compact Disc," which makes most folks assume this is some kind of compilation album. Note to Rounder: a CD with several songs on it can still be called an album; the original name was way cooler. Anyway, this is a grrrreat collection, well worth tracking down and playing over and over again!
Bluegrass Album Band "The Bluegrass Compact Disc, Volume Two" (Rounder, 1987)



Well, actually it turns out that, between volumes One and Two of the "Compact Disc" collections, you get all but a handful of the songs from the first four BAB albums. Not bad. More great tunes gathered from the first four BAB albums, leaning heavily on secular tunes such as "Toy Heart," "Molly And Tenbrooks," "Pain In My Heart," and the like. There still seem to be a few gospel tunes missing here, but this 21-track collection does a nice job helping fill the gap. Ace bunny killer.
Bluegrass Album Band "Lonesome Moonlight: Songs Of Bill Monroe" (Rounder, 2002)



This disc culls a set of all-Monroe covers from the various BAB albums... Nice, I suppose, if you're just into Bill Monroe's stuff, but it kind of undercuts the wonderful sense of history, depth and completeness that the original albums provided.
---
Links
---
---