<! MP3 04/19/09 > <! update 04/19/09 - split into three pages 04/19/09 > <! outside 00/00/00 > <! pix 00/00/00 > <! 208-pix: 00/00/00 > <! icons 01/26/11 >
---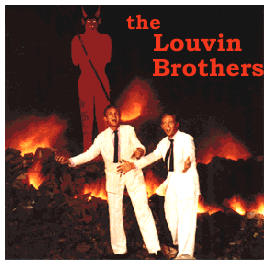 The Louvin Brothers, Charlie (1927-2011) and Ira Louvin (1924-1965) were the missing link between the haunting, somber harmonies of Depression-era "brother acts" such as the Blue Sky Boys or the Delmore Brothers, and the joyous release of rock and roll's Everlys. During their heyday in the 1950s, the Louvins recorded over a dozen albums full of glorious gospel and country pop, mainly produced by Capitol's Ken Nelson. The brothers scored several Top Ten country hits, and were one of the few country acts to weather out the commercial challenge of early rock and roll. Songs such as "I Don't Believe You've Met My Baby" and "Don't Laugh" pull the listener along to soaring heights, propelled by beautifully close harmonies, and older brother Ira's driving mandolin. Few things sound as sweet as the Louvin Brothers -- chances are that once you've checked them out, you'll become a lifelong fan.

Although the Louvins were one of the fortunate few country acts not crippled by the popularity of early rockabilly and rock and roll, by the late 1950s the hits were fewer and farther between. Their early '60s recordings often had a gimmicky, rock-pop flavor -- songs like "The Stagger" sound mildly desperate, though they still exude great charm. Although their best-known material was recorded between 1955-1959, in the years leading up to their 1963 breakup, Charlie and Ira wrote some of the sweetest, most accomplished songs of their career.




The Louvin Brothers disbanded in 1963 after years of slackening sales figures and simmering personality conflicts. Ira, who was the main songwriter (and in many ways was the greater talent of the two), was also an abusive, irritable alcoholic. Level-headed Charlie, who had kept the business side of their act running for many years, did quite well in his solo career. He scored a Top Ten hit in 1964, and continued to chart consistently throughout the decade. The erratic, troubled Ira managed to record one solo album in 1965, but later that year the Louvin Brothers story ended tragically when Ira died in a car crash while touring the Midwest. Charlie continued on, and produced several solo albums for Capitol, including some duet albums with Melba Montgomery. Eventually he coasted into indie territory, recording for smaller independent labels, while performing and touring right up until his death in 2011.

Since the late 1960s, the Louvin Brothers' music has been revived and recorded by many great artists. Hippie-billy legend Gram Parsons was probably the most important Louvin Brothers acolyte: although he only covered a few of their songs, it was Parsons who turned his protege, Emmylou Harris, onto their stuff. Emmylou, in turn, has been one of their best and most persistent interpreters. Perhaps the most obsessive Louvins aficianados are the Whitstein Brothers, whose albums on Rounder Records are practically carbon copies of the Louvins' sound. Other than Emmylou Harris, I'd say my favorite interpretations of the Louvin Brothers have been by Ricky Barnes and the Hoot Owls -- no self-respecting Louvins tribute record would be complete without Ricky's versions of "I Take The Chance," "Once A Day" and "Don't Laugh."


<! The one unfortunate thing about Louvin Brothers LPs is that most of them are long out of print, and have become country collector fetish items. Thus they are sold at rather exorbitant prices, often between $20.00 - $50.00, which I think is just too damn much. Nonetheless, here is a discography, which y'all may find useful... If the need to hear these old-time goodies gets too intense, you can always write the folks in Nashville and tell 'em you wish there was more Louvins stuff available... :-) >

---
Original Albums | Best-Of Collections | Solo Albums
---
The Louvin Brothers "Tragic Songs Of Life" (Capitol, 1956)


One of the Louvins' masterpieces, this is their nod towards their "brother act" roots... a stark, sometimes chilling collection of gospel tunes and story-songs, including the country murder ballad, "Knoxville Girl." Over the years, this has been the one Louvin Brothers album which has remained consistently in print. This latest CD replaces the Rounder Records version. Originally released as an LP in 1956.


<! OOP Capitol edition B000002U47 >

The Louvin Brothers "Nearer My God To Thee" (Capitol, 1957) (T-825)


The Louvin Brothers "Ira And Charlie" (Capitol, 1958) (T-910)


The Louvins in a little bit of a slower, more romantic mood... Some great tunes, though its not the rollicking melodic pop of earlier hits. The good news is that the British "Stetson" label reissued this sometime in the 1980s, and it may be possible to find a vinyl copy without paying a zillion dollars.


<! I *think* this is the right ASIN >

The Louvin Brothers "Country Love Ballads" (Capitol, 1959) (T-1106)


The Louvin Brothers "Satan Is Real" (Capitol, 1959)



Get it while it's hot. Most folks will probably approach this gospel album strictly as camp, but that's a big mistake. Sure, the maudlin recitations on the title track are a hoot, but can you honestly say that "There Is A Higher Power" doesn't make your hair stand on end? Moralistic, bedrock Christian ballads have always been one of the greatest appeals of the Louvins' sound... even if you don't agree with them religiously, it's hard to deny the power of their soulfulness. Originally released as an LP in 1959.
The Louvin Brothers "My Baby's Gone" (Capitol, 1960)



Stunning! The brothers pick up the pace on this one, and it features some of their most often-collected upbeat favorites, such as "You're Running Wild," "I Wish You Knew," and the title track. Why Capitol didn't put this one out along with their other recent reissues is beyond me, but until they do, you can look for the Stetson LP instead.
The Louvin Brothers "A Tribute To The Delmore Brothers" (Capitol, 1960)



Such a great record... too bad this one has already gone out of print! To quote John Morthland: how can you go wrong? The Louvins are smoother, their harmonies and instrumentation a little slicker than the Delmores were, but this is one ace bunny killer tribute album. Charlie and Ira put every bit as much soul and mournfulness into these songs as Alton and Raybon Delmore did... and then some! Highly recommended, if you can still find a copy. Originally released as an LP in 1960.


<! MP3 link is to King reissue >

The Louvin Brothers "Encore" (Capitol, 1961) (T1547)

The Louvin Brothers "Christmas With The Louvin Brothers" (Capitol, 1961) (LP) <! (T1616) >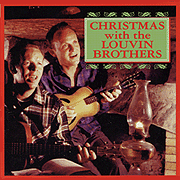 The Louvin Brothers "Christmas With The Louvin Brothers" (Razor & Tie, 1997)



Corny and heartfelt... how could you not love this stuff? Charlie and Ira Louvin were two of country music's greatest gospel singers, and this is one of their more heartfelt religious albums. They also recorded plenty of great secular heartsongs, but records like this had a special nostalgic resonance. Great reissue of their original album, with a couple of extra goodies thrown in for good measure. Recommended!!
The Louvin Brothers "The Weapon Of Prayer" (Capitol, 1962) <! (T1721) >


The Louvin Brothers "Sing The Great Roy Acuff Songs" (Capitol, 1962)



Roy Acuff and Fred Rose were the dominant music publishers in Nashville during the late 1940s, '40s and 60s. In effect, that meant they ran Nashville, and pretty much everyone had to kiss up to them by putting Acuff Rose material on their albums. The Louvins kind of go a little overboard on this album, by doing a whole Roy Acuff tribute. It ain't bad, though there are a few sluggish moments. (By the way, another Acuff-related album worth checking out is Hank Locklin's "King of Country Music," also from 1962.)
The Louvin Brothers "Keep Your Eyes On Jesus" (Capitol, 1963) <! (ST-1834) >



Their first true stereo album! And, yes, it's all gospel.
The Louvin Brothers "Sing And Play Their Current Hits" (Capitol, 1964) <! (T 2091) >


The Louvin Brothers "Thank God For My Christian Home" (Capitol, 1965) <! (T-2331) >


Solid old gospel recordings, and an album which was reissued a couple of times (though not, as far as I know, on CD.) Worth checking out, though I don't know if you'd want to pay top-$ collector prices for it...
The Louvin Brothers "The Great Gospel Singing Of The Louvin Brothers" (Capitol, 1973)
A collection of gospel recordings from various periods. This has been reissued a couple of times on LP, and can be found floating around from time to time.
The Louvin Brothers "The Family Who Prays" (Capitol) <! (T1061) >


The Louvin Brothers "Two Different Worlds" (Tower) <! DT 5038) >

The Louvin Brothers "The Louvin Brothers" (MGM/Metro) <! (598) >
Earlier stuff, dug up from the vaults, and -- of course -- mighty fine stuff.
---
Original Albums | Best-Of Collections | Solo Albums
---
---
Links
---
For a more complete online history of the Louvin Brothers, check out this essay on the Alabama Music Hall of Fame site, which also has information on several other worthy artists.
Killing The Buddha is a rather unusual website, devoted to esoteric and nontraditional spirituality. Their article, "High Lonesome Theology" examines the Louvin Brothers' gospel side, and though it gets a bit muddled towards the end, is worth checking out. The author does a nice job taking Ira and Charlie's religiousity at face value, rather than as kitsch, which, I agree, is a mistake that modern-day Louvin fans make all too often.
Charlie Louvin apparently has a home page, though I wasn't able to open this link when I came across it. Perhaps you'll have better luck...?
---