<! MP3 04/19/09; 09/27/10 > <! update 04/19/09 - split discography into three pages 04/19/09; 09/27/10 - a couple of adds > <! outside 00/00/00 > <! pix 00/00/00 > <! 208-pix: 00/00/00 > <! icons 01/26/11 >
---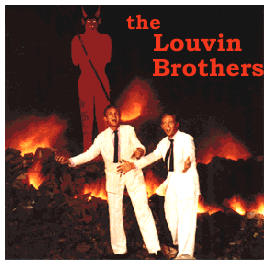 The Louvin Brothers, Charlie (1927-2011) and Ira Louvin (1924-1965) were the missing link between the haunting, somber harmonies of Depression-era "brother acts" such as the Blue Sky Boys or the Delmore Brothers, and the joyous release of rock and roll's Everlys. They had a very successful but tumultuous partnership, spanning the 1940s and '50s, until their final acrimonious break in 1963. Charlie, who had kept the business side of their act running for many years, did quite well in his solo career. He scored a Top Ten hit in 1964, and continued to chart consistently throughout the decade. The erratic, troubled Ira managed to record one solo album in 1965, but later that year the Louvin Brothers story ended tragically when Ira died in a car crash while touring the Midwest. Charlie continued on, and produced several solo albums for Capitol, including some fine duets with Melba Montgomery. Eventually he coasted into indie-label territory, and has found an avid audience in a new generation of traditional country devotees, touring and performing right up until his death in 2011
Here's a quick look at the solo records of the fabulous Louvin Brothers...
---
Louvin Brothers Solo Albums | Best-Of Collections | Original Albums
---

Charlie Louvin "The Greatest Hits Of Charlie Louvin" (Collector's Choice, 2004)


At last...! A long-overdue retrospective of solo material by hard-workin' Charlie Louvin, the surviving member of the oh-so-sublime Louvin Brothers duo. After the long-lived brother act went bust in the early '60s (largely due to personal differences between level-headed Charlie and his more reckless sibling), each went their separate way and started a solo career. After Ira passed away in 1965, Charlie soldiered on, and had a remarkably successful career, starting off with a #4 hit in 1964, "I Don't Love You Anymore," and 1965's heartwrenching weeper, "See The Big Man Cry," about a divorced daddy who's kid sees him, but doesn't know who he is. Although he got stuck with a lot of repetitive "theme" songs (centered around the "more" vs "less" twist of his initial hit), Charlie still had a pretty good run in the Top 40, right up through the mid-1970s. This disc captures Charlie Louvin's down-to-earth, gosh-heck appeal, and while there are some songs that are missing (and a too-skimpy offering of his early-'70s duets with Melba Montgomery), this is still a mighty fine record, and is bound to be a real treat for fans who've been waiting decades to see many of these songs back in print in any format... Snap this up while you still can.

Ira Louvin "The Complete Recordings Of Ira Louvin" (King/Capitol Special Markets, 2000)



A fab reissue of Ira's lone, long out-of-print 1965 solo album, The Unforgettable Ira Louvin, which was released after Ira and his wife Anne died in a car crash... Many of these songs were originally released as singles, as Ira was taking tentative steps to establish a post-duo career. As such, the album doesn't feel all that cohesive, and the material is markedly different than the Louvin Brothers "sound" we know and love so well... it's less punchy, a bit dark, less pop and more honkytonk. To be honest, it ain't all gold, but it's still pretty nice, and Ira was still a great songwriter. There are several standout tunes, in particular "Who Throwed Dat Rock?", which was later ably covered by High Sheriff Ricky Barnes. This CD reissue is particularly noteworthy for the inclusion of three previously unreleased tracks, all of very high caliber and well worth tracking down. This disc is a major triumph of the CD reissue era, and a must for all Louvins fans...


<! B001IBESVW is for MP3 of original album only >
---
Ira Louvin "The Unforgettable Ira Louvin" (Capitol, 1965)


Ira's only solo album, released the same year he died. This is a strong, well-produced record with plenty of duets with his wife, Anne Young. Even while the Louvin Brothers were together, Ira had a habit of putting some of his songwriting credits in Anne's name, presumably as a way to provide for her (or maybe to beat the IRS?)... That's true here as well, though there's little doubt that it was Ira who wrote these tunes. There's some great stuff on here, much of it with a honkytonk edge... It'd be nice if someone could figure out a way to reissue this music on CD sometime. (For info on the Y2K CD reissue, see above.)
Charlie Louvin "Less And Less/I Don't Love You Anymore" (Capitol, 1964)


Charlie's first solo album, and a pretty solid effort. Both brothers went for a more muscular, honkytonk-ish style (laced, of course, with Nashville pop touches). This features The title tracks, as well as the divorced-daddy weeper, "See The Big Man Cry", and "Once A Day" (which has been ably covered by Ricky Barnes). Fairly easy to find, and definitely recommended.
Charlie Louvin "The Kind Of Man I Am" (Capitol, 1968) <! (#ST-248) >

Charlie Louvin "The Many Moods Of..." (Capitol)

Charlie Louvin "I'll Remember Always" (Capitol)
Charlie's memorial tribute to Ira. Some of these remakes of Louvin Brothers classics are fine -- the same old strong songwriting, but with Nashville's mid-60s version of "hard" country, with a solidly loping, thudding shuffle beat. Some tracks, though -- especially the medley on side two -- are pretty pitiful. More of a curio than a relic.
Charlie Louvin "Lonesome Is Me" (Capitol)


Charlie Louvin "Hey Daddy" (Capitol, 1968)

Charlie Louvin "I Forgot To Cry" (Capitol)

Charlie Louvin "Will You Visit Me On Sundays?" (Capitol)

Charlie Louvin "Here's A Toast To Mama" (Capitol)

Charlie Louvin "Ten Times Charlie" (Capitol) (ST-555)
Features a version of "I Take The Chance," an early '60s Louvin's number, later covered by Ricky Barnes.
Charlie Louvin & Melba Montgomery "Something To Brag About" (Capitol, 1971)
(Produced by George Richey)
When they really get going, this is awesome. In general, though, things bog down a bit. For one thing, Charlie is trying too hard to sound like George Jones -- I'd rather he sound like himself. Melba holds her own, but they both struggle against meandering Nashville production. The high point of this album is the title song, which was a moderately successful hit single. Written by Bobby Braddock, it sounds suspiciously similar to his song, "Nothin's Ever Hurt Me (Half As Bad As Losin' You)," which George Jones made a hit in 1973. There are also a couple of Louvin Brothers covers, but they are disappointing.
Charlie Louvin & Melba Montgomery "Baby, You've Got What It Takes" (Capitol, 1972)
(Produced by George Richey)
Similar terrain to the Something To Brag About album, this album repeats the title track, and includes a cover of the Louvin Brothers "When I Stop Dreaming." Somewhat interesting to fans of either of these artists, but not earthshaking.
Charlie Louvin "It Almost Felt Like Love" (United Artists, 1974)
His voice doesn't hold up on a couple of these numbers, but overall this is a creditable effort. Good countrypolitan, with Charlie still very much in a George Jones-y mode; the songwriting on the second side is much better than on the first... only one track is credited to Charlie, though.
Charlie Louvin "The World Of Charlie Louvin" (K-Tel, 1976)







Charlie Louvin "Ramblin' Rose" (Coral, 1977)





Charlie Louvin "Stars Of The Grand Ole Opry" (First Generation, 1981) <! (FGLP-GOOS-05) >
(Produced by Pete Drake)




Charlie Louvin & Jim And Jesse "Jim & Jesse And Charlie Louvin" (Soundwaves, 1982) <! (#SWS-3308) >





Charlie Louvin "Going To The Gallos" (Phonorama, 1982)



<! is this the same as the S/T album on First Generation Records? B00000JTCF >

Charlie Louvin "And That's The Gospel" (Playback Records, 1991)


Charlie singing with a number of guest performers, including Tammy Wynette, Jim & Jesse, Little Jimmy Dickens, and Charles Whitstein.
Charlie Louvin "Charlie Louvin & His Country Friends" (K-Tel, 1991)

Charlie Louvin "Fifty Years Of Makin' Music" (Playback, 1991)

Charlie Louvin & Charles Whitstein "Hoping That You're Hoping" (Copper Creek, 1992)



Charlie Louvin "Louvin Brothers Music Celebration - Live In Holland" (Strictly Country, 1993)



A beautiful, stripped-down acoustic set, with Louvins enthusiast Charles Whitstein providing harmony vocals and playing mandolin. Although they cover some secular Louvins heartsongs such as "When I Stop Dreaming" and "My Baby's Gone," as well as the old Delmore Brothers hit, "Freight Train Boogie," the bulk of this album is devoted to gospel material, all of it quite nice and drenched in an old-time traditional vibe. Whitstein is a fine partner for Charlie, calm, understanted and every bit as soulful and sincere. Fine, heartfelt, mature work -- highly recommended.
Charlie Louvin "The Longest Train" (Watermelon, 1996)





<! 1. When I Stop Dreaming Listen 2. In the Pines Listen 3. Cash on the Barrelhead Listen 4. I Don't Feel Like Dancing Listen 5. Who Knows Where the Time Goes? Listen 6. Queen of the Bayou Listen 7. Are You Wasting My Time Listen 8. Stone-Deaf, Dumb and Blind Listen 9. My Baby's Gone Listen 10. Christian Life Listen 11. I Wanna Die Young (At a Very Old Age) Listen 12. Turn Around Listen >

Charlie Louvin "Charlie Louvin" (First Generation, 1999)



I'm not sure, but I think this is the same as the 1982 album, Goin' To The Gallos. (When I locate my old copy, I'll check and make sure!) Anyway, these are nice hard-country recordings of Charlie singing in a nice, gruff, robust, George Jones-ish style, cheating songs and all!
Charlie Louvin "Echoes Of The Louvin Brothers" (Tompkins Square, 2006)





<! apparently a reissue of the 1996 The Longest Train album

Charlie Louvin "Live At Shake It Records" (Tompkins Square, 2007)

Charlie Louvin "80th Birthday EP" (Tompkins Square, 2007)

Charlie Louvin "Charlie Louvin" (Tompkins Square, 2007)



A nice set of Louvin Brothers oldies and other country standards, sung in a series of duets with a bunch of high-powered pals. Bobby Bare, Elvis Costello, Tom T. Hall and George Jones are the old-timers; young'uns are represented by Tift Merritt, Jeff Tweedy and others. At eighty years of age, Louvin sounds every bit the old man, but that's just fine: we're all happy to have him around, and still pouring himself heart and soul into such wonderful songs.
Charlie Louvin "Steps To Heaven" (Tompkins Square, 2008)


Charlie Louvin "...Sings Murder Ballads & Disaster Songs" (Tompkins Square, 2008)


Charlie Louvin "Hickory Wind: Live At The Gram Parsons Guitar Pull" (Tompkins Square, 2010)



Hippie-billy pioneer Gram Parsons was perhaps the world's most influential Louvin Brothers revivalist, bringing their work to the attention of young Emmylou Harris as well as the Byrds and their flock of country-rock pals: from there the Louvins ascended into the alt-country canon. It's only fitting, then, that Charlie Louvin return the favor with a nod of his hat towards the late, sainted cosmic cowboy... This live set features several songs that Parsons sang during his all-too-brief career: "Hickory Wind," "The Christian Life," and other well-loved oldies. Mr. Louvin's clearly in his twilight years, and cannot summon the oomph of his early years, but with his long life experience and enduring convictions palpable in his ragged voice, he still makes music that is pure and sincere, and packed with power. God bless him.
Charlie Louvin "The Battle Rages On" (Tompkins Square, 2010)






<! An all-gospel set, recalling the glory days of the Louvin Brothers at their Christian-country best... >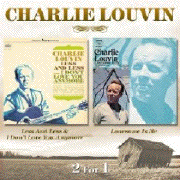 Charlie Louvin "Less And Less/Lonesome Is Me" (Hux, 2009)



A tasty twofer reissue of two great 1960s solo albums by Charlie Louvin, of the fabled Louvin Brothers. Less And Less was his first solo album, and it's a pretty solid effort which made a name for him in the world of 1960s Top Forty country. It includes the novelty-song title track, as well as the divorced-daddy mega-weeper, "See The Big Man Cry," and "Once A Day," which is one of his best solo pieces. Great stuff; probably Charlie Louvin at his best.
Download picks:

I Don't Love You Anymore


Once A Day


See The Big Man Cry
---
Best-Of Collections | Original Albums | Solo Albums
---
---