<! MP3 04/23/09 > <! outside 00/00/00 > <! pix 00/00/00 > <! 208-pix: 00/00/00 > <! icons 03/15/11 > <! UPDATES: 04/23/09 03/09/14 - updated file name, expanded Submarin band review - need to update links to new URL >
---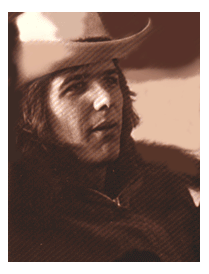 Gram Parsons (1946-1973) is the inevitable initial reference point when discussing "alternative" country... As a temporary member the legendary psychedelic folk-rock group, the Byrds, as an informal mystery member of the Rolling Stones, and as founder of the Flying Burrito Brothers, Parsons was the single most influential proponent of "country rock." In fact, he pretty much invented the genre, even if he hated when people called his music by that name.
An erratic and dream-laden stoner, Parsons was (let's be honest) not the world's greatest singer, nor the most reliable band member. Nonetheless, he brazened his way into the upper echelons of the 1960s rock scene, and persistently brought his vision of a hippie-friendly honkytonk to the table. Forming his own band in the early '70s, Parson's came across a young Emmylou Harris and swiftly tutored her in the ways of cool country music. Although Parsons died young, his protege was more than up to the task at hand. Alterna-country's first and greatest diva, Emmylou made it her personal mission to continue Gram's legacy and bring the music of the Louvin Brothers and George Jones to the unwashed masses. The Parsons legend, meanwhile, has had a tremendous resurgence in recent years, with almost every twangster tipping their hat in his direction. Here's a quick look at his catalog...
---
Discography
---
Gram Parsons & The Shilohs "The Early Years: 1963-1965" (Sierra Briar, 1979) (LP)


A bluegrassy early offering. Although a little more vigorous and driving than many other earnest early-60s folkies, this bluegrass & folk outfit was not, really, that remarkable. It's true that even this early on you can hear Gram pushing towards his future sound, but only if you listen really, really attentively.
Gram Parsons "Another Side Of This Life" (Sundazed, 2000)



Given the recent strength of the GP cult, it's pretty amazing that these home-kitchen recordings, made on trips home during his brief college career in 1965-66, haven't surfaced before now. Now we can hear Gram plying his hand at coffeehouse folk scene material, covering songs by Fred Neil, Tom Paxton and Dick Weissman, along with tentative stabs at his own original material. Longtime fans have a right to be skeptical about this disc, since Parsons' earlier bluegrass phase is pretty well documented (and wasn't that riveting), but in truth these "lost" recordings do illuminate Parsons' evolution into a country-rock icon. What's most surprising is how solid his vocal performances were, and how modern he sounds. Gram's revved-up version of Hamilton Camp's "Pride Of Man" can be seen as a dry run for his own apocalyptic masterpiece, "Sin City," while the intense, introverted vocals on Buffy St. Marie's "Codiene" could just as easily have been recorded by some contemporary "lo-fi" artiste like Lou Barlow or Will Oldham But when Gram rolls out the brand-new "Brass Buttons," one of his best-known and most beautiful ballads, the writing is on the wall: this kid is going places.
International Submarine Band "Safe At Home" (LHI, 1968)



Before he crashed the party over at Chris Hillman's pad, Gram was working a lot of his ideas out in this short-lived rock-country combo. This album was recorded for Lee Hazelwood's LHI label, with Hazelwood's then-girlfriend Suzi Jane Hokom trying her hand as a record producer... Most of the tracks they recorded were uneven, though charming, and many of the songs were cover tunes or songs provided to the band by the label, although several Gram Parsons classics are showcased here for the first time, including irresistible gems such as "Strong Boy" and "Blue Eyes." Also includes an early version of "Luxury Liner," a song which Emmylou Harris and Albert Lee resurrected in 1977 with jaw-dropping results. This also includes a nice version of "Do You Know How It Feels to Be Lonesome," a song co-wrote with blues-rocker Barry Goldberg... Not the most cohesive album ever, but it has a nice, naive, earnest charm and it definitely worth a spin.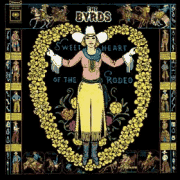 The Byrds "Sweetheart Of The Rodeo" (Columbia, 1968)



The first "official" country-rock album, though really, it was simply a masterful country album, recorded by a super-famous rock band. As the story goes, Parsons pretty much muscled his way into LA's then-ascendant folk-rock band, and swiftly remade them into Nudie suit-wearing space cowboy, hippie-billies... which is to say, into his band. Naturally there was resentment within the group, and Parsons was eventually given the boot, but not before they made this wonderful, landmark album. Gram provided most of the arrangements and repertoire, including his own classic ballad, "Hickory Wind," and oldies such as the Louvin's "Christian Life." Because he was under contract to another label, though, the producers at Columbia stripped Parsons' vocal tracks off the album, and replaced them with lead vocals by Roger McGuinn and Chris Hillman. Still, all the internal band and label politics aside, this is a pretty nifty record.
The Flying Burrito Brothers "Gilded Palace Of Sin" (A&M, 1969)


Aww, forget 'em! Who needs the Byrds anyway? This record has all the big hits of the Gram-era Burritos -- most of them, at any rate. "Wheels," "Sin City," "Hot Burrito #2," the jovial misogyny of "Christine's Tune" and Gram plugging away on a couple of Dan Penn's Muscle Shoals R&B anthems. Naw, he didn't have the greatest voice, but somehow he makes it all work. Uneven, but a classic.
The Flying Burrito Brothers "Burrito Deluxe" (A&M, 1970)


An uneven record, made while tensions peaked between Parsons and the rest of the band. However, this version of the Rolling Stones song, "Wild Horses" was one of the highlights of Gram's career.
The Flying Burrito Brothers "Close Up The Honky-Tonks" (A&M, 1972) (LP)


A fab 2-LP elegy to the original Burritos ensemble... The first disc is a strong best-of: Side A is from the first album, Side B is from the second. The second is all unreleased stuff, including several of their best country covers, as well as a bunch of iffy '50s rock tunes like "Bony Maronie," etc. Even with the lame, tacked-on stuff, though, this is one of the best Burritos packages ever.
Gram Parsons & The Flying Burrito Brothers "Sleepless Nights" (A&M, 1976)



A posthumously released odds'n'ends look back at the Gram-era Burritos. The album draws heavily on the same unreleased 1970 sessions that made up half of Close Up The Honky-Tonks, except this time around they cherry-picked out the best country stuff. Several awesome songs, like Merle's "Tonight The Bottle Let Me Down" and Buck Owens' "Together Again" had inexplicably been left off that collection, but here -- paired up with several Gram/Emmylou duets from '73 -- they finally make a convincing case for Gram Parsons as a kickass country singer. When he left to form his own group (again), the Burritos continued on without him and have survived, in various incarnations, to the present day.
Gram Parsons "G.P." (Warner Brothers, 1973)



This time around, Gram wasn't trying to get hippies to play country music -- instead he was playing with a bunch of crackerjack pickers and plunkers, including folks like Glen D. Hardin, James Burton and Buddy Emmons (who would later form the backbone of Emmylou's early band), as well as Barry Tashian (who once led the garage pop band, The Remains) along with fiddle whiz Byron Berline. With the musical end of things so well taken care of, all that's left to look at is the singing and songwriting. Although Gram's most memorable songs aren't on here, there are lots of understated gems. Really, it's the singing you have to be critical of -- Grams voice cracks constantly and strays off key, and he has trouble figuring out his phrasing as well. Likewise, Emmylou was a bit too eager to belt it out on her first big break, and you have to wince now and then when she takes center stage. But Gram's limitations are part of his mystique: that he would be so flawed yet still persist and make such great music was a testament to the creative forces that drove him. If you think about it, Parsons could have easily been held up as a role model for the DIY-ers of the punk movement that would come out of the rock world a couple of years later. And, needless to say, Emmylou didn't take long to figure her way around a recording studio. A great album which was cobbled together in improbable circumstances. (NOTE: "GP" was reissued on CD as a twofer, along with "Grievous Angel," below.)
Gram Parsons "Grievous Angel" (Reprise, 1974)



Even with the persistent rough edges, this is a masterful album, where Gram and his posse finally hit a groove. The musicians are more relaxed, and at last it doesn't seem like they feel they have to prove themselves: hippie-billy country has arrived. The vocals (especially Emmylou's) are sometimes still technically choppy, but Gram's warm, confident delivery sounds positively serene, and even the flubbed parts exude soulfulness and purpose. As the album winds down, Gram and Emmylou have finally nailed their duets down, particularly on "Love Hurts" and "In My Hour Of Darkness," which are two of the golden moments they are remembered for. One of the great "what-ifs" of all time is what would have happened with this ensemble if Parsons hadn't overdosed in the desert right after this was made. Sigh.
Gram Parsons & The Grievous Angels "Live: 1973" (Sierra Briar/Rhino, 1995)



A solid live performance featuring both Gram and Emmylou, this which has surfaced in many versions over the years. The most recent package is from Rhino Records, and has great sound quality and liner notes. Sweet stuff, highlighting the delicate musical balance between Parsons and the still-unfurling Emmylou Harris -- well worth checking into!
Gram Parsons "Gram Parsons Archive, Vol. 1: Live at the Avalon Ballroom, 1969" (Amoeba Records, 2007)


Live recordings from 1969...
---
Best-Ofs
---
Gram Parsons "Warm Evenings, Pale Mornings And Bottled Blues" (Raven, 1991)


A super-fab Aussie import which draws in tracks from all the phases of Parsons' career. It misses a few doozies from later on, but does a great job cherry-picking the best of the early stuff. It's probably more efficient to get this than to have all the albums, and all the mediocre tracks that come along with them. Highly recommended!
Gram Parsons "Sacred Hearts And Fallen Angels" (Rhino, 2001)


Well, leave it to Rhino... They've actually bested the fab Raven best-of listed below... This 2-CD set will probably remain the definitive GP collection for years to come, drawing liberally from Parsons work with the Submarine Band, the Byrds, the Burrito Brothers, his solo work and live stuff with Emmylou. This has been compiled with admirable deftness and taste. Okay, so the early folkie material could have been sampled as well, but it's not nearly as important as all the great stuff that is on here. Highly recommended.
The Flying Burrito Brothers "Farther Along: The Best Of The Flying Burrito Brothers" (A&M, 1988)


Also highly recommended. Has most of the best Parsons-era Burritos songs on it (with only a couple of lamentable omissions). And, while it's nice they stuck to the good stuff, it's unfortunate that couldn't have also included "Four Days of Rain," one of the notable gems of the post-Gram years. If you're looking for one disc to show you what the fuss was about, this oughta do it.
Flying Burrito Brothers "Hot Burritos! Anthology: 1969-1972" (A&M/Universal, 2000)



Woof! This is a truly definitive collection, and essential for anyone who's new to the whole Gram Parsons phenomenon, or for oldtimers who just want to have all this material in one place. Two CDs, 43 tracks, all the material from the first three Burritos albums, and a well-selected sampling of the odds and ends released after the Gram's departure. It even includes one of the few worthy tracks in the immediate post-Gram years, "Four Days of Rain," which is fluffy, but catchy, and a longtime favorite of mine... Records like this give us all a chance to breathe a sigh of relief in the face of the massive recent corporate mergers in the music industry: even though A&M got swallowed up into the maw of Seagram's Universal conglomerate, there's still someone out there in the belly of the beast who was on the ball enough to do this one up right. As fab a summary of the Burritos sound as could reasonably be asked for, with all the blemishes and moments of magic.
Flying Burrito Brothers "Millennium Collection" (MCA/Universal, 2001)



Huh? What is the point of this skimpy little 12-song best-of when the fabulous Hot Burritos set already came out the year before? Well, I guess if you want to check these guys out on the cheap, this has its appeal. But it's a stingy offering considering how easily the label could have -- and already had -- done a better job.
Flying Burrito Brothers "The Very Best Of" (A&M/Universal, 2002)



Actually less a "best-of" than a more or less straight reissue of the Guilded Palace Of Sin and Burrito Deluxe albums (reviewed above). A few extra tracks round out this collection; as a retrospective, this seems kind of superfluous, considering the high calibre of the Hot Burritos! anthology, which came out just a couple of years earlier. But for anyone who wants to hear all the material on the band's first two albums, this is a welcome find.
Gram Parsons "The Complete Reprise Sessions" (Warner-Rhino, 2006)



Wow. Cool! A 3-CD set with the first two GP albums, as well as numerous studio outtakes and snippets of interviews from the time... Yeah, yeah, thee may be other stuff that's out there on this bootleg or that, but whatever. This is a great collection.
---
Tributes
---
The Coal Porters "The Gram Parsons Tribute Concert" (Prima Records, 1999)


Laughing Gravy "Tribute To Gram Parsons" (Jackalope, 2006)


Various Artists "CONMEMORATIVO - A TRIBUTE TO GRAM PARSONS" (Reprise, 1993)


Various Artists "RETURN OF THE GRIEVOUS ANGEL" (Almo, 1999)


(Produced by Emmylou Harris)
This groovy Gram Parsons tribute compilation has the distinction of having been produced by Emmylou Harris herself, making it the closest thing to an "official" tribute we're ever likely to see. For the most part, it's pretty solid: highlights include Lucinda Williams' cover of "Return Of The Grievous Angel," and Emmylou and Sheryl Crow are about as perfect a vocal matchup as you could desire. Evan Dando and Juliana Hatfield may surprise a lot of folks with their resonant version of "$1,000 Wedding", while postmod-pop icon Beck plays it surprisingly straight on a pedal steel-drenched rendition of "Sin City". There are, of course, disappointments, such as a lackluster Pretenders track, and a predictably insufferable performance by Wilco. Cowboy Junkies squander the inherent hillbilly bounciness of the original "Ooh Las Vegas" in favor of generic indierock/mopecore moodiness -- they score points for originality, though the results are melodically denuded, and lamentable. Several other tracks produce similarly indifferent results. Elvis Costello, on the other hand, is in his own special league, elevating Parsons' "Sleepless Nights" into the pop ballad stratosphere, one of several bright gems which make this collection worth your full attention.
Various Artists "TRIBUTE TO GRAM PARSONS AND CLARENCE WHITE" (Magnum, 1996)



Featuring Bobby Bare, the remnants of the Flying Burrito Brothers, Larry Murray and Freddy Weller.
---
Odd Goings-On
---

The Gram Parsons Notebook "The Last Whippoorwill" (Shell Point, 2000)


Although I have respect and affection for many of the artists involved in this project -- Carl Jackson, Ricky Skaggs, James Burton and Barry Tashian are among the best-known -- the whole thing is a bit suspect. Oh, right... First, I should probably tell you what this is all about. Apparently, Gram had a bunch of notebooks full of lyrics and half-formed songs that never met completion. No surprise there. What is odd, though, is that if folks were going to get together and "finish" them "for" Gram, that they would so freely muck about with the material. The evidence is right there in the booklet... Gram's original doodlings and versifying stands right alongside the "completed" songs, and there's quite a bit of difference, what with sweeping changes in the lyrics, and all. Leaving aside that this is not (in all honesty) the most electrifying country record ever, it's just a bit... specious, or presumptuous, if you will... that these folks would take it upon themselves to claim a direct lineage from what Gram wrote and what they recorded. Forgiving fans might find something to get all worked up about here, but I can't say I was all that impressed.
---
Links and Resources
---
Larry Klug's GP page is a breathless fan site deluxe, with pictures, lyrics, guitar chords, etc, and the inevitable FAQ list. Strangely, the book review section omits both of the well-know Parsons biographies (listed below), in favor of Pamela Des Barres groupie memoir and a memoir by Gram's buddy and tour manager, Philip Kaufman.
Kate's Emmylou Harris Home Page has a GP section that's a little less cluttered, and a little more my style. The information on Gram Parsons is pretty straightforward, as are the links to other resources. They also have an awesome Emmylou Harris page that you might wanna check out.
For the grisly and salacious details of Gram Parson's death by overdose, check out this Byrds Fan Page, which goes into great detail. I'm not really that into the whole myth-by-martyrdom aspect of the GP cult, but this is the most informative website I've found about this aspect of Parsons' story.
---
Books
---

"Gram Parsons: A Music Biography"
By Sid Griffin
This is the big tell-all book by Parson's roadie/manager pal, Sid Griffin. I haven't read it yet, but GP devotees swear by it.
"Hickory Wind: The Life And Times Of Gram Parsons" by Ben Fong-Torres

If the truth be told, Ben Fong-Torres is not that great a writer. I mean, sure, I got from one end of this book to the next, and got good information out of it, but it was pretty slow going. But while his narrative skills are less than ideal, Fong-Torres has the advantage of being able to hold Parsons at a critical distance, which is useful when looking at someone most folks consider to be an icon. The criticisms are mostly about Gram as a person, not as a musician, but still they have the ring of truth. Gram comes off as a user, a scammer and an all-American foul-up, one of those charismatic figures who had a grand old time back in the hippie days, alternately charming and pissing off everyone he met. After a while, though, the sardonic criticism starts getting tiresome, as though A Current Affair were doing a piece on Parsons and the "hidden secrets of alternative country!!!" ... or something like that. The book's a mixed bag, but it's worth checking out if you can find a copy.
---