<! cd = 12/28/11 > <! MP3 12/28/11 > <! update 12/28/11 > <! outside 12/28/11 - WP > <! pix 12/28/11 > <! 208-pix: 00/00/00 > <! icons 12/28/11 >
---
Folk-rock, country-rock, Americana... whatever you want to call it, Chris Hillman has played one of the most remarkable and vital roles in the progress of this great, far-flung American music. Hillman had stints in several of the most pivotal bands that merged multiple styles into a new sound, joyful and amorphous, drawing on tradition but pushing into the future. For the purposes of this country music discography, I'm gonna skip most of the Byrds albums, but there's still plenty of twang for us to explore, including his stint with the Top 40 Desert Rose Band... Here's a quick look at Hillman's career.


<! other Byrds? the rest of the Burrito Brothers? separate Desert Rose Band >

---
Discography - Albums
---

The Scottsville Squirrel Barkers "Blue Grass Favorites" (Crown Records, 1962)


I have this odd fascination with '50s/'60s fly-by-night cheapie labels like Crown and Spin-O-Rama, where anonymous session players typically would cover current country hits, sometimes even with "soundalike" singers semi-pretending to be the original artists. It's usually pretty hard to know who played on these records, but this particular album has a pretty clear provenance: it's a real record by one of Chris Hillman's first bands, a straight-up bluegrass set with Hillman on mandolin, along with Ed Douglass, Larry Murray, guitarist Gary Carr and Kenny Wertz on banjo. It was a California band packed with talented players who would be at the core of the wildly eclectic SoCal country-rock scene: Byrds, here we come!


<! 144 x 144 > <! Founded and led by Larry Murray and Ed Douglass, the band included the best and brightest in California Folk and Bluegrass circles, including Murray on Dobro, Douglass on upright bass, Gary Carr on guitar, Kenny Wertz on banjo, and a very young teenage prodigy on mandolin by the name of Chris Hillman. The Barkers built up a strong following in Southern California. This album, recorded in the space of one day at a studio in Los Angeles, is the only Barker recordings saved for posterity. But this singular album has stood the test of time, and sounds pretty darn good for a recording made for an bargain basement record company. Just give a listen to the duelling mandolin-banjo of Hillman and Wertz on the instrumental version of "Home Sweet Home" with Murray's dobro sneaking in and out in the background! Just think that within two years' time Chris Hillman would be playing bass in the Byrds, Larry Murray too would go up to Los Angeles and form local favorite "Hearts and Flowers" with Bernie Leadon (who had replaced Wertz on banjo in the Barkers - and ironically Wertz would end up replacing Leadon in the Flying Burrito Brothers) joining him. The three of them would soon be paving that glory road with Clarence White, Gene Clark and Gram Parsons, and creating the genre known as California Country Rock music. >

The Hillmen "The Hillmen" (Together Records, 1963)



The Gosdin Brothers, Vern and Rex, playing in an early '60s, Los Angeles bluegrass band, along with Chris Hillman (later of the Byrds) and Don Parmley (who went on to play in the Bluegrass Cardinals). The Hillmen were contemporaries of West Coast folk-grassers such as the Dillards and Gram Parson's abortive band, the Shilohs. While this album isn't as dazzling as the old masters (The Stanley Brothers, Bill Monroe, et al) or even fellow folk scene revivalists like the Greenbriar Boys or the New Lost City Ramblers, it's still charming enough, and certainly packed with plenty of historical significance.


<! 144 x 144 >
The Byrds "The Notorious Byrd Brothers" (Columbia, 1968)



(Produced by Gary Usher)
Mostly a spacy, psychedelicized rock album, with experimental touches that included dips into country-folk stylings. Not as "country-rock" as their next album, where rock critics often credit space-cowboy Gram Parsons as having gotten the Byrds to "go country." However, the trippy twang on songs like "Wasn't Born To Follow" shows that the band was already headed in that direction... Regardless, this is a great hippie-trippy, Moogalicious rock record, recorded in the Summer (and Fall) of Love, and it holds up pretty well, all these decades later.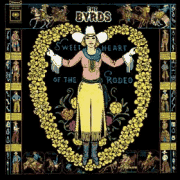 The Byrds "Sweetheart Of The Rodeo" (Columbia, 1968)



(Produced by Gary Usher)
The first "official" country-rock album, though really, it was simply a masterful country album, recorded by a super-famous rock band. As the story goes, stonerbilly bad boy Gram Parsons more or less muscled his way into LA's then-ascendant folk-rock band, and swiftly remade them into Nudie suit-wearing space cowboy, hippie-billies... which is to say, into his band. Naturally, there was resentment within the group, and Parsons was eventually given the boot, but not before they made this wonderful, landmark album. Parsons provided most of the arrangements and repertoire, including his own classic ballad, "Hickory Wind," as well as oldies such as the Louvin's "Christian Life." Because he was under contract to another label, though, the producers at Columbia stripped Parsons' vocal tracks off the album, and replaced them with lead vocals by Roger McGuinn and Chris Hillman. Recent CD reissues have gone back and (partially) re-created the album as it was originally recorded.
The Flying Burrito Brothers "Gilded Palace Of Sin" (A&M, 1969)



Forget 'em! Who needs the Byrds anyway? This record has all the big hits of the Gram-era Burritos -- most of them, at any rate. "Wheels," "Sin City," "Hot Burrito #2," the jovial misogyny of "Christine's Tune" and Gram plugging away on a couple of Dan Penn's Muscle Shoals R&B anthems. Naw, he didn't have the greatest voice, but somehow he makes it all work. Uneven, but a classic.


<! 144 x 144 >

The Flying Burrito Brothers "Burrito Deluxe" (A&M, 1970)



An uneven record, made while tensions peaked between Parsons and the rest of the band. However, this version of the Rolling Stones song, "Wild Horses" was one of the highlights of Gram's career.
The Flying Burrito Brothers "Close Up The Honky-Tonks" (A&M, 1972) (LP)


A fab 2-LP elegy to the original Burritos ensemble... The first disc is a strong best-of: Side A is from the first album, Side B is from the second. The second is all unreleased stuff, including several of their best country covers, as well as a bunch of iffy '50s rock tunes like "Bony Maronie," etc. Even with the lame, tacked-on stuff, though, this is one of the best Burritos packages ever.


<! 144 x 144 >
Gram Parsons & The Flying Burrito Brothers "Sleepless Nights" (A&M, 1976)



A posthumously released odds'n'ends look back at the Gram-era Burritos. The album draws heavily on the same unreleased 1970 sessions that made up half of Close Up The Honky-Tonks, except this time around they cherry-picked out the best country stuff. Several awesome songs, like Merle's "Tonight The Bottle Let Me Down" and Buck Owens' "Together Again" had inexplicably been left off that collection, but here -- paired up with several Gram/Emmylou duets from '73 -- they finally make a convincing case for Gram Parsons as a kickass country singer. When he left to form his own group (again), the Burritos continued on without him and have survived, in various incarnations, to the present day.


<! 145 x 144 >
Manassas "Manassas" (Atlantic, 1972)



(Produced by Stephen Stills, Chris Hillman & Dallas Taylor)
Although it's rightfully given a place in the history of country-rock, the first album by the Stephen Stills/Chris Hillman-led Manassas kicks off with a strong blues/boogie rock sound, drifting into cosmic rock on songs like "How Far," "Both Of Us" and "Move Around" then briefly -- and a little abruptly -- into country songs such as "Colorado," "Fallen Eagle" and "Jesus Gave Love Away For Free." Although he gets equal billing, Hillman is mostly in the background -- Stills is clearly the guiding force here, bringing into clearer focus the subtle Latino-Carribean soft-rock groove that would define many of the later CSN hits of the decade... The country stuff features some swell pedal steel by Al Perkins and fairly salty fiddle as well (courtesy of Byron Berline, I believe...) This double LP offers only a handful of true twang tunes for country fans, but they work well in a country-rock mix, and as a classic dino-rock hippie album, this holds up pretty well. Definitely one of Stephen Stills' finest moments.

Manassas "Down The Road" (Atlantic, 1973)



(Produced by Stephen Stills, Chris Hillman & Dallas Taylor)
This disc was more groove-oriented, and perhaps a bit more druggy and sluggish as well, with Stills sliding into lethargic blues-funk riffs and, more interesting, returning to the groovy Latin-rock of earlier albums. (On "Pensamiento," Al Perkins adds some cool pedal steel licks to the solid salsa arrangement, an experimental touch and a lively track that are highlights of an fairly mundane album. For twangfans, there are a couple of country numbers, the spacy "So Many Times" and the aggressively philospohical "Do You Remember The Americans," an uptempo, bluegrassy number reminiscent of the late '60s Byrds. Not the greatest record ever (the rock-funk stuff is kind of morose and depressing) but there are a few tracks worth checking out. After this, the band broke up -- Stills had bigger fish to fry and may have realized that the harmonies with Crosby and Nash were simply better than anything else he was likely to put together with other rockers at the time. And Chris Hillman had his own road to follow, though this had been a nice "hard" rock outing for him.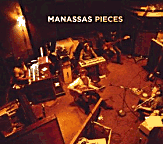 Manassas "Pieces" (Rhino/Eyewall, 2009)



(Produced by Howard Albert, Ron Albert & Stephen Stills)
I suppose, technically, this band -- which featured ex-Byrds-er Chris Hillman and Crosby Stills & Nash-er Stephen Stills -- counts as a "country rock" forerunner but perhaps it fits more comfortably in a folk-rock/classic rock bracket, of a piece with Stephen Stills' other solo work and his CSN/CSNY years. This odds'n'ends collection gathers outtakes and alternate versions from the band's brief, 1971-73 lifespan. To be sure, there are some twangy tunes, notably the pedal steel-drenched demo of "Like A Fox" (with Bonnie Raitt singing in the backup chorus!) and covers of "Panhandle Rag," Bill Monroe's "Uncle Pen" and the Joe Maphis classic, "Dim Lights, Thick Smoke And Loud, Loud Music," as well as some funky rock riffs and a bit of Stills' Latin American flair as well. If you're a Stills/hippie soul fan, you'll want to check this one out.
Souther-Hillman-Furay Band "The Souther Hillman Furay Band" (Asylum, 1974)


Souther-Hillman-Furay Band "Trouble In Paradise" (Asylum, 1975)


Chris Hillman "Slippin' Away" (Asylum, 1976)


Chris Hillman "Clear Sailin' " (Asylum, 1977)


McGuinn, Clark & Hillman "McGuinn, Clark & Hillman" (Capitol, 1979)

McGuinn, Clark & Hillman "City" (Capitol, 1980)


McGuinn/Hillman "McGuinn/Hillman" (Capitol, 1981)

Chris Hillman "Morning Sky" (Sugar Hill, 1982)



Herb Pedersen provides high harmonies and sympathetic backing on this solo set... A sign of things to come? You betcha!

Chris Hillman "Desert Rose" (Sugar Hill, 1984)



A cheerful set of upbeat country-rock, with backing by several of Hillman's longtime pals... This album led to the formation of the Desert Rose Band (see below) although the group's final lineup would be quite different, as well as the sound. Two players made it into the later band: Herb Pedersen provides harmony vocals and Jay Dee Maness adds some sweet pedal steel licks, but the rest of ensemble is different, partly drawing on the remnants of the old Emmylou Harris Hot Band (with lead guitarist James Burton and piano player Glen D. Hardin) as well as some fine picking by country-rock veterans Bernie Leadon and Al Perkins. The later DRB albums are a bit more aggressive and poppy in comparison, but you can see why Hillman stuck with it: this is a lovely record, and definitely worth picking up. Nice stuff.


<! 144 x 144 >
Ever Call Ready "Ever Call Ready" (Marantha Music, 1985)


(Produced by Al Perkins)
A country-rock supergroup jamming on some old bluegrass tunes and singing some gospel songs... The ensemble includes Hillman, along with Bernie Leadon and Al Perkins, as well as fiddler David Mansfield and bassist Jerry Scheff. They are clearly getting a kick out of singing the old songs, but a lot of it sounds tongue-in-cheek, such as their cover of the fundamentalist novelty anthem, "Don't Let Them Take The Bible Out Of Our School Rooms"; other songs seem more soulful and sincere. Fun stuff -- some of it quite sweet.


<! 144 x 144 > <! you might also want to check out the 1983 Hillman/Perkins album, "Down Home Praise," which has a similar feel. DIFFERENT ALBUM, OR ORIGINAL EDITION? >
Desert Rose Band "Desert Rose Band" (Curb-MCA Records, 1987)



Herb Pedersen formed the core of this surprisingly successful roots-country Top 40 band, along with frontman Chris Hillman and guitarist/arranger John Jorgenson, as well as steel player Jay Dee Maness, who gave the band a retro feel that balanced its more contemporary pop-country production style. The group took its name from a Chris Hillman 1984 solo album which Pedersen had also played on; in many ways it was a commercial vindication of the old '70s country-rock scene, which had embraced both old-school country and eclectic experimentation. The Desert Rose Band was pretty solidly "pop," however, shooting for chart success while still keeping things twangy. This debut disc included their first single, "Ashes Of Love," a cover of an old Johnny & Jack song that managed to crack the Country Top 40, as well as the three singles that followed -- "Love Reunited," "One Step Forward" and the chart-topping "He's Back And I'm Blue," which established the group as one of the major acts of the late '80s. Nice stuff, all things considered!


<! 144 x 144 >
Desert Rose Band "Running" (Curb-MCA, 1988)


Desert Rose Band "Pages Of Life" (Curb-MCA, 1989)


Desert Rose Band "True Love" (Curb-MCA, 1991)



(Produced by Tony Brown)

Desert Rose Band "Life Goes On" (Curb-MCA, 1993)


Chris Hillman & Herb Pedersen "Bakersfield Bound" (Sugar Hill, 1996)



The lads dig deep into their love of West Coast honkytonk (aka, "The Bakersfield Sound") as well as other classic country heartsongs, and the harmony style of the Everly Brothers and the Louvins... Great record, packed with great cover tunes and some sweet originals as well. Highly recommended for folks who love mellow, melodic country songs.


<! 144 x 144 >

Rice, Rice, Hillman & Pedersen "Out Of The Woodwork" (Rounder, 1997)



An acoustic-music supergroup with Pedersen and Hillman joining bluegrass brothers Larry and Tony Rice... This is a pretty nice record, in which their collective love for and appreciation of old-fashioned country music and harmony singing is made manifestly clear. The song selection is quite nice, and the picking is sprightly, lively and clean... There's more than a whiff of the consummate musicianship of the Bluegrass Album Band records on here, just with a more contemporary feel, with more modern and more country-oriented songs given the deluxe all-star treatment. Features several Chris Hillman compositions, and a few by Larry Rice (which are a bit strained and overly-crafted, in comparison). Overall, this is a very nice record, well worth checking out.


<! 144 x 144 >

Chris Hillman "Like A Hurricane" (Sugar Hill, 1998)



Oh, this is okay, I guess... but it doesn't match his work with the Desert Rose Band or, obviously, The Byrds... It's okay, but more often than not rock is a young person's game, and the biggish production doesn't suit Hillman's aging voice well, and a more acoustic approach (which he tried not long after this) would probably have worked a lot better. Still, he does hit some good pop grooves, as on "Sooner Or Later," which kind of sounds like the Jayhawks a bit... (Cast notes: Jay Dee Manness plays steel, Jim Monahan, guitar, and Hillman is all over the map pickin' and plunking with the best of 'em.)


<! 144 x 144 >

Rice, Rice, Hillman & Pedersen "Running Wild" (Rounder, 2001)



Larry and Tony Rice team up with Byrds/Dillards vets Chris Hillman and Herb Pedersen for a pleasantly low-key set of country-bluegrass ballads. Overall, I'd reluctantly have to admit that this lacks ooompf, but it is a nice reminder of the pioneering crossover work that Hillman and his various crews did in the '70s to help widen the palatte of modern-day hick music fans. A pair of EZ dino-rock covers ("Things We Said Today" and CCNY's "4 +20") are alternately charming and a bit iffy. One interesting is Larry Rice's "The Mystery That Won't Go Away," a CNN-era update of the old topical ballads that once filled traditional music... Only this time, instead of the sinking of the Lusitania or some train crash, it's about the murder of Jon-Benet Ramsay. Worth checking out; they really seem to be hitting their stride on this one...


<! 144 x 144 >

Chris Hillman & Herb Pedersen "Way Out West" (Back Porch, 2002)



This opens with a straight-ahead truegrass instrumental, then slips into a thumping, good-natured Buck Owens-y Bakersfield Sound country tune, along with several well-chosen cover tunes, lie "Invitation To The Blues" and a version of the Everly Brothers' "Problems" that has a very desert Rose-ish feel to it. Nice stuff -- another sweet collaboration from this super-simpatico duo.


<! 144 x 144 >
Chris Hillman "The Other Side" (Sovereign Artists, 2005)



(Produced by Herb Pedersen)
This album, featuring contributions from longtime collaborator Herb Pedersen and bluegrassers such as Bill Bryson, Sally Van Meter and Gabe Witcher, is one of the best solo albums of his career. It's unhurried and unforced, full of delicate, soulful country flavored heartsongs and hillbilly gospel tunes. Hillman's occasional aesthetic lapses (the whole latter-day folk-rock thing) are nowhere to be heard here, and the record keeps on an even keel, rather than lurching from style to style as he has often done in the past... From start to finish, this is a very listenable album -- rootsy, melodic, and with great emotional depth, the kind of record you can come back to for years to come. Recommended!

Chris Hillman & Herb Pedersen "At Edward's Barn" (Rounder, 2010)



A nice, unpretentious live set, with two old country-rock/bluegrass/Americana veterans playing straightforward acoustic versions of classics from the Southern California roots-music scene of the 1960s and '70s. The repertoire includes familiar faves by the Byrds, The Flying Burrito Brothers, Hillman's old Desert Rose Band, and an old Louvin Brothers tune or two. There's something gratifying about hearing these guys introducing a song like "Wheels" and matter-of-factly remembering when and why it was written. It's particularly nice to see Pedersen in the spotlight again: if they'd included a version of "The Hey Boys," that woulda been fun, too. If you're a fan, you'll get a kick out of this album.


<! 144 x 144 >

---
Links
---
---