<! MP3 04/07/09 > <! update 04/07/09 - lots still not on cd > <! outside 00/00/00 > <! pix 00/00/00 > <! 208-pix: 00/00/00 > <! icons 03/19/11 > <! JUNE 4, 2010: LKay discovered that this site http://thevoiceofcountrymusic.com/index.php?option=com_content&view=article&id=30&Itemid=62 had reprinted text from the reviews on this site. LK sent "cease and desist" email to two e-mail links on the site >
---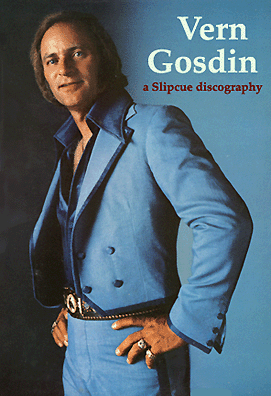 Vern Gosdin, a consummate hard country honkytonk singer, had a hitmaking career that was a long time coming. He and his brother Rex moved from Alabama out to California in the early 1960s, just in time to catch the first wave of the LA folk/rock scene. To Byrds fans, they are perhaps best known for being half of Chris Hillman's pre-rock bluegrass band, The Hillmen, and for later working on Gene Clark's first solo album, back in the Summer Of Love. But to devoted country fans, Vern Gosdin is known, simply, as "The Voice," one of the finest barroom ballad singers this side of George Jones. His solo career started off in the '70s, with a few modestly successful traditional-sounding albums; in the early '80s, during the last gasp of independent labels hitting the Country charts, Gosdin snuck into the Top 40 on a series of singles on the Compleat label. His glory days came through a surprisingly successful stint on Columbia, where Gosdin hammered his way into the Top Ten with one great tune after another. Since then, health problems and another shift in labels have largely sidelined Gosdin's career, although he continues to draw new fans to his great, old-sounding music. Here's a quick look at his best records...
---
Discography
---

The Hillmen "The Hillmen" (Together Records, 1963)



The Gosdin Brothers, Vern and Rex, playing in an early '60s, Los Angeles bluegrass band, along with Chris Hillman (later of the Byrds) and Don Parmley (who went on to play in the Bluegrass Cardinals). The Hillmen were contemporaries of West Coast folk-grassers such as the Dillards and Gram Parson's abortive band, the Shilohs. While this album isn't as dazzling as the old masters (The Stanley Brothers, Bill Monroe, et al) or even fellow folk scene revivalists like the Greenbriar Boys or the New Lost City Ramblers, it's still charming enough, and certainly packed with plenty of historical significance.
Randy Boone "Ramblin' Randy" (Decca, 1965) (LP)


Actor Randy Boone, who was billed as "the singing star" of the 'Sixties TV western, The Virginian, made a couple of albums ala Gale Garnett, Lorne Greene and Ricky Nelson... This set of countrified faux folksongs has its charms, though it didn't make a dent in the charts. My main interest in this album came when I noticed that the Gosdin Brothers accompanied Boone on over half the tracks... They add some ooompf and bounce, as well as contibuting a couple of original tunes -- the zippy "It's All Right" and "Oh Me, Oh My." Boone hardly had what you could call a great voice, and his solo acoustic folk tunes are pretty silly, but the full-band material with the Gosdins certainly has its moments.
Gene Clark "Echos - With The Gosdin Brothers" (Together Records, 1967)


Gene Clark's first solo album after splitting from the Byrds in '67.


<! B000MEYJ6U (Sundazed, ) >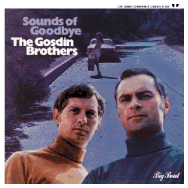 The Gosdin Brothers "The Sounds Of Goodbye" (Bakersfield International/Capitol, 1967)


The sole LP released by the Gosdin Brothers after their shift from bluegrass into the world of folk-rock. The West Coast's sainted session guitarist Clarence Williams helped shape the texture and sound of this unusual album; see below for more details.
The Gosdin Brothers "Sounds Of Goodbye" (Big Beat, 2003)


Long lost amid the cavernous Capitol vaults, the 1968 debut of the Gosdin Brothers, Vern and Rex, is a genuine lost gem of the nascent California country-rock scene. While many mainstream country artists who tried to approach rock music and the youth culture during the hippie years often sounded hopelessly like fish out of water, the Gosdins were perfectly at ease. Although they were country boys tried and true, the Gosdin's psychedelic bona fides were pretty impeccable: they played in bluegrass bands with Chris Hillman, then hooked up with Hillman's Byrd buddy Gene Clark on his early solo career during the Summer Of Love. When they got their own shot at a solo career, they came out with an album that was surprisingly adventurous and electrified, with superpicker Clarence White laying down some delightfully noodly billy-delic folk-rock riffs. This CD reissue interrupts the track order of the original LP, but adds a bunch of extra material that kinda makes up for it. Even though I've been a big Vern Gosdin fan for years (his later solo work is fantastic), I was really surprised by how much I got into this record... It's goofy, heartfelt and fun. Not merely a nostalgic curio, but actually a fine set music. Check it out!
Vern Gosdin "It's Not Over" (Delta)


Songs include: "Your Bedroom Eyes," "When Love Was All We Had to Share," "Loving You Is Music to My Mind," "It's Not over (If I'm Not over You)," "Weekends Were Made for Cheatin'," "Rough Around the Edges," "Cowboys Are Common as Sin," "It's Beginning to Look Like the End," "Lady", "My Baby Sings the Blues," "Too Long Gone" and "Love Is Like an Echo."
Vern Gosdin "Friday Night Feeling" (Delta)


Songs include: "Damn the Fever," "It Might Have Been," "Rustin' Down," "Too Far Gone to Find," "Singer of Sad Songs," "When Love Takes over Your Life," "Tonight I'm Feeling You All Over Again," "Friday Night Feeling," "Just Give Me What You Think Is Fair" "Ain't It Been Love," "She's Just a Place to Fall" and "Don't Ever Leave Me."
Vern Gosdin " 'Till The End" (Elektra, 1977)

Vern Gosdin "Never My Love" (Elektra, 1978)

Vern Gosdin "You've Got Somebody" (Elektra, 1979) *

Vern Gosdin "Today My World Slipped Away" (Compleat, 1984)

Vern Gosdin "Too Far Gone" (Compleat, 1984)

Vern Gosdin "There Is A Season" (Compleat/American Harvest, 1984)


On the title track, Gosdin revisits his folkie roots, with Roger McGuinn and others on board for a nostalgic drift back into '60s folk-rock such as the Dylan-penned title track. Not as satisfying as Gosdin's hard country work, but still kinda touching...
Vern Gosdin "If Jesus Comes Tomorrow" (Compleat, 1984)
A fine, low-key country gospel album, a real throwback to simpler times and simple pleasures... Gosdin opens with an old-fashioned quartet vocal number, "Jesus Hold My Hand," and swings smoothly between archaic gospel styles and more modern sounding country, although seemingly without any concern for finding a radio-friendly hit. More power to him: with folks like guitarist Fred Carter, Jr. (Deana's dad) and erstwhile Quicksilver harmony vocalist Lou Reid, along with numerous session pickers from the rootsier side of the avenue, this album has exactly the right feel to it. Recommended, for the religious and the secular alike.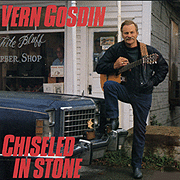 Vern Gosdin "Chisled In Stone" (Columbia/CBS, 1987)


WOW. Gosdin's debut on the Columbia label, made under the auspices of newly-hired A&R head Bob Montgomery, is flat-out one of the best hard country albums you're ever likely to hear. This is due in no small part to the shameless swiping of the lavish production style that Billy Sherrill developed for George Jones's classic countrypolitan hits of the '70s and '80s... And like George, Vern nails every lyric he sings, driving home the lonesome desolation and rueful irony of true country heartbreak, accompanied by understated, effective, pedal steel drenched arrangements. It also didn't hurt that several of these songs landed in the Top Ten charts, particularly "Set 'Em Up Joe," Vern's catchy ode to old-fashioned jukebox heros like Ernest Tubb and Hank Thompson, honkytonk hitmakers if ever there were any. It's not just about the hits, though: every track on here is a winner, from the plaintive "Do You Believe Me Now" to the playfully malicious "Nobody Calls From Vegas To say Hello." This album is a must-have for true country fans... it's just that damn good.
Vern Gosdin "Rough Around The Edges" (RCA, 1989)

Vern Gosdin "10 Years Of Hits - Newly Recorded" (Columbia, 1990)

Vern Gosdin "Alone" (Columbia, 1990)





<! date? >

Vern Gosdin "Out Of My Heart" (Columbia, 1991)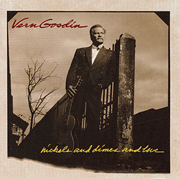 Vern Gosdin "Nickels And Dimes And Love" (Columbia, 1993)


(Produced by Rick Hall)
Another all-killer, no-filler hard-country honkytonkipolitan album by the ever-amazing Vern Gosdin. This disc has several gems, notably the rollicking "Bury Me In A Jukebox" and the heartwrenching semi-gospel song, "Any Old Miracle." On a couple of tunes Gosdin throws himself into an all-out imitation of George Jones, a trick he learned several years earlier whe n his stint with Columbia began... But he also tackles material that's much lighter and lighthearted than the typical Jones repertoire, and Gosdin's versatility is part of what makes this record so cool. There are a few sections where the lead guitars get too rock (and too generic), but for the most part this is quite a rich, rewarding album. Also includes a nice duet with Janie Fricke, "Two Good People With A Love Gone Bad," one of many fine tunes on here that Gosdin wrote or co-wrote. Recommended!

Vern Gosdin "The Gospel Album" (Music Mill, 1995)


The CD reissue of his 1984 album, If Jesus Comes Tomorrow (What Then), which originally came out on the Compleat label. (See above.) If you like country gospel, it doesn't get much better than this!
Vern Gosdin "If You're Gonna Do Me Wrong" (American Harvest, 1996)

Vern Gosdin "Silver Eagle Cross Country Presents Vern Gosdin Live" (1997)

Vern Gosdin "24 Karat Heartache" (American Harvest, 1997)

Vern Gosdin "The Voice" (B&T, 1998)

Vern Gosdin "Time Stood Still" (American Heritage, 1998)

Vern Gosdin "Back In The Swing Of Things" (Goldrhyme, 2004)


This is a reissue of the 1998 album, "The Voice" (listed above.)
---
Best-Ofs
---
Vern Gosdin "Vern Gosdin's Greatest Hits" (Compleat, 1986)

Vern Gosdin "The Best Of Vern Gosdin" (Warner, 1989)


Hearing the deafening echo of ka-chinggg over at Sony, the folks at Warner got off their duffs and reissued this classic Gosdin material from the late '70s. This CD has the same artwork and (mostly) the same track listings as the LP of the same title that come out when these old songs were new. A brief, ten-song sampler of Gosdin's early solo work in the late '70s. He hits the mark more often than not, despite being saddled some awkward arrangements and occasionally chaotic backup singers. Emmylou Harris sings harmony on a couple of tunes (which is always a pleasure!) and when Gosdin hits the right George Jones-y groove (and Gary S. Paxton's production doesn't get in the way...) this set really starts to shimmer. The CD version differs from the original LP best-of by only one track... (Though why they felt to need to include his cover of "Shake, Rattle And Roll" is a little bit of a mystery... ) Still, it's Vern. It's worth checking out.
Vern Gosdin "10 Years Of Greatest Hits" (Sony-Columbia, 1990)


Vern Gosdin "Greatest Hits, Vol. 1" (1992)

Vern Gosdin "The Truly Great Hits Of Vern Gosdin" (Compleat/American Harvest, 1994)

Vern Gosdin "Warning: Countains Country Music -- The Great Ballads Of Vern Gosdin" (Compleat/American Harvest, 1994)

Vern Gosdin "Super Hits" (Sony, 1993)


Vern Gosdin "Set 'Em Up" (Sony, 1995)


Another fine, 10-song best-of covering Gosdin's Columbia years. Great stuff, even if it's a repeat of other albums.
Vern Gosdin "The Voice" (Pulse, 2002)
An 18-track best-of from the UK...
Vern Gosdin "Forty Years Of The Voice, v.1" (VGM/Tangent Music, 2009)

Vern Gosdin "Forty Years Of The Voice, v.2" (VGM/Tangent Music, 2009)

Vern Gosdin "Forty Years Of The Voice, v.3" (VGM/Tangent Music, 2009)

Vern Gosdin "Forty Years Of The Voice, v.4" (VGM/Tangent Music, 2009)

---
Links
---
---



Hick Music Index



---

<! creation date = 7/28/03>