<! MP3 04/20/09 > <! outside 00/00/00 > <! pix 12/03/11 - added several > <! 208-pix: 00/00/00 > <! icons 03/14/11 > <! UPDATES: 04/20/09 08/04/16 - new review, added other recent albums >
---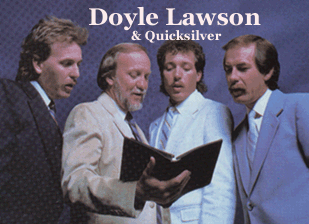 Doyle Lawson and Quicksilver is one of those great bands whose output is so consistently high-quality, it's actually a bit difficult to recommend one record over another... They do actually all kind of "sound the same," but in a very good way. An alumnus of Jimmy Martin and J.D. Crowe's great '60s bluegrass band, as well as the early-'70s lineup of The Country Gentlemen, Lawson set out on his own in the late '70s, carving out a specific niche as a bluegrass gospel performer. Plenty of bluegrassers perform gospel material, but in modern times the religious stuff is usually sandwiched in between the more numerous love songs and instrumentals -- with Lawson's group, the equation is reversed. Quicksilver has had several great lineups, each of which combines flawless musicianship with a sweet, countrified take on "southern gospel" quartet vocals. Here's a quick look at some of their best recordings.
---
Discography
---
Jimmy Martin "Singing All Day And Dinner On The Ground" (Decca/Music Mill, 1963/2005)


Some fine bluegrass gospel from truegrasser Jimmy Martin and his band, the Sunny Mountain Boys. About half these tracks were recorded in the early 'Sixties with tenor vocalist/mandolinist Paul Williams in the band, playing mandolin and penning original spiritual material. The other half of the record is from a 1970 session that featured talented "progressive" bluegrassers such as banjoist Alan Munde and Doyle Lawson on mandolin, filling the same role as Williams did, but with a much softer feel. Like Williams, Lawson would go on to specialize in gospel material, and it's nice to hear him here, early in his career, taking the tenor vocals in a fine group harmony sound. Recommended!
The Country Gentlemen "Joe's Last Train" (Rebel, 1976) <! '73? >



A fine set of straight-ahead progressive bluegrass from the early 'Seventies. This edition of the band featured a young Doyle Lawson, along with Charlie Waller and the boys... a couple of tunes hint at Lawson's future as a major proponent of bluegrass gospel, particularly the fine a capella harmonies of "Lord Don't Leave Me Here," which closes the album. This album isn't dazzling or flashy, it's just a fine, solid effort by one of the most talented and professional bands of the bluegrass revival... Definitely worth checking out!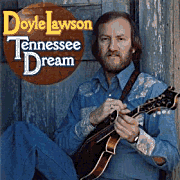 Doyle Lawson "Tennessee Dream" (County/Rebel, 1977)



His first solo outing turned out to be Lawson's only all-instrumental album. To be honest, it's competent but not dazzling material, even with accompaniment by top-flight superpickers such as J.D. Crowe, Kenny Baker, Bobby Sloane and the up-and-coming dobroist, Jerry Douglas. Lawson's real forte was in sweet harmony vocal arrangements, and while this has some playful and creative tunes on it, it's not the album to turn to to really find out what Lawson was all about.
Doyle Lawson & Quicksilver "Doyle Lawson And Quicksilver" (Sugar Hill, 1979)


Doyle Lawson & Quicksilver "Rock My Soul" (Sugar Hill, 1981)



If I had to steer you to just one Quicksilver album, this might be it -- it's certainly one that made a big impression when it came out, with its smooth, relaxed mix of confident melodic picking and sweet southern gospel-style harmonies. The material is great, too, with one memorable, bouncy tune after another. The title track is nice, as are other call-and-response style vocals. Recommended!


<! really 130x 130 >

Doyle Lawson & Quicksilver "Quicksilver Rides Again" (Sugar Hill, 1982)





Doyle Lawson & Quicksilver "Heavenly Treasures" (Sugar Hill, 1983)



Another nice album stamped from the same template as Rock My Soul: sweet, melodic picking and heavenly group harmonies, led by Dawson and co-lead Terry Baucom. Recommended!

Doyle Lawson & Quicksilver "Once And For Always" (Sugar Hill, 1985)



Another solid album, with a few gospel tunes but mostly leaning towards heart songs and secular bluegrass material. This is the last album featuring the old lineup with Terry Baucom and Jimmy Haley, and it's pretty swell. This was reissued on CD along with 1987's The News Is Out, a similar album with an all-new lineup. Recommended!

Doyle Lawson & Quicksilver "Beyond The Shadows" (Sugar Hill, 1986)



As other bands siphoned musicians out of Lawson's band, he searched for new talent to fill the gaps... Here he is joined by members of a Texas band called Southern Connection, which featured tight harmonies modeled on Lawson's own work. The main addition to note is co-lead tenor Russell Moore, who would stick with Quicksilver through the end of the decade and well into the '90s... Another all-gospel album, more nice stuff, though this particular lineup proved to be short-lived.

Doyle Lawson & Quicksilver "The News Is Out" (Sugar Hill, 1987)



Lawson, Moore, and the new Quicksilver dish out another delightful secular bluegrass album, nodding towards Bill Monroe and Gene Autry, while including some nice original material and a sweet tune by Randall Hylton, one of the more underappreciated modern bluegrass composers... dobro whiz Jerry Douglas joins in to round out the sound. A nice record, reissued on CD along with 1985's Once And For Always (reviewed above).

Doyle Lawson & Quicksilver "Heaven's Joys Await" (Sugar Hill, 1988)



One of Lawson's best. His albums typically flip back and forth between secular and sacred, southern gospel and bluegrass, picking and harmonization. It was a great idea to do an all a capella album, since the band's greatest and most distinctive strength is really in its vocal work. Without any stylistic shifts to distract from their superbly soulful harmonies, the Quicksilver quartet really shine. Even if you're not into the whole Jesus trip, the beauty of their musical work can't help but win you over. Highly recommended.
Doyle Lawson & Quicksilver "I'll Wander Back Someday" (Sugar Hill, 1988)



Secular material like the stuff on this album is definitely the exception for Doyle Lawson's band... Although there are a couple of religious tunes on here, this is a nice chance to hear him bend his talents to something other than the gospel call... And with typically stupendous results!
Doyle Lawson & Quicksilver "Hymn Time In The Country" (Sugar Hill, 1988)


Doyle Lawson & Quicksilver "I Heard The Angels Singing" (Sugar Hill, 1989)



Yet another solid album with Russell Moore trading off burnished lead vocals with Lawson. This disc may tilt a little less towards the bluegrass-y, but it's all nice stuff. A few good spine-tinglers on here.

Doyle Lawson & Quicksilver "My Heart Is Yours" (Sugar Hill, 1990)



This almost all-secular album is, unfortunately, one of Lawson's weaker efforts. For some reason the new lineup, fronted by vocalist Russell Moore, is a bit sluggish in comparison to Quicksilver's best, and the material sounds strained as well. Good by normal folks' standards, but not up to par with the high standards Lawson set for himself.

Doyle Lawson & Quicksilver "Merry Christmas From Our House To Yours" (1991)

Doyle Lawson & Quicksilver "Only God" (1991)

Doyle Lawson & Quicksilver "Treasures Money Can't Buy" (Brentwood, 1992)

Doyle Lawson & Quicksilver "Pressing On Regardless" (Brentwood, 1993)


A sweet, satisfying secular album, packed with sugary love songs and Osborne Brothers-ish harmonies. Nice change of pace!
Doyle Lawson & Quicksilver "Hallelujah In My Heart" (Brentwood, 1994)

Doyle Lawson & Quicksilver "Never Walk Away" (Sugar Hill, 1995)



Returning to the Sugar Hill fold, Lawson opts for one of his rare secular albums as his "debut"... It's a typically nice, smooth set of tunes, starting off at a gallop with a version of Buck Owens' "Sweet Rosie Jones," and a heartbreaking rendition of Bill Carlise's "I've Kissed You My Last Time." The bluegrass bounce tones down a bit as the set gets more croony, but it's still a class act.
Doyle Lawson & Quicksilver "There's A Light Guiding Me" (Sugar Hill, 1996)



Doyle Lawson & Quicksilver "Kept And Protected" (Sugar Hill, 1997)



Another great DL&Q album, one of their brightest and best-produced all-gospel efforts. Includes several sombre, soulful gloom and doomers, along with bouncy novelty tunes like "My Next Exit's Heaven," and some sweet group harmonies. Recommended! One of their best.
Doyle Lawson & Quicksilver "Gospel Radio Gems" (Sugar Hill, 1998)


Doyle Lawson & Quicksilver "Once And For Always/The News Is Out" (Sugar Hill, 1999)


Doyle Lawson & Quicksilver "Doyle Lawson & Quicksilver/Quicksilver Rides Again" (Sugar Hill, 1999)
Two excellent albums, mostly secular material, reissued together on a single CD. Once And For Always (1985) and The News Is Out (1987) are both reviewed above.
Doyle Lawson & Quicksilver "Winding Through Life" (Sugar Hill, 1999)


Doyle Lawson & Quicksilver "Just Over In Heaven" (Sugar Hill, 2000)


Doyle Lawson & Quicksilver "Gospel Parade" (Sugar Hill, 2001)



Doyle Lawson & Quicksilver "The Hard Game Of Love" (Sugar Hill, 2002)



Another solid secular record, featuring the hot picking of the DLQ crew and some impressive vocals by banjoist Barry Abernathy, who carries about half the tunes on the album. In general, this disc is less harmony-heavy than the typical Lawson album, and sometimes the happy glow they exude on religious numbers seems diminished on non-gospel songs. But it's killer bluegrass from start to finish, and with solid songs like the Osbourn Brothers-styled "Blue Train" and "Standing Room Only" at its heart, this is an album that won't letcha down. Recommended!

Doyle Lawson & Quicksilver "You Gotta Dig A Little Deeper" (Sugarhill, 2005)



Over the years, Lawson has dipped back into secular material from time to time and since the turn of the millennium has released some full-on secular albums. This latest disc, his first for the Rounder label, suggests that he may be dedicating himself to non-religious music, at least for the time being, and it's also one of the scrappiest, most "high lonesome" sounding records he's ever done. I have to admit, after years of reveling in his group's exquisite, velvet harmonies, hearing him sing in a more rugged, backwoods style is a little disconcerting, and it also seems to undercut some of the qualities that make Quicksilver such a unique band. Still, it can't be denied that this is a fine, top-flight truegrass album, with dips into country material such as the classic Jim Reeves hit, "Four Walls" and a goofy old Porter Wagoner tune as well. Probably the most striking song on here is the medically-themed "Saving Grace," about a husband who hangs on to the hope that his brain-dead wife will make a miraculous recovery, depite the admonitions of countless doctors who say it's a lost cause. That this album came out at the height of the Terri Schaivo debacle was an odd stroke of fate; who knows? Perhaps it will become an anthem of sorts.
Doyle Lawson & Quicksilver "He Lives In Me" (Horizon, 2006)



Doyle Lawson & Quicksilver "More Behind The Picture Than The Wall" (Rounder, 2007)



In recent years Doyle Lawson has tilted away from his pure gospel orientation and back into a more secular mode... On his latest album, there are still some fine gospel tunes, but mostly a fine brace of heartsongs, sung bluegrass style, with many taken at a fast clip. Turning over the lead vocals to guitarist Jamie Dailey has given Quicksilver a less dulcet, more plangent, and more driving sound, more akin to old Osborne Brothers records than to the sublime, velvety harmonies Lawson has been known for... But it's still solid truegrass musicmaking, worthy, as ever, of our full attention. Some nice new material as well, including several songs written by Dailey, and a gospel tune or two for good measure.
Doyle Lawson & Quicksilver "Help Is On The Way" (Horizon, 2008)



Doyle Lawson & Quicksilver "Lonely Street" (Rounder, 2009)



Over the years, Lawson and his band have been to bluegrass vocals what Art Blakey was to jazz instrumentals, a brilliant incubation nest, from which top talent springs forth, year after year. His last lineup included guitarist Jamie Dailey, who has since gone on to the dazzling harmony duo of Dailey & Vincent, and while Quicksilver's newest incarnation is less fiery for Dailey's absence, it's no less accomplished or satisfying to roots music fans. Lawson's recent tilt towards secular material -- he now seems to only release gospel albums on smaller indie labels -- invites comparisons to the classic recordings of the Osborne Brothers, and that's true on this album as well. This is one of the most youthful lineups in recent years, with three-year veteran Darren Beachley emerging as the "old-timer" in the band, amid a sea of fresh new faces. (Beachley, as it turns out, is due to become another Quicksilver alum, going solo with his own band after this album comes out...) Doyle Lawson may have a lot of turnover in his band, but his fans are always there, due in no small part to the high quality of his releases -- this one is sweet, if a bit subdued, with some nice new songs and well-chosen covers from the likes of Carl Belew, Marty Robbins and Porter Wagoner. The album closes with a gospel number, "When the Last of Our Days Shall Come," a lively uptempo harmony song that should whet the appetite of Lawson's devoted gospel fans. Another fine album from an old pro.


<! http://legendsofthepotomac.com - Beachley's website >
Doyle Lawson "Sing Me A Song About Jesus" (Mountain Home, 2012)


Doyle Lawson & Quicksilver "Roads Well Traveled" (Mountain Home, 2013)



Another nice set of straight-ahead from Doyle Lawson and the latest incarnation of his band Quicksilver. This one's a mostly-secular outing, but there are a few of the soulful gospel songs he's best known for, along with a solid selection of non-religious material. One track that stands out as unusual is "I'm That Country," a Top 40-flavored novelty number that echoes (or perhaps parodies) all those endless songs on all those Nashville albums about how small-town and backwoods everybody is... Sadly, Lawson's getting on in years and he doesn't sing as much these days as he used to, giving over lead vocals to his latest proteges, but the style and feel of band remains the same, and this album is pretty solid. Keep 'em coming, Mr. Lawson!
Doyle Lawson & Quicksilver "Open Carefully: Message Inside" (Mountain Home Music Company, 2014)


Doyle Lawson & Quicksilver "In Session" (Mountain Home Music Company, 2015)


Doyle Lawson & Quicksilver "Burden Bearer: Bluegrass Gospel & A Cappella Favorites" (Mountain Home Music Co., 2016)



(Produced by Doyle Lawson & Josh Swift)

---
Best-Ofs
---
Doyle Lawson & Quicksilver "Gospel Collection, v.1" (Sugar Hill, 1994)



A top-flight collection of gospel tunes culled from Quicksilver's Sugar Hill catalog... the album art ain't much to look at, but the music is pretty fab. If you just want to get your feet wet and see if Lawson's work is up your alley, then check this one out.
Doyle Lawson & Quicksilver "Doyle Lawson Treasures" (1994)

---
Links
---
Sugar Hill Records has most of Doyle Lawson's work still in print. Check with the label (or the Amazon links above) to see which albums are available.
Doyle Lawson's website has tour dates, more on Lawson's discography, a history of the band, etc.
---