<! MP3 01/01/08, 09/24/10 > <! outside 00/00/00 > <! pix 00/00/00 > <! 208-pix: 00/00/00 > <! icons 03/24/11 > <! UPDATES: 08/16/13 - added Earthwords review, fixed RCA gifs; still need to boost others to 180 x 180 06/01/14 - updated URLs, links >
---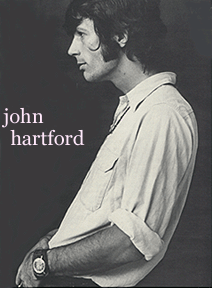 John Hartford (1937-2001) was one of the most endearing and original figures in the acoustic music revival. Early on, he hit it big with his folk-pop tune, "Gentle On My Mind," which was recorded as a Top Ten hit by Glen Campbell, and has been covered by countless other artists. The revenues and fame that resulted gained Hartford the freedom to make the kind of records he wanted, and to pursue quixotic passions such as his love of steamboats and steamboating. He was equally comfortable playing old-timey or bluegrass music, as well as dipping into older styles such as 19th Century ballads and vaudeville-inspired schtick. He was a loveable nut, but also one of the most talented musicians in the stringband scene...
When John Hartford died, I did a one-hour radio tribute and noticed an interesting thing about John Hartford: almost every one of my favorite of his songs began or ended with the sound of his laughter. He usually left the rough edges in, and that always included his great sense of humor, and evident love of life. But don't just take my word for it -- check out some of these great records for yourself... This page reviews his individual albums; for best of collections and links, check out Page Two of this artist profile.
---
Discography
---
John Hartford "Looks At Life" (RCA, 1967)





<! (LSP-3687) >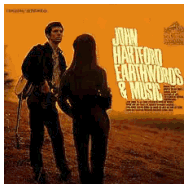 John Hartford "Earthwords And Music" (RCA, 1967)


(Produced by Jarvis Felton)
The folks at RCA must have been wondering what the hell they'd gotten themselves into when the recently-signed John Hartford recorded this one. Riding high on the success of "Gentle On My Mind," Hartford promptly brought his weirdest ideas into the studio, recording ditties like "Left Handed Woman," "Naked In Spite Of Myself" and "Baking Soda," a tune that was basically a home-ec lesson with banjo accompaniment. In retrospect, it's all classic Hartford kookiness, but at the time Chet Atkins and the other label bigwigs must have been pulling their hair out and wondering why they'd signed this weirdo in the first place. The album also includes Hartford's own version of "Gentle On My Mind," as well as some songs like "Good Old Electric Washing Machine (Circa 1943)" and "How Come You're Being So Good To Me" that would resurface later on, when Hartford had more control over his career. Here, though, the whimsy and resolute non-commerciality of the songs are charming, the actual production is pretty minimal and lackluster -- not had to imagine the guys in Nashville not wanting to devote too many resources on these sessions. Still, you gotta love the guy!


<! (LSP-3796) >

John Hartford "The Love Album" (RCA, 1968)





<! (LSP-3884) >
John Hartford "Housing Project" (RCA, 1968) (LSP-3998)


There was often something a mite preposterous or stylistically akimbo about Hartford's RCA albums: here he was, this guy who had a big hit on his hands, duly awarded a recording contract in Nashville, and yet he was a big old, goofball freak. One of Music City's pet hippies (if the term really applies), Hartford was more than a mere square peg... he was a revelation waiting to happen. This is not, actually, one of his best albums, but it does have a few flashes of his freshness and wit, tunes like the "Category Stomp," rap number with a song title that was as good a statement of purpose for his career as we were likely to get.


<! (LSP-4068) >

John Hartford "Gentle On My Mind" (RCA, 1968) (LP)





<! (LSP-4068) >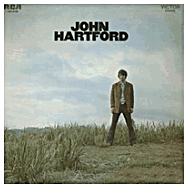 John Hartford "John Hartford" (RCA, 1969)


An odd, though not uneven, album where Hartford's absurdism rests uneasily next to the explosive politics of the Vietnam War-era counterculture. Hartford even devotes one song to the fallout of the 1968 Democratic Party convention ("Orphan Of World War Two"), one of the rare instance I can think of that he was overtly political. (I'm sure that went over well with the folks at RCA-Nashville...!) But the spaced-out humor of his lower-case acid-head liner notes seem to have more in common with the dry, kow-key humor of the early '60s (Nichols & May, et al) than with the radical realignments of the Woodstockers. Musically, this has its imbalances, as well, what with the lavish string arrangements and occasional random sitar riff... Hartford's lyrics are a little forced, as his RCA material often was, yet the songs are all oddly effective. It's a pretty consistent album, overall, and worth tracking down to check out.


<! (LSP-4156) >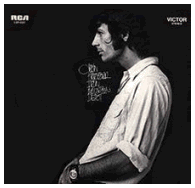 John Hartford "Iron Mountain Depot" (RCA, 1970)


Folks who laud Aereo Plain as the album that made the big breakthrough between bluegrass/old-timey music and the psychedelic frontier are either unaware of this disc, or selling it short. But give it some time; the richly dense, sensuously layered pedal steel-and-banjo mixes and drifting spaced-out lyrics cry out for rediscovery and reinterpretations galore. A cool album; well worth tracking down.


<! (LSP-4337) >

John Hartford "Radio John" (RCA, 1970) (Previously unreleased)


Hartford's legendary lost album, recorded in 1970 for RCA, but left in the vaults as his creative differences with the Nashville scene became more apparent, and he made the move over to the funkier, more freewheeling Warner Brothers label. This set was finally reissued (in 2002!) as part of a British reissue series, revealing both the anticipated "missing link" qualities between his '60s material and the freaky hippiebilly grass that he became famous for in the '70s. Some tracks are trial runs of songs we'd come to know later; others are simply loose-limbed explorations of similar terrain. The sound quality is a bit dull on this CD version; not sure exactly where the source material was from, but it's still interesting to check out from a historical vantage point. True believer Hartford fans should definitely track this reissue down now, while they can; it's not likely to be around for long.


<! (LSP-4068) >

John Hartford "Aereo Plain" (Warner, 1971)


Switching to a new label (the looser, funkier, counterculture-affiliated Warner Brothers), Hartford seemed more at liberty to express the simpler, goofier side of his muse, and under less pressure to live up to an image as a profound countrypolitan singer-songwriter type. And thus, was the real John Hartford unleashed. This is a delightful little record, setting the pattern for all his work in the '70s... There are several plain-old goofy novelty tunes ("Boogie" and "Back In The Goodle Days," for example) alongside freewheeling but deeply traditionalist fiddle tunes such as "Leather Britches." Hartford attains a state of grace on "First Girl I Loved," a masterfully impressionistic ode to the sweetness of love lost but fondly remembered, and on "Tear Down The Grand Ole Opry," Hartford's tribute to the original Ryman Auditorium, site of the great, fabled radio show that beamed into his home when he was a young lad. Bookended by two versions of Albert E. Brumley's Depression-era country gospel classic, "Turn Your Radio On," a tune that affirms Hartford's links to the past as well as his love of a good novelty song. David Bromberg produces; Norman Blake, Tut Taylor, Vassar Clements and Randy Scruggs all pitch in -- with pals like this, how could Hartford go wrong? Answer: he couldn't. Highly recommended.

John Hartford "Steam Powered Aereo-Takes" (Rounder, 2002)



Fans of the beloved Aereo Plain album should be overjoyed by this set of long-lost outtakes and demos from the original sessions. Hartford, Taylor, Clements and Blake work through traditional material, and the budding genius of Hartford, as well as tackling several of Tut Taylor's complicated instrumental pieces. The first half of this disc is more fun than the second, but it's all a nice glimpse into their creative process, with several works-in-progress, such as early versions of "Goodle Days" and "Howard Hughes Blues" that should pry a smile or two out of longtime fans. Listen for the mystery track at the end, too!

John Hartford "Morning Bugle" (Warner, 1972)


One of Hartford's most tightly focused hippie-billy albums, blending solid traditional musicianship with his own uniquely set of interests. It kicks off with "Streetcar," one of those little slice-of-life, observations of commonplace people and things that he excelled at, and glides through a series of similarly beguiling, oddball themes. He finds time to lament for billionaire, Howard Hughes, whose apparent dementia was a national media obsession throughout the 1970s ("...If he didn't have a nickle... If he didn't have a dime... He could do just what he wanted to... and he'd do it all the time...) On "My Rag," Hartford gives you a blow-by-blow description of the "instrumental" he's playing, and backs his pitch for simplicity up with a stripped-down version of "Late Last Night When My Willie Come Home," where he demonstrates how all bluegrass doesn't have to be musical drag-racing to be emotionally compelling. Norman Blake pitches in, and once again the calibre of the picking matches up to Hartford's transcendant, witty goofiness. A thoroughly enjoyable, daft little album.

John Hartford "Mark Twang" (Flying Fish, 1976)



A fine example of Hartford's balance of tradition and free-wheeling goofiness. Personally, I'll admit to being most drawn to the novelty tunes; it's amazing how songs like "Don't Leave Your Records In The Sun" and "To Get Your Attention" hold up to repeated auditions, even after all these years... Obviously this is due in no small part to the amazing level of musicianship that Hartford brought even to his most whimsical material. Just listen to the hambone slapping and carrying on in "To Get Your Attention" -- it's riveting because it's almost unbelievable that anyone could do all that in a single take. Great album, a must for Hartford fans.

John Hartford "Nobody Knows What You Do" (Flying Fish, 1976)



Another great record, full of Hartford's unique charm. On a few tunes, he goes for a slightly bigger, countrified sound, what a pedal steel and all... This is a nice record to listen to from start to finish... nice and easy on the ears. It also has a few Hartford classics, particularly "In Tall Buildings," his ode to the all-day boredom of office workers, and "Granny Wontcha Smoke Some Marijuana," a perennial favorite of the hippie stoner crowd. With breakdowns like this, what else need be said? Many of Hartford's favorite musical pals are present for the fun, including fiddler Benny Martin, Sam Bush, Buddy Emmons, Roy Huskey Jr., and others. Fun stuff!
John Hartford/Doug Dillard/Rodney Dillard "Dillard-Hartford-Dillard" (Flying Fish, 1977)



One of the great, infamous hippie-grass albums, mostly just because of the brilliantly sprawling, unrepentant, irresistible, and completley hilarious stoner anthem, "Two Hits And The Joint Turned Brown"... written, naturally, by Hartford. The Dillard boys made great creative partners, and this is a thoroughly enjoyable newgrass album -- competent as well as iconoclastic. Other pickers of note on here include Sam Bush, Buddy Emmons and Hartford's old pal, Benny Martin.
John Hartford "All In The Name Of Love" (Flying Fish, 1977) (LP)

John Hartford "Heading Down Into The Mystery Below" (Flying Fish, 1978) (LP)


This is Hartford's ode to the lure of the riverboat life, full of impossibly earnest exhortations for the listener to give a river cruise a try, and whistful evocations of evenings on the river, and calm of water. It's as idiosyncratic an album as can be imagined, and also one of his most charming and heartfelt. Well worth checking out.
John Hartford/Pat Burton/Benny Martin "Slumberin' On The Cumberland" (Flying Fish, 1979) (LP)





<! (JohnHartford [vcl/banjo/fiddle], Pat Burton [vcl/gt], Benny Martin [vcl/fiddle/ukulele],Sam Bush [mandolin],Buddy Emmons [steel], Roy Huskey Jr. [double bass], Henry Strzelecki [el bass], Larrie Londin [drums], Hargus "Pig" Robbins [piano]) >

John Hartford "You And Me At Home" (Flying Fish, 1980) (LP)

John Hartford "Permanent Wave" (Flying Fish, 1980)



John Hartford "Gum Tree Canoe" (Rounder/Flying Fish, 1984)



After a four year recording hiatus, our hero returns with yet another wonderfully soulful, gentle album, with material ranging from rock covers to super-sentimental oldies such as "Lorena", a tearjerker that dates back to the Civil War. Every tune is effective and stirring in Hartford's hands -- he has a way of sitting back and letting the melody pass by him, then sort of calling out and saying "hey" with the lyrics, it's such a minutely flawed delivery that you believe in the humanity of the singer every single time... Even on rock covers such as the Stones' "No Expectations" or the Janis Joplin oldie, "Take A Piece Of My Heart," his read is so original that he completely avoids the usual "novelty cover" pigeonhole that other newgrassers fall into... Nice record, highly recommended.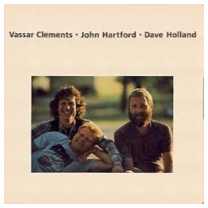 John Hartford/Vassar Clements/Dave Holland "Vassar Clements - John Hartford - Dave Holland" (Rounder, 1984) (LP)


(Produced by Harry Deane & Richard Adler)
A nice, simple set, mostly instrumental jams with Side One more down to earth and old-timey, and Side Two showing Hartford & Co. dipping into the jazzier side of twang, with gentle explorations such as "Evening Prayer" and more uptempo tunes like "Scapin' Out On The Roof" showing perhaps the influence of the Grisman-y "spacegrass" scene. It's a sweet record, though admittedly a little emphemeral, showcasing a definite jam-session looseness throughout. For fans of Hartford's novelty-song side, the missing gem on this one is "You And The Way You Do."


<! LP B00008FP5Z >

John Hartford "Annual Waltz" (MCA, 1987)


Made after another one of his infrequent recording hiatuses, this major-label outing is one of his smoother and most "pop" albums, unusually shorn of the rough edges he so loved to include on his albums. There are no flubbed licks or stoned giggles here, and also a somewhat different approach to the instrumentation -- a sleek version of the Bob Wills twin fiddle sound predominates, with Hartford playing in unison with John Yudkin. It's a somewhat tamer version of the old Hartford sound, but still full of magic and wonder.
John Hartford "Down On The River" (Flying Fish, 1989)


John & Jamie Hartford "Hartford And Hartford" (Flying Fish, 1991)



John Hartford & Mark Howard "Cadillac Rag" (Small Dog A' Barkin', 1992)



(Produced by Mark Howard)
A swell set of instrumental tunes, with guitarist Mark Howard and a crew of able-bodied pals. It's bouncy, joyful set, maybe a little less craggy and old-timey than some of Hartford's other stuff. Lovely doubling up of the fiddles (with Buddy Spicher, Ted Madsen and John Yudkin all picking up the bow...) and some great ensemble playing throughout. Sweet stuff, very heartfelt.
John Hartford "Goin' Back To Dixie" (Small Dog A' Barkin', 1992)

John Hartford "The Walls We Bounce Off Of" (Small Dog A' Barkin', 1994)


John Hartford "Old Sport" (Small Dog A' Barkin', 1994)


John Hartford "Live At College Station, PA" (Small Dog A' Barkin', 1994)


John Hartford & Bob Carlin "The Fun Of Open Discussion" (Rounder, 1995)



Two talented old-timey virtuosos playfully trade licks on a gentle set of fiddle/banjo duets. One of the most stripped-down, elegant and authoritative acoustic sets you will ever hear. Recommended!
John Hartford "No End Of Love" (Small Dog A' Barkin', 1996)


John Hartford "Wild Hog In The Red Brush" (Rounder, 1996)



A catchy set of fiddle tunes with Hartford sawing away, and a nice plunky accompaniment. Recommended listening for folks who don't usually like old-timey fiddle music!
John Hartford & Jim Wood "The Bullies Have All Gone To Rest" (Whipporwill, 1998)


John Hartford "The Speed Of The Old Long Bow" (Rounder, 1998)



A craggy but incredible tribute to old-timey fiddler Ed Haley. This might not be for everybody, but it certainly shows off Hartford's skill as a backwoods bow bender, and his real command of hardcore hill music. At the same time this came out, Rounder also issued two 2-CD collections of Haley's old recordings from the late 1940s, Forked Deer and Grey Eagle, which are about as bedrock old-timey as anyone could ask for!

John Hartford "Good Old Boys" (Rounder, 1999)



It's so great that in this day and age of tediously hi-tech recording sessions, that albums like this can still come along and floor you with their simplicity and warmth. This is classic Hartford: funny, relaxed, human, simultaneously clunky and graceful... Highlights include "The Cross-Eyed Child," a rambling, affectionate, ten-minute eulogy of Bill Monroe, and "On The Radio," an ode to the joys of late-night radio listening, out in the country. Hartford's banjo playing, fiddling and unique vocal style are all intact, and the band is perfectly simpatico with his limber, loose-jointed musical whimsies. Fans both old and new should love this record -- I know I do!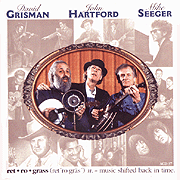 John Hartford/David Grisman/Mike Seeger "Retrograss" (Acoustic Disc, 1999)



A plunky, clunky, witty deconstruction of rock and old-timey favorites. If anyone has the chops to pull off a goofy album like this one, it would be these acoustic music old-timers. At the tail end of a forty-year bluegrass/old-timey revival that they helped define, when slick, fancy picking has become a formalized norm, they take a few minutes to step back, sit down on the veranda, chew on some wheat straws, and pick and plunk ackwardly, just 'cuz they want to... Included in the set list are goofy hillbilly versions of rock standards such as "Hound Dawg," "Maybelline", and Dylan's "Maggie's Farm", as well as bluegrass tunes like "Rocky Top" and "Uncle Pen." All of these songs are normally played at a breakneck pace, but the Retrograss crew slows it all to a crawl -- listening to their cover of Lonnie Mack's "Memphis," you can easily imagine the protagonist as a Cletus-type hick, puzzling over the chicken scratches left by on the wall by his distracted uncle. Anyone familiar with John Hartford's classic 70's albums will have a good idea what they're in for with this one: it's always a pleasure to hear him in such fine comedic form... And them other two fellows are no sloutches, either.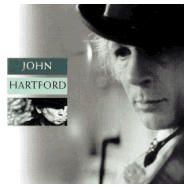 John Hartford "Live From Mountain Stage" (Blue Plate Music, 2000)



Thoroughly charming live performances, with a small band backing him up. Hartford's low-key demeanor and utter competence define these tracks. He saws on the fiddle, plunks on the guitar, grumbles at the microphone and generally has a real good time. A very nice album showcasing his playfulness and versatility; certainly nothing to complain about here!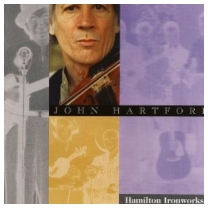 John Hartford "Hamilton Ironworks" (Rounder, 2001)



His last studio album may turn out to be a litle too raspy for many listeners -- filled with craggy fiddling, but less balanced by "poppy", melodic material. It's also filled to the gills with the daffy digressions of the Good Old Boys album, oddball asides and reminiscences of various old friends and fellow musicians. As a personal epitaph these tracks may wind up being increasingly meaningful and emotionally rich, but they do tend to interrupt the flow of the album -- there are just too many of them in one place at the same time. It's interesting, though -- Hartford seems to have chosen to transform his last few records into a kind of updated version of the old folkloric recordings of the Lomaxes and Seegers, with the microphone taking down the ramblings of some charmingly eccentric old coot with a story to tell. It may take a while for this album to grow on us, but it's certainly full of rich and interesting material.
---
>> Best-Ofs, Tributes & Links
---