<! MP3 04/02/09, 11/17/10 > <! update 04/02/09, 11/17/10 > <! outside 00/00/00 > <! pix 00/00/00 > <! 208-pix: 00/00/00 > <! icons 11/17/10 >
---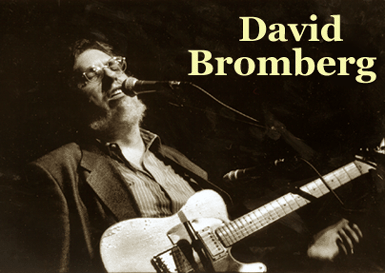 I grew up listening to David Bromberg, who is one of the most strikingly diverse -- and sincerely funny -- performers of the early 1970s acoustic revival. His mastery of buoyant, playfully ironic blues, bluegrass, country, Celtic music, jazz, folk and rock reflected an early career spent backing innumerable artists onstage and as a session player on dozens of albums by Jerry Jeff Walker, Bob Dylan, et al, before setting out as a solo artist. Bromberg led his own band throughout the 'Seventies, then, as legend has it, set touring aside to pursue a passion for building and selling musical instruments. A superior live performer, he has toured infrequently over the past couple of decades, his shows are always a source of excitement for his fans, who are attuned to his dazzling instrumental work, his relaxed, down-to-earth persona, and charming bravado and mock self-aggrandizement. Bromberg recently moved back East and opened a fiddle store -- in Delaware, of all places -- and recently has been playing concerts more regularly... Here's a quick look at his recorded work.
---
Discography
---

<! The Devil's Anvil "Hard Rock From The Middle East," (Columbia, 1967) B0024F1382 Apparently Bromberg played on this album, possibly in this Greenwich Village world-psych band, which was some sort of kooky side project of producer Felix Pappalardi. http://www.answers.com/topic/hard-rock-from-the-middle-east-1967-album-by-the-devil-s-anvil NOT SURE HE WAS REALLY ON THIS ALBUM. >
David Bromberg "David Bromberg" (Columbia, 1971)


An impressive debut which, though it finds Bromberg more rooted in the Folk scene than on later albums, is still pretty dazzling and shows him a force to be reckoned with. His unique spin on the blues comes to the fore on "Suffer To Sing The Blues," which sets the template for his future romps into the style: deeply rooted in tradition, but willing to flaunt convention, his razorlike wit dancing at the edge of irreverence while his fingers glide across the guitar frets. "The Holdup" is another longstanding fan favorite, and the album's infamous closer, "Sammy's Song" is a riveting (though slightly unairable) song about a young man losing his virginity in a Mexican brothel, under less than ideal circumstances. The song also hinges on relentless alliteration, a somewhat sophmoric, even gimmicky compositional trick, but one which works well, as the narrative propels us along into the desired state of shock. Bromberg pulls it off: he's just that damn good.


<! B0009NSDI4 expensive OOP edition only cd as of 04/09 >
David Bromberg "Demon In Disguise" (Columbia, 1972)



A classic! Things really click in place here on his second album, which features cult faves such as the raunchy blues burlesque of "Sharon" (possibly Bromberg's best-known song), a slew of lively, cleverly spun Delta blues sizzlers, his version of Jerry Jeff Walker's "Mr. Bojangles" (copped from his long years as Jerry Jeff's sideman...), a cover of the old pop standard, "Tennessee Waltz," and the aptly-named "Medley Of Irish Fiddle Tunes." It's a sweeping range of traditional music styles, much of which was territory that had hardly been explored by the nascent roots music scene. Bromberg had a knack for delving into old-fashioned styles -- country, blues, stringband music, Celtic folk, etc. in a way that made them seem vibrant and alive, sidestepping the museum-piece reverence that many revivalists fell in all too readily. This is a fun, quick-witted fellow, giving the folk world a real shot in the arm... and a classic album, to boot!
David Bromberg "Wanted Dead Or Alive" (CBS, 1974)



The album art gives us our first graphic representation of Bromberg's arch, wicked sense of humor: it shows the denim-clad hippie picker atop the Empire State Building (ala King Kong), beset by a swarm of wisplike females, swatting at them with one hand while the other holds... an airplane! It captures the Bromberg zeitgeist pretty well... showing the goofiness as well as the meta-level command of pop culture and nostalgia. The disc includes his versions of "Statesboro Blues," "Send Me To The 'Lectric Chair," and "Kansas City," all classics in the Bromberg canon. On a certain level, songs like "Danger Man" and " 'Lectric Chair" show him sliding into schtick, but, hey -- Bromberg's vesion of schtick still knocks most folks' heartfelt crooning flat on its ass, even after all these years. This is another hippie-era classic, which will reward listeners new and old for many years to come.
David Bromberg "Midnight On The Water" (Columbia, 1976)



In some ways, a lackadaisical album, with a fair number of tracks that never completely wowed me. But it also has his slowed-down, oddball version of "What A Wonderful World" (the old Sam Cooke hit), and the slacker-bum anthem, "I Like To Sleep Late In The Morning," which has long been a favorite of mine. So... a mixed bag. But it's still pure Bromberg, and that ain't nothing to sneeze at. Worth checking out.
David Bromberg "How Late'll Ya Play 'Til? (Vol. 1: Live)" (Fantasy, 1976)



David Bromberg "How Late'll Ya Play 'Til? (Vol. 2: Studio)" (Fantasy, 1976)



Strangely enough, for the CD reissue Fantasy split this double LP set up into two single discs, one live, and one of studio recordings, which kind of defeats the purpose of the original album, which contrasted his skills in concert and in the booth. Even if all the material wouldn't fit on one 80-minute disc, it still seems like it would have made more sense to keep the collection whole. Oh well; what's done is done. Anyway, this is all great stuff -- on the live album, Bromberg hams it up mercilessly, with his irrespressible showmanship on full display; the studio disc has his wonderfully evocative version of Ian Tyson's "Summer Wages," which is one of my favorite of his recordings, ever. Both discs are highly recommended.
David Bromberg "Reckless Abandon" (Fantasy, 1978)


David Bromberg "Bandit In A Bathing Suit" (Fantasy, 1979)


David Bromberg "You Should See The Rest Of The Band" (Fantasy, 1979)


David Bromberg "My Own House" (Fantasy, 1980)


David Bromberg "Long Way From Here" (Fantasy, 1986) (LP)

David Bromberg "Sideman Serenade" (Rounder, 1989)


David Bromberg "Live -- New York City: 1982" (David's Private Collection, 2003)



This fine, frolicksome "warts and all" concert recording shows Bromberg at the height of his powers, playing the Big Apple with his lightning fast, loopy quartet a couple of years after he broke up the big band in favor of the quiet life of a fiddlemaker. On the second song, a beaming Bromberg explains to the audience that the fiddle he's brought is the first one he, himself, has made, and like any proud new father he proceeds to show his baby off a bit. This is a great set, with some dazzling, relaxed interplay between the various bandmembers and typically charming stage patter from Bromberg himself, who remarks at one point how odd it is to come back to New York where he used to live for many years, and have to stay in a hotel. This is, of course, an introduction to "Creeper's Blues," in which the flophouse bedbugs are so big and well-organized that they require their own delegation to the United Nations. This high-quality CDR is the first of a projected series of official bootlegs, combing through decades of live performances... If this first disc is any indication, fans have a lot to look forward to in months to come! (This disc can be acquired via the Bromberg website listed below... Tell 'em Joe sent ya!)
David Bromberg "Try Me One More Time" (Appleseed, 2007)



It doesn't get much sweeter than this -- Bromberg's first studio album in, gosh, seventeen years(!) is just Bromberg and his guitar, and really, what more could you want? He sounds every bit as sweet and soulful as he ever did -- his voice is in great shape, and his fretwork is pure, refined beauty. The repertoire is mainly classic blues and old-time standards, as well as folk ballads and a touch of gospel.... all great stuff, hearkening back to his youth on the Greenwich Village folk scene. The title track sets the tone -- a haunting, delicate acoustic number with gorgeous slide guitar work that lets us know that Bromberg is back, as powerful and moving -- and skillful -- a player as ever. Longtime fans shall rejoice and praise his name; newcomers will be wowed as well
David Bromberg "FestivaLink Presents: The David Bromberg Quartet At MerleFest, NC 4/25/09" (FestivaLink, 2007) (MP3 only)

David Bromberg "FestivaLink Presents: The David Bromberg Quartet At MerleFest, NC 4/29/09" (FestivaLink, 2007) (MP3 only)

David Bromberg "FestivaLink Presents: The David Bromberg & The Angel Band At Philadelphia Folk Festival 8/16/07" (FestivaLink, 2007) (MP3 only)

David Bromberg/Various Artists "Use Me" (Appleseed Music, 2011)



Bromberg's last studio album was a delightful acoustic set that wowed old fans and hooked a few new ones, too. This time, he's plugged in and is playing mostly electric, with help from a bunch of high-powered pals: Dr. John, Vince Gill, Levon Helm, John Hiatt, Keb' Mo', Tim O'Brien and Linda Ronstadt all pitch in, although largely in the background. Other than Ronstadt, the various singers stick to playing instruments, while Bromberg cruises through a familiar-sounding set of funky blues and soulful novelty songs. The title track is an effective cover of the Bill Withers oldie; other highlights include the mournful "Blue Is Falling" (given a bluegrassy twist, courtesy of O'Brien and his pals), "Lookout Mountain Girl" (with Vince Gill) and "It's Just A Matter Of Time," where Linda Ronstadt shares some sweet harmonies with bluegrasser Laurie Lewis. Now at the sweet, tender age of sixty-five, Bromberg is admittedly getting a little long in the tooth, but he's still got a depth of true-blues know-how, and it's always a delight to see him kick up some dust, and get down and dirty.
David Bromberg "Only Slightly Mad" (Appleseed, 2013)






<! 11/10: also: Paul Siebel "Live At McCabe's With David Bromberg" (ItsAboutMusic.com, 2006) MP3 B000QZTMD0 not sure of recording date... >

---
Best-Ofs
---
David Bromberg "Out Of The Blues: The Best Of David Bromberg" (Columbia, 1977)


David Bromberg "The Player: A Retrospective" (Columbia Legacy, 1998)



A great, brief overview of Bromberg's outrageously adventurous early '70s albums. Country-blues novelty songs, Delta blues, a heart-rending versions of "Mr. Bojangles" and "Sammy's Song," even a bit of Irish fiddling(!) Bromberg triumphs where other players might have been seen as being over their heads -- for example, with the endless alliteration of "Sammy's Song" or the Southern/black dialect on "Statesboro Blues" -- and he does it through sheer charisma, the weight of his musical knowledge, his technical and spiritual finesse, and his keen sense of humor. Bromberg's original albums all have gems that aren't included here, such as his hilarious rendition of " 'Lectric Chair," which is included on the Out Of The Blues collection listed above, and this disc includes a few odd, out-of-place rock-tinged tracks. Overall, though, this is a best-of that's worthy of its subject. Definitely worth picking up if you want to get a sense of Bromberg's work.
David Bromberg "Reckless Abandon/Bandit In A Bathing Suit" (Fantasy, 1978/1979)



Sadly, the twofer CD reissue omits his version of "Beware, Brother, Beware," which is one of Bromberg's best-beloved cult classics.
David Bromberg "My Own House/You Should See The Band" (Fantasy, 1978/1979)



A fab twofer reissue. These two live albums showcase Bromberg at the height of his game. His acoustic work on My Own House is primarily blues-based, cheerfully dipping into the style's misogynistic traditions, with humorous numbers such as "Black And Tan" and "Chump Man Blues," as well as a rousing take on "Cocaine Blues." Bromberg also struts his stuff on numerous Celtic/bluegrass breakdowns and reels, and delivers an amazingly sombre version of Phil Spector's "To Know Her Is To Love Her." Another moody masterpiece is the sinister-sounding outlaw ballad, "Spanish Johnny," one of Bromberg's best classic performances. The electrified, funk-laced tracks on the second album are a little less appealing -- they seem overly muscular and coked-up, although the band slows things down for the acoustic country number, "Solid Gone," and on the sizzling fiddle-and-guitar medley, "Yankee's Revenge." All in all, this is an impressive document of one of the most versatile performers of the acoustic revival. This disc is a definite must-hear.
---
Side Gigs
---
Jay Ungar & Molly Mason "Relax Your Mind" (Angel, 2003)



A perfect mix of all that is great and good about American acoustic music. The album title is a nostalgic nod towards the old Jim Kweskin/Leadbelly anthem, and like the early '60s jug bands, this disc is a model of versatility and stylistic depth, mixing bluegrass, blues, folk and acoustic jazz with equal ease. On my first listen I thought I'd heard the influence of guitarist David Bromberg: turns out it wasn't just his influence: Bromberg plays on several tracks, and the album is drenched with his good-natured, boozy bonhomie. There are soft, melodic fiddle tunes and waltzes, a bit of Bob Wills swing, goofy folk-club novelty songs like Mason's "Bad Attitude" and Guy Clark's "Homegrown Tomatoes," and touches of sheer genius such as the New Orleans jazz woven into the old Delmore Brothers hit, "Blues Stay Away From Me." The band, Swingology, is playing at the top of its game, yet has that aw-shucks, front porch informality that the bluegrass/old-timey crowd so wisely values. This is a really sweet record, well worth picking up.
---
Links
---
The New Super Lee Highway, Bromberg's very own website, is handsomely laid out and richly informative. In addition to discographic and historical information, the site also has information on his new series of archival concert CDs (reviewed above), which should be of interest to us devoted fans!
Here's a nice fan site with a discography that includes all the track listings that I'm too lazy to include here, as well as some info on notable appearances on other people's albums and various side projects...
---



Hick Music Index



---

Top photo credit: Michael Weisbrot, c/o EPACC
---
<! Creation date = 8/25/03>