<! MP3 04/08/09 > <! outside 00/00/00 > <! pix 00/00/00 > <! 208-pix: 00/00/00 > <! icons 03/20/11 > <! UPDATES: 04/08/09 05/17/16 - RIP - updated bio, reposted page :-/ >
---
One of the great songwriters from the '70s alterna-country scene, Guy Clark (1941-2016) frequently teamed up with Rodney Crowell, and penned classic songs recorded by Johnny Cash, Emmylou Harris, Ricky Skaggs, and many others. His own albums are full of craggy, wistful story-songs, and his plain-spoken delivery lent itself to his old geezer persona. Clark was an arresting live performer, and a stunning songwriter who set the bar for several generations of country music storytellers. Here's a quick look at his work...
---
Discography
---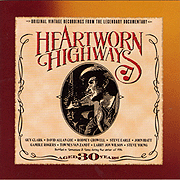 Various Artists "HEARTWORN HIGHWAYS" (Shout Factory, 2006)



Back in Austin in the early 1970s... and over in Nashville... things were really starting to cook! for the singer-songwriters who formed the core of the nascent alt-country scene. This album is an amazing historical document, capturing the early years of the Americana scene as we know it. This disc is the soundtrack to a 1975 documentary film that caught giants such as ol' Guy Clark, Rodney Crowell, Steve Earle and John Haitt at the beginnings of their careers, compadres who formed the nexus of a scruffy singer-songwriter contingent that took its cues from the "outlaw" scene, as well as folkie friends like Townes Van Zandt and Steve Young, who had been kicking around a few years earlier. This actually includes the first recordings of Clark, Crowell, Haitt and Earle -- Guy being the most raspy and least eager to please, but each showing their own unique style, even this early on... (Amazing to think that Earle actually carried a tune like "Mercenary Song" around for more than a decade before putting it on wax!) Townes Van Zandt also adds a tune or two, and his densely-crafted, painfully earnest, epic/poetic approach casts a long shadow on the others -- particularly on Earle. We're also treated to a few tunes from David Allen Coe, who was apparently slumming with the unsigned set, trying to build up his indie cred... Fans of any of these singers will want to check this album out and, more importantly, will want to see the film as well... Recommended.
Guy Clark "Old No. 1" (RCA, 1975)



A classic record, featuring the deftly-sculpted, imagistic story-song, "Texas, 1947," wherein Clark tells the story of the first time a young boy in the South saw a modern, streamlined passenger train barreling down the tracks, past his little hick hometown. It's an impressive piece, with all the literary oomph of the best short stories -- all the more so for its simplicity and lack of flash. This same compact, concise style comes through on his other early masterpieces, "Desperadoes Waiting On A Train," and "Let Him Roll," a pair of shamelessly sentimental tunes paying tribute to tobacco-spittin' old-timers everywhere, and the fab drifter ballad, "LA Freeway," (which was also covered by Jerry Jeff Walker." With a debut album like this, no wonder folks had Clark pegged as a songwriting genius so early on.
Guy Clark "Texas Cookin'" (RCA, 1976)



While this record is still a "must" for a Guy Clark fan, you gotta admit it's a little overwritten and self-conscious of its songcraft... a tendency which would persist for the rest of Clark's career. I go for the obvious crowd pleaser, "Texas Cookin'," and also for the hidden gem, the sweet love song, "Anyhow I Love You," which most folks would probably blow off because of its outright sappiness (I marvel at its understatement...) Most of the tracks are on RCA's Essential collection (see below).
Guy Clark "Guy Clark" (Warner Brothers, 1978)
Fairly disappointing, this features "The One Paper Kid" and "The Houston Kid" which are both classic and compelling songs; otherwise few of these recordings seem to stand out. For whatever reason, Guy seems to have been a bit adrift on this album... Maybe it's the production, which clips along on a too-smooth, no-nonsense keel; I think Guy sounds better with an imperfection or two at his command.
Guy Clark "South Coast Of Texas" (Warner Brother, 1981)



If I had to pick, I'd say this is my favorite Guy Clark album -- sure, there are plenty of great songs spread out on the other records, but the best stuff on this one is just SO damn good, and there's just SO damn much of it! Clark is completely "in the moment," as they say, and tracks like "Heartbroke," "New Cut Road," "She's Crazy For Leaving," and "The Partner Nobody Chose" just leap right out at the listener. Also, this has the superior version of "Rita Ballou" (which is also on Old Number One.) Highly recommended! (A 2007 CD reissue is much welcome, although the sound quality is a little muffled... Also: no bonus tracks?? Rats. These songs are also available on Rounder's now-out of print Craftsman collection.)
Guy Clark "Better Days" (Warner Brothers, 1983)



A mature album, with several haunting songs, such as "The Barlow Knife," (about his dad dying) and the lopsided novelty tune, "Homegrown Tomatoes," sung in praise of his favorite fruit. This might be slow going, though, for the average listener -- it's a little more cerebral -- and gloomy -- an album than you might desire. (Reissued on CD in 2007.)
Guy Clark "Old Friends" (Sugar Hill, 1988)



If I had to pick, I'd say this is my second favorite Guy Clark album -- and it's a damn close call between this one and South Coast of Texas... Like Better Days, this has some of his weightier songwriting, but he has worked in a stronger melodic sensibility, so the songs are more accessible and captivating. Clark seemed to be in a state of grace for this one -- several tracks are standouts, including the gentle, philosophically rich title track, along with "Hands," "To Live Is To Fly," and "Through Throwing Good Love After Bad," all of which share a gentle, generously wise world view. His take on American ancestry, "Immigrant Eyes," should send a tingle through anyone with Ellis Island ancestry -- one of the most striking "confessional" songs ever written. Other highlights include "Heavy Metal," a tribute to John Deere farm equipment and "Doctor, Good Doctor," a great novelty recitation about the foibles of psychoanalysis. As far as the hit-to-miss ratio goes, this is probably his best overall album -- highly recommended, and a must-purchase album, since it's the only album on Sugar Hill, and none of these tracks make it onto any of the current best-of retrospectives.
Guy Clark "Boats To Build" (Asylum, 1992)



This album is, again, a little more workmanlike, and a little harder to get into. The level of songcraft is very high (that's what the title track is about, actually...) and Clark manages to approach the narcissistic lyrical topic of musicmaking with far more finesse than most other songwriters could ever hope to. He is, undeniably, a "real" artist and a master craftsman, but in the final analysis, this is a little too cerebral -- the interested listener can get a lot out of this album, but I have to confess it's not one I've been drawn back to for repeated, recreational listening.
Guy Clark "Dublin Blues" (Asylum, 1995)



I feel sort of the same way about this one, though admittedly I haven't delved that far into it. Another really good record that's a little bit dense for casual listening. I wouldn't recommend this as a starting point, but if you're already really into Clark's work, you'll definitely want to pick this disc up as well.
Guy Clark "Keepers" (Sugar Hill, 1997)



A live "best-of" collection, which is nice, although lacks the punch of his best studio recordings and doesn't fully convey his true on-stage charisma. Not bad, but it doesn't add much that wasn't already there in the canon. (Now, a concert video collection... that might do the trick!)
Guy Clark "Cold Dog Soup" (Sugar Hill, 1999)


Guy Clark/Steve Earle/Townes Van Zandt "Together At The Bluebird Cafe" (American Originals, 2001)



Three veterans of the early Austin scene, gathered together for a warm evening of wine, tall tales and song, shooting the breeze at Nashville's premiere open mic nightclub...
Guy Clark "The Dark" (Sugar Hill, 2002)



This is Clark's best album in years -- heartfelt, tuneful, perfectly played, perfectly written. This has some of his most tightly-focused songsmithing to date, still a bit mournful, but with a weatherbitten pleasure, a genuine affection for life and those of us who are going through it. This disc is packed with winners, one memorable, captivating song after another, running the full gamut of emotion -- on "Magnolia Wind," Clark pens one of his best, most plainspoken love songs since "Anyhow, I Love You," while on "Queenie's Song," Clark pays an angry homage to a beloved dog that was killed by an unknown yahoo gun freak. As on Old Friends, the picking -- courtesy of Darrell Scott and Verlon Thompson -- provides a perfect, minimal melodic accompaniment... Other guest artists include Gillian Welch and David Rawlings, as well as fellow songwriting genius Shawn Camp. Highly recommended -- definitely one of Guy's golden moments.
Guy Clark "Workbench Songs" (Dualtone, 2006)



(Produced by Guy Clark, Verlon Thompson & Chris Latham)
Another finely crafted album, full of rueful humor and homespun, laconic wisdom. While perhaps not as haunting as the previous album, The Dark, this is still packed with goodies, from the laid-back, small-town dustiness of "Out In The Parking Lot" to the rueful "No Lonesome Tune." There are also some fun, oddball offerings, such as the jaunty comedy number, "Expose," and Clark's latter-day ode to doobies, "Worry Be Gone," which closes the album. What's most notable here, I think, is the relaxed, calm musical vibe -- this is Clark's most laid-back, easily confident album since Old Friends, adding a warm, welcoming feel to the whole set. It's another goodie... well worth checking out!
Guy Clark "Live From Austin, TX" (New West, 2007)


Guy Clark "Somedays The Song Writes You" (Dualtone, 2009)


Guy Clark "Songs And Stories" (Dualtone, 2011)


Guy Clark "My Favorite Picture Of You" (Dualtone, 2013)



I guess songwriter Guy Clark went through some tough times before this album came out -- major health problems and, most sadly, his wife Susanna Clark passed away the year before. But he's still plugging away, crafting new rough-hewn gems, and his craggy reflections on life's hard-won lessons seem to take on more resonance with every year that passes...
---
Best-Ofs
---
Guy Clark "The Essential" (RCA, 1997)



Awesome. What more could you want? Basically, this is his first two albums on RCA, with all the "hits" and only a few omissions. A solid reissue effort; well worth tracking down... All great stuff!
Guy Clark "Craftsman" (Rounder/Philo, 1995)


The perfect compliment to the RCA Essential disc, this 2-CD set covers his Warner Brothers years, including all the material from the fabulous South Coast Of Texas album. And while -- admittedly -- those albums have their weak spots, this is still a nice collection. If Guy Clark fever has got you, then you should give track this collection down... It's mighty fine stuff!
Guy Clark "Hindsight 21/20 -- Anthology: 1975-1995" (Raven, 2007)

Guy Clark "Best Of The Sugar Hill Years" (Sugar Hill, 2007)


Guy Clark "The Platinum Collection" (Warner/Rhino, 2008)


---
Other Media
---
Guy Clark/Various Artists "Heartworn Highways" (DVD) (Snapper, 2005)


A documentary about the early days of the Austin indie-billy scene, featuring Guy Clark, Steve Earle, Townes Van Zandt and others...
Guy Clark "Live In Austin, Texas" (DVD) (New West, 2007)


A live 1989 recording taken from the Austin City Limits archives...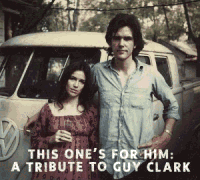 Various Artists "THIS ONE'S FOR HIM: A TRIBUTE TO GUY CLARK" (Icehouse Music, 2011)


(Produced by Tamara Saviano & Shawn Camp)
It's hard to imagine anyone more deserving of a top-flight tribute album than Guy Clark, who started his curmudgeonly career in the early 1970s as one of the young turks of the Texas outlaw-folkie scene and has stood for decades as one of Americana's leading lights. The wealth of this talent on this 2-CD set is nothing short of astounding, folks like Rosanne Cash, Rodney Crowell, Steve Earle Joe Ely, Emmylou Harris, Lyle Lovett, and Willie Nelson, just to name a few. The roster is impressive, but so is the fact that so many of these artists are longtime friends and fans of Clark and his songs; leading this list is Jerry Jeff Walker, another Texas-indie icon whose version of "LA Freeway" was a signature song of the Americana scene before it had a name. As with many tribute records, one wonders how the interpretations will stack up next to the originals, and in song after song, they nail it. Clark's own recordings are so deeply etched in our minds they take on an almost mythic feel, but here they breathe anew, with long-familiar lyrics revealing new meaning and nuance, the craftsmanship of Clark's songwriting emerging from the shadow of his brooding, taciturn charisma. Some highlights include former Top 40 star Suzy Bogguss with an evocative version of "Instant Coffee Blues," Jack Ingram's "Stuff That Works" and Ray Wylie Hubbard's jovial spin on "Homegrown Tomatoes." Old-timer Ramblin' Jack Elliott summons himself up for a superior rendition of "The Guitar," while John Townes Van Zandt II adds a new layer of sorrow and glory to "Let Him Roll," one of Clark's best-known songs, an old-geezer ballad that takes on extra resonance when sung by the son of one of Clark's old, hippie-era cohorts. Some of the songs will send chills down your spine: Terri Hendrix tackles the eerie, spiritually-themed "The Dark," while Vince Gill owns "The Randall Knife" and Terry Allen delivers an excellent, grainy-textured rendition of "Old Friends." Special mention should go to songwriter Shawn Camp, who plays guitar on nearly every track, providing a thread that sews together this impressive, compelling collection. Highly recommended, either as a new spin on old favorites, or as an introduction to one of the finest songwriters of the last fifty years.
---
Links
---
---