<! MP3 04/12/09, 09/05/12 > <! outside 00/00/00 > <! pix 09/05/12 > <! 208-pix: 00/00/00 > <! icons 03/30/11 > <! UPDATES: 04/12/09 09/05/12 - maybe missing a couple? >
---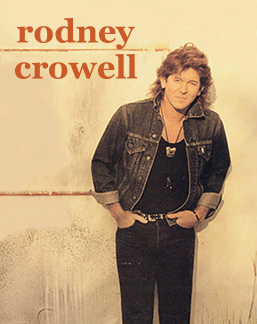 Rodney Crowell first hit his stride as rhythm guitar player and genius songwriter for hippiebilly diva Emmylou Harris and her legendary late '70s Hot Band. Many of his best early songs appear on her best early albums; soon Rodney started recording on his own, and also began writing songs and producing albums for his then-wife, Rosanne Cash. During the 1980s Crowell went from being a little-known alt.country maverick to the toast of Nashville, following a pair of brilliant back-to-basics neotrad at decade's end. Rodney's fortunes have waxed and waned along with his personal fortunes -- his and Rosanne's often-rocky relationship was tracked by many a gossippy wag, until they finally called it quits in the early '90s. Still, Crowell has long been one of my favorite songwriters... a guilty pleasure at times and an real eye-opener at others. Here's a quick look at his work...
---
Discography
---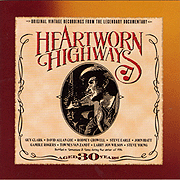 Various Artists "HEARTWORN HIGHWAYS" (Shout Factory, 2006)



Back in Austin in the early 1970s... and over in Nashville... things were really starting to cook! for the singer-songwriters who formed the core of the nascent alt-country scene. This album is an amazing historical document, capturing the early years of the Americana scene as we know it. This disc is the soundtrack to a 1975 documentary film that caught giants such as ol' Guy Clark, Rodney Crowell, Steve Earle and John Haitt at the beginnings of their careers, compadres who formed the nexus of a scruffy singer-songwriter contingent that took its cues from the "outlaw" scene, as well as folkie friends like Townes Van Zandt and Steve Young, who had been kicking around a few years earlier. This actually includes the first recordings of Clark, Crowell, Haitt and Earle -- Guy being the most raspy and least eager to please, but each showing their own unique style, even this early on... (Amazing to think that Earle actually carried a tune like "Mercenary Song" around for more than a decade before putting it on wax!) Townes Van Zandt also adds a tune or two, and his densely-crafted, painfully earnest, epic/poetic approach casts a long shadow on the others -- particularly on Earle. We're also treated to a few tunes from David Allen Coe, who was apparently slumming with the unsigned set, trying to build up his indie cred... Fans of any of these singers will want to check this album out and, more importantly, will want to see the film as well... Recommended.

Rodney Crowell "Ain't Livin' Long Like This" (Warner, 1978)



This diverse, roots-rocky album can be viewed as an outgrowth of Rodney's work in Emmylou Harris's crackerjack backup group, The Hot Band. There's a near-complete overlap of personnel, notably guitarist Albert Lee, steel player Hank DeVito, Ricky Skaggs and Ms. Harris herself. Also, a lot of the songs are same, with Crowell taking a crack at tunes like "Ain't Livin' Long Like This" that Emmylou would also record. Depending on my mood, I find myself preferring either her versions or his: I suppose that means they both are pretty groovy. This album includes one of Rodney's greatest songs, "Leavin' Louisiana In The Broad Daylight" (his version is superior) as well as the often-overlooked acoustic ballad, "Song For The Life," which is also one of my all-time faves. He also covers a couple of oldies-but-goodies such as Dallas Frazier's "Elvira" (which the Statler Brothers had already made a hit), the sappy-super ballad, "Now And Then There's A Fool Such As I," and Lee emerson's classic, "I Thought I Heard You Calling My Name" (where Rodney perfectly nails the tune's mournful tone...) Folks looking for clues to Crowell's pre-Emmylou past should check out his version of "Voila! An American Dream," one of his earliest (and biggest) successes as a songwriter (anyone remember that Top 40 'Seventies hit by the Nitty Gritty Dirt Band?) All in all, a great debut. Recommended!


<! 108 x 108 >

Rodney Crowell "But What Will The Neighbors Think?" (Warner, 1980)



This album sets a pattern for Crowell's work: the guilty pleasure. Rodney's dopier rocker tendencies come to the fore on songs such as "It's Only Rock and Roll" and "Ain't No Money"; the neo-apocalyptic "Here Come The 80s" was recorded when Jimmy Carter was still President, and is every bit the novelty now that it was back then. A couple of tunes fall flat: the attempt at soul shouting on "Blues In The Daytime" is pretty embarrassing, and several songs I used to like as a kid don't really hold up that well, decades later. Still, this has a few real classics, such as his version of "Heartbroke" (co-written with his alt.country buddy, Guy Clark), Hank DeVito's "Queen Of Hearts" (also a hit for Juice Newton), and the grandly over-the-top heartbreak ballad, "Ashes By Now," which Emmylou Harris was also fond of... Reluctantly, I have to admit that this album doesn't hold up, but I still enjoy dragging it out from time to time.


<! 108 x 108 >

Rodney Crowell "Rodney Crowell" (Warner, 1981)



Yeah... I know it's "wrong" to love an album as slick and popped-out as this, but what can I say? This is one of the best overall showcases for Rodney's deftness as a hit songwriter. Almost every track on here is catchy, easy on the ears, and memorable. A couple of mildly grating detours into rockabilly turf stand at odds with Crowell's sleek poetic streak (notably a misguided flogging of Moon Mullican's "Pipeliner Blues"), but with a battery of great tunes like "Stars On The Water," "Only Two Hearts" and "Only Two Hearts" to hum along to, what's there to complain about, really? Bob Seger had a hit covering "Shame on the Moon," which I always thought showed remarkably good taste on his part -- it's a really great song. Even two-chord R&B dorkfest anthems like "Don't Need No Other Now" and "All You've Got to Do" are fun to sing along with when the neighbors are out of town... I like this record a lot; it's glossy, but worth checking into.


<! 108 x 108 >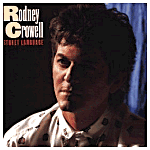 Rodney Crowell "Street Language" (Warner, 1986)



An absolutely dismal release, with Rodney's worst rocker impulses getting the best of him. The only notable moment is his version of John Haitt's domestic abuse ballad, "She Loves The Jerk," which thankfully has been anthologized on a best-of album somewhere. Otherwise, this is an album best left forgotten.

Rodney Crowell "Diamonds And Dirt" (Columbia, 1988)



One of Crowell's greatest artistic and commercial successes. Rodney racked up five #1 singles off this one disc alone, even as he plunged into a hard country honkytonk sound which seems at odds with the lavish "young country" that Nashville was so into at the time. Among the many goodies on here are a great version of Harlan Howard's classic "Above And Beyond" (formerly a big hit for Wynn Stewart) and Rodney originals such as "I Know You're Married," "I Couldn't Leave You If I Tried," and the ever-amusing "She's Crazy For Leaving" (co-written with Guy Clark). Rodney's success with this album was well-deserved; it also helped cement producer Tony Brown's status in Music City, both as a kickass neo-trad producer, and as a label exec at Columbia. (Brown apparently used to be a member of Rodney's touring band, proving once again that what goes round comes round...) Great record; highly recommended.


<! 110 x 108 >

Rodney Crowell "Keys To The Highway" (Columbia, 1989)



This was the follow-up to the pretty-boy hard-country success of Diamonds And Dirt, and in some ways I suppose it was inevitable that Rodney would slide back into his overly-poetic mode right away. Anthemic ballads such as "Many A Long & Lonesome Highway" and "The Faith Is Mine" don't float my boat -- too showy and strained -- but the record's production and arrangements are great. I just wish he'd been able to sustain the killer honkytonk vibe of the album's opening tracks ("My Past Is Present" and "If Looks Could Kill"), which are both better than anything on Diamonds And Dirt and definitely high points in Rodney's career. A mixed bag, but a great album.


<! 108 x 108 >

Rodney Crowell "Life Is Messy" (Columbia, 1993)



Honestly? This record is pretty embarassing... but I still like it. I tend to see this one through the Rodney-Rosanne filter... I think (but really, I'm not sure...) that this is the first record he made after they really, completely, finally called it quits, and it's full of songs where he either assumes a sage, philosophical outlook, or boasts pathetically about his hot, new girlfriend. Both poses sound forced, and also a bit like something we listeners really shouldn't have overheard... almost as is he were drunk at a bar and telling us stuff about his marriage that we didn't want to hear. The music is similarly dense and overwrought; Rodney's obviously trying to keep up with Rosanne's own artsy-fartsy creative development (on albums such as Interiors and The Wheel) but whereas her I'm-not-restricted-by-labels, post-country poetic explorations seem to have paid off in the end, his emulations are a bit hard to take. Still... I dunno what it is, but I still find myself drawn to this album. Perhaps it's the semi-inadvertent, raw confessionalism of the lyrics, or the lingering Beatles-y melodicism of the cheesy poppy arrangements, but this disc seems rather heartfelt and genuine. A guilty pleasure.


<! 110 x 108 >

Rodney Crowell "Let The Picture Paint Itself" (MCA, 1994)


Continuing the slide into overly-ornate production and overly-verbose songwriting, Rodney kind of loses me on this one. I suppose this might be an okay album, but it's too densely constructed for my tastes... There's nothing catchy enough to sing along to, and nothing with the simplicity required to stick in the mind of a pop freak like myself. Maybe I'm being unfair, but this disc never really grabbed me.


<! 110 x 108 >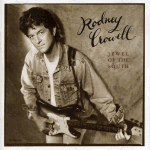 Rodney Crowell "Jewel Of The South" (MCA, 1995)


Ditto on this disc... maybe even moreso.

Rodney Crowell "The Houston Kid" (Sugar Hill, 2001)



Getting into a rootsy, acoustic vibe, Rodney tries to retrench (understandably) from his dense disasters of the 1990s. I can certainly see lots of folks enjoying this album quite a bit... As an oldtime Rodney fan, though, I find it hard to get into. It's well-crafted and has a nice sound, but not that soulful... Sounds like he's trying too hard, when he should just let himself swing.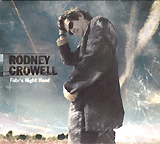 Rodney Crowell "Fate's Right Hand" (Sony Epic/DMZ, 2003)



Crowell's self-described meditation on middle age is, predictably, a bit strained. The lyrics are universally overwrought, the songs feel forced; Rodney sounds like a writer who has lost his Muse, and struggles too mightily to recapture her spirit. Some songs, like the social commentary "rap" on the title track, are downright embarassing, while others merely seem over-clever and self-consciously overly crafted -- unrepentant ruminations on a life spent as a life-loving libertine. On balance, this album simply has too many big words, too many big concepts and too many overly-crafted philosophical/poetic turns; too much self-indulgence. As a loyal Rodney fan, I'll probably hang onto my copy, but in all honesty, I can't really imagine revisiting it very often. Harsh, but true: this may be a sincere, artistic reflection on life, but it isn't much fun to listen to.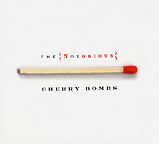 The Notorious Cherry Bombs "The Notorious Cherry Bombs" (Universal South, 2004)



This loosely confederated supergroup gathers Nashville heavyweights Rodney Crowell, Vince Gill and Hank DeVito (all former members of the Emmylou Harris Hot Band) with bigtime music producer Tony Brown (late of MCA-Nashville, now head of Universal South, and the group's piano player) and several of their hotshot session playing pals. The music is a nice, rootsy mix of honkytonk country, barroom R&B and 'Fifties-style rock, with these alt-country old-timers letting their hair down and cutting loose to boogie down and have a little fun. For both Gill and Crowell, it's some of the most relaxed, least pretentious work they've done in years -- oh, sure, there are a couple of tunes that are a little leaden, but mostly this is a really nice album... Fans of either artist will be quite pleased to pick this disc up. It's also nice to hear Brown get out from behind the soundboard and play some music himself, even if he's still mostly in the background... Plus, with a neo-outlaw tune like "It's Hard To Kiss The Lips At Night That Chew Your Ass Out All Day Long," what's not to love about this album? Recommended!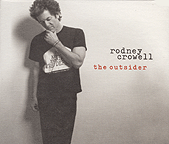 Rodney Crowell "The Outsider" (Sony Nashville, 2005)



Well, good for him! The recently much-lauded Mr. Crowell joins the ranks of those artists who've had a bellyful of George Dubya's reality-challenged Gang That Couldn't Shoot Straight and decided to throw himself whole-hog into a blisteringly political album that decries the astonishly shallow, spoiled, suicidally ostrich-like narcissism of contemporary American culture. The songs are both flippant and dense, expressing an anger and outrage that borders on contemptuousness, a raw bolt of smarter-than-thou hectoring that's as envigorating as it is surprising. Also, the music is loose and loud, a rockabilly-tinged rave-on that gets Rodney back to his roots and that's a breath of fresh air after the dreary self-importance of his last batch of lofty, overly-profound Americana set pieces. Naw, Rodney's just rocking out this time around, setting his word-twisty rants to some of the most lively music he's made in years. Ah, and then there's the ranting. Amid the denunications of crassness, intolerance and greed, Rodney takes time out to stick up for the Dixie Chicks, a move that might not make him too popular in Nashville, but that helps place him back on my A-list... His debt to Dylan's rapid-fire wordsmithing is acknowledged in a cover of "Shelter From The Storm," sung as a duet with Rodney's old pal, Emmylou Harris... And while this album's appeal may be fleeting -- not sure how often I'll be listening to it, after the first couple of times -- it's a keeper as far I'm concerned. Welcome back, Rodney!
Rodney Crowell "Sex And Gasoline" (Yep Roc, 2008)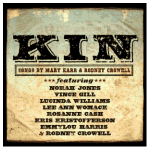 Rodney Crowell/Various Artists "KIN: SONGS BY MARY KARR AND RODNEY CROWELL" (Vanguard, 2012)



(Produced by Joe Henry)
A collaboration between Mr. Crowell and poet/memoirist Mary Karr, with interpretations of their lyrics by Rosanne Cash, Vince Gill, Emmylou Harris, Norah Jones, Lucinda Williams, Lee Ann Womack and others. A high-powered, high-concept album!
Emmylou Harris & Rodney Crowell "Old Yellow Moon" (Nonesuch, 2013)



(Produced by Brian Ahern)
A summit meeting of two giant figures in the modern American scene, and two of my old musical heroes who, I have to admit, have lost my attention in recent years. Rodney and Emmylou go way back: as a Top Forty country star in the 1970s, she recorded several of his early songs and helped establish him as one of the major songwriters of his generation. She was also his boss for several years, as a guitarist he helped anchor the late '70s edition of the Hot Band, before breaking out into his own highly successful solo career. Of course, there are a couple of ways they could have gone with this album -- super-rootsy or high-tech and glossy, which is kind of the direction they've each gone since the late '80s. I guess you could call this album a compromise between those two poles -- it's mostly too slick and lofty for me, but there's a back-to-basics feel on several songs that's kind of nice, and they pick some interesting oldies to cover, including a slew of Rodney Crowell songs such as "Bluebird Wine" and "Bull Rider," which harken back to the old days. It's also nice to hear them reunited with producer Brian Ahern, who sculpted many of Emmylou's classic early albums, and to hear them sing a couple of songs by their old bandmate, steel guitarist Hank DeVito, who also penned some big hits in the early '80s. All in all, a nice outing that will make a lot of old fans feel all warm and fuzzy.
Rodney Crowell "Tarpaper Sky" (New West, 2014)



(Produced by Rodney Crowell & Steuart Smith)
I have to preface these comments, which are going to be critical, by telling you that when I was a kid I was a huge, huge, huge Rodney Crowell fan. I sang along to his first three albums with as much fervor as I had sung along to the Beatles when I was even younger. I really dug Rodney. But somewhere along the way, he started to lose me... There was that one really bad record in '86, then came his big commercial comeback on Columbia, where I breathed a sigh of relief, and then... well, I dunno. Crowell seems to have gotten bored with writing three-chord singalong songs, and became more and more hung up on his own status as a profound songsmith, crafting ever-denser lyrics, often wed to chunky, propulsive roots-rock arrangements. I'm not exactly saying that he lost the ability to write a simple, catchy, memorable song, but he sure seems to misplace it from time to time. This album's a good example: many tracks have catchy melodies and strong choruses, but (for me at least) the overly-sculpted lyrics constantly pull me out of the music. ("Blood don't make yuh family, boy/and I've got news for you/rattlesnakes don't sing like speckled birds...") I'm often more conscious of Rodney Crowell asserting himself as a craftsman than of the songs themselves, and call me old-fashioned, but I think that's doing things backwards. The songs should be the focus, not the couplets or the clever rhymes, which often seem showy and unevenly strung together. Doubtless I'm in the minority, and listeners who appreciate the work of, say, Townes Van Zandt or Tom Russell, will dig this too. But as a critical voice (and a longtime fan) I feel it's right to speak my mind honestly. It should be said, though that this is a great-sounding album -- the backing music is uniformly resonant, sweet and gritty, and each of Rodney's new songs are generally right on the edge for me, with soulful melodies that draw me in, sadly balanced by lyrics that yank me out of my reveries. It seems like the kind of record that'll grow on me over the years, but the initial reaction was a bit rough.
Rodney Crowell "Close Ties" (New West Records, 2017)



(Produced by Jordan Lehning & Kim Buie)
As the title implies, Close Ties is an album that takes a close look at the complicated relationships in life -- more specifically, in Rodney Crowell's own checkered past. He mourns the loss of old outlaw compatriots such as Guy Clark and Townes Van Zandt, as well as Clark's wife, Susanna, who many saw as a pillar of the Texas singer-songwriter scene. On song after song, Rodney mercilessly picks apart his own failings -- his callowness, his self-absorption, his inability to keep relationships alive and the buried sorrows this caused him over many long years filled with denial and regret. It's not a bleak or self-pitying album, though, merely an honest appraisal of his younger years, seen from the vantage point of a now-mature man, an accomplished, acclaimed artist currently pushing seventy who looks back and sees the toll that a creative life can take. Notably, he publicly makes peace with his equally famous ex, former wife Rosanne Cash, who sings with him on a couple of tracks, including "It Ain't Over Yet," which directly addresses their shared hard times. The genuine affection and forgiveness in her voice, and the humility in his words are pretty striking, and pretty sweet... I still find the late-edition, streetwise country-poet version of Rodney Crowell to be a little too self-consciously sage and profound and for my tastes -- many turns of phrase seem too on-the-nose or too showy for me, and few songs on here have the hummability and economy of style of his best early work. Nonetheless, it's a powerful work, and for listeners who are looking for artistic self-revelation, this one's a real bonanza. Longtime fans, in particular, will find a lot to chew over in this epic appraisal of a great songsmith's long, long career.


<! - includes "Life Without Susanna" and "It Ain't Over Yet," with guest vocals by Rosanne Cash - "Nashville, 1972" is one of the all-time ultimate name-dropping country songs - Sheryl Crow sings on "I'm Tied To Ya" >

---
Best-Ofs
---

Rodney Crowell "The Rodney Crowell Collection" (Warner, 1989)



This is okay, but it could be better. Several of his more maudlin ballads (which we like), and a few of his best country tunes, and only a couple of tracks that I personally would have left off. Still, this disc has only got 12 songs on it, which is hardly enough to do his Warner years justice. But since those albums all still seem to be out of print, the vinyl-impaired among you will have to settle for this...
Rodney Crowell "Greatest Hits" (Columbia, 1993)



A nice distillation of his Columbia albums, along with a few extra goodies such as his version of "Even Cowgirls Get The Blues" that were one-off efforts. Nice.
Rodney Crowell "Soul Searching" (Columbia, 1994)


This is a bit more of a hodge-podge, but it does salvage his version of "She Loves The Jerk," as well as a few old hits and other assorted goodies. Only a stingy ten track sampler, but it's all good stuff...
Rodney Crowell "Super Hits" (Columbia, 1995)



Um... What's with all the greatest hits packages?
Rodney Crowell "The Essential Rodney Crowell" (Sony-BMG/Columbia, 2004)


---
Related Records
---
Rosanne Cash "Seven Year Ache" (Columbia, 1981)



(Produced by Rodney Crowell)
Rodney's early albums tended to be more idiosyncratic and rootsy, showcases for a budding songwriter, while Rosanne was more of a star performer. Nonetheless, Rodney's instincts as a record producer served them well, as this groovy debut quickly proved... The poppy, synth-driven title track showed that Rosanne and her hubby were a little more adventurous than your typical Nashville grinds... It also hit the country Top Forty and had a bit of crossover action, showing that they had some chart-wise savvy... plus, it's just so darned catchy. A guilty pleasure if ever there was one.
Rosanne Cash "Right Or Wrong" (Columbia, 1981)


(Produced by Rodney Crowell)
Another great Cash-Crowell collaboration. This keeps up the poppy orientation, with bright, '80s-ized production that might make lovers of twangier traditional material wince, but Rosanne has a great torchiness that makes brokenhearted ballads like "Never Do Nothin' Right" and "I Don't Need No Memories Hangin' Round," which are emotional mini-masterpieces. A little goopy, but I love it.
Rosanne Cash "Rhythm And Romance" (Columbia, 1985)


(Produced by Rodney Crowell)
Here Rodney and Rosanne give full reign to their rocker impulses, and while later on this would lead to disasterous results, here it sounds pretty good. "Pink Bedroom" is a bouncy John Haitt composition with an irresistible acoustic guitar hook worthy of early Neil Diamond; Rosanne's keyboard-heavy "Halfway House" is mopey and a bit over-the-top, but I like it, too.
The Cicadas "The Cicadas" (Warner, 1997)



A rock-heavy "Americana" supergroup, allowing Rodney to once again rock out like a big dork... This album did fairly well when it came out, but I kinda hated it. But I guess I'm kinda hard to please sometimes...
Claudia Church "Claudia Church" (Reprise, 1998)



(Produced by Rodney Crowell)
Apparently Rodney produced this disc; other than that, I don't know much about this gal. I haven't heard the album yet, so I really can't comment on it much.
Larry Willoughby "Building Bridges" (Atlantic America, 1983) (LP)


(Produced by Rodney Crowell)
A slick but soulful, commercially-oriented album. Without knowing anything about this album, you can quickly hear the influence of producer Rodney Crowell, who apparently is Willoughby's cousin, which might explain Willoughby's very Rodney-esque vocals. It also doesn't hurt that so many musicians from the Emmylou Harris/Rodney Crowell sphere of influence are present on here: Rosanne Cash, Vince Gill, Emory Gordy and Hank DeVito, and Rodney himself singing harmony on a tune or two... It's practically a Hot Band reunion record. Plus, future superproducer James Stroud is sitting in on drums, while Tony Brown plays piano... that's a lot of neo-twang talent for one record. Most of the songs are Willoughby originals, along with a couple of nice tunes written (but not recorded) by Crowell ("Angel Eyes" and "Careless Love"). There are some production touches that are a little too early-'80s for me, particularly the synth-ish keyboards and the artificial-sounding drums, but there's an undercurrent of twang that redeems it all. Willoughby had success as a songwriter -- two of the songs on here were later made into Top Ten hits by other artists -- but sadly, this album tanked. Would have been nice if he'd gotten more opportunity to make his mark, but it seems like he was a few years early for this particular neo-trad style.
---
Other Media
---
"Chinaberry Sidewalks" (Knopf, 2011)

Written by Rodney Crowell
Rodney's autobiography...
Rodney Crowell "Earthbound And Proud Of It" (Sony-Columbia, 2004)


A concert video...


<! Promotional live concert disc released in 2004 via Sony/Columbia. Directed by Michael Drumm. Features 15 live performances, six interview segments, plus the music video for "Earthbound" (directed by Nigel Dick). Recorded live at the One World Theatre in Austin, TX, on November 19, 2003. > <! Also in Heart

---
Rodney Crowell Links
---
---