<! MP3 04/12/09, 03/25/11 > <! update 04/12/09, 03/25/11 > <! outside 00/00/00 > <! pix 00/00/00 > <! 208-pix: 00/00/00 > <! icons 03/25/11 >
---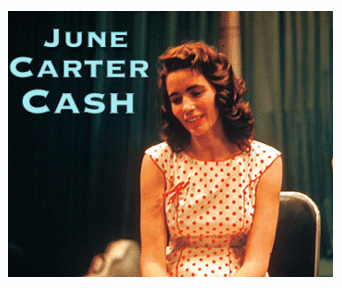 If anyone qualifies as country music royalty, it's June Carter Cash (1929-2003). She was born Valerie June Carter, the daughter of Mother Maybelle Carter, the guitarist for the fabled Carter Family, and as a child in the 1930s, June performed on the radio as part of the Carter Family troupe. Along with her sisters Helen and Anita, she later backed her mother as a member of the reconstituted Carter Family of the 1950s and '60s, and pursued a moderately successful solo career as a hillbilly singer in the 'Fifties. She was briefly married to Carl Smith, one of the great stars of the booming honkytonk style, and had a daughter with him, Carlene Carter (who would become a country singer herself...) Towards the end of the 'Fifties she met Johnny Cash, and in 1962 accepted a job as part of Cash's touring road show -- they fell in love, and were married in 1968, after a smouldering, years-long romance. She wrote the song "Ring Of Fire" as a way of expressing her guilt and ambivalence about falling in love with a married man; their other great hit, "Jackson," celebrated the flip side of this long romance. June Carter Cash is credited by many as having saved Johnny Cash from wrecking himself on the shoals of drug addiction, and remained his lifelong partner, touring with him and raising a family, including their son, John Carter Cash.
By her own admission, June Carter Cash was not a great singer -- at first, her inability to stay in key was a liability in her budding career, but she turned to acting and comedy as ways of compensating, and became a key member of the Carter Sisters act, taking the hillbilly humor of the time to new heights in her hick skits... Her records, though, can be challenging for the more perfection-oriented country fan... But her deep country roots can win you over; she's just a super-duper version of the raspy, backwoods Appalachian style, jes'-plain-folks old-timey music taken to the pinnacles of show business. Here's a quick look at her career...
---
Other related pages:
---
Discography
---
June Carter Cash "Keep On The Sunny Side -- June Carter Cash: Her Life And Her Music" (Sony Legacy, 2005)


This 2-CD set is the first retrospective to truly do justice to June Carter Cash's career, spanning six decades spent at the heart of the country music industry. Disc One kicks off with a couple of live performances with nine-year old June in a solo performance on one of he Carter Family radio shows -- she's rough and rugged, but full of gumption and confidence as the adult emcee chats her up onstage. That same confidence carries through to her early hillbilly hits, including heartsongs sung with her then-husband Carl Smith, and comedy numbers with the likes of Homer & Jethro. There're also a few really nutty novelty songs that'll probably surprise folks unfamiliar with her early work, such as the deranged recitation, "The Heel," a slice of oddball country dementia similar to Porter Wagoner's "Rubber Room," and other singularly bizarre novelty hits of the time. The second disc highights Carter Cash's more elegant side, featuring downhome old-timey material with the remnants of the Carter Family, as well duets with her hubby Johnny Cash (including "Jackson," naturally...) and others. The heart of this collection is the resurrection of her long out-of-print solo album, Appalachian Pride, a personal masterpiece from 1975 that is one of her most soulful works, entirely heartfelt and spiritually resonant. Speaking as a country fan who was never all that into June Carter Cash, this retrospective really moved me, and put her life's work into a much fuller context, and engendered quite a bit of affection and respect for her contributions to country music. It's highly recommended.
June Carter "Louisiana Hayride" (Scena, 2003)



An affectionate snapshot of June's early solo years on the fabled Louisiana Hayride, a live show that was once the Grand Ole Opry's main competitor. This disc, which feature's songs and comedy routines, shows the spunky young June Carter at her hillbilly best, complete with stage patter and all the ambience of a live performance. Recommended!
June Carter "Hillbilly Favourites" (BACM, 2009)


More early stuff, back when she was known as a "hillbilly" performer... Lots of rare material, compiled by the scholarly and fab British Archive Of Country Music. This disc gathers a bunch of studio singles from the 1950s, where she was backed by top talent such as Chet Atkins and Homer & Jethro. A little bit goes a long way -- I wouldn't recommended listening to this disc from end to end, but peppering a song or two into a classic country playlist could be a lot of fun. Includes such oddities as "Crocodile Tears," "Root Hog Or Die," "Left Over Lovin' " and "I Said My Nightshirt And Put On My Prayers." They just don't make 'em like this anymore!


<! JUNE CARTER Hillbilly Favourites CD D 262 JUNE CARTER Crocodile Tears/ Bald Headed End Of The Broom/ Bashful Rascal/ For Cryin' Out Loud/ The Thing/ Winkin' & Blinkin'/ He Don't Love Me Anymore/ Let Me Go Lover/ Tennessee Mambo/ Honey Look What You've Done/ Country Girl/ Wedding Of Hillbilly Lily Marlene/ Huckle Buck/ Music, Music, Music/ I Said My Nightshirt & Put On My Prayers/ Time's A-wastin'/ A Bucket Of Love/ She Loves To Cry/ Knock Kneed Suzy/ Left Over Lovin'/ Root Hog Or Die/ Eight More Miles To Louisville/ Jukebox Blues/ No Swallerin' Place/ It's Raining Here This Morning/ You Flopped When You Got Me/ We've Got Things To Do >
Johnny Cash & June Carter Cash "Carryin' On" (Columbia, 1967)



Johnny & June at the peak of their fame as one of Country's leading couples... "Jackson" hit #2 on the charts, and it is definitely the highlight of this album. There's a whole slew of folk-influenced tunes, including some of the Dylan material he was famous for bringing to Nashville. The trouble is Johnny's bending over backwards to accommodate June's vocal shortcomings, and to impart a sense of weighty poetic import onto the loftier-sounding songs, and as a result, his phrasing is really weird, and he seldom hits a strong enough emphasis, nor does he sound particularly at ease with himself, or with most of the material. I mean, I guess it's okay for him to try something new, but it doesn't always work for me.
Johnny Cash "The Holy Land" (Columbia, 1968)


Johnny and June visit Israel and send back an audio postcard for all the rest of us... The Holy Land, seen through an old-fashioned Christian bedrock perspective.
Johnny Cash & June Carter Cash "Johnny Cash And His Woman" (Columbia, 1973)


Ah, Gloria Steinem and Bella Abzug must have loved this album title...!
June Carter Cash "Appalachian Pride" (Columbia, 1975) (LP)

Johnny Cash & June Carter Cash "It's All In The Family" (Bear Family, 1999)


This lavishly packaged import includes a reissue of June's 1975 solo album, Appalachian Pride, along with a bunch of Johnny's early '70s tunes, including some unreleased stuff and some fun, goofy children's songs. It's dopey, low-key stuff which, along with the family photos in the insert booklet, make ya feel all warm and fuzzy towards the Cash family.
June Carter Cash "Press On" (Risk Records, 1999)



Old-fashioned country fans who complain that today's stars are too prefab and too perfect may find a heroine in Johnny Cash's wife, June Carter Cash. Although she is a torchbearer of the great Carter Family tradition, Mrs. Cash always been an artist of modest talent, and as she's gotten older, her imperfections have taken on a rugged, raspy quality very much in keeping with her back-country roots. This is an unassuming album that has its odd charms -- June Carter sings about her heritage and her experiences as a young woman touring with the remnants of the Carter Family, and subtly refashions the musicial tradition she was raised on. She namedrops her way through "I Used To Be Somebody," remembering encounters with James Dean, Elvis Presley and Patsy Cline; on a more modern note, she writes the genuinely oddball (and slightly gimmicky) novelty tune, "Tiffany Anatasia Lowe," a goofy, backhanded ode to filmmaker Quentin Tarrantino. On a more serious note, she and hubby Johnny Cash duet the spooky death-premonintion tune, "The Far Sides Banks Of Jordan," and other gospel songs color this album with a mournful air. This album has the feel of an epitaph, recalling the more innocent way of life that her generation of country singers led, as well as celebrating her life with her husband and family. Backing Mrs. Cash is an all-star cast, including Norman Blake, Marty Stuart and Rodney Crowell -- with pickers like that, it's hard to go wrong.
June Carter Cash "The Wildwood Flower" (Dualtone, 2003)



A posthumously released record that has several subtle gems, as well as reiterations of several songs that she's sung over the years. Cash's son, John Carter Cash, helped produce this album.
June Carter Cash "Ring Of Fire: The Best Of June Carter Cash" (Dualtone, 2005)


Johnny & June Carter Cash "The Hits" (Sony-BMG Legacy, 2006)



Amazingly enough, this is the first collection -- ever -- on CD of the Johnny and June's duets. Naturally, its existence is due to the lamentably flawed Walk The Line biopic, but hey -- whatever works. Before now, their duets were confined to full-album reissues or as sidelights to various Johnny Cash best-ofs... Now we can truly hear a pure, undiluted dose of Johnny & June, and the results are quite nice. The album title is a little misleading -- only a handful of the sixteen songs on here actually made it into the Top Ten, and over half the tracks didn't make it into the Top 40. But the hits are memorable -- there's "Jackson," of course, as well as their cover of Bob Dylan's "It Ain't Me, Babe," a surprise smash that brought Dylan's work into the country mainstream. Considering the religious devotion that was the bedrock of their marriage, this set could have included more gospel material (one-and-a-half songs, by my reckoning, with "If I Were A Carpenter" being the one-half...) But Sony-BMG seems to have made the same calculation that Hollywood made -- go light on the preaching and minimize your risk of potentially alienating any paying customers. It might not accurately reflect the whole Carter-Cash vibe, but it does make a more marketable product. And a fine product it is: if you want to check this fabled country couple out, this is a fine place to start!
Johnny & June Carter Cash "Duets" (Sony-BMG Legacy, 2006)


June Carter Cash "Church In The Wildwood: A Treasury Of Appalachian Gospel" (Dualtone, 2007)


---
Tributes
---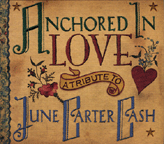 Roland Riedberger & Barbara Clifford "The Johnny Cash & June Carter Tribute Show" (EP) (Blue Lake, 2007)



A lively, well-intentioned, six-song indie-billy tribute to the Cashes... I'm not really entirely sure what this adds to the Johnny and June legacy, but it sounds like they had fun paying homage to their heros.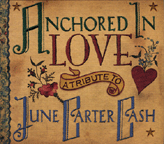 Various Artists "ANCHORED IN LOVE: A TRIBUTE TO JUNE CARTER CASH" (Dualtone, 2007)



(Produced by John Carter Cash)
An star-studded cast pays homage to the late, beloved doyenne of the Cash family... In keeping with the Carter/Cash legacy, there are several duets here, the best of which is Patty Loveless and Kris Kristofferson's stately intertwine on "Far Banks Of Jordan." Other album highlights include Rosanne Cash's sorrowful "Wings Of Angels," Brad Paisley's rock-solid rendition of "Keep On The Sunny Side" (Note to Brad: do more traditional stuff!! Could we get a whole album's worth someday?) and Billy Joe Shaver's irrefutably desolate "Kneeling Drunkard's Plea." Loretta Lynn, Ralph Stanley and Emmylou Harris weigh in as well, and doubtless many will be thrilled by Elvis Costello doing "Ring Of Fire..." Overall, a nice record, although in some ways it almost feels too soon for a tribute album to come out; so many fine June Carter reissues and the like have come out in the last few years, it feels like a record like this might get lost in the shuffle. Certainly worth checking out, especially for the fine gospel track by Mr. Paisley.
---
Books & Film
---
"Among My Klediments" (Zondervan Publishing, 1979)
by June Carter Cash

June's autobiography... I haven't read it yet, but I'm sure someday I will.
"From The Heart" (Prentice Hall, 1987)
by June Carter Cash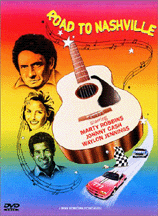 "Road To Nashville" (Crown International, 1967)



A treasure trove of late 'Sixties classic country! Although the film itself is lamentably rickety and shoddily produced, the wealth of talent, drawn from several major labels, is truly astounding: Webb Pierce, Johnny Cash, Porter Wagoner, Dottie West, Norma Jean, The Osborne Brothers, Bill Anderson and Bill Phillips all appear, just to mention a few. Co-producer Marty Robbins bankrolled part of this film and sings a few tunes (as well as racing his stock car at the track!)... Several fading 'Fifties stars are also seen, including Hank Snow, Lefty Frizzell, Faron Young, Kitty Wells, and the reconstituted folk-era edition of the Carter Family. Whew! Lemme catch my breath a minute and I'll tell you more... A clean-shaven, wolfish young Waylon Jennings has a great cameo; country cutie Connie Smith not only sings two numbers, she also has an extensive speaking role. There are also several noteworthy also-rans involved: Margie Singleton, Bobby Sykes, the Stoneman Family in full New Main Street Singers bluegrass-pop mode, and Don Winters as well -- one of the most underrated singers of the rock-to-countrypolitan era. Heck, radio DJ and full-time power broker Ralph Emery even makes an appearance... all that's lacking is a decent script. The flimsy plot involves the savagely unfunny Doodles Weaver as a bumbling idiot sent (inexplicably) by his grouchy Hollywood boss to organize a country music extravaganza; not only does Weaver appear in the between-song interludes, he also is frequently cut into the the performances themselves, doing unfunny things and staring in a vacant, unfunny way. The sound is poor; the video transfer cropped out a lot of the shots... but hey, this film ROCKS. Any devoted county fan will want to pick a copy as soon as they can. It's a doozy!
---
Links
---
---



Hick Music Index



---
Top photo by Don Hunstein, courtesy of Sony-BMG/Coumbia Legacy.
---

<! cd=04/15/05>