<! MP3 04/02/09 - just old albums > <! outside 00/00/00 > <! pix 00/00/00 > <! 208-pix: 00/00/00 > <! icons 11/20/10 > <! UPDATES: 04/02/09 - did not check for new editions, etc. 05/21/14 - renamed - updated links from/to other pages > <! Dennis Cash "Sing Me A Carter Family Song" (xxxx, xxxx) - CD >
---
The original Carter Family, consisting of folklorist A.P. Carter, his wife Sara and her cousin, Maybelle, was not only one of the most influential groups in country music history, they were also one of the most wonderful to listen to. They worked together, off and on, from 1927 to 1943, and various revival versions of the group were formed in the 1950s and '60s. Over the years, the Carter Family recorded dozens of songs which are now country and bluegrass standards, and Maybelle Carter is often credited as one of the most influential acoustic guitarists in country history -- her then-unique style is one of the models that modern flatpicking was built on.
---
Although the Carter Family had been performing together much earlier, they were "discovered" by Victor Records talent scout Ralph Peer in 1927, when he set up a makeshift recording studio in the border town of Bristol, Tennessee, and recorded as much of the local talent as he was able. Along with the Carter Family, these sessions also captured the young blues yodeler, Jimmie Rodgers, at the start of his career. Both Rodgers and the Carter Family were instant successes, and became the dominant commerical country artists of the Depression Era. The Carters recorded for Victor until 1935, switching first to ARC Records, then to Decca. In 1936 they took a job broadcasting on Texas radio station, XERA, where they stayed for several years, and their popularity exploded with the tremendous national and regional exposure given by the border station's powerful signal, as well as the numerous syndicated "transcription discs" which were shipped to stations nationwide.
The band parted ways several times, but their recorded legacy is profound. Much of their old-timey material was gathered together by A.P. Carter who, in the fashion of the times, copyrighted dozens of old-timey folk songs under his own name, so that he could make money on the publishing and performace rights. Naturally, he was prolific song collector, and was often helped out by friends such as the African-American singer Lesley Riddle, who also showed Maybelle some of his guitar style. The spell woven by the Carter Family has lasted throughout the century, and in addition to their musical influence, many famous country artists have been born or married into the extended family -- these folks include singers such as Johnny Cash, Carl Smith, their daughters Rosanne Cash and Carlene Carter, and -- by extension -- their (ex)partners, Rodney Crowell and Marty Stuart. Mainly, though, there's the music, pretty much all of which is now in print due to several excellent reissue efforts in the 1990s.
---
Discography
---
The Carter Family "Volume 1: 1927-1928 -- Anchored In Love" (Rounder, 1993)


God bless Rounder Records and all their offspring for a thousand generations! This fabulous nine-CD series, the Complete Victor Recordings, is one of the greatest reissue efforts of the CD era, recapturing the full glory of the Carter Family's most important work. Pretty much any disc on here can clue you in on why the Carters were so great. This first disc covers the first two recording sessions made by Ralph Peer in 1927. The results include such musical milestones as "Wildwood Flower" and "Little Darling Pal Of Mine," as well as their huge hit, "Keep On The Sunny Side". Most importantly, though, this volume includes my all-time favorite Carter Family song, "Storms Are On The Ocean," sung in Sara Carter's waveringly hesitant voice on their very first recording session. Lovely.
"The Carter Family Volume 2: 1928-1929 -- My Clinch Mountain Home" (Rounder, 1993)

The Carter Family "Volume 3: 1929-1930 -- When The Roses Bloom In Dixieland" (Rounder, 1995)

The Carter Family "Volume 4: 1930 -- Worried Man Blues" (Rounder, 1995)

The Carter Family "Volume 5: 1931-1932 -- Sunshine In The Shadows" (Rounder, 1996)


Includes a couple of comedy skits recorded with the blues-country ne'er-do-well, Jimmie Rodgers, whose gloomy, almost seedy presence is an interesting contrast to the forced show-bizzy joviality and wholesomeness of the Carters. And, of course, there's plenty of more great sentimental, melodic masterpieces.
The Carter Family "Volume 6: 1932-1933 -- Give Me The Roses While I Live" (Rounder, 1997)

The Carter Family "Volume 7: 1933-1934 -- Gold Watch And Chain" (Rounder, 1998)

The Carter Family "Volume 8: 1934 -- Longing For Old Virginia" (Rounder, 1998)


Includes the gorgeous, mournful lost-love classic, "Are You Tired of Me, My Darling?"
The Carter Family "Volume 9: 1934-1941 -- Last Sessions" (Rounder, 1998)

The Carter Family "Country Music Hall Of Fame Series" (MCA, 1991)



A sampling of their brief 1937-38 association with Decca Records. The same stark, simple ballads, though the vocals are a little less haunting and perhaps a little less heartfelt than their earlier RCA Victor recordings (which are now all out on CD, courtesy of Rounder Records). Regardless, it's hard to go wrong with the original Carter Family -- this is still prime material.
The Carter Family "Clinch Mountain Treasures" (County/Rebel, 1991)


Before hitting the border radio circuit, the Carter Family recorded nearly two dozen tracks for the ARC label... and here they are. The group's showmanship is at its peak, as they ramble through a wide variety of style -- sentimental tunes, death ballads, novelty songs, and gorgeous gospel. This edition also includes laudatory liner notes from one of my favorite melodic bluegrassers, Bill Clifton, who does as nice and succinct a job of telling the Carter Family story as you're ever likely to come across. Highly recommended.
The Carter Family "On Border Radio: 1939, v.1" (Arhoolie, 1994)



When they were down on the Texas border, broadcasting to the entire nation at 500,000 watts (those were the days!), the Carter Family going through rough times emotionally. A.P. and Sara had divorced years earlier, but things were still kind of weird between them. Still, they were in peak form professionally, and these raspy old airchecks give a great sense of what their live act was like. Rough sound quality in some parts, but still super cool.
The Carter Family "On Border Radio: 1939, v.2" (Arhoolie, 1994)


The Carter Family "On Border Radio: 1939, v.3" (Arhoolie, 1994)


The Carter Family "Can The Circle Be Unbroken" (Sony Legacy, 2000)



The Carter Family never sounded better than with this fab 20-bit (but still monophonic!) remastering. This disc features classic material from 1935-1940, when they recorded for the Okeh label. Some of these songs are oldies that the Carter Family recorded earlier for RCA -- like "Storms Are On the Ocean" -- and these versions, made after nearly a decade of professional life, are less boisterous and scraggly than the 1920s originals. Still, they have the same eerie, Gothic feel as all the Family's best work, along with grrreat sound quality. An excellent reissue!
The Carter Family "In The Shadow Of Clinch Mountain" (Bear Family, 2000)


Ooooh, scary! A 12-CD, 287-song boxed set which includes... good lord! Pretty much everything the original Carter Family recorded for their various record labels... RCA, ARC, Decca, etc. Personally, I get scared when I'm around this kind of mondo-giganto boxed set... scared mostly because I worry I'll find it too overwhelming and I won't really listen to it. Also, I will never, ever, be able to afford to shell out this much cash for one set of music. You, however, might be of a different temprament and income bracket than I am, and if so, I could imagine nothing more lovely than so much great stuff by the Carter Family, all in one nice, little package. If you pick this up, let me know know what you think.
The Carter Family "The Acme Sessions: 1952-56" (JSP, 2008)



In the 'Fifties, A. P. and Sara Carter tried to make a go of it again, coming out of retirement and joined by their children, Janette and Joe Carter (who later went on to found the Carter Family Fold cultural venue in the 1970s, keeping the Carter Family heritage alive...) This 2-CD set, recorded in several sessions over a four-year period, doesn't have the same vigor or immediacy as their classic work with Mother Maybelle, but there is still much of the authoritativeness and calm timelessness at play, and lots of beautiful songs, including several that weren't part of the classic Carter Family repertoire of the 1930s and '40s. Setting aside the historical value, it must be said that the sound quality on this particular set is pretty bad -- not sure if it's from the original sessions or the current-day remastering, but you have to be prepared for some demo-quality roughness... But if you can get past that, this is another rewarding collection of sweet old songs.
---
Related Records
---

Various Artists "THE BRISTOL SESSIONS" (Country Music Foundation, 1987)


In 1927, Victor Records A&R representative Ralph Peer set up a recording studio in a rural Tennessee hotel, and brought to the world the first recordings of the Carter Family, as well as future superstar, blues yodeller Jimmie Rodgers. Other dimly remembered old-timey artists were also recorded, such as gospel singers Alfred G. Karnes and Ernest Phipps, Ernest Stoneman, and various stringbands, as well as a slew of local performers who never enjoyed the commercial success of the more luminous stars mentioned above. This 2-disc set is completely fabulous -- if you like old-timey hill music, this is the motherlode, an absolutely essential collection.
Leslie Riddle "Step By Step" (Rounder, 1993)



A lovely disc of recordings made by friend of the Family, guitarist/folklorist Lesley Riddle, during the waning days of the '60s folk revival. Riddle was a local African-American performer who shared (and sought out) many songs for A.P. Carter to add to the group's early repertoire, and he was also something of a musical mentor to A.P. and Sara. This disc shows that Riddle shared their gift for delicate lyrical expression, and emotional resonance. Well worth searching out!
---
Other Media
---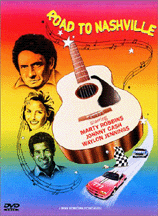 "Road To Nashville" (Crown International, 1967)



A treasure trove of late 'Sixties classic country! Although the film itself is lamentably rickety and shoddily produced, the wealth of talent, drawn from several major labels, is truly astounding: Webb Pierce, Johnny Cash, Porter Wagoner, Dottie West, Norma Jean, The Osborne Brothers, Bill Anderson and Bill Phillips all appear, just to mention a few. Co-producer Marty Robbins bankrolled part of this film and sings a few tunes (as well as racing his stock car at the track!)... Several fading 'Fifties stars are also seen, including Hank Snow, Lefty Frizzell, Faron Young, Kitty Wells, and the reconstituted folk-era edition of the Carter Family. Whew! Lemme catch my breath a minute and I'll tell you more... A clean-shaven, wolfish young Waylon Jennings has a great cameo; country cutie Connie Smith not only sings two numbers, she also has an extensive speaking role. There are also several noteworthy also-rans involved: Margie Singleton, Bobby Sykes, the Stoneman Family in full New Main Street Singers bluegrass-pop mode, and Don Winters as well -- one of the most underrated singers of the rock-to-countrypolitan era. Heck, radio DJ and full-time power broker Ralph Emery even makes an appearance... all that's lacking is a decent script. The flimsy plot involves the savagely unfunny Doodles Weaver as a bumbling idiot sent (inexplicably) by his grouchy Hollywood boss to organize a country music extravaganza; not only does Weaver appear in the between-song interludes, he also is frequently cut into the the performances themselves, doing unfunny things and staring in a vacant, unfunny way. The sound is poor; the video transfer cropped out a lot of the shots... but hey, this film ROCKS. Any devoted county fan will want to pick a copy as soon as they can. It's a doozy!
---
Links
---
---