<! cd = 10/29/10 > <! MP3 10/29/10, 10/16/11 > <! outside 10/29/10 - WP > <! pix 00/00/00 > <! 208-pix: 00/00/00 > <! icons 10/29/10, 10/16/11 > <! UPDATES: 10/29/10, 10/16/11 05/22/12 - new album, some new pix 04/24/14 - fixed links to Connie Smith, Johnny Cash >
---
Marty Stuart broke into the music business as a teen prodigy in the bluegrass scene: in 1972, when he was just thirteen years old he joined Lester Flatt's solo band, Nashville Grass, and stayed there until Flatt disbanded the group in '78. Stuart mainly played with bluegrass and acoustic musicians until 1980, when he joined Johnny Cash's touring band, a job he kept until 1985, when he went solo. For a few years he was married to Cash's daughter Cindy; in 1997 he married singer Connie Smith and produced her self-titled comeback album that same year.

Stuart's fortunes have risen and fallen many times, and for many years he's positioned himself as more or less a boutique artist, recording the albums he wants to make without big expectations of chart-topping hits. Throughout it all, he has navigated between innovation and tradition -- he had his biggest commercial success in the 1990s as a "young country" neo-traditionalist, although in later years he has experimented with various concept albums and made several albums that are explicitly rooted in country music's past. I find his work to be kind of a mixed bag: he can definitely tap into the fundamental power of good, old-fashioned twang, although he often indulges a taste for high-concept material which I sometimes find a little less satisfying. Here's a quick look at his work...


---
Discography - Best-Ofs
---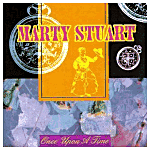 Marty Stuart "Once Upon A Time" (CMH, 1992)


A scrappy collection of Stuart's early years in the bluegrass scene. There are a lot of tracks with Lester Flatt & Nashville Grass, with a few that feature Stuart on vocals, and others where he takes prominent solos, often on mandolin. This album was released in 1992, when Stuart was at his peak as a Top Forty country singer; the twangy bluegrass content and the sometimes-fuzzy sound quality on the live tracks may have made this a disappointment to many country fans who thought it was a new studio album, but bluegrassers who wish he'd stayed in the fold will appreciate this look back at his remarkable teenage years.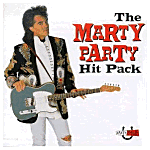 Marty Stuart "Marty Stuart Party Hit Pack" (MCA, 1995)



The first Marty Stuart best-of collection, and still a sizzler. The Millennium set below overlaps with this one; both are based on his hitmaking years on the MCA label.
Marty Stuart "The Millennium Collection" (MCA, 2007)


Marty Stuart "Whiskey And Rhinestones: The Ultimate Collection" (MSI, 2008)


This UK best-of set includes tracks from both his MCA years and his later, loftier work for Columbia. However, his bluegrass days and the first 1980's album for Columbia are not included.
---
Discography - Albums
---

<! Lester Flatt & Nashville Grass "Flatt Gospel" (Canaan, 1975) (LP) B001RDB4UY >

Lester Flatt "Flatt Gospel" (Canaan, 1975)

Lester Flatt "Heaven's Bluegrass Band" (CMH, 1977) (LP)

Lester Flatt "Fantastic Pickin' " (CMH, 1978) (LP)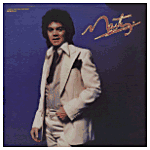 Marty Stuart "With A Little Help From My Friends" (Ridge Runner, 1978) (LP)


His first solo record was a bluegrass set, although there were hints of things to come. There are several traditional tunes, including some gospel standards; also in the mix are 'grassed-up versions of rock and blues songs from folks like the Beatles, Otis Redding and Jimmy Reed. (Note: this was re-released as The Slim Richey Sessions in 1992.)


<! Precious Memories; Hard Hearted; Rawhide/God Bless Bill Monroe; Dock Of The Bay; Crazy Creek Blues; Just A Little Talk With Jesus; Love Grown Cold; Mystery Train/Tiger Man; Kansas City; Big Boss Man; I Don't Care Anymore; A Little Help From My Friends; My Sally Goodin; Precious Memories > <! aka "With A Little Help From My Friends"? (sez so on his website...) >
Marty Stuart "Busy Bee Cafe" (Sugar Hill, 1982)



(Produced by Marty Stuart)
This was the first Marty Stuart album I heard, 'way back in the days of KFAT radio, and it was also the first one I bought, when I found it in the bins a few years later... There are several great songs on here -- the title track has a groovy, loping feel; the picking throughout is super, super-sweet, with contributions from Doc & Merle Watson, Earl Scruggs, Jerry Douglas and others, and even Stuart's boss (and father-in-law) Johnny Cash comes for the party, singing several duets and adding an uncharacteristically light vibe to the proceedings. Even after all these years, this is still one of my favorite indie-twang albums of the era... Highly recommended!
Marty Stuart "Marty Stuart" (Columbia, 1986)





<! Walt Aldridge, Curtis Allen & Mac McAnally >
Marty Stuart "Hillbilly Rock" (MCA, 1989)



(Produced by Richard Bennett & Tony Brown)


Marty Stuart "Tempted" (MCA, 1991)



(Produced by Richard Bennett & Tony Brown)
I wouldn't say that Stuart has a particularly great voice, but this is a nice, solid, fun record, filled with poppy, rockabilly-tinged country shuffles and "young country" perkiness. The hit ratio here is pretty good, both in terms of actual chart hits, and of songs that are fun to listen to... The production is sleek and propulsive, but not overly hackneyed or bland; it's a bit like listening to a country version of Rockpile, with a simple melodic approach and strong -- but not overpowering -- rhythmic drive. There's only one song on here I'd consider a dud, the clunky "I Want A Woman," while the other nine tracks are pretty swell. This is Marty Stuart at his simplest and his best.


<! 1990? >
Marty Stuart "This One's Gonna Hurt You" (MCA, 1992)



(Produced by Richard Bennett & Tony Brown)


Marty Stuart "Let There Be Country" (Columbia, 1988/1992)



Recorded in 1988, but not released until '92. Fresh out of a gig in Johnny Cash's backup band, former bluegrass wunderkind Marty Stuart hoped to pull a Ricky Skaggs and go Top 40, bearing the standard of the true-country true believers. Trouble is, his music and vocals kinda lack a certain ooomph... In fact, in technical terms, he may one of the worst country singers since Gram Parsons, yet devoid of Gram's soul-searching, puppydog sincerity. I guess Marty's heart's in the right place, but none of these tunes ever really catch fire, even with all the thunka-thunka slap-bass rockabilly thump borrowed from the Johnny Cash songbook. There's just a sluggishness and overly-calculated feel to most of this material, and the lyrics that blatantly pitch him as a hard country hero (like the title track) are kind of irritating, and seem overly opportunistic. Even cover tunes of seemingly bulletproof songs like Johnny Horton's "One Woman Man" or Bill Monroe's "Get Down On Your Knees And Pray" sort of wither on the vine... Oh, well.
Marty Stuart "Love And Luck" (MCA, 1994)


Marty Stuart "Honky Tonkin's What I Do Best" (MCA, 1996)





<! Tony Brown & Justin Niebank >

Marty Stuart "The Pilgrim" (MCA, 1999)



(Produced by Marty Stuart & Tony Brown)
This is probably Marty Stuart's most significant album, a grandiose Americana opera meant to be a modern-day Red Headed Stranger or something like that. Sure, it's pretentious, overreaching, overly calculated, and yet it has some moments of grace, and a few nice songs that stand out above the murk of orchestral interludes and would-be overtures... Plus, it's packed with high-powered guest stars, some who are used better than others. Emmylou Harris and George Jones are both given modest cameos; Ralph Stanley and Johnny Cash figure more prominently. I guess I'd have to admit that Stuart is a hopelessly flawed artist -- if you think too hard about good-natured tunes like "Goin' Nowhere Fast" (which sounds like a Dwight Yoakam outtake), you'll zero in on Marty's weak vocal performance; the grand sweep of the album's conceptual arc simply doesn't hold up, or feel that cohesive... But you still see where he's going, and if you just hit "fast forward" on a couple of the goopier tunes, this disc ain't half bad.
Marty Stuart/Larry Paxton/Kristin Wilkinson "All The Pretty Horses" (Soundtrack) (Sony, 2001)


Marty Stuart (And His Fabulous Superlatives) "Country Music" (Columbia, 2003)



By dint of his tough, muscular presentation, Stuart still seeks to stake himself out as a champion of old-style honkytonk hard country, but I gotta admit, despite my best wishes, I found this album a bit hard to get into. It's just too, um, I dunno.. Spasmodic? Aggressive? Cluttered? Self-consciously "country?" Too rock'n'roll? Seems like Marty's just trying too darn hard, and seems to be gallumpfing right past the softer, more subtle side of the hard country sound. If you make yourself sit down and appreciate this album, there are some okay songs, but nothing to match the bounciest numbers on earlier albums.

Marty Stuart "Souls' Chapel" (Sony Nashville, 2005)



(Produced by Marty Stuart)
Well, I'm not normally a huge Marty Stuart fan, but this all-gospel offering sure is a fine record, a career highlight, as a matter of fact. The album opens with the eerie, echo-y, unmistakable tones of Pops Staples' electric guitar, one of the most famous sounds in gospel music... Of course, it isn't Staples himself playing those wicked notes -- he passed away several years ago -- but rather Marty Stuart, channelling the slinky soulful vibe of the Staples Singers on a cover of their classic song, "Somebody Saved Me," followed by a funky, funny version of Albert E. Brumley's humorous "Lord, Give Me Just A Little More Time." These two songs set the tone for this disc -- a heartfelt but modern country gospel set that lets Stuart indulge his love of rock and R&B riffs without sounding like a by-rote retroholic, as his secular country records sometimes do... Stuart dips deep into real country soul, but he does it in a way that's accessible to younger, pop-savvy listeners, and the results are quite nice. (PS - Mavis Staples gives it her seal of approval as well; she appears and sings a nice duet with Marty on "Move Along Train," another early-'Sixties gem from the Staples Singers catalog.) Nice record -- definitely worth checking out!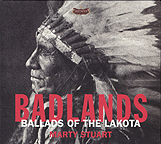 Marty Stuart "Badlands: Ballads Of The Lakota" (Sony Nashville, 2005)



(Produced by Marty Stuart)
Borrowing a page from Johnny Cash's book, Marty Stuart takes up the Native American cause, picking up where Cash's Bitter Tears concept album left off, and delivering a scathing set, laced with spoken word bits and searing criticism of the genocide against the Lakota Sioux Indians (and Native Americans in general...) Like 1998's The Pilgrim, this is a grandiose, thematic album, although it is more tightly focussed and has greater emotional heft... The Cash connection is strong: Johnny's son, John Carter Cash, co-produced the album and Stuart (who used to play in Cash's band) includes a cover of "Big Foot," a rather pointed historical song about the fallout from the battle of Little Big Horn. Some might find this album preachy or hokey, but it is undoubtedly sincere and has some strong musical moments... Along with the previously released Soul's Chapel gospel album, this marks a period of renewed vitality for the long-sidelined Stuart. Worth checking out, particularly if you're of a folkie-political bent.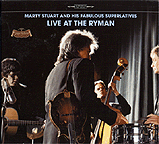 Marty Stuart "Live At The Ryman" (Universal South, 2006)



(Produced by Marty Stuart & Harry Stinson)
Neobilly Nashville twangster Marty Stuart cements his creative rebirth with this solid live set, the third in a recently released trio of albums that may surprise even his harshest critics... Here, in concert at the Ryman Auditorium, he leans heavily on his bluegrass background, keeping it all acoustic and whooping it up in a display of gosh-heck rootsiness worthy of Ricky Skaggs. Stuart and his band really sound like they're having fun, and the material is all pretty solid, including both traditional tunes such as "The Great Speckled Bird," and plucky remakes of his old chart hits, such as "Hillbilly Rock." Marty also cuts a wide swath for dobro legend Josh Graves, giving him center stage for most of the album's middle section. It's a puckish, rambunctious performance, one that'll get your toes tapping and -- like his other two new albums -- set your mind to wondering, what the heck has Marty been doing the last few years? Why'd it take him so long to get all good again? Worth checking out.
Marty Stuart/Various Artists "Compadres: An Anthology Of Duets" (Hip-O/Superlatone, 2007)






<! AMAZON: Marty Stuart began collaborating with legends when he joined Lester Flatt's Nashville Grass as a 13-year-old mandolinist. One of his biggest singles, 1991's "The Whiskey Ain't Workin'," teamed him with Travis Tritt. This compilation includes a rare Stuart mandolin workout on Bill Monroe's "Rawhide" recorded onstage with Flatt in 1974, and "Hearts Like Ours" with wife Connie Smith. He and ex-father-in-law Johnny Cash created a fiery revival of Cash's Sun recording of "Doin' My Time." With Steve Earle, Stuart created a beautifully understated rendition of Buddy Holly's "Crying, Waiting, Hoping." He was equally adept with Earl Scruggs on "John Henry" and with Merle Haggard on a 2003 "Farmer's Blues." That empathy extended to blues and gospel greats, apparent on "The Weight" with the Staple Singers and "Confessin' the Blues" with B.B. King. Two unreleased tracks include Stuart and Loretta Lynn reviving "Will You Visit Me on Sunday," a tune she'd previously recorded with the late Conway Twitty, and the Who's "I Can See for Miles" with Stuart, his band, and Old Crow Medicine Show. Unlike the many Nashville "vocal events" that are simply contrived marketing ploys, Stuart's collaborations are consistently organic, without a shred of artifice. >
Marty Stuart "Cool Country Favorites" (Superlatone, 2008)
A special set, available directly through Stuart's own Superlatone label...

Marty Stuart "Ghost Train: The Studio B Sessions" (Sugar Hill, 2010)



(Produced by Marty Stuart)
A real humdinger of a classic country album! Marty Stuart pays homage to country's past in the very best way: he channels classic Merle Haggard on the album's twangy opener, "Branded," covers Warner Mack's old hit, "The Bridge Washed Out," swipes an old Waylon Jennings pedal steel riff (on "Little Heartbreaker," reprising "Rainy Day Woman") and cajoles pedal steel old-timer Ralph Mooney into playing the melody he composed for Ray Price's honkytonk smash, "Crazy Arms." There are also a slew of new originals that sure sound like old songs we all oughtta know: the bouncy twang and rollicking rhythms all ring true, and this is an album that just invites you to play it over and over again, loud, and sing along with gusto. A special treat are two songs co-written with Stuart's wife, Connie Smith who also sings some really sweet harmonies, particularly on the majestic "I Run To You," which has some very satisfying piano chords, straight out of the Billy Sherrill playbook. I've had my dfferences with Marty Stuart in the past, but this album is a real gem, from start to finish. Highly recommended!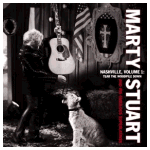 Marty Stuart "Nashville, Volume 1: Tear The Woodpile Down" (Sugarhill, 2012)



(Produced by Marty Stuart)
Another fun record from Mr. Stuart, who has reaffirmed his allegiance to real twang, and is making rollicking country the way we like it. This disc starts off at a gallop with the piledriving title tune, and settles into a cry-in-your beer ballad on "Sundown In Nashville," about what a tough town Music City can be...There's trucker songs and honkytonkers around the corner, plenty of pedal steel and some great picking from Stuart and his lead guitarist, Kenny Vaughan, along with guest Buck Trent, who plays banjo on a couple of tracks. Hank Williams III, who's been flirting with self-cariacature the last few years, chimes in on a nice gospel track that closes the record, and Marty shines the spotlight on industry newcomer Lorrie Carter Bennett (daughter of Anita Carter) who does a fine duet on "A Song Of Sadness." If you like old-school country, this is a modern album that's well worth a spin. Recommended!
---
Related Records
---
Connie Smith "Connie Smith" (Warner-Nashville, 1998)



(Produced by Marty Stuart & Connie Smith)
A pretty fair "comeback" album from this 1960's Nashville vocalist. Stuart clearly shares her old-school rural sensibilities, and makes appropriate decisions about how to frame her vocals; he also wrote or co-wrote about half the songs on the album. This record varies; basically it's not bad when she tackles upbeat material -- mainly Texas shuffles -- and it founders on the slower, sentimental numbers. But if you're a fan (like me!) it's definitely worth checking out.


<! 11/10: actually 109 x 108 >
Connie Smith "Long Line Of Heartaches" (Sugar Hill, 2011)



(Produced by Marty Stuart)
Connie Smith is one of my favorite Nashville artists from the 1960s and '70s; a joyful singer with a crystalline voice who recorded some of the brightest hits of the countrypolitan era. She's been mostly off the radar since the late '70s, and this new record is only her third studio album since 1978, and her first since 1998. Although her voice has aged and the tone has changed, she's still a keen stylist with an ear for great material. Stuart and Smith have crafted a strong set of traditionally-minded country tunes: songs like "Long Line Of Heartaches," "That Makes Two Of Us" and "My Part Of Forever" hearken back to the heyday of pop-country heartsongs, with robust musical backing by Stuart and his crew. Also joining Ms. Smith are her three daughters, who sing harmony on the closing track, "Take My Hand." Known mostly as a song stylist in her youth, here Connie Smith asserts herself as a composer, co-writing nearly half the songs on this album; other songs come from the likes of Roy Drusky, Dallas Frazier and Harlan Howard. Longtime fans will welcome this new record, which shows that the old gal's still going strong. Check it out!
---
Links
---
---