<! cd = 01/29/12 > <! MP3 01/29/12 > <! outside 01/29/12 - WP, no PF, CMT > <! pix 00/00/00 > <! 208-pix: 00/00/00 > <! icons 01/29/12 > <! update 01/29/12 >
---
Guitarist Lester Flatt (1914-1979) and banjo whiz Earl Scruggs first met in 1945 while working in Bill Monroe's band, the Blue Grass Boys. Within a couple of years they started their own band, The Foggy Mountain Boys in a partnership that lasted over two decades. After Flatt & Scruggs broke up, each started a solo career, with Flatt sticking to a more traditional sound, and recruiting new talent to the truegrass style. One notable alumnus of Flatt's "Nashville Grass" band was teen prodigy Marty Stuart, who added pizazz to the band throughout the 1970s. Flatt died of a heart attack in 1979, but he left behind a tremendous legacy, both in his records and in his many compositions, which include countless bluegrass standards. Here's a quick look at his work...
---
Discography - Best-Ofs
---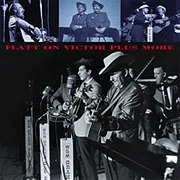 Lester Flatt "Flatt On Victor... And More" (Bear Family, 1999)


If you want to dig deep -- I mean really deep -- into Flatt's solo recordings on RCA Victor, well then, dang! This humongazoid, 6-CD Bear Family box set should pretty much settle the matter. Includes his duo recordings with Bill Monroe and Mac Wiseman as well... The original albums (listed below) remain out of print, but this monolith makes the music available, at least for the devoted few.

Lester Flatt "RCA Country Legends" (BMG/RCA, 2003)



A great set of choice tracks culled from his early '70s solo albums, recorded after the breakup of the long-lived Flatt & Scruggs partnership. Lester proved himself more than up to the task of reorganizing, bringing in hotshots and younger pickers like Marty Stuart, Roland White and Josh Graves to fill out the sound. The songs are great -- some are oldies, others were new (like the topical hippie-era tune, "You Can't Tell The Boys From The Girls"), and many of the instrumental numbers are as fun and as inventive as anything in the F&S canon. Though this disc only includes 16 tracks, that's probably enough for the casual fan in the digital age: more hardcore collectors maybe want to track down the half-dozen or so LPs (and numerous singles) Flatt recorded for RCA early in the decade. As it is, though, this disc is pretty swell!
Lester Flatt "Essential Bluegrass Gospel" (CMH, 2004)


Lester Flatt "The Essential Lester Flatt And The Nashville Grass" (CMH, 2008)






<! This Cd was originally released in 1976 as a two record set on CMH records (LP 9002). I think it was his first release on the CMH label. This Cd has twenty titles most are re-records of previous Flatt & Scruggs titles along with some newer songs. His band at the time of this recording featured Paul Warren(fiddle),Curly Seckler(guitar/harmony vocals),Kenny Ingram(banjo),Marty Stuart (mandolin/gutiar),Charlie Nixon (Dobro),and Jack Hicks (bass). Lester's voice on these recordings is generally good and the band's playing is solid. >

---
Discography - Albums
---
Lester Flatt "Flatt Out" (Columbia, 1970) (LP)







Lester Flatt "One And Only" (Nugget, 1970) (LP)



<! B00006HIAP - semi-reissue >
Lester Flatt "Flatt On Victor" (RCA Victor, 1971) (LP)


(Produced by Chet Atkins & Bob Ferguson)
An enjoyable album, though the overall feel is a little bit loose. Flatt continues to be comfortable with the commercial leanings that framed the latter years of Flatt & Scruggs -- even though he's got a crackerjack band, there's not a lot of high-test bluegrass musical drag-racing going on. There are some oldies material on here, but the vibe is pretty laid back and mellow. The album opens with "I Can't Tell The Girls From The Boys," a good-natured ribbing of hippie-era fashions, and is one of the album's more rollicking numbers. Also included are sentimental numbers like "Father's Table Grace" and "Little Cabin Home On The Hill," which are balanced by more contemporary numbers, with all but two of the songs written or co-written by Lester Flatt. The band includes Josh Graves on dobro and Paul Warren on fiddle, as well as newgrasser Roland White pickin' the mandolin and Vic Jordan on banjo, representing the younger crowd. This album isn't what I'd call a classic, but it's a nice representation of Flatt's country-friendly approach in his early solo years.
Lester Flatt & Mac Wiseman "Lester 'N' Mac" (RCA Victor, 1971) (LP) <! charts - 42 Longhorn? >

Lester Flatt "Kentucky Ridgerunner" (RCA Victor, 1972) (LP)


(Produced by Bob Ferguson)
The glossy, spacious RCA studio sound provides a nice frame for Flatt's country-friendly brand of bluegrass... The studio crew is a mix of usual-suspects Nashville session men and an intriguing assemblage of bluegrassers, including Josh Graves on dobro, Roland White picking mandolin and Haskell McCormick (of the McCormick Brothers) sitting in on banjo. These are all pretty easygoing recordings, with a mix of traditional truegrass, gospel and country-tinged novelty numbers, notably "Up The Creek Without A Paddle" and the trucker-song parody, "Backing To Birmingham," about a newly minted trucker who can't figure out how to get how to get his semi in gear, and winds up driving it in reverse the whole way. There's also an unusually jazzy instrumental track called "Flatt Lonesome," where Josh Graves really gets to stretch out on the dobro. Maybe not a classic, but a nice album with a refreshingly diverse feel.
Lester Flatt & Mac Wiseman "On The South Bound" (RCA Victor, 1972) (LP)

Lester Flatt "Foggy Mountain Breakdown" (RCA Victor, 1972) (LP)

Lester Flatt "Country Boy" (RCA Victor, 1973) (LP)


(Produced by Bob Ferguson)

Lester Flatt & Mac Wiseman "Over The Hills To The Poorhouse" (RCA Victor, 1973) (LP)

Lester Flatt "Before You Go" (RCA Victor, 1974) (LP)

Lester Flatt & Bill Monroe "Live Bluegrass Festival" (RCA Victor, 1974) (LP)

Lester Flatt "The Best" (RCA Victor, 1974) (LP)

Lester Flatt & Bill Monroe "Live At Vanderbilt" (Bear Family, 2002)

Lester Flatt "Flatt Gospel" (Canaan, 1975)





<! 1. I'm Going That Way 2. Brother, I'm Getting Ready to Go 3. What a Friend We Have in Jesus 4. He's Coming Back 5. Go Home 6. Let the Church Roll On 7. Awaiting the Boatman 8. God Loves His Children 9. Call Me on Home Too 10. I've Been Waiting 11. He Didn't Stop at Calvary 12. You Can Feel It in Your Soul >

Benny Martin "Tennessee Jubilee" (Flying Fish, 1975) (LP)


Lester Flatt and John Hartford are among many high-powered guests of fiddler Benny Martin, on this loose-and-easy bluegrass set...
Lester Flatt "Heaven's Bluegrass Band" (CMH, 1977) (LP)

Lester Flatt "Fantastic Pickin' " (CMH, 1978) (LP)

---
Links
---
---