<! cd = 04/24/14 > <! MP3 00/00/00 > <! outside 00/00/00 > <! pix 00/00/00 > <! 208-pix: 00/00/00 > <! styles: Bluegrass - Hippiedelic? > <! UPDATES: 04/24/14 - posted, w/ link to Berline >
---
Hippie-era newgrass doesn't get more genial or good-natured than The Country Gazette. This lively outfit featured banjo whiz Alan Munde, fiddler Byron Berline, bassist Roger Bush and singer Kenny Wertz, along with an amorphous cast of high-powered pals such as Clarence White, Herb Pedersen and Al Perkins. The band was an on-again, off-again project that got squeezed in between the demands that various bands such as the Dillards, Byrds and Flying Burrito Brothers placed on the Gazette members... Here's a quick look at the band's recorded legacy...
---
Discography - Albums
---
Country Gazette "Traitor In Our Midst" (Liberty/BGO, 1972)


Country Gazette "Don't Give Up Your Day Job" (Liberty/BGO, 1973)


Although lumped in with the whole early-'70s country-rock scene, Country Gazette were clearly more traditionally and bluegrass oriented in musical terms, even if their song selection ranged from the Louvin Brothers and Flatt & Scruggs to Steven Stills and Elton John. Fortunately for us, they managed to eke out these two fine major-label albums, which radiate a keen sense of humor, a flair for showmanship and a profound understanding of musical history which keeps these recordings sounding fresh as can be, decades down the line. A great prelude to their later indie-label works... highly recommended!
Country Gazette "Live" (United Artists, 1974) (LP)

Country Gazette "Out To Lunch" (Flying Fish, 1976) (LP)

Country Gazette "What A Way To Make A Living" (Ridge Runner, 1977) (LP)

Country Gazette "All This And Money Too!" (Ridge Runner, 1979) (LP)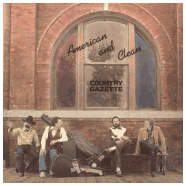 Country Gazette "American And Clean" (Flying Fish, 1981) (LP)


(Produced by Slim Richey)
An uneven album with some very good tracks, and others that are a little too, um, "progressive" for me. The vocals aren't great -- I think the lead singer is bassist Michael Anderson, who wrote several of the songs, including jazzish numbers like "Dog In The Moon," that are among the album's weaker moments. Still, with Roland White, Alan Munde and Joe Carr backing him up, he's gonna it a few runs, and sure enough, there are several noteworthy tracks, including heartsongs such as "Drowning In A Flame Of Love," Love, Lost And Found," and "Slipped, Stumbled And Fell," all written by Bill Caswell, who had just released a couple of albums of his own (along with this album's Slim Richey and Joe Carr...) There's also a good cover version of Terry Allen's "The Great Joe Bob," which is an album highlight. Not the greatest bluegrass record ever, but it's worth checking out, particularly for the Caswell tunes.
Country Gazette "America's Bluegrass Band" (Flying Fish, 1982) (LP)


This album includes their version of Bill Caswell's "Sweet Allis-Chalmers," a timeless love song, written to a tractor... They cover two more of his songs, "Stop Me" and "Sugar Mama," along with some bluegrass classics, and closing out with a medley of Kentucky Colonels favorites. Nice stuff!
Country Gazette "Bluegrass Tonight" (Flying Fish, 1986) (LP)

Country Gazette "Strictly Instrumental" (Flying Fish, 1987) (LP)

Country Gazette & Alan Munde "Keep On Pushing" (Rounder, 1991)


Country Gazette "Hello Operator... This Is Country Gazette" (Flying Fish, 1991)


Country Gazette "Keep On Pushing" (Flying Fish, 1991)


---
Links
---
---