<! MP3 04/05/09, 10/21/11 > <! update 04/05/09, 10/21/11 > <! outside 00/00/00 > <! pix 00/00/00 > <! 208-pix: 00/00/00 > <! icons 03/14/11 >
---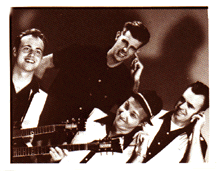 The Dave and Deke Combo was the greatest hillbilly band to hit Los Angeles since Cliffie Stone quit callin' square dances. I first heard the Combo by accident, when I went to one of the Collins Kids reunion shows. I ran into a pal who just snorted when I asked him if if was a Collins Kids fan. "No way -- I'm here to see Dave and Deke! Have you seen them before? Deke is incredible."
Sure 'nuff, the Combo delivered the goods. In their opening set, they romped through a bunch of hilarious original tunes, as well as hillbilly classics by folks like Hank Penny and the Farmer Boys. Their showmanship and comic timing was impecable, they had a bass player named "Shorty," who stood on a washbucket in order to play the acoustic bass... and their guitar player -- well, jeez! -- Deke was practically Merle Travis, Joe Maphis and Dick Dale all wrapped in one big-boned, lanky package. Watching his hands zip across his double-necked custom geetar, my jaw dropped through the floor and into the sub-basement.
The Combo really won me over with their awe-inspiring yet gracious back-up of the Collins Kids, a performance that brought the crowd to its knees with ecstasy. The famous rockabilly sibs Larry and Laurie are no slouches themselves, and were supercute to watch in action. But I was also impressed by how Deke, a blazing fast young turk, showed such good grace by keeping the guitar spotlight on Larry, and how perfectly suited to the task the Combo was. From that day on, I was a fan.
Sadly, the Combo is no more... but Deke is still Mr. Man-About-Town, with his own record label (Ecco-fonic), his own band, and about a bazillion other groups that he plays with or promotes. And Dave is, like, off in some silly pursuit of personal financial stability instead of making music to make us happy. Sigh. But then again, who knows what the future will bring?
---
Discography
---

Dave & Deke Combo "Moonshine Melodies" (No Hit Records, 1994)



I love both their records, but this one really hit the nail on the head. As hillbilly revivalists, these guys were really unmatched, and this mix of original tunes and novelty covers is so straightforward and on the mark that it's irresistable. Heck, anyone who covers the Farmer Boys is alright in my book. However, like the following album, this record doesn't quite capture the full scope of Deke's dazzling deeds on the gee-tar... guess you'll have to catch him live for that little treat.

Dave & Deke Combo "Hollywood Barn Dance" (Heyday, 1996)


Another swell collection of tunes, mostly originals by Dave Stuckey, along with several well-chosen covers (such as Ray Campi's "Let Go Of Louie") and a couple of swell intrumentals showcasing Deke's double-neck dexterity. Deke's novelty tune, "Henpecked Peckerwood" is one of the few sour notes on this album -- just a little too "trailer trash" stereotyped for my tastes, but really, in the face of such phenomenal overall quality, it's a minor sin. Another highly recommended record!
Dave & Deke Combo "There's Nothing Like An Old Hillbilly -- Lost and Found Treasures: 1991-2005" (Bucket Lid, 2005)


An odds'n'ends collection... Haven't heard it yet, but I bet it's great!
Deke Dickerson "Number One Hit Record" (HighTone, 1998)



The guitar man continues on in his own right -- the formula's pretty much the same, what with all the groovy instrumentals and great novelty hick tunes. Deke's vocals are much more boyish and less sly than Dave's, and the humor is a little more bluntly sexual... for example, he does a version of the Trenier's raunchy classic, "Poon-Tang"... stuff like that. But, it's also better-produced than the Combo albums, and a sizzling instrumental duet with Larry Collins ("Jumping Bean") comes a lot closer to conveying just how hot a guitarist Deke actually is. Recommended!
Deke Dickerson "More Million Sellers" (HighTone, 1999)



The Axe Man is back with a crew that includes '40s swing singer Hadda Brooks, ex-Xer Billy Zoom, and Billy (I'm not kidding you here) Barty... He's all but shed his hillbilly side in favor of a retro '50s rock sound. Plenty of cool original tunes here, along with well-chosen obscurities by the likes of Lieber & Stoller and Sam Phillips, as well as a near-inevitable cover of the bouncy Joe Maphis instrumental, "Rockin' Gypsy". But, hey -- since Deke compiled a Maphis retrospective for Bear Family Records a couple of years back... is anyone surprised? This disc is a lot of fun... well worth checking out!
Deke Dickerson & The Ecco-Phonics "Rhythm, Rhyme And Truth" (HighTone, 2000)



Wow. I'd have to say this is my favorite solo album of Deke's to date... As ever, a nice mix of goofy original tunes and great cover songs. Dunno what it is about this one in particular, but maybe it's just that it flows better than the last two... or maybe Deke's coming into his own as a retro-'50s rock(abilly) songwriter. Certainly, tunes like "Give Me A Brunette" (a chick-watching novelty song written in response to the countless ditties fetishizing redheads and blondes...) is a real winner. His delivery is also perfect on the hilariously macabre "Where To Aim", in which Deke ponders who to shoot -- his ex-girlfriend, or himself -- all to a cheerful teenpop arrangement that would have made Gene Pitney proud. Not a lot of flashy guitar solos on this album, which is fine by me this time around -- we all already know that Deke kicks butt on the six-string, it's his special affinity for the novelty songs of the past which set him apart from the common herd, and you can hear it at it's peak on this one.

Dave Stuckey & The Rhythm Gang "Get A Load Of This" (Hightone, 2000)



I always suspected that Dave was the brains behind the Dave & Deke Combo, and Deke just had the looks... Now, with the release of Dave's first solo album, my fears are confirmed. This is a flat-out awesome ton of fun -- Dave Stuckey playing upbeat western swingabilly along with a passel of hot-shot pickers from Austin and surrounding environs. Among the musicians pitching in on here are the picker's pickers, Biller & Wakefield, Whit Smith and Elana Fremerman of the Hot Club of Cowtown, and several other Gang members of equal note. The best part, though, is Dave himself. Half the songs on here are his originals, but they're so true to the style that you'd easily believe they were written back in the '40s and '50s, along with the oldies by Boudeleux Bryant, Benny Goodman and Harold Hensley. Stuckey is a for-real scholar of authentic, old-time, smirk-while-you're-singin' countrybilly music, and he stands heads above many other would-be retro-novelty singers, in his depth of knowledge, his excellent comic timing and feel for the material. (Plus, as a big Decca Records fan, I really dig the album art!) If you dug the Combo, you gotta check this out.
Deke Dickerson "In Three Dimensions" (Major Label, 2002)



Awesome. Deke opens this disc out with a brace of bouncy New Orleans-style '50s-ish rockers, material worthy of Gary U. S. Bonds or Freddie "Boom Boom" Cannon. It's a style that suits him well; his vocals never sounded more natural or relaxed, and his original material sounds like an echo out of Bill Haley's broom closet. Then he shifts gear into ripsnortin' rockabilly and then into good old-fashioned hillbilly music. Sometimes the lines between genres are a little blurry (which is only natural, really, given rock's mishmashy origins...) but he uses different bands for each style. Pianist Carl Sonny Leyland backs him up on the opening tracks, along with veteran Nawlins drummer Earl Palmer and a compact trio does the honors on the rockabilly tunes, while the steel & guitar duo of Biller and Wakefield are the backbone of the hillbilly tunes. Yup, it's true: Deke just keeps getting better and better; this album is one of his most solid sets, with only a slight lull on the slow ballad, "Bitter Tears." Fans will not be disappointed. (By the way, nice to see he's finally been able to put out a Major Label release... Available on Deke's website.)
Deke Dickerson "Mr. Entertainment" (Rock & Roll, 2003)

Deke Dickerson "The Melody" (Major Label, 2005)


Deke Dickerson "Deke's Guitar Geek Festival, v.1" (Major Label, 2005) (DVD)

Deke Dickerson "Deke's Guitar Geek Festival, v.2" (Major Label, 2006) (DVD)

Deke Dickerson "Deke Down Under" (Ecco-Fonic, 2006)


Deke Dickerson "King Of The Whole Wide World" (Major Label, 2008)


Deke Dickerson "Live At Duff's" (Major Label, 2010)

---
Best-Ofs
---
Deke Dickerson "My Name Is Deke" (HighTone, 2004)



A fine best-of, covering guitar god Deke Dickerson's years on the HighTone label... A wide variety of styles, including rockabilly, hillbilly boogie, R&B and all kinds of kooky rock'n'roll novelty tunes, all laced with Deke's trademark hot pickin' and unquenchable good humor. His solo albums are all worth picking up, but this disc does a good job compacting them into a pure fun confection... Recommended!
---
Related Records
---
The Untamed Youth "Untamed Melodies" (Norton, 1996)



Biller & Wakefield "The Hot Guitars Of..." (Hightone, 1999)



The pedal steel and Fender Telecaster duo of Biller and Wakefield first met while playing back-up for Wayne Hancock... This is a lovely, mostly instrumental, album which starts off on an EZ mellowtone that would have made Russ Morgan envious, and swiftly gallops off into twangier territory. By and large this is a lot more engaging than other recent entries in the instrumental chic arena... However, there are also some cool vocal tracks, including two by the briefly reunited Dave and Deke, as well as the super-hummable "Steel Crazy," which Big Sandy claims he wrote in the car on the way to the recording session. Well, if that's what his toss-offs are like... no wonder we love him so!
Dulcie Younger & The Silencers "Kitty, Kitty... Growl" (Golly Gee, 2004)


I'm as much a sucker as any other old-style country fan for a fiesty gal what wants to snarl out a few fast-paced rockabilly tunes... Add guitar god Deke Dickerson into the mix, and I'm on board. Now sure, Ms. Younger is hardly half as super-cool as, say, Wanda Jackson was... But then again, who is? All in all, this is a pretty nice offering from the modern-day California indiebilly scene... The production quality and guitars are as fine a frame for her voice as Younger's ever gonna find, and she throws herself into these songs (most of them originals) with all her heart... This record might not change your life, but if it doesn't at least make you tap your toes and smile a little -- if not, then, Jack, you're dead!
---
Links
---
Deke's Homepage gathers it all into one nice package... Discography, press clippings, general mythology, links to labels, plus candid photos of a man and his guitar...
Spare Change e-zine has a great interview with Deke... replete with fancy graphics of old '40s cheesecake postcards and the like.
Hightone Records has been keeping up with the Dave (and Deke) phenomenon, as best as any mere mortals can... plus you can buy stuff directly from them and make everybody, yourself included, ever-so-happy...
---