<! cd=04/30/05> <! MP3 04/13/09 - not many available; 08/06/10 - no change > <! outside 00/00/00 > <! pix 00/00/00 > <! 208-pix: 00/00/00 > <! icons 03/15/11 > <! UPDATES: 04/13/09 08/19/14 - separated out best-ofs, solo albums - need to flesh out solo stuff >
---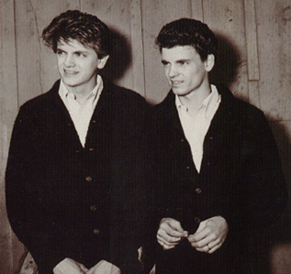 Rock and roots icons Don and Phil Everly made vocal harmony magic over several decades... Here's a quick look at some of their "best-of" collections... Reviews of the Everly Brothers albums and solo recordings are also linked to below...
---
Discography - Albums | Best-Ofs | Solo Stuff & Links
---
The Everly Brothers "Classic Everly Brothers" (Barnaby, 1959)


The Everly Brothers "Heartaches And Harmonies" (Rhino, 1994)


A stellar 4-CD box set that provides a cogent overview of their entire career, from their early pre-Cadence recordings through their shimmering, magical early hits, the stylistic innovations and searching style of the Warner years, and their noble efforts later on... Along with the music comes a lavishly designed, authoritatively written and quite informative booklet, and tons of discographical and biographical info. Sadly, this box collection seems to have lapsed out of print, but if the fates are kind to us, it'll come back again sometime soon. (In the meantime, it's definitely worth tracking down a copy, if you can. This is a classy package.)
The Everly Brothers "The Complete Cadence Recordings: 1957-1960" (Varese Sarbande, 2001)


Sweet. A 2-CD set that gathers together all the classic, epochal early rock'n'pop recordings that made the Everly's a household name. This is great material, and this collection will simply settle your need to hear all the early stuff. Recommenended!
The Everly Brothers "The Essential Cadence Singles" (Varese Sarbande, 2003)


Also quite nice. A compact, punchy run-through of all their early hits, on a generously programmed 21-song single disc collection. The 2-CD version above may be a better bargain, but this has the advantage of being more tightly programmed, with a single disc chock full of all-killer, no-filler action-packed material. If you only want one disc's worth of this early material, you won't be disappointed by this set.
The Everly Brothers "Classic Everly Brothers" (Bear Family, 1994)


A 3-CD set that concentrates on their Cadence years. The first two discs are studio work, while the third disc features rarities such as outtakes and archival radio interviews.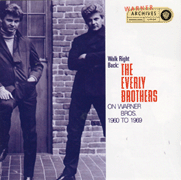 The Everly Brothers "Walk Right Back -- The Everly Brothers On Warner Brothers: 1960-1969" (Warner Archives, 1993)



The Warner years are given the deluxe treatment on this intriguing 2-CD set, which will be a real ear-opener for listeners who only know the Everlys from their big hits of the late 'Fifties. There's some solid pop material and big hits like "Cathy's Clown," as well as a wide and somewhat quirky mix of musical styles and songs. The experimental side of their 'Sixties work is ably presented alongside some sweet pop sounds; this is the perfect collection for adventurous, non-completist music fans. Recommended!
The Everly Brothers "From Nashville To Hollywood" (Rhino, 2005)


Outtakes and alternate tracks from some later albums, including 1977's The New Album.


<! From Nashville To Hollywood contains tracks that are different versions of some songs previously released on The New Album in 1977 & on the Nice Guys and Susie Q albums of the 1980s. When Don & Phil recorded songs for Warner Bros., they kept recording the song until the last complete take was considered to be the best and was therefore chosen to be released as a single or as an album track. But, often, the other takes are quite interesting and different. Rhino. 2005. ---unable to find mention of the other records online --- >

The Everly Brothers "Stories We Could Tell: The RCA Recordings" (BMG-Camden, 1999)


A 20-song collection gathering the best of their two albums on the RCA label.
The Everly Brothers "The Mercury Years" (PolyGram, 1993)

---
Solo Records
---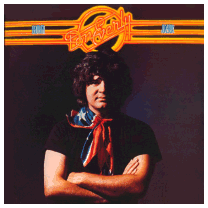 Don Everly "Brother Jukebox" (ABC/Hickory, 1977)



An endearing, if somewhat rickety, solo album by this much-beloved Everly brother. Going all-out country/countrypolitan on this one, Don hits a home run with the title track -- his definitive rendition of Paul Craft's "Brother Jukebox" has one of the greatest singalong country choruses ever committed to wax, and remains one of my favorite lost-nugget twang-tune oldies... The rest of the album is much iffier, though, with Everly straining at the edges on more than a few of these songs, especially the more sensitive, emotive ballads. Still, it's worth it for the one song, and intriguing for devoted Everly fans and idle bystanders as well...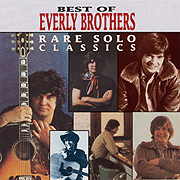 Don Everly & Phil Everly "Rare Solo Classics" (Curb, 1991)



This is a much-welcome sifting-through of Don & Phil's various solo efforts... The songs alternate, odd-even, odd-even, Phil-Don, Phil-Don, and provides an interesting constrast, helping piece out the different inclinations that helped shape the Everly Brothers sound. In general, Phil tended towards more ornate, strained pop ballads, material that seems perpetually ready to collapse under its own weight, then turns around and delivers the delicate beauty that he was reaching for... Phil also was more susceptible to the jittery influences of '70s disco, while Don paid adherence to their rootsier side -- country twang and burly R&B. True, he also drifted into poppier material -- and arguably did it less well than Phil -- but when the steel guitars chime in, it's generally on a Don Everly tune. This is a valuable collection -- sure, most of it you have to work to appreciate, but many songs are surprisingly moving. Rather than track down all the out-of-print LPs, you can check this out and get a pretty good sense of where the brothers went, when they went their separate ways. The only real downside is that the scant liner notes don't tell where (or when) each song comes from... that would have been useful, but alas, was not to be. Still, if it includes "Brother Jukebox," I'm a happy camper.
---
Discography - Albums | Best-Ofs | Solo Stuff & Links
---
---