<! cd = 04/16/13 > <! MP3 00/00/00 > <! outside 00/00/00 > <! pix 00/00/00 > <! 208-pix: 00/00/00 > <! styles: alt-country > <! UPDATES: 04/22/13 - posted in Alt, under Farrar and Son Volt >
---
One of the founding fathers of the modern-day Americana/Alt-Country movement, Jay Farrar was in two seminal bands, the rock-oriented Uncle Tupelo and his own band, Son Volt. Farrar formed Uncle Tupelo in the late 1980s along with fellow guitarist-songwriter Jeff Tweedy, recording three albums before the band imploded in 1994: while Farrar founded Son Volt, Tweedy went on to start the band Wilco. After releasing several major-label records, Farrar started his own label, Transmit Sound, which is often distributed through larger companies. Here's a quick look at his work...
---
Son Volt Discography
---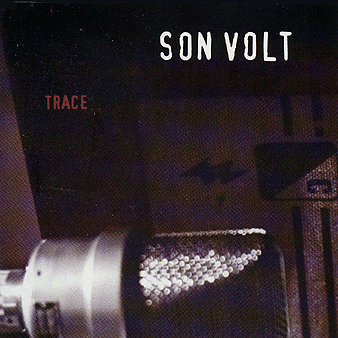 Son Volt "Trace" (Warner Brothers, 1995)



Boomeranging out of the implosion of Uncle Tupelo, guitarist-lyricist Jay Farrar founded yet another alt-country touchstone, the highly regarded Son Volt, mixing grunge and twang with an ironic, sideways world view. Well, count me in the minority: this really doesnŐt do much for me. I mean, I can see how this furthers the cause of country-rock as an artform, and I can see Farrar's attraction for punky types who want to hear some alt-country with more substance than the same old chicken-pickin' guitar licks and lowbrow white trash stereotypes... Good for them! If this music rocks their world, more power to 'em. I, on the other hand, find the vague, oblique, artsy lyrics to be a bit of a bore -- what the hell is he talking about? -- and Farrar's fake-old geezer vocals are kind of lumpen and uninvolving. I'm sure if I devoted enough time to this album, it would richly reward a closer reading, but I just don't care enough to put in that kind of effort. The musical end, particularly the pedal steel, is very solid, and they definitely raise the bar in all aspects of the genre. But you really have to be of that certain, shall we say, youthful temperament where you either find pleasure digging for meaning in obscurantist wordplay, or you just don't care what the hell the singer is singing about, and just get off on how the band sounds. Me, I've got plenty of records that excite me more, so I can pass on this one. (Amusing use of Teen Fanclubby guitar solos, though...!)

Son Volt "Straightaways" (Warner Brothers, 1997)



This is kind of standard-issue twangy alt-country-rock fare, with overly-growlly vocals (do they go to some kind of class to learn to sing that way?) and aggressive power rock guitars. This disc doesn't suck, but it's also not very subtle or graceful... A little too muscle-headed for me, and formulaic. It's OK though; I've definitely heard lots worse.

Son Volt "Wide Swing Tremelo" (Warner Brothers, 1998)



Opening with a much more crunchy guitar sound and LOTS of processing on his vocals, Farrar appears to be giving the big old hi-de-ho to crabby true-country fans like me who keep carping about the too-rockiness of his approach. The second song, though, "Driving The View," has a really nice, easygoing, power-pop feel to it -- it's a nice catchy little song. But there's a lot of production chicanery going on, and a seeming deemphasis on the lyrics, an obscuring of their audibility that nudges the band towards an REM-ish incomprehensibility. Which is fine: throwing their lot in more clearly with artsy college-rockin' altie-ness does make things simpler. The rural musical touches become just that -- musical and textural affectations, simply a few more colors in the palette; sonic touches instead of statements of purpose. Other than a couple of tunes where they try to make the music stick out at odd angles, this is a very listenable record, one that I could see having on in the background, or at a backyard barbeque. I still have no idea what the f**k Farrar is singing about, but the album feels very upbeat and cheery.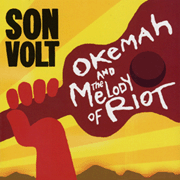 Son Volt "Okemah And The Melody Of Riot" (Sony-BMG, 2005)



For many in the alt-country community, a new album from Jay Farrar is cause for wild, riotous celebration... That's particularly true when it comes under the banner of his long-dormant, legendary band, Son Volt. Here, Farrar pays tribute to the great folk forefather, Woody Guthrie, by naming an album after Guthrie's childhood home of Okemah, Oklahoma, and by exploring newfound political preoccupations -- fretting about environmental decay, far-flung global warfare and the ongoing social dissolution of the good old U.S. of A. You might be hard-pressed to figure that all out by simply listening to the album; the intellectual content is masked by sweet melodies and jangly guitars, as well as by the oblique, artsy poetic lyrical style of the indie/lo-fi scene, which additionally comes draped in the lazy vocal elisions that Farrar seems to favor (along with oh, so many others...) It's as if sincerity and earnest concern for the state of the world is too uncool for indie rockers to openly embrace, so in order to not chase the hipoisie away, he has to make it all sound mysterious and ironic, and hope that some of his message will seep in through the margins. Farrar himself seems conscious of the problems using the pop medium to address the thorny problems of harsh reality: on "Gramophone," he laments the ability of "vinyl discs with power to hypnotize" to reinforce our worst, most solipsistic tendencies, in effect letting us dope ourselves up with comfortable, disposable, emphemeral popular culture. And yet, here he is, apparently enveloped in detachment and irony, half-pretending not to care, or at least not to believe that there's any hope for a solution. Obviously, it's a hard row to hoe when you're a pop musician trying to grapple with serious issues and real philosophical dilemmas -- what rock star would want to be seen as a dull grind? But these are times when the real world -- and I do mean the real world -- is about to catch us by the collar and make us all do some serious reevaluation of what we've been up to for the last century or so, and much to his credit Farrar seems to realize it, and wants to explore what this means. So, three cheers for Jay: his new album sounds nice and it's a sincere effort to puncture the complacency that shrouds us from our future... And, with the imprecision of his lyrics, there's a fill-in-the-blanks Rorschach-iness to it, where listeners can decide on their own just how glum the days to come might be... Who knows, maybe things aren't as bad as we think!
Son Volt "The Search" (Legacy/Transmit Sound, 2007)


Son Volt "The Search (Deluxe Edition)" (Legacy/Transmit Sound, 2007)

Son Volt "Live at Lollapalooza 2007" (Lolla Records, 2007)


Son Volt "American Central Dust" (Rounder, 2009)



(Produced by Son Volt)
Jay Farrar may have become less prolific in recent years, but he's certainly no less alluring or intense... This is Son Volt's first album in a couple of years, but like earlier outings, it's a mix of dense, mystifying, half-mumbled lyrics and rich, appealing twang, sort of a countrified version of REM. The slow, thick obscurity of his songwriting is iced with an aura of prophecy, yet tempered by an easygoing melodic grace -- you might not know what Farrar is talking about, but you'll enjoy the time spent puzzling over it. One of the most straightforward songs is also one of the most appealing, built around a simple, direct metaphor, both celebratory and cautionary: on "Dynamite," Farrar opines, ...this love/is like celebrating/the Fourth of July/with dynamite/the Fourth of July/with dynamite... On other songs, I mostly don't "get" what he's singing about, but it really doesn't matter... Methinks this is one of those times when it's the journey, not the arrival, that's the real point. It's another off-kilter gem from these alt-country standard-bearers, one that will keep fans happy until the next set of songs comes along.
Son Volt "Honky Tonk" (Rounder, 2013)


Son Volt "A Retrospective 1995-2000" (Rhino, 2005)




<! * Trace (1995), Warner Bros. Records #166 (US) * Straightaways (1997), Warner Bros. Records #44 (US) * Wide Swing Tremolo (1998), Warner Bros. Records #93 (US) * A Retrospective: 1995-2000 (2005), Warner Bros. Records/Rhino * Afterglow 61 (2005) EP, Transmit Sounds Records/Legacy Recordings * Okemah and the Melody of Riot (2005), Transmit Sounds Records/Legacy Recordings #89 (US) * The Search (March 2007), Transmit Sounds Records/Legacy Recordings #81 (US) * American Central Dust (July 2009), Rounder Records >

---
Other Jay Farrar Albums
---

Jay Farrar "Sebastopol" (Artemis, 2001)



This is the first "solo" album by this founding ex-member of the bands Uncle Tupelo and Son Volt... He gets his country licks in on here, but mostly by inference, rather than outright twang... For the most part this is an indie rock disc, of the treble-heavy, whiny/wandering, spaced out variety. It's mostly pretty nice -- lofty, elegaic, irritating in only a few places ("Damaged Son," for example...) Certainly worth checking out; just don't expect much hick action from Farrar on this one...
Jay Farrar "ThirdShiftGrottoSlack" (Artemis, 2002)


Jay Farrar/Various Artists "The Slaughter Rule (Soundtrack)" (Bloodshot, 2003)



The alt.country soundtrack to a football art film. This is actually as much a compilation album as anything... Farrar provides the incidental music interludes, while tracks taken from albums by several indiebilly cohorts fill in the rest of the disc. The pacing and tone is quite nice from tune to tune -- this is an album that's really nice to have on in the background, with the only real rough spot coming from the harsh harmonies Freakwater throw on for the old Louvin Brother's weeper, "When I Stop Dreaming." Otherwise, this is quite nice, stringing together tunes by Farrar, Ryan Adams, Vic Chesnutt, Neko Case, the Blood Oranges and others in a nice, long, dreamy, languid set. Recommended!

Jay Farrar "Terroir Blues" (Artemis, 2003)


This disc sounds an awful lot like Richard Buckner's latest album, with a couple of important distinctions: musically, Farrar is more complex, and his vocals more fluid and varied. Lyrically, though, he tends towards semi-leaden semi-profundity, with a mild clunker or two here and there. Not whole songs, mind you, just little lines or turns of phrase. This is a very enjoyable, very listenable album -- again, much like Buckner's Impasse, with a nearly identical mumbling baritone, and plenty of inscrutable lyrics. Recommended!

Jay Farrar "Stone, Steel & Bright Lights " (Artemis-Transmit Sound, 2004)


A passionate, animated, and somewhat loud live set that acts as concert album and career retrospective in one. Backed by the old-school country-rockish band called Canyon, Farrar bares his soul and earnestly presents his ouvre... I personally find it a little grating at times -- it's just not something an old fart like me would want to have on as at-home music -- still, I recognize the intensity and sincere intentions; you just can't miss 'em! An excellent presentation of Farrar's art that's sure to make fan's happy.
Jay Farrar "Live EP" (EP) (Transmit Sound, 2004)

Jay Farrar "Live In Seattle" (Transmit Sound)

Gob Iron "Death Songs For The Living" (Sony/Transmit Sound, 2006)


Jay Farrar "One Fast Move Or I'm Gone: Music From Kerouac's Big Sur" (Atlantic/F-Stop, 2008)


---
Links
---
---