<! cd= 11/11/03> <! MP3 04/26/09 > <! outside 00/00/00 > <! pix 00/00/00 > <! 208-pix: 00/00/00 > <! icons 03/14/11 > <! UPDATES: 01/01/14 - added bio and link to new Augie Meyers page >
---
Texas music legend Doug Sahm (1941-1999) co-founded the Sir Douglas Quintet with his pal Augie Meyers, rising from regional to national fame in the late 1960s. They scored modest Top Forty hits with songs such as "She's About A Mover" and "Mendocino," bringing a funky Tex-Mex groove into the world of hippie-era rock'n'roll. At the peak of its fame, the Quintet moved to California, but broke up in 1973 with Meyers and Sahm coming back to Earth (and Texas) just in time to preside over the Texas indie-outlaw scene. They re-formed and pertetually mutated the band for years to come, working together on countless records, as well as projects with other roots-music artists. In the 1990s they teamed up with country star Freddy Fender and conjunto accordionist Flaco Jimenez to form the commercially potent Texas Tornados. Sahm was one of the most highly regarded figures in Texas music, and indie-roots music in general. Here's a quick look at his work...
---
Best-Ofs
---
Sir Douglas Quintet "Complete Singles: 1964-1966" (Varese Sarabande, 2009)

Doug Sahm "The Harlem Recordings: 1957-1961" (Norton, 2000)


Doug Sahm "His Early Years" (Collectables, 1995)

Doug Sahm "She's About A Mover: The Best Of The Crazy Cajun Recordings" (Edsel, 1999)

Sir Douglas Quintet "The Prime Of The Sir Douglas Quintet: The Best Of The Tribe Recordings" (Westside, 2004)


A mish-mashy (though marvellous) 2-CD collection of material on the Tribe label, Crazy Cajun, and Smash... Groovy stuff, though this set is kind of all over the map. Also includes some of Sahm's early solo work, before he cooked up the Sir Douglas moniker.
Sir Douglas Quintet "The Sir Douglas Quintet Is Back!" (Sundazed, 2000)


Rarities and such, dating back to 1965-66, culled from the Crazy Cajun sessions.

Doug Sahm "The Best Of Doug Sahm & The Sir Douglas Quintet: 1968-1975" (Rhino, 1990)


From humble teenage beginnings as a poppy Texas garage rocker, Doug Sahm went on to form the Sir Douglas Quintet, a psychedelic roots band which brought Tex-Mex music to the ears of America. Brief commercial success gave way to cult fave status, and a lengthy solo career, full of aesthetic ups and downs. But my, my, my, this early stuff is so fine! Par for the course, the Rhino collection has the advantage of being both great, and readily available.
Doug Sahm "The Best Of Doug Sahm & Friends" (Rhino, 1992)

Sir Douglas Quintet "Adventures Of Sir Douglas"

Sir Douglas Quintet "The Complete Mercury Masters" (Mercury/Hip-O, 2004)


Wow...! Here's the super collector-nerd option: 5-CD set, tailormade for completists and folks who just plain love that funky sound the SDQ cooked up 'way back when. Super-cool.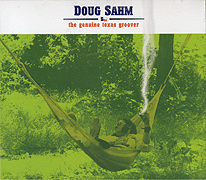 Doug Sahm "The Genuine Texas Groover" (Rhino Handmade, 2003)



In the years since his death (and for some time before...!) Doug Sahm's legend has grown to epic, fittingly Texan proportions, making him the patron saint of the longhair Lone Star alties. Deservedly so, as these early '70s Atlantic label recordings reveal him at his most diverse and most drugged out. The famous Doug Sahm And Band album of 1973, with luminaries such as David Bromberg, Dr. John, Bob Dylan, Flaco Jimenez and saxophonist David "Fathead" Newman all pitching in on an occasionally incandescent, frequently sideways-sliding and zonked-out mix of rootsy, funky blues and spacey country oldies, one of the ultimate cosmic cowboy records of its time, with, of course the FM underground hit "Is Anybody Going To San Antone" to kick things off. This set was sloppy, but in a nice, purposefully greasy, jam session way -- a bunch of roots music heavyweights getting together and letting the tape run. Paired with the '73 album on this 2-CD collection is the followup album, Texas Tornado, from 1975, and on each disc there's about an extra album's worth of outtakes and previously unreleased full-length versions of longer jams that got trimmed a bit to fit them on the album. Devoted Sahm fans will salivate at the chance to hear this stuff all in one place at one time... I gotta confess I find a lot of it to be fairly sludgy, although I suppose it's still pretty cool... Get it while you can, 'cause it's one of those limited edition Rhino Handmade dealies, and if it took the WEA folks this long to put this stuff out on CD, it's not likely to come back around anytime soon...

Doug Sahm "Son Of San Antonio: The Roots Of Doug Sahm" (Music Club, 2001)


By all accounts, pioneering country rocker Doug Sahm was one of the hottest things on the Texas club circuit in the mid-1960s, when he fused the booming new garage rock sound with his own longtime love of country music... These fifteen tracks date from the years immediately before the Sir Douglas Quintet broke through to national fame, with Sahm, organist Augie Meyer and their bandmates working through a series of lively blues-drenched cover tunes. Not all of these tracks are killer-diller, but the ones that are are a lot of fun, and every track on here helps illuminate Sahm's remarkable career, and to underscore the depth of his musical roots. Nice.


<! Solo compilations * 2004 - He's About a Groover: An Essential Collection (Fuel 2000) * 2004 - Complete Atlantic Recordings (Rhino) * 2003 - The Genuine Texas Groover (Rhino Handmade) * 2001 - Son of San Antonio: The Roots of Sir Douglas (Music Club) * 2000 - San Antonio Rock: The Harlem Recordings 1957-1961 (Norton) * 2000 - In the Beginning (Aim) * 1995 - His Early Years (Collectables) * 1995 - Get on Up (Collectables) * 1992 - The Best of Doug Sahm's Atlantic Sessions (Rhino) * 1986 - Texas (Road Runner) * 1981 - Sir Douglas: His First Recordings (Charly) * 1979 - Sir Doug: Way Back When He Was Just Doug Sahm (Harlem Hitparade) >

---
Discography: Original Albums
---
Sir Douglas Quintet "Mendocino" (Mercury, 1969)





<! release date..? >

Sir Douglas Quintet "Day Dreaming At Midnight" (Elektra??)





<! 1966? >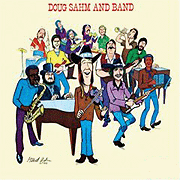 Doug Sahm "Doug Sahm And His Band" (Atlantic, 1973)


Doug Sahm "Groover's Paradise" (Warner Brothers, 1974/Collector's Choice, 2005)



It's not very country, but the "Austin-tatious" Doug Sahm and his crew have a pretty good time playing funky blues-soul grooves and mixing a little roots and twang in around the edges. He's joined here by fiddler Link Davis. Jr., as well as drummer-producer Doug Clifford and bassist Stu Cook, both of the late, great swamp-garage band, Creedence Clearwater Revival, who help tap into Sahm's latent affinities for blues and roadhouse jazz, and channel his relentless eclecticism into a tighter, slicker rock sound. This disc leans on the heavy blues groove that pops up from time to time on other albums, and sticks with it through the length of an entire album; the results, while not as twangy as one might like, are still pretty solid. Good, funky, boogie-rock blues from the early '70s... a fine record for its times!
Doug Sahm "Hell Of A Spell" (Takoma, 1980)

Doug Sahm "Juke Box Music" (1989)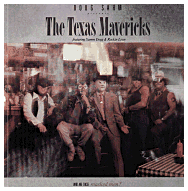 The Texas Mavericks "Who Are These Masked Men?" (New Rose, 1987)


(Produced by Speedy Sparks & Samm Dogg)
A Doug Sahm spinoff band, with Sahm jamming with fiddler Alvin Crow (who was in his band at the time) as well as Speedy Sparks and John X. Reed, playing pretty much the same stuff they played the rest of the time, including a bunch of songs by "Samm Dogg" (Sahm, I'm guessing...) and covers of songs by Johnny Cash, Roy Head, Junior Parker and rockers like Bobby Fuller's "I Fought The Law" and Van Morrison's "Brown Eyed Girl."
Doug Sahm "Back To The 'Dillo" (Edsel, 1988)

Sir Doug & The Texas Tornados "Texas Rock For Country Rollers" (MCA, 1976??)

Doug Sahm "Live" (Bear Family, 1988)

Doug Sahm & The Texas Tornados "S.D.Q. '98" (Watermelon, 1998)

Doug Sahm "The Return Of Wayne Douglas" (Tornado, 2000)

Doug Sahm "Get A Life" (Munich, 2001)



The Gourds guest on a few tunes (...including "The Ballad Of Davy Crockett"!)
Doug Sahm "The Last Real Texas Blues Band" (Discovery, 1994)

Doug Sahm/Amos Garrett/Gene Taylor "The Return Of The Formerly Brothers" (Stony Plain, 2004)

Sir Douglas Quintet "Live From Austin, TX" (New West, 2006)


An Austin City Limits show from 1981... Also available on DVD. (See below.)
Sir Douglas Quintet "Live From Austin, TX" (DVD) (New West, 2006)

---
Tributes
---
The Bottle Rockets "Songs Of Sahm" (Bloodshot, 2001)



A scrappy twangcore band with a whole album of Doug Sahm/Sir Douglas cover tunes, tackling classics such as "Mendocino," "Be Real," and others. My first reaction was, "huh? why bother...?" But then I listened a while longer and got in on the band's wavelength. The originals are still way better, but this ain't bad.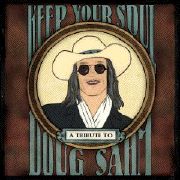 Various Artists "KEEP YOUR SOUL: A TRIBUTE TO DOUG SAHM" (Vanguard, 2008)



(Produced by Bill Bentley, Stephen Bowen, David Katznelson & Shawn Sahm)
Everybody and their brother is in on this one, a cohort of roots-music heavies in a star-studded homage to the late, great Doug Sahm, one of the original heros of the indie/outlaw Texas scene. Sahm started out as a child prodigy, playing country music in the early 1950s, but he flipped when he heard R&B and was in the first wave of 'Fifties rock'n'rollers. He also absorbed a love of Tex-Mex border music, and brought all these passions to his work, making him a poster child for diversity in music, and his loose-limbed, genre-busting approach was decades ahead of the indie/indiebilly explorations of the last decade or so... Although it dips into music all Sahm's styles -- garage rock, the blues,country, Tex-Mex and psychedelic pop -- this disc tilts a little towards a more muscular, blues-based sound, evoking the sweaty nights playing in bars, rather than the cool licks recorded in studio booths. Dave Alvin, Alejandro Escovedo, Los Lobos, Delbert McClinton and Joe King Carrasco are among the old-timers who pay tribute here; while young'uns such as Sarah Borges, The Gourds and Sahm's son, Shawn Sahm, also join in the fun. I personally found this too blues-heavy for me, but folks who are more in the roots-rock, house-rockin' tip might dig it a lot.
---
Links
---

<! Sir Douglas Quintet Albums * 1966 - The Best of the Sir Douglas Quintet (Tribe) [not a compilation, despite its title] * 1968 - Sir Douglas Quintet + 2 = Honkey Blues (Smash) * 1969 - Mendocino (Smash) * 1970 - 1+1+1=4 (Philips) * 1970 - Together After Five (Smash) * 1971 - The Return of Doug Salda–a (Philips) * 1972 - Future Tense (as simply The Quintet) * 1973 - Rough Edges (Mercury) * 1977 - Live Love (Texas) * 1980 - Motive * 1983 - Border Wave (Chrysalis) * 1983 - Live Texas Tornado (Takoma) * 1983 - Midnight Sun * 1985 - Luv Ya' Europa * 1994 - Day Dreaming at Midnight (Elektra/Nonesuch) * 2006 - Live from Austin, Texas (New West) >


---