<! cd = 12/29/12 > <! MP3 01/25/13 > <! outside 01/25/13 - WP, AM > <! pix 01/25/13 > <! 208-pix: 00/00/00 > <! icons 01/25/13 > <! UPDATES: 01/25/13 05/25/13 - reviewed '71 album, still need pic >
---
Dallas Frazier was one of the most successful songwriters of the 1960s and early '70s, scoring numerous country hits and had some success in pop and R&B as well. From "Alley Oop" and "Tell It Like It Is" to "Elvira," Frazier's songs had a knack for imbedding themselves in the public mind. Here's a quick look at his work...
---
Discography - Albums
---

Dallas Frazier "Elvira" (Capitol, 1966) <! [ST-2552] >


When this disc came out, Dallas Frazier had hit the bigtime as one of Nashville's star songwriters, with George Jones, among others, a devoted follower. So when you look at this album, naturally you might think, waitaminute -- why's he doing all this rock'n'soul cover tunes?? "Mohair Sam," "She's A Yum-Yum," "Alley Oop..." What's up with that? Well, for one thing, he wrote all these songs, making his name as a pop-rock songwriter as well as a country songsmith. And this album is completely devoted to his love of R&B, with a tight, funky backup that sounds pretty darn Wrecking Crew, if you ask me. If you were hoping for a country sound, this ain't the record for you, but while the perky soul grooves do get monotonous after a while, you have to admit, the boy had soul... Really -- he stacks up pretty well compared to numerous other blue-eyed soul types of the time. You might be surprised. And, of course, the title track -- a minor pop hit for Frazier in '66, was revived as a huge hit for the Oak Ridge Boys fifteen years later, and was the very first chart entry for fellow songwriter Rodney Crowell in '78... Now there's a song with staying power!

Dallas Frazier "Tell It Like It Is" (Capitol, 1967) <! [ST-2764] >


Holy cow! You mean he wrote "Tell It Like It Is," too?? No way! The rhythm'n'blues lovefest continues on this disc, with Frazier still pumping away on the soul grooves. This disc is a little more varied than the first, but mostly still mining the same territory. Again, from a country perspective, this may not be very satisfying, but he does hold his own as a bluesy pop-soul singer. This album has a couple of songs not written by Frazier, but the rest of it's all his show.

Dallas Frazier "Singing My Songs" (RCA, 1970) (LP)


Now, here's where Dallas lays down some real country roots. This is an excellent country record -- sophisticated, with a hint of the countrypolitan vibe of the time, but also with a soulful edge that kinda sets it apart. Frazier really did have a nice voice -- funny how he never really did that well as a performer. At any rate, this disc has several gems on it, including the clever-yet-depressing "Son Of The Hickory Holler's Tramp," and a pair of likeminded poor-folks anthems, "I Just Got Tired Of Being Poor" and "California Cottonfields," a song that Merle Haggard recorded the next year... Frazier's version is every bit as searching and heartfelt. Nice album... worth tracking down!


<! [LSP-4338] >
Dallas Frazier "My Baby Packed Up My Mind And Left Me/Big Mable Murphy" (RCA, 1971) (LP)


(Produced by Chet Atkins & Ronny Light)
On his last album, Frazier's voice seems thinner and more attentuated, taking on kind of a Hank Locklin-like timbre... This doesn't stop him from belting it out, though, riding atop playfully lavish, pop-rock-tinged arrangements. The studio crew isn't identified on the album, but they seem to have had fun... The songs range from straight-up heartsongs to more labored high-concept material ("Ode To A Child Of The Wind" could well be the unwitting parody-grandparent of Stephen Merritt's country lampoon, "Mama Was A Rodeo") and a few over-the top performances, like the gospel-ish "Where Did They Go, Lord." As usual, Frazier wrote or co-wrote all the songs, with over half of them composed with Fuzzy Owen and one song written with Whitey Shafer. This is also one of those goofball early-'70s albums that had two titles, a briefly-popular tactic to promote multiple singles: it seems to have worked in this case, since "Big Mable Murphy" almost cracked the Top 40. Probably not Frazier's best album, but there's still plenty worth chewing over, especially for devoted Frazier fans. After this, he released a few more singles -- maybe someday all that stuff can be gathered together for reissue?


<! [LSP-4569] >

---
Discography - Tributes
---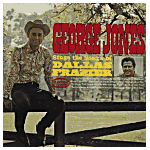 George Jones "Sings The Songs Of Dallas Frazier" (Musicor, 1968) (LP)


An early homage recorded when Frazier was just starting to make a name for himself in the country scene... This is actually one of George's better albums from the end of his Musicor tenure... Definitely worth checking out!
Connie Smith "If It Ain't Love And Other Great Dallas Frazier Songs" (RCA, 1972) (LSP-4748) (LP)


This is okay, but a little bit on the overdone side... I think Frazier had so few chances to control his own music that they kinda overdid it on this one. The country-folk guitars, churchy Hammond organ, and plunky pickin' are all overly ornate, and some of the vocal choruses by the Nashville Edition are completely out of control. It's nice to hear Frazier on a couple of these tunes, but this record is a real victim of the times. Still, it ain't a record to toss out without a good listen or two... It's got Anne Murray production, but Connie Smith soul.
---
Links
---
---