<! cd 07/20/10 > <! MP3 07/20/10, 06/08/13 > <! update 07/20/10 > <! outside 00/00/00 > <! pix 07/20/10 - added portrait > <! 208-pix: 00/00/00 > <! icons 03/16/11 > <! NOTES 07/20/10: need to add tributes, more comments on CDs >
---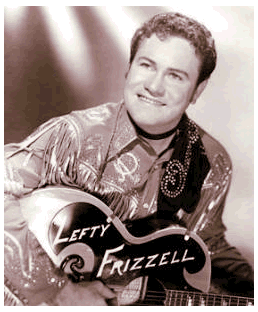 Throughout the early 'Fifties, Lefty Frizzell was the great country vocalist, and although he himself idolized blues yodeller Jimmie Rodgers, it is no exaggeration to say that Frizzell is the vocal template that most modern country music is based on. From Dwight Yoakam and George Strait on down to any number of silly "hat act" pretty boys, Lefty's warmth and husky timbre, along with his stylized bluesy curlicues, is the model that the boys all base themselves on. He was also a collossal chartbuster during the '50s and '60s, racking up one hit after another without losing any of his hard country rootsiness. Although his artistic power remained intact, Frizzell's personal life fell apart in the early 1970s, awash in pills, booze and depression, he was dropped by a label he helped build, and his final albums were barely released. In 1975, the great honkytonker's health failed, and he died of a stroke at the tragically young age of 47... Over the years, Frizzell's legend has only continued to grow, as generation after generation have discovered the power of his simple, honest style. Here's a quick look at his work.


<! alt text from BF review: Few artists have made as big an impression and cast as long a shadow on country music as the legendary honkytonker Lefty Frizzell. Widely recognized as the vocal model for almost all modern honkytonk singers, Frizzell's bluesy phrasing directly influenced a generation of country singers (including icons such as Merle Haggard) and from there, all the honkytonkers to come. >

---
Discography - Best-Ofs
---
Lefty Frizzell "Treasures Untold" (Rounder, 1981)

Lefty Frizzell "Lefty Goes To Nashville" (Rounder, 1983)

Lefty Frizzell "The Best Of..." (Rhino, 1991)


Lefty Frizzell "Look What Thoughts Will Do You" (Columbia Legacy, 1997)



This 2-CD collection is probably the most accessible (and affordable) Lefty collection imaginable, packed to the brim with great tunes such as "If You've Got The Money Honey, I've Got The Time," "Always Late," "Shine, Shave, Shower" and others, including several previously unissued tracks that are also top-notch. In glorious Mono, this is one of the single best country reissues ever. Highly recommended.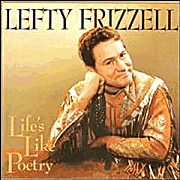 Lefty Frizzell "Life's Like Poetry" (Bear Family, 1992)


A twelve -- yes, you heard me right: twelve -- CD box set, covering just about though not quite all the music ever recorded by this honkytonk immortal. The last three discs are comprised of unreleased, non-studio tracks -- demos and radio airshots -- that further cement Frizzell's legend as the hard country singer without compare. If you can afford it, this is a treasure trove.

Lefty Frizzell "Steppin' Out (Gonna Shake This Shack Tonight)" (Bear Family, 2008)


This is a fun collection of some of Lefty's more upbeat material, with an idiosyncratic song selection that some collectors might find pleasantly off the beaten track. Remember, Bear Family also issued that massive, 12-CD Lefty Frizzell box set, so they had a lot of material to choose from... This single-disc set has some unusual song selections, in keeping with the Shake This Shack series' emphasis on uptempo material -- so it's probably best considered a fun companion to other, more straight-ahead "best of" collections already on the market. The main thing is, it's Lefty. And that means it's grrreat.
Lefty Frizzell "20 Golden Hits" (Tee Vee, 1996)

Lefty Frizzell "16 Biggest Hits" (Sony, 2006)


Lefty Frizzell "If You've Got The Money" (ASV Living Era, 2005)

Lefty Frizzell "The Texas Tornado" (Jasmine, 2005)






<! early stuff >

Lefty Frizzell "That's The Way Love Goes: The Final Recordings Of Lefty Frizzell" (Varese Sarabande, 1997)


Lefty's final, dispirited recordings, made for the ABC label in 1972-74, after Columbia unceremoniously dumped him, reveal a mature and mournful performer. He rises to the occasion, despite alcoholism and depression, and nails several of these songs with unexpected emotional power. Many of his Nashville contemporaries softened their sound and coasted into the twilight years of their careers, but in his way, Frizzell remained pure. Headed for an early grave, he still sang with heart and put himself -- as much as he could muster -- into all of these tunes. Worth checking out.
Lefty Frizzell "That's The Way Life Goes -- The Hit Songs: 1950-1975" (Raven, 2004)

Lefty Frizzell "Saginaw Michigan/Country Favorites" (Collectables, 2003)


A twofer reissue combining a couple LPs issued in the 1960s, 1964's Saginaw Michigan and Country Favorites, one of the many best-of budget albums of the time...
---
Discography - Albums
---

Lefty Frizzell "Songs Of Jimmie Rodgers" (Columbia, 1951)


Although countless male country singers were influenced by Lefty's bluesy vocal style, Frizzell himself came from the generation when "singing brakeman" Jimmie Rodgers was king. This early album -- originally a 10" vinyl release -- tips its hat towards the past while pointing the way towards the future -- as fine a set of honkytonk music as you'll ever hear.
Lefty Frizzell "The One And Only Lefty Frizzell" (Columbia, 1959) (LP)


His first proper LP came after a decade at the top of the hard-country pantheon... It recycles some well-known hits -- "If You've Got The Money, I've Got The Time," "Mom And Dad's Waltz," "I Love You A Thousand Ways" -- and it's all great stuff. All hail Lefty!


<! also B001MXEDTS >

Lefty Frizzell "Saginaw, Michigan" (Columbia, 1964)





<! Saginaw, Michigan; Stranger; What Good Did You Get (Out Of Breaking My Heart); There's No Food In This House; When It Rains The Blues; Hello To Him (Goodbye To Me); James River; I'm Not The Man I'm Supposed To Be; Through The Eyes Of A Fool; I Was Coming Home To You; Don't Let Her See Me Cry; Lonely Heart Ð 04-64 (reissued in 1973 on LE-10027) >

Lefty Frizzell "The Sad Side Of Love" (Columbia, 1965) (LP)



<! She's Gone Gone Gone; Running Into Memories Of You; I Don't Trust You Anymore; Preparations To Be Blue; Stranger; Love Looks Good On You; Confused; It's Bad (When It's Thataway); How Far Down Can I Go; I Can Tell; A Little Unfair; Woman, Let Me Sing You A Song Ð 10-65 >

Lefty Frizzell "Puttin' On" (Columbia, 1968) (LP)





<! Little Old Wine Drinker; Get This Stranger Out Of Me; You Gotta Be Puttin' Me On; Almost Persuaded; When The Rooster Leaves The Yard; Anything You Can Spare; A Prayer On Your Lips; You Don't Have To Be Present To Win; I Just Couldn't See The Forest (For The Trees); Money Tree; Heart (Don't Love Her Anymore) Ð 03-68 >

Lefty Frizzell "Mark Of Time" (ABC, 1973) (LP)



<! If I Had Half The Sense; Somebody's Words; Lucky Arms; If She Just Helps Me Get Over You; I Buy The Wine; Let Me Give Her The Flowers; Railroad Lady; Falling; Down By The Railroad Track; My House Is Your Honky Tonk Ð ca. 01-73 (cancelled shortly after release) >

Lefty Frizzell "Lefty" (ABC, 1973) (LP)
Reissued as The Legendary Lefty Frizzell, this was one of the last proper albums that Frizzell recorded. It was combined with material from 1975's The Classic Style album into the Last Sessions collection...


<! I Can't Get Over You To Save My Life; I Never Go Around Mirrors; If I Had Half The Sense; Somebody's Words; Lucky Arms; That's The Way Love Goes; If She Just Helps Me Get Over You; I Buy The Wine; Let Me Give Her The Flowers; Railroad Lady Ð 11-73 (retitled to The Legendary Lefty Frizzell. Reissued in 1981 on MCA2-4161 His Last Sessions ) >

Lefty Frizzell "The Classic Style" (ABC, 1975) (LP)





<! Life's Like Poetry; She Found The Key; Falling; I'm Not That Good At Goodbye; My House Is Your Honky Tonk; Yesterday Just Passed My Way Again; Sittin' And Thinkin'; Down By The Railroad Track; My Wishing Room; I Love You A Thousand Ways Ð 06-75 (Reissued in 1981 on MCA2-4161 His Last Sessions ) >

Lefty Frizzell "His Last Sessions" (MCA, 1981) (LP)





---
Links
---