<! MP3 04/28/09, 04/03/13 > <! outside 00/00/00 > <! pix 00/00/00 > <! 208-pix: 00/00/00 > <! icons 04/05/11 > <! UPDATES: 04/28/09 04/03/13 - a couple of adds >
---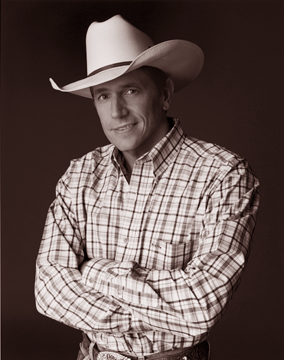 Texas native George Strait spent the first decade or so of his career as a standardbearer of the true-country honkytonk tradition. Of the early '80s neotradtionalists, Strait had one of the most impressive resumes, in terms of real-world honkytonk experience. His first band, Ace In The Hole, was formed in late 1975; it would be nearly six years before his first major label release came out... Meanwhile, Strait and his pals played in college bars and small dives throughout Texas, building up his bona fides as a latter-day honkytonk hero. When he did hit the spotlight, Strait's repertoire was a real revelation -- true-blue, hard-country music that was matched by only a couple of other artists on the scene at the time... Dipping into western swing as well as the old Texas shuffle sound, Strait brought numerous new songwriters to the fore, and even after he softened his sound and became more of a Nashville-style performer, Strait championed artists who were a little off the beaten track, such as writer Jim Lauderdale, whose offbeat style doesn't fit easily into the cookie-cutter format favored by commerical country radio. Since the early 1990s, Strait's sound has been markedly more "pop," with much-welcome dips back into the deep well of honkytonk from time to time.
Here's a quick look at some of his recorded work... This is Page One of the discography, reviewing his regular albums... His best-of collections and links to other Strait-related resources are reviewed on Page Two.
---
Discography: 1981-Now | Best-Ofs & Other Stuff
---
George Strait "Strait Country" (MCA, 1981)


George Strait "Strait From The Heart" (MCA, 1982)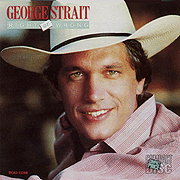 George Strait "Right Or Wrong" (MCA, 1983)



(Produced by Ray Baker)
This album is a bit more on the poppy side, opening with "So Good In Love," a Conway Twitty-styled, '50s-ish croon that sounds kind of sleepy now, but was a chart-topping hit back in '83. Then George briefly gets back into the swing of things with a Bob Wills-ish turn at the title track, "Right Or Wrong," and "A Little Bit Of Heaven's Rubbing Off On Me," which sounds for all the world -- like many of the songs on here -- like some late-vintage Jerry Lee Lewis. Although this album is okay, "okay" is about as far as it goes... The arrangements and musical performances are pretty perfunctory, pretty much the height of dispassionate Nashville studio professionalism, lazily sculpted by-the-numbers work that doesn't do much to stir and excite its audience. Then again, this record yielded three #1 hits, and cemented Strait's reputation as a Top Country hitmaker, so what the heck to I know about it? Still, the only song that really jazzed me at all on here was the closer, "Fifteen Years Of Heaven," which is a Gary Stewart-ish gem that seldom seems the light of day outside of the original album. This disc isn't his greatest work, but it's one of his earliest big rainmaker records, so it's probably worth checking out.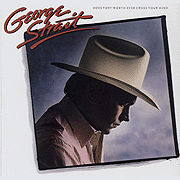 George Strait "Does Fort Worth Ever Cross Your Mind" (MCA, 1984)



(Produced by Jimmy Bowen & George Strait)
There's plenty of true-country twang, thunk and backbeat here, with slow Texas shuffles and bouncy western swing, and thankfully not a lot of Nashville gooeyness to drag things down. I could live without torturous ballads like "You're Dancing This Dance All Wrong," but even on those numbers, Strait manages to bring the songs in okay, particularly on tunes like "The Cowboy Rides Away" and even "The Fireman..." Besides, if the tradeoff is hearing steel-drenched weepers like "Honky Tonk Saturday Night" "I Should Have Watched That First Step" and the title track (which hit #1...), then, hey, the sappy stuff's all alright with me. This is a nice record, with plenty of great album tracks that you'll never hear on commercial country radio, or see on a best-of set. Recommended!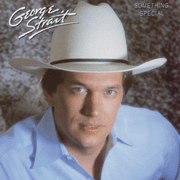 George Strait "Something Special" (MCA, 1985)



(Produced by Jimmy Bowen & George Strait)
Although this one sounds a little bit phoned in, it's still pretty darn country, with plenty of fiddle'n'steel, and a rollicking western swing feel. The songs are all alright, but few of them really stand out or have the feel of an instant classic. The only two chart entries were the title track, "You're Something Special To Me," and Hank Cochran's "The Chair," which went to #1. There are plenty of non-hit album tracks that are worthwhile on here as well, though, including Jo-El Sonnier's aching love ballad, "Blue Is Not A Word," "Lefty's Gone," and Dean Dillon's frothy "You Sure Got This Ol' Redneck Feelin' Blue." It's all easy on the ears, though, and Strait's keeping things pretty twangy, all things considered. Worth checking out!


George Strait "Merry Christmas Strait To You" (MCA, 1986)



Well, ya gotta love this one, too. Strait's take on the Christmas spirit is just such so refreshingly unpretentious, and his arrangements so simple and tasteful... What's not to like? Mostly standards, and a few nice new tunes, like "When It's Christmas Time In Texas" and even a mildly off-color hard country number like Hank Cochran's "For Christ's Sake, It's Christmas" to spice things up. What can I say? When he's in top form, ol' George Strait rocks my world, and this album is highly recommended! (For more holiday country music, check out my Hillbilly Holiday section.)
George Strait "#7" (MCA, 1987)


George Strait "Ocean Front Property" (MCA, 1987)


George Strait "If You Ain't Lovin', You Ain't Livin' " (MCA, 1988)


George Strait "Beyond The Blue Neon" (MCA, 1989)


George Strait "Livin' It Up" (MCA, 1990)



George Strait "Chill Of An Early Fall" (MCA, 1991)



(Produced by Jimmy Bowen & George Strait)
Another fine, pop-tinged trad-country offering, with Strait sounding equal parts Merle Haggard and Asleep At The Wheel... Contains two chart-toppers, "If I Know Me" and the jovial, "You Know Me Better Than That" which is a highlight of the album's original material, along with Harlan Howard's "Her Only Bad Habit Is Me," which is this album's hidden, Back Forty gem. There are also some nice cover tunes, such as Hank Williams' "Lovesick Blues" and "Milk Cow Blues," which also reaches way back into the goodle days... If you're all grumpy about it, you could say this was too slick, but if you compare it to the rest of what Nashville had to offer, it's pretty darn sweet. Another nice record that won't exactly blow the roof off the joint, but is perfectly listenable and country enough for me.
George Strait "Holding My Own" (MCA, 1992)


George Strait "Pure Country" (Soundtrack) (MCA, 1992)



Wimpy, overly ornate and power-balladish country pop, with a few uptempo numbers like "Overnight Male" tossed in to throw us off the scent. The good numbers are really just OK; disappointing performance from one of the leading lights of the neotrad scene. It does include a couple of songs written by Jim Lauderdale, though, and that in and of itself is kinda noteworthy...
George Strait "Easy Come, Easy Go" (MCA, 1993)



(Produced by Tony Brown and George Strait)
This disc kicks off with an absolutely killer broken-hearted loser ballad, "Stay Out Of My Arms," a blast of sweet, pure hard country that makes you get all comfortable and settle back, ready for a dose of high-powered honkytonk heaven... Strait doesn't sustain that sense of purity throughout the length of the album, however, and plenty of slow, tinkly ballads gush forth not long thereafter... Still, there are several really swell songs on here, and overall, this is an album well worth hanging onto. Recommended.

George Strait "Lead On" (MCA, 1994)



(Produced by Tony Brown and George Strait)
He opens on a weak note, wth the gooey, overproduced "You Can't Make A Heart Love Somebody," but then George regains his footing on more solid hard country shuffles that follow. Then, as is par for the course for Strait and so many other housebroken honkytonkers, he flops back and forth between solid 'tonky material and syrupy poppipolitan... The weird thing about this album is how clunky the more ornate orchestrations and unnecessary key changes are on the poppier tunes; usually he's a lot more subtle than he is here... Even if you're willing to check out the slick stuff, this disc is a little iffy. The more trad-leaning material is okay, but it's not great... This wasn't really up to his highest standards. George does have a lot of fun mimicking Merle Haggard, though, on about half the album's songs... And that's kinda enjoyable. An okay album.

George Strait "Blue Clear Sky" (MCA, 1996)



(Produced by Steve Buchanan)
The opening track is a fine, upbeat number, marked by poppy production, but a real toe-tapper, nonetheless. Overall, this isn't Strait's most memorable album, however, with an inevitable profusion of sappy, modern-style ballads and several uptempo numbers that fall flat (including a version of Jim Lauderdale's "Do The Right Thing," which is okay, but a little generic sounding). Some hard country weepers like "She Knows When You're On My Mind" and "King Of The Mountain" stir themselves up to evocative choruses, and the 'mershy ballad, "I'd Just As Soon Go" may be an overlooked '90s gem, very much rooted in the glossy style of the time, but passed over as a single when this album first came out. This one's a mixed bag, but it's worth checking out.

George Strait "Carrying Your Love With Me" (MCA, 1997)



(Produced by Tony Brown & George Strait)
Even slicker, and somewhat cloying on several tunes. Strait picks up the pace on a tune or two -- "Won't You Come Home (And Talk To A Stranger)" is a fine barroom novelty song, "That's Me" is catchy and fun, in a brainless kinda way, and Harlan Howard's latest, "I've Got A Funny Feeling," is okay, too. Mostly, though, this is a pretty sappy album, with little on it that really turned my head. Iffy.

George Strait "One Step At A Time" (MCA, 1998)



This is a more solid-sounding album, with its fair share of mersh-y ballads, which, for some reason hang together better on this disc. Includes a decent Conway Twitty imitation on "That's The Breaks," and hey -- check it out: he covers Jim Lauderdale again, this time on a swingin' Top Five version of "We Really Shouldn't Be Doing This." Production chores are once again split by Brown and Strait... looks like they're finally hitting a groove together.

George Strait "Always Never The Same" (MCA, 1999)



Hmmm. Not his greatest record, really, if the truth be told. I mean, there are some interesting aspects in the songwriting department, notably two new songs by hard-country diva Melba Montgomery ("That's The Truth" and "What Do You Say To That," co-written with Jim Lauderdale) as well as a tune by Hank Cochran... But the sad fact is that this album sounds kinda stuffy and overly crafted, with hackneyed, too-safe production. I liked a couple of songs on here, "Write This Down" and "Four Minus Three," but other than that, there's not much to write home about on here. (Sorry, George!)

George Strait "Merry Christmas Wherever You Are" (MCA, 1999)



The arrangements are much more florid than on Strait's first holiday album, what with the pop and jazz piano stylings, the oceanic strings, and formulaic Nashville pop chord progressions... But he still has a nice, friendly presence. I'd stick with the first disc (from 1986), but I'm sure that for most fans, this one is fine as well.

George Strait "George Strait" (MCA, 2000)



Hey... this album's pretty nice! Yeah, it's poppy and slick, full of cloying ballads and all, but it's still really nice. There's a level of authority and conviction to his vocals that really helps carry this one over... Feels like his heart was really in it this time around, and you can tell. Solid production, too... he and Tony Brown had really hit their stride.

George Strait "The Road Less Traveled" (MCA, 2001)



Well... I guess he's still better than most, but this disc is pretty darn overproduced and dense; hardly a catchy, singable chorus to be heard anywhere on here! Way too lofty, even with his welcome cover version's of Rodney Crowell's "Stars On The Water" and Chip Taylor's anthemic "The Real Thing," and although he throws some uptempo stuff into the mix, it's all generally pretty unconvincing. It's a bummer when Strait overdoes it; he's so damn good when he keeps things simple. Sigh.

George Strait "For The Last Time: Live From The Houston Astrodome" (MCA Nashville, 2003)



...Aaaaaaand, the crowd goes wild! Devoted fans who listen to this at home will probably like it too; it's mostly oldies that already sounded fine on the studio versions, but it's cool to hear George wow the crowd. Some of the crowd noise sounds suspiciously canned (like they used to provide for phony "live" albums, back in the good old days...) but I think it's just how they mixed it in on the CD. At any rate, this is a swell show -- if it's really, really his lastest ever concert tour, only time will tell...

George Strait "Honkytonkville" (MCA, 2003)



He may be slick, but he doesn't make many missteps or stumbles, and even if I don't like the poppier material, I can tell that it's well-crafted and solidly delivered. Plus, the real honkytonkers on here are pretty darn good. It's pretty interesting how the young country "neos" of the '80s are becoming the old-school crooners of the early 21st Century. But if this disc is any indication, Strait should be able to hold his own for some time to come. Fans will be pleased & even a few anti-Nashville skeptics may be won over as well.
George Strait "Somewhere Down In Texas" (MCA-Nashville, 2005)



(Produced by Tony Brown & George Strait)
Go, George, go!! Is it really any surprise that one of the finest top country albums of the year is yet another winner from Lone Star legend, George Strait? Naw, not at all. Once again, the traditional numbers are rich and resonant, and even the weepers and more modern-sounding songs have real emotional heft... Strait's a guy who can sing from the heart, and hot a bullseye every time he tries... The religiously-themed hit single, "You'll Be There," is pretty mellow, but it isn't too sappy... There are a couple of straight-up honkytonk tunes as well, like the jolly "If The Whole World Was A Honky Tonk," though mostly the album is on the softer side. With Strait, though, this doesn't mean that it goes all gooey, but rather that there's some really classy crooning going on... "Ready For The End Of The World" is a true-blue, soul-rending sad song, and even lighter material like "She Let Herself Go" is quite nice in Strait's capable hands... Not a bad song on here; definitely worth checking out.
George Strait "It Just Comes Natural" (MCA, 2006)


George Strait "Troubadour" (MCA, 2008)




George Strait "Classic Christmas" (MCA Nashville, 2008)



(Produced by Tony Brown)
Always a class act, neotrad icon George Strait delivers a happy, amiable set of holiday standards, all of them classic tunes such as "Deck The Halls," "We Wish You A Merry Christmas," "Joy To The World," and "Hark, The Herald Angels Sing." The arrangements, along with the warm pop-honkytonk production by Tony Brown make this a very cheerful album, just right for alla y'all to come in from the cold and have a little sip of something to warm you up, be it cocoa, eggnog, or a couple of Shiner Bocks... You'll be humming along in no time at all!

George Strait "Twang" (MCA Nashville, 2009)



(Produced by Tony Brown & George Strait)
As the album title implies, George Strait continues to be a veritable one-man public works project for fiddlers and pedal steel players... Of course, sometimes the violins are part of some vast string section, backing Strait up on a milky sensitive-guy power ballad, but more often than not, he's got these twang-oriented session players playing rich, upbeat, old-school honkytonk, and it's nice to hear. The third leg of Strait's country-Top 40 barstool is more or less pure pop, and while that does a little less to get an old-schooler like me excited, it sure works for lots of other folks. Strait is an accomplished old pro, keeping it real when he wants to, but also able to climb up the charts at a time when new acts are younger and vanish faster than ever before. There's enough twang -- and enough glitz -- here to make old fans of all persuasions happy. Keep up the good work, George!
George Strait "Here For A Good Time" (MCA, 2011)



More true-country Top Forty from Texas legend George Strait. His last album, Twang, was a good-natured throwback to his bar-band days; here he gets more mellow and pop-oriented, with ballads and slow stuff outweighing the honkytonk songs. But, hey, it's George Strait: he does this stuff better than most, and every album's a treat for his fans.


<! Sept 6 >
George Strait "Love Is Everything" (MCA-Nashville, 2013)


George Strait "The Cowboy Rides Away: Live From At&T Stadium" (MCA-Nashville, 2014)






<! ...with special guests Jason Aldean, Ray Benson, Kenny Chesney, Eric Church, Sheryl Crow, Vince Gill, Faith Hill, Alan Jackson, Miranda Lambert and Martina McBride, and introduces George "Bubba" Strait, Jr. >

---
Discography, Page 2: Best-Of Collections
---



Hick Music Index



---
Top photo credit: Tony Baker, courtesy of Front Page Publicity
---

<! cd = 03/20/04>