<! cd = 07/21/13 > <! MP3 07/21/13 > <! outside 07/21/13 - WP, PF > <! pix 00/00/00 > <! 208-pix: 00/00/00 > <! styles: Hippiebilly > <! UPDATES: 07/21/13 - posted - no bio 11/08/13 - added Frummox review >
---
Steven Fromholz
---
Discography - Best-Ofs
---

Steven Fromholz "Come On Down To Texas For Awhile - The Anthology: 1969-1991" (Raven, 2001)


This anthology will probably serve as the definitive collection of this '70s cult-hero Austin songwriter, delving into material from eight different albums, and tossing in a duet with Willie Nelson for good measure. Personally, I've never a huge Fromholz fan -- a lot of his stuff is too wordy and deliberate for me, and as a singer his phrasing is a bit stiff. He's sort of like a gruff-voiced cross between Fred Neil or Hoyt Axton and Townes Van Zandt, with Townes's lofty poetic aspirations being the dominant part of the equation. For those who groove on the whole latter-day literary cowpoke, windblown Texas-mythologizing ethos, Fromholz will be a real treat, but if you just wanna hear some fun country songs that you can tap your toes to, this disc will mostly be slow going. This disc includes songs like "Blue Lines On White Linen" and "Ain't It Nice To Be Alone" which hold up pretty well, but the lethargic, solomn "Texas Trilogy" is a bit much, as far as I'm concerned. Nonetheless if you want to check the guy out, this is the place to start.


<! 144 x 144 >

---
Discography - Albums
---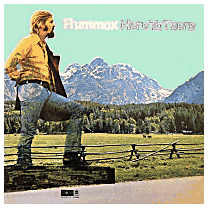 Frummox "Here To There" (ABC-Probe Records, 1969)


(Produced by Dick Weissman)
A legendary "lost" debut album, recorded as a duo with Dan McCrimmon... This album predated and anticipated much of the Texas indie/outlaw music to come, showcasing an interesting variety of styles, with only a little outright country, balanced by a lot of the same kind of poetic musings that Townes Van Zandt championed around the same time. Side One opens with "The Man With The Big Hat," a latter-day cowboy story-song that anticipates songs like Guy Clark's "Desperadoes Waiting For A Train," albeit sung in an earnest-folkie hootenanny style reminiscent of the Kingston Trio, et. al. The album's centerpiece is "The Texas Trilogy," a series of keenly observed vignettes about a small Texas town in decline -- losing its younger residents to the lure of bigger cities, and no longer has scheduled train stops as it did year ago. Work, love affairs, pregnancies and retirements are examined with a forgiving eye, and a clarity and plainspokenness worthy of Studs Terkel. The Trilogy is a well-deserved landmark in Americana music... From there he shifts into the psychedelic "There You Go," which has a funky hillbilly rap vocal that reminds me of John Hartford; the album closes with a couple of softer folk numbers that are closer in feel to Tim Hardin or Tom Rush -- as a folk-and-country period piece, this album holds up well, with some songs clinging to the sound of the early '60s and other tracks, notably the Trilogy, that are remarkably forward-thinking. Guest musicians include Eric Weissberg and Artie Traum, with "Jeff Walker" (Jerry Jeff, I'm assuming?) pitching in with "head help," whatever that meant. An interesting record, definitely worth checking out.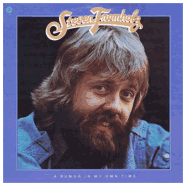 Steven Fromholz "A Rumor In My Own Time" (Capitol, 1976) (LP)

Steven Fromholz "Frolicking In The Myth" (Capitol, 1977) (LP)

Steven Fromholz "Music From Outlaw Blues" (Capitol, 1977) (LP) <! -various artists? - >

Steven Fromholz "Jus' Playin' Along" (Lone Star, 1978) (LP)


His last major-label release was with WIllie Nelson's semi-indie Lone Star label, distributed nationally by Mercury Records, and consequently one of Fromholtz's easier albums to track down used, at least once upon a time.
Steven Fromholz "Fromholz Live!" (Felicity, 1979) (LP)

Frummox "Frummox II" (Felicity, 1982) (LP)

Steven Fromholz "Love Songs" (Felicity, 1986)

Steven Fromholz "Old Part In The Mirror" (Tried & True, 1995)

Steven Fromholz "Live At Anderson Fair" (Felicity, 2001)

Steven Fromholz "A Guest In Your Heart" (Crystal Clear Sound, 2001)

Steven Fromholz "Live at Anderson Fair" (2001) <! date? >





<! Best known as a singer and songwriter, Texas-born Steven Fromholz writes songs recorded by other songwriters. John Denver, Michael Martin Murphy, Hoyt Axton, Jerry Jeff Walker, Lyle Lovett and Willie Nelson have all cut his tunes with Willie's recording of Steven's "I'd Have To Be Crazy" earning the writer two platinum records. In Kirk Dooley's BOOK OF TEXAS BEST (Taylor Pub., 1988), he names Steven's "Texas Trilogy" the best song ever written about Texas. Steven's recording career began in August of 1969 in New York City where he and Dan Mc Crimmon, his partner in the duet, FRUMMOX, had gone from their homes in Colorado to cut the now classic folk album, FRUMMOX: HERE TO THERE. The duet went their separate ways in the spring of '71 and since then Steven has released two albums on the Capitol label, one on Willie's Lone Star Records, four on his own Felicity Records and his latest release, THE OLD FART IN THE MIRROR is on Jerry Jeff's Tried & True label. > <! 08/05/14 - no ASIN for "Old Fart" album >

Steven Fromholz "Cowjazz" (Felicity, 2003)





---
Links
---
---