<! cd = 05/01/13 > <! MP3 00/00/00 > <! outside 00/00/00 > <! pix 00/00/00 > <! 208-pix: 00/00/00 > <! styles: Alt, Hippiebilly > <! UPDATES: 08/01/13 - posted... finally! >
---
For many, '70s songwriter Townes Van Zandt (1944-1997) was the heart and soul of outlaw country and then-unnamed Americana music scene, its poet-in-residence and iconic troubadour. Van Zandt was the troubled son of a prominent Lone Star family -- there's a county in Texas named after them -- a kid who grew long hair and wrote songs for a living and, as it turned out, helped establish the fabled Austin music scene. He was also a consummate craftsman who sculpted songs that were the envy of friends such as Guy Clark and Steve Earle and set the bar for the many singer-songwriters to follow in his wake. I have to confess, I've never actually been a huge Townes Van Zandt fan... For various reasons, his music has never really spoke to me (although as a kid I used to sing "Poncho And Lefty" all the time...) but I've decided to tone down my criticism, since I don't want Steve Earle to give me the hairy eyeball if and when we ever meet. That would be uncomfortable. Anyway, here's a quick look at Townes and his work...


<! I have to confess, I've actually never been a huge Townes Van Zandt fan... I completely see the appeal, and I understand why for so many years he was such a beloved figure in the alt.country scene. But the late country poet's work always struck me, personally, as a bit belabored and hard to connect with on an emotional level. Part of that has to do with Van Zandt's limited vocal range (I'm just digging myself in deeper here, aren't I?) although from one point of view, that was part of his charm -- he was like an alt.country precursor of the punk rock ethos that you didn't have to be a super-duper musician to express yourself or make your own records. The other thing about Townes, though, is the overly-meticulous nature of his songwriting. Clearly he came out of the '60s folk tradition, and in that context, his artwork was maverick and innovative. But compared to other country artists, he seems a little stuffy and classically derived, owing as much to English Lit classes as is does to the legacy of Woody Guthrie or Hank Williams. I find myself constantly aware of his songcraft, and not so aware of the songs themselves. >

---
Discography - Best-Ofs
---
Townes Van Zandt "The Best Of Townes Van Zandt" (Tomato, 2002)


This collection covers his best work on the Tomato label, and is one of the best introductions to his work you're likely to find, sampling songs from his early career in the late '60s and early '70s. These are all much-beloved fan favorites, and while I have to struggle to enjoy his work, I would definitely recommend this album for anyone looking for an introduction to this late Texas legend's work.


<! 130 x 130 >

Townes Van Zandt "Sunshine Boy -- The Unheard Studio Sessions & Demos: 1971-1972" (Omnivore, 2013)

---
Discography - Albums
---
Townes Van Zandt "For The Sake Of The Song" (Poppy, 1968)


Townes Van Zandt "Our Mother The Mountain" (Poppy, 1969)


Townes Van Zandt "Townes Van Zandt" (Poppy, 1969)

Townes Van Zandt "Delta Momma Blues" (Poppy, 1971)


Townes Van Zandt "High, Low And In Between" (Tomato, 1972)


Townes Van Zandt "The Late Great Townes Van Zandt" (Tomato, 1972)

Townes Van Zandt "Live At The Old Quarter -- Houston, Texas" (1977)






<! (recorded July 1973) >

Townes Van Zandt "Flyin' Shoes" (Tomato, 1978)


Townes Van Zandt "At My Window" (Sugar Hill, 1987)


Townes Van Zandt "Live And Obscure" (1989)





<! (recorded in 1985) >

Townes Van Zandt "Rain On A Conga Drum: Live In Berlin" (Silenz, 1991)





<! (recorded October 1990) >

Townes Van Zandt "Roadsongs" (Sugar Hill, 1993) <! live >

Townes Van Zandt "The Nashville Sessions" (1993)





<! -- recordings from the aborted Seven Come Eleven album, recorded 1972 -- >

Townes Van Zandt "Rear View Mirror" (TVZ, 1993) <! (recorded live Oklahoma, 1979) >

Townes Van Zandt "No Deeper Blue" (Rykodisc, 1994) <! label?? >





<! Townes Van Zandt "Riding The Range" (only two songs: Riding The Range and Dirty Old Town) (1996) (vinyl) B00BOR8BOK >

Townes Van Zandt "Abnormal" (1996) <! (reissued in 1998 with 3 tracks replaced) >

Townes Van Zandt "In Pain" (Normal, 1996) <! (recorded live, 1994/1996) >

Townes Van Zandt "The Highway Kind" (Sugar Hill, 1997)

Townes Van Zandt "Documentary" (Normal, 1997)

Townes Van Zandt "Last Rights" (Gregor, 1997) <! (alternative version of Documentary) >

Townes Van Zandt "A Far Cry From Dead" (Arista, 1999)






<! -- later-life studio guitar and vocal recordings posthumously overdubbed -- >

Townes Van Zandt "Texas Rain: The Texas Hill Country Recordings" (Tomato, 2001)

Townes Van Zandt/Guy Clark/Steve Earle "Together At The Bluebird Cafe" (American Originals, 2001)



Three veterans of the early Austin scene, gathered together for a warm evening of wine, tall tales and song, shooting the breeze at Nashville's premiere open mic nightclub...
Townes Van Zandt "Live At McCabe's" (2001) <! (recorded February 1995) >

Townes Van Zandt "A Gentle Evening With Townes Van Zandt" (Dualtone, 2002)


Portrait of a young, innovative folkie on the move: here's Townes Van Zandt in 1969, appearing with all his wry, understated charm at a gig in New York City's prestigious Carnegie Hall. I'll say this for Townes: the boy sure was cool as a cucumber; you'd never know he was playing the show of his life, what with his deadpan, laconic stage presence and unhurried delivery. This is a nice glimpse at Van Zandt in his early prime, a fella taking the Woody Guthrie tradition apart and rebuilding it from the ground up, adding his own unique, Gothic intensity to the style. Recommended!
Townes Van Zandt "Absolutely Nothing" (Normal, 2002) <! (recorded 1991-1996) >

Townes Van Zandt "Acoustic Blue" (Tomato, 2003) <! (recorded 1994/1996) >

Townes Van Zandt "In The Beginning" (Compadre, 2003)



I've never been a huge Townes Van Zandt fan, but this set of long-lost Nashville demos, recorded in 1966 when Townes was just making a name for himself on the budding Texas nightclub/folk scene, show a vibrant, edgy side to his work, which seems to have been largely buried in the more controlled, mannered, mainly acoustic albums that would follow. Here we're treated to rough early versions of several Van Zandt standards, some even in rough, electrified boogie-blues form -- a far cry from his later folkie orientation! Devoted fans will go gaga over this archival set; the skeptical and uninitiated alike may also find a lot to get excited about here as well.
Townes Van Zandt "Live At The Jester Lounge: Houston, Texas, 1966" (Normal, 2004)

Townes Van Zandt "Rear View Mirror, Volume 2" (Varese Sarabande, 2004) <! (recorded live 1978/79) >

Townes Van Zandt "Live At Union Chapel, London, England" (Tomato, 2005) <! (recorded April 1994) >

Townes Van Zandt "Sunshine Boy -- The Unheard Studio Sessions And Demos: 1971-1972" (Omnivore, 2013)

---
Tribute Albums
---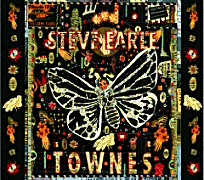 Steve Earle "Townes" (New West, 2008)



(Produced by Steve Earle)
A real stunner, sure to rank as one of the best alt-country albums of the decade. Ragged but right, middle-aged country-rocker Steve Earle pays homage to his longtime friend, the late singer-songwriter Townes Van Zandt, who he was pals with in the early 1970s, back when the Austin alt-country scene was just beginning to coalesce. Here Earle journeys through Van Zandt's catalog, embuing each track with a fierce conviction and loyalty to his friend's talent and artistic vision. Now -- ulp -- at the risk of being tarred, feathered, and drummed out of the Americana fan club, I have to confess I've never been that big a Townes fan myself -- I know, I know; hate me if you will, but that's just how it is. But Earle, performing with a ferocity and grit that the more demure Van Zandt eschewed, brings a radical new intensity to these songs that really forces us to hear them as living compositions, and not as finished works. While many fans may see Van Zandt's recordings as definitive and canonical, this record brings them into the wider world, opening them to interpretations beyond their acoustic coffeehouse folk-scene roots. With a few extra layers of electricity, grunge and grime, Earle makes Van Zandt's blues tunes sound more plausible (whereas on the originals, I often heard them as affected) and helps me hear the songs themselves, and not just Van Zandt's persona. It's a great record, packed from start to finish with strong performances and great songs -- highly recommended!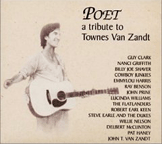 Various Artists "POET: A TRIBUTE TO TOWNES VAN ZANDT" (Navarre, 2001)


Okay, my bias is already known, so bear with me and take what I say here with a grain of salt. One thing about this tribute album is that it certainly captures the somewhat overblown poetic pretensions of Van Zandt's work. It takes a remarkably graceful performer to overcome the belabored craftmanship of this writing: Guy Clark does it beautifully on "To Live Is To Fly"; Billy Joe Shaver and John Prine do alright on their respective tracks. The bulk of this album, though, is awkward and heavy-handed... that is, it follows pretty closely the template set down by Van Zandt himself. If you're into Townes to begin with, you should love this. It didn't rock my world, though.
Various Artists "RIDING THE RANGE: THE SONGS OF TOWNES VAN ZANDT" (Righteous, 2010)


---
Video
---
Townes Van Zandt "Heartworn Highways" (Snapper, 1981)

Townes Van Zandt "Be Here to Love Me" (Universal/Palm Pictures, 2004)

Townes Van Zandt "Houston 1988: A Private Concert" (Varese Sarabande, 2004)







Townes Van Zandt "Townes Live In Amsterdam" (2008)



<! recorded 11/12/91 >

---
Links
---
---