<! MP3 04/13/09 > <! update 04/13/09 > <! outside 00/00/00 > <! pix 00/00/00 - NEED TO REPLACE 108s> <! 208-pix: 00/00/00 > <! icons 11/14/10 >
---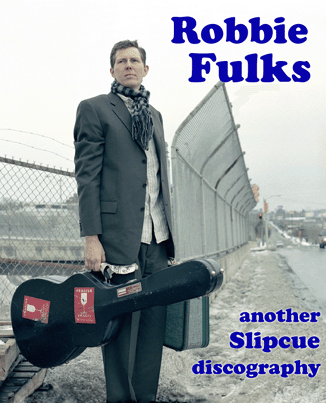 Songwriter Robbie Fulks is as fine a honkytonk hero as the 1990s could produce... One of a half-bazillion disaffected songwriters who tried to make it in Nashville and left in disgust, Fulks wound up being the right guy in the right place at the right time, at least as far as the alt.country "twangcore" scene was concerned. His debut albums on Bloodshot were highpoints of modern honkytonk -- witty, catchy, well-crafted, and full of the tongue-in-cheek gloom'n'doom that makes good old country music so much fun. Here's a quick look at his work...
---
Discography
---
The Special Consensus "A Hole In My Heart" (Turquoise, 1989)
Fulks apprenticed with this long-lived local Chicago country-grass band. He gets writer's credit on a couple of songs: "She Hurts For A Living," which is classic clever-lyric Fulks material, and an instrumental tune, "Purple Curtains," co-written with banjo plunker (and original bandmember) Greg Cahill. Good picking, and a nice light-hearted, relaxed approach overall. Pity that "She Hurts For A Living" seems to have been dropped out of the Fulks canon; it could certainly be recycled for his country fans.

Robbie Fulks "Country Love Songs" (Bloodshot, 1996)



A dazzling debut -- one of the best country albums of 1990s. Here Fulks establishes himself as a major "traditional" country songwriter, in the classic Buck Owens/Harlan Howard style of catchy, clever honkytonkers. Especially great are "The Buck Starts Here" (a jukebox tribute to Owens himself), "Tears Only Run One Way," and the incredibly rueful "Barely Human." The more frivolous side of the fence is well represented, with the grim Marilyn Monroe tribute, "She Took A Lot Of Pills (And Died)" and a kick-off song about dating a gal who liked "Every Kind of Music But Country". Fulks' only real competition for the mantle of alterna-country king that year was from Dale Watson and Wayne Hancock. Highly recommended.

Robbie Fulks "South Mouth" (Bloodshot, 1997)



Follows closely in the footsteps of his fabulous first album, with catchy, compelling upbeat honkytonk tunes galore. The (gasp!) profanity of the chorus to his anti-Nashville anthem "F**k This Town" seems a bit forced (and the homophobic lyric accusing the Music City establishment of being "a bunch of faggots" is unfortunate, considering what a great songwriter he is otherwise...) Other than that little un-PC lapse, this is a great album, well worth checking out.

Robbie Fulks "Let's Kill Saturday Night" (Geffen, 1998)



In two words: oy vey. With a major label deal, one of alt.country's best songwriters completely blows it. Was he still writing good songs? Who could tell, behind the bombastic, pointless thrashing about of his new rock arrangements? Don't get me wrong -- I'm not an anti-rocker, country purist snob, it's just that artists need to step surely when they try to cross the creek. Unfortunately, this may be the most appalling roots-gone-rock outing since Joe Ely's Musta Notta Gotta Lotta LP in the late '80s. Some strong country songs towards the end of the album, but plodding through the first half was so gruelling I couldn't stand to keep it on the stereo. Really. A major disappointment.

Robbie Fulks "The Very Best Of Robbie Fulks" (Bloodshot, 1999)



Retrenching a bit after the Geffen fiasco, Fulks self-released this odds-and-ends collection; a few months later, Bloodshot had the good grace to pick it up. Several strong, catchy honkytonkers, and lots of lighthearted goofy material as well. The album's highlight, without doubt, is "Parallel Bars," a super-fab duet with Kelly Willis that's worth the price of entry all by itself. His ode to Suzanna Hoffs ("That Bangle Girl") is also quite charming, and shows that Robbie is not a boxed-in-by-genre kinda guy. If you're a Fulks fan, this is well worth checking out!

Robbie Fulks "13 Hillbilly Giants" (Bloodshot, 2000)



Fulks kicks his hard country muse back into full gear on this great set of cover tunes... This is mainly pretty obscure material, and more power to Fulks for digging these songs up. The original artists include Jimmie Logsdon, Benny Martin, Wynne Stewart, Gordon Terry and Hylo Brown. Robbie gets extra points for covering Jimmy Murphy's "We Live A Long Time To Get Old," which is one of the album's highlights, as well as Jean Shepard's finger-wagging "Act Like A Married Man." He really goes off the oldies deep end, though, with a cover of the ultra-maudlin Porter Wagoner & Dolly Parton weeper, "Jeannie's Afraid Of The Dark," which shamelessly milks the tragedy of a child's death for all it's worth. It's so great to hear Fulks keeping it country... I only hope he'll keep it up.

Robbie Fulks "Couples In Trouble" (Boondoggle, 2001)



Uh-oh. An overwrought shift into piano-pop territory... at least he has enough of a sense of humor to call his label "Boondoggle" for this one, 'cause I'd have to agree that that's what this disc represents. I mean, sure, if Fulks want to go all Billy Joel/Tom Waits/Rufus Wainwright on us, I guess that's his business. Apparently he has a lot of non-country stuff pent up inside that he feels the need to express, and one must assume he feels constrained by the alt.country genre. But I personally like him a lot more as a honkytonk firebrand, and I think he's a lot more effective working in that style. This mordant rock-opera stuff seems cluttered and torturous by comparison; I think the compactness of country songwriting may have been more of a challenge than Fulks realized, and it certainly had a better payoff. I've talked to other folks who say they don't like the downbeat nature of these songs; I think the real problem is with the unrestrained, indulgent production. It really doesn't suit his strengths.
Robbie Fulks "Live At Double Door: 1/16/04" (eMusicLive, 2004)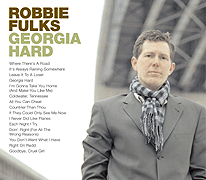 Robbie Fulks "Georgia Hard" (Yep Roc, 2005)



Alt-country pioneer Robbie Fulks has had a rocky career, it's true, but that's often been because he's made a point of shoveling chunks of gravel onto the road to success, just to see if he can piss off the other drivers. On this, his seventh solo album, Fulks at last regains the heights he attained on his 1996 debut, Country Love Songs, hammering out a solid set of country gems, and lays down what is probably his best record yet. For the most part he sets aside the alt-twang posturing and anti-Nashville pouting that previously detracted from his musical skills, and simply digs deep into the heart of the true country sound without making such a big deal out of it. This is easily the best band he's assembled, including several studio ringers such as mandolinist Sam Bush, Telecaster master Redd Volkaert, Lloyd Green on pedal steel and Alison Brown on banjo. He's also joined by his wife Donna Fulks, singing comedic duets like "I'm Gonna Take You Home And Make You Like Me" (which is sort of an extended version of the outro banter on his older song, "Parallel Bars," a duet with Kelly Willis...) With a powerful, confident band behind him, Fulks delivers his a heartfelt and authoritative performance, laying down pitch-perfect "straight" country songs such as the mournful "Leave It To A Loser," "Georgia Hard," and "Coldwater, Tennessee." He also has some fine novelty lyrics, on pun-laden tunes like "All You Can Cheat," "Goodbye Cruel Girl" and the abrasive (and hilarious) "It's Always Raining Somewhere." All in all, this is a great album -- I've listened to it several times back-to-back, and look forward to hearing it for years to come. There's one song, though, that I have to take issue with, and that's "Countrier Than Thou," which will doubtless be one of the songs this album will be best remembered for. The basic premise is golden: taking the stuffing out of country purist blowhards (like me!), who are certainly easy targets, riding up there on our high horses. It's another fun song, but the trouble is with the measuring posts that Fulks facetiously applies to the question of hick music accreditation... Since I actually was raised in a shack (one of Robbie's joking hillbilly bona fides), I feel entitled to comment on the core issues of the song... And yeah, okay, I know he's only kidding and it's just a silly song, but I still have to take exception to the idea that "country" equals "Southern" and that the Mason-Dixon Line has anything to do with one's ability to legitimately play, comment on, or groove out to country music. In particular, I'm troubled by his lampoon of a pompously snobby Yankee twangfan with an exaggerated hick drawl, which is fair game except that Fulks introduces the character by barking out that he's "A BOSTON JEW!!" in much the same way he attacked the Nashville establishment as "faggots" many years ago. I don't care if he balances it by also making fun of all the goobers and Gomers down in Dixie: a slur is still a slur, and I think he could find better ways to provoke a reaction than resorting to language that feeds into hateful thinking. I'm not saying I believe Fulks is a gay basher or antisemite, I just think he could be a little more careful about encouraging anyone who is... Besides, why would being either of the Hebraic persuasion or from New England prevent you from being a hick? If Dick Curless was still with us, he'd have to go kick yer ass, kid... Or maybe Kinky Friedman can do it on his behalf!! But seriously, Robbie -- great album. Congratulations!

Robbie Fulks "Revenge!" (Yep Roc, 2007)



Leave it to prankster Robbie Fulks to start a live album with a studio track, in this case a comedy number in which his on-the-road band decides to make a concert album in order to fend off the contractual obligations of the faux-monolith of Yep Roc Records. Then the crowd noise fades up, and we are in the palm of Fulk's leathery little hands, awash in a fine, loping set that showcases him at his best. When Fulks dispenses with the posturing and misanthropy, he's one helluva great country musician, and his backing band give him a greta sound to work with -- cranking out loud and electric or playing with the subtlest of honkytonk heartache. Two CDs worth of live material gives a flawless picture of the entire Fulks ouvre, and you'd be hard-pressed to find a more powerful or persuasive twang-star in the whole current alt-country scene. His career has had artistic ups and downs, but this disc is a doozy. Definitely worth checking out!
Robbie Fulks "50-vc. Doberman" (Boondoggle, 2009)


I have no idea what this album title means. Seriously. Any help?
Robbie Fulks "Happy: Robbie Fulks Sings The Songs Of Michael Jackson" (Boondoggle, 2010)



Hardy har har har. Actually, Fulks goes out of his way to play some of these songs "straight," as twangy, old-school country tunes. Some are done in a more aggressive pop style, while others -- "Billie Jean," "Ben" -- are definitely played up as camp. I guess it's funny, but I was never that into the whole Michael Jackson thing, so it doesn't really resonate for me.
Robbie Fulks "Gone Away Backward" (Bloodshot, 2013)


Robbie Fulks "Upland Stories" (Bloodshot, 2016)



---
Related Records
---
Dallas Wayne "Big Thinkin' " (HighTone, 2000)



(Produced by Robbie Fulks)
Fulks produced this album, and co-wrote most of the material... Nice, sharp, old-fashioned honkytonk like they don't make often enough anymore. Another goodie on the Hightone label.
Various Artists "CAUGHT IN THE WEBB" (Audium, 2002)


Fulks takes part in this fab, alt.star tribute to the great Webb Pierce... Yay for good, old hillbilly music!!!
---
Links
---
Bloodshot Records was Robbie's original (and probably future) home... home of "insurgent country" and all things twangy, Bloodshot covers the punkier end of the twangcore scene.
Robbie Fulks home page will help you keep up on his comings, goings and scary mood shifts. Also has a handy set of lyrics and guitar tabs for those who want to learn what the lad was actually saying.
---



Hick Music Index



---

---
Top photo by Jim Herrington, courtesy of Yep Roc Records. Used by permission.