---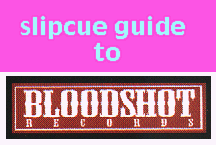 Chicago's Bloodshot Records is one of the original and most successful of the twangcore labels... They even came up with their own catch phrase, "insurgent country", to describe their punk-meets-country ethos. There have been some rough patches along the way -- a bit more of the trailer trash stereotypes than I care for -- but stunning moments of brilliance as well. Meanwhile, their recent "Soundies" reissue series is proving to be one of the strongest sources in the US for old-time country, and is well worth checking into. Here's a look at some of the label's highlights.
---
Featured Artists On Bloodshot
---
---
New Kids On The Block
---
Ryan Adams "Heartbreaker" (Bloodshot, 2000)

I guess I should confess, I never really tracked Whiskeytown that carefully, although I have friends who are totally ga-ga over them... That's what made this solo outing by singer Ryan Adams such a pleasant surprise for me. It kicks off with "To Be Young", a picture-perfect homage to Blonde On Blonde era Dylan, and continues on in a Zimmerman-esque vein through a series of songs that are alternately sentimental and vengeful, with concisely executed production that ranges from picked-bone sparse to eerily lush... It's a rock-country crossover with an album-wide cohesion that sneaks up on you, full of impressive, glittering nuggets of songwriting and soulful, catchy guitar twangery. There's also a super-sweet duet with Emmylou Harris, which is worth the price of admission alone. Very nice stuff, and very well written. After this he became a big old rock star.
Bobby Bare, Jr. "Young Criminal's Starvation League" (Bloodshot, 2002)

Um. How to put this? Bobby Junior sort of lacks dad's, um, gravitas... And his ability to edit and concisely construct memorable songs. It's funny, too, how little he sings like his well-known (and rather distinctive) father -- the vocals on most of this album sound more like Steve Forbert than anybody else, though on the last couple of tracks Bare gets that recognizable grumble in his voice. Mellow and diffuse, this album as a whole is far too amorphous, both in the songwriting and musicianship, to make much of an impression.
The Bottle Rockets "Songs Of Sahm" (Bloodshot, 2001)

A scrappy twangcore band with a whole album of Doug Sahm/Sir Douglas cover tunes, covering classics such as "Mendocino," "Be Real," and others. My first reaction was, "huh? why bother...?" But then I listened a while longer and got in on the band's wavelength. The originals are still way better, but this ain't bad. (Here's a link to the band's own website.)
Grievous Angels "New City Of Sin" (Bloodshot, 1997)

Okay, so here's a good example of a Bloodshot band that doesn't work for me... at all. Call me old-fashioned and fusty, but the way I look at it, you can't have it both ways with this twangcore thing -- you can't write wannabee profundities and act all low-class gutterpunky... I mean, you can, but it's a pretty hard sell, especially when you go out of your way to sing off-key and use contractions like "I'se" which are probably not part of your normal speech. It just sounds forced and phony. Good picking in places, and a few good turns of phrase, but not a record I could return to the way I would with most great country albums.
Rex Hobart & The Misery Boys "Forever Always Ends" (Bloodshot, 1999)

I have been known to get excited from time to time by a new country album, but it's always a happy day when I get *this* excited. Now, I'll admit that this Hobart fellow might not be for everyone, but he sure did get my attention... The simple, bright production and Hobart's adenoidal voice bring to mind numerous freewheeling, laissez faire hippie-billy bands from the '70s, particularly folks who were well off the radar, such as Greezy Wheels, Robb Strandlund, or Deadly Earnest. However, Hobart's output is far more consistent than any of those one-hit wonders -- if the truth be told, there isn't a bad song on this album. Thematically it's a little repetitive (one big, tounge-in-cheek, overstated "I can't win, and boy do I know it..." country self-parody, sort of like Dwight Yoakam's last album...), but don't let that stop you... the music is solid and so are his normal-guy, nebbish vocals, and the lyrics are uniformly hilarious and witty. If you're among the ranks of those disappointed by Robbie Fulks' last album, give this guy a try -- he's not as bluesy, but he's just as brash.
Rex Hobart "The Spectacular Sadness Of Rex Hobart And The Misery Boys" (Bloodshot, 2000)

On his previous album, Hobart's wry, tounge-in-cheek overstatements of traditional country "hard luck" themes -- going to your ex-lover's wedding, etc. -- were handled about as skillfully as on Dwight Yoakam's A Long Way Home, and with nearly as much musical panache. He doesn't disappoint on this follow-up, although he does come a bit closer to overplaying his hand lyrically; the balancing act is made more precarious by his embrace of Glen Campbell-derived folk-countrypolitan stylings, as opposed to the bottle-busting, galloping honkytonk of the last album. By slowing the music down, he gives the listener more time to weigh the relative merits of sincerity vs. wit in lyrics like "I'm Not Drunk Enough To Say I Love You" and "The One And Lonely You"... Plus, these Misery Boys take their picking and plunking very seriously, and just the sound of that fine pedal steel alone is worth the price of admission.
The Legendary Shack Shakers "Cockadoodledon't" (Bloodshot, 2003)

A good, silly raunchabilly outing, with a slinky roots-R&B edge, kinda like Tony Joe White backed by the Cramps. Nothing groundbreaking or innovative, but plenty of fun songs from the tounge-in-cheek side of the tracks.
The Meat Purveyors "All Relationships Are Doomed To Fail" (Bloodshot, 2002)

Honestly, I fail to see the attraction... I mean, yeah, with effort I can tell that these folks have some good songwriting going on... a little too WTS-y for me, but often some clever turns of phrase. Yet the music is so clattersome and hurried, and their vocals so raggedy and uneven, that my predominant experience as a listener is one of irritation. As I've said elsewhere, the "I'm not singing in tune on purpose, because I'm so punk!" ethos doesn't translate well between the worlds of electric rock and acoustic country. I could see being supportive of the band if they were friends of mine with a gig at some local club, but as a well-informed country fan living a continent away... I don't really get it.
Jon Rauhouse "Jon Rauhouse's Steel Guitar Air Show" (Bloodshot, 2002)

Like his brother-in-steel, Joe Goldmark, pedal player Jon Rauhouse has a loopy, lopsided take on the music he loves, and he shows off an amazing versatility, romping through novelty instrumentals ("Glow Worm"), western swing, Hawaiian slack-key, spy jazz and buoyant, mellowed out R&B oldies. All sorts of folks from the Bloodshot scene pitch in, including Neko Case, Sally Timms and others, but it's basically Rauhouse's show. I don't tend to be a big fan of the tounge-in-cheek instrumental albums of recent vintage, but this one is consistantly engaging and inventive... worth checking out!
Split Lip Rayfield "Never Make It Home" (Bloodshot, 2001)

Even as a dutiful former son of Lawrence, KS, I didn't have high hopes for this hometown outfit... I guess the dopey bandname kind of put me off. Turns out they're a pretty decent, old-time-ish stringband, along the lines of the early Red Clay Ramblers albums, and their album is surprisingly good. Their material is almost all original, and balances rambunctiousness with a certain fresh approach... Sure, it's a little cluttered and a little forced in the hick schtick department, but far less so than I would have imagined. If you're looking for something new and original in this field, then check these guys out. This isn't the kind of album that sends me into the stratosphere, but I am really curious to find out where they go from here.
Waco Brothers "...To The Last Dead Cowboy" (Bloodshot, 1994)

The Waco Brothers -- comprised of Mekons frontman Jon Langford and veterans of various Chicago industrial and rock bands -- almost singlehandedly brought cowpunk back to life in the mid-'90s. Their first album was a nice hot blast from the forges of twangcore, mixing feedback with leftie politics. The next couple of albums wear thin, though, and seem a bit obsessed with the idea and seemingly rowdy image of "insurgent country," at the expense of the music itself. This is their first album, and the best one to check out.
Waco Brothers "New Deal" (Bloodshot, 2002)

Although some cowpunk tedium persists, this disc sports several well-written, catchy tunes, including the languid, bluesy "New Moon," and "Just No Way," both of which betray a strong (and welcome!) Stones-y streak in the current Wacos lineup. I still can't make up my mind whether Jon Langford is a "distinctive" performer, or if he just plain bugs me, but I was swept along by a couple of his tunes, particularly "I'm A Ghost," which has a nice chorus, amid the deceptively Country Top 40-ish fiddles and pedal steel. A lot of their lyrics and musical motifs are still simply too blunt, and I prefer their slower tunes, but this is a pretty solid album. Less hurried, aggro and simplistic than other WacoBro efforts.
---
Compilations
---
Various Artists "FOR A LIFE OF SIN: A COMPILATION OF INSURGENT CHICAGO COUNTRY" (Bloodshot, 1994)

Various Artists "HELL-BENT VOL. 2: INSURGENT COUNTRY" (Bloodshot, 1995)

Various Artists "STRAIGHT OUTTA BOONE COUNTY" (Bloodshot, 1997)

These comps are good samplers of the Bloodshot style, but they also show a lot of its weak points, mainly the over-abundance of trailer-trash stereotypes (which I find boring) as well as the variable levels of country fluency. The rockers-go-country thing is all very well and fine, but I still like it when they can actually play the stuff. Still, these have all the major players on the label, and are a nice snapshot of what these folks were up to.
Various Artists "THE BOTTLE LET ME DOWN: SONGS FOR BUMPY WAGON RIDES" (Bloodshot, 2002)

A cute little set of countrified kiddie tunes, some old, some new, and some less suitable for little ears than others. Lots of high-power talent on here, including Rosie Flores, Kelly Hogan, Jim & Jennie, Rex Hobart, Robbie Fulks, The Waco Brothers, and the ever-popular Austin ensemble, the Cornell Hurd Band, whose "Don't Wipe Your Face On Your Shirt" is one of the album's highlights. Some of these songs really do connect on that super-goofy "kid" level, although others seems a bit too grown-up to me -- a little less melodic than what might be of interest to the under-8 crowd. Still, the songs that are fun are a gas, and if used properly this album should get the little people all charged up. Recommended.
Various Artists "THE EXECUTIONER'S LAST SONG" (Bloodshot, 2002)

One of the best Bloodshot albums of recent vintage, this disc features the semi-group called Pine Valley Cosmonauts -- Jon Langford and whoever he gets in as guest performers -- in a protracted examination of murder, vengance and the death penalty, a hot topic in Bloodshot's home state of Illinois, where state-sponsored executions have been put on hold, following a dramatic and horrifying rise in the 1980s and '90s. Personally, I like the album's political bent. I'm anti-capital punishment myself, opposed to the death penalty both because of the potential misapplication of justice, and also because I think that the political manipulation of public bloodlust and victim's grief is a grotesque and cynical exercise; every sheriff, police chief and district attorney who has "made" their own career on a capital case really oughtta take a good, hard look in the mirror and see if they really like what they see. Musically, this is also a very strong record, with contributions from Neko Case, Freakwater, Steve Earle, Edith Frost and others... Definitely worth checking out.
Various Artists "THE EXECUTIONER'S LAST SONGS, v.2" (Bloodshot, 2003)

The first volume of this death-penalty-related series was so much fun that a bunch of folks wanted to chime in the second time around. This 2-CD set is a little less intense, and perhaps less focussed that the first, but a remarkable entourage of artists take part, ranging from Mark Eitzel, Rhett Miller and Dave Alvin to the usual Bloodshot/Chicago insurgent gang: Jon Langford, Sally Timms, Kelly Hogan, etc. The tone is generally lighter and more relaxed this time around, and includes outlaw ballads as well as odd covers such as Diane Izzo's version of "Strange Fruit" and Charlotte Greig's spin at the old British ballad, "Willie O'Winsbury." Not surprising Rex Hobart (who I think is a god) contribute's one of the most resonant songs on here: "(Two Days To Live) Forever To Burn," an original tune which may send a shiver down your spine. Sally Timms and Edith Frost also knock one out of the park with their version of "Long Black Veil" -- they oughtta harmonize together more often!
Various Artists "MAKING SINGLES, DRINKING DOUBLES" (Bloodshot, 2002)

A swift set of singles-only rarities from the Bloodshot regulars... On board for the ride are JonBoy Landford, Kelly Hogan, Andre Williams, Moonshine Willy, the Meat Purveyors and others. For me, Rex Hobart's and Ryan Adams's numbers are the natural highlights; there are several predictably tounge-in-cheek rock and reggae covers, done inna twangcore stylee.
---
Links
---
Bloodshot Records website has info on a lot of the bands that I haven't fit in here (yet). Home of "insurgent country" and all things ka-twangy, and you can order their stuff online, too!
Soundies Radio Transcriptions are Bloodshot's partners in an ambitious reissue series that includes some of the best western material of the singing cowboy era... as well as some cool old pop and jazz recordings! Worth checking out!
---


Favorite Roots Labels
Hick Music Index
Slipcue Main Index


---
Copyright 1998-2006 Slipcue.Com. All Rights Reserved.
Unauthorized use, reproduction or translation is prohibited.
---