---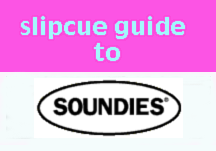 Soundies is an unusual label, an outgrowth of a commercial duplication service that presses albums for various specialty labels. Under it's own imprint, Soundies delves into a rich collection of old radio transcription discs -- recordings from the 'Forties and early '50s that were made originally made to be broadcast on radio shows. This series should turn a few heads, with plenty of rare recordings and material by several artists who have been forgotten for years. Nice stuff from the goodle days, and some of the most interesting reissues coming out in the States these days.
This page looks at some of Soundies' best country music CDs. Many of their fine jazz and pop vocals releases are reviewed on a separate page.
---
Recommended Records
---
Rex Allen "The Last Of The Great Singing Cowboys" (Bloodshot/Soundies, 1999)

The whole singing cowboy thing is kinda funny... When did the roundup-ridin' folk tradition end and the Hollywood myth-making begin? Like most of the best-known cowboy movie stars, Rex Allen had a whole bunch of Tin Pan Alley smoothie to him, and that's what makes these recordings so fun to begin with. It's hard not to compare his cornball crooning with Bing Crosby: Allen had a similarly appealling warmth and natural ease. Right after he made these late-'40s recordings, he landed a Hollywood film contract -- one of the last actors to make it in before tastes changed, and the cowboy movies took a back seat for a decade or two. One of the more unique discs in this series, and certainly worth checking out.
Johnny Bond "Country & Western: Johnny Bond Standard Transcriptions" (Bloodshot/Soundies, 2000)

One of the more jovial characters to come out of the Depression-era cowboy scene, by the 1960s, Bond was cranking out albums on the Starday label that emphasized a good-natured drunkard role, similar to Moe Bandy's persona in the late '70s. But back when these 1940s tracks were recorded, he was still giving it his all, and that included some swell jazzy-bluesy licks, along with all the chugga-chugga country accordion stuff. These 1944-'45 radio transcriptions highlighted his "western" image -- including peppy versions of chestnuts like "Goodbye Old Paint", "Red River Valley" and "Birmingham Jail," along with plenty of tailormaid Hollywood cowboy tunes, of the Sons Of The Pioneers variety. It's great stuff. One of the strongest discs in this series, this is a doozie. If you like it, you might also check out the similar collection on Binge Disc's Cattle Compact series.
Elton Britt "Ridin' With Elton" (Soundies, 2000)

A spirited set of western-flavored tunes recorded for Britt's late-'40s radio shows... Since his biggest hit was the anthemic "Star Spangled Banner Waving Somewhere," this set is packed full of patriotic and military-themed songs, but also some nice weepers and cowboy tunes. Mostly, though, what's notable here are his heartfelt performances... This is easily one of the best albums in this series, thus far. Great stuff -- highly recommended!
Spade Cooley "Shame On You" (Bloodshot/Soundies, 1999)

Fiddle player Spade Cooley has one of those careers that they routinely call "colorful"... One of the most prosperous western swing bandleaders of the 1940s, Cooley smoothed the bluesy hard spots out of the rugged hillbilly jazz that folks like Milton Brown and Bob Wills created, and his slicker, poppier version made him a much more salable, mainstream commodity. Having Tex Williams, one of western swing's greatest singers, in his band didn't hurt none, either. Things fell apart pretty quickly for Cooley, though -- he and Williams had a big blowout, Williams took most of the band's crackerjack musicians with him, and Cooley shifted into an even more pop-oriented, orchestral sound. One night, though, Cooley totally lost it and brutally murdered his wife -- leading to a prison sentence that proved to be permanent. Legend has it that he died of a heart attack on stage, playing a concert for his prison pals. Even leaving the sordid stuff aside, history hasn't been kind to Cooley, since for decades only his cheesiest pop stuff was available from the record companies -- leading to his reputation as country's Lawrence Welk. The great news here is that this disc rocks. These WWII-era recordings show Cooley in peak form, with Williams on vocals and his best band intact. There's a bluesiness and looseness that you never would have suspected from listening the postwar stuff -- this disc completely vindicates Cooley and is well worth checking out.
Jimmie Davis "Louisiana" (Bloodshot/Soundies, 2000)

How a blues-laced country singer like Davis -- a contemporary of Jimmie Rodgers who was raunchier and blunter about a lot of the sex stuff -- landed in the governor's mansion is an enduring mystery. But then again, the state was Louisiana, and Davis had a great campaign song, ("You Are My Sunshine"). It wasn't too long before all that respectability ruined him -- most of Davis' Decca recordings from the '50s and '60s were sappy gospel material, with the occasional bland pop vocal thrown in for good measure. Somewhere in between comes the 1947 bio-pic movie Louisiana, where these recordings come from. Included is a smidge of the smutty "hokum" material he recorded in the early 'Thirties; mostly though it's his hits -- pleasant, catchy stuff with cheerful, well-rounded sentiments. About half the tracks on here are instrumental versions of the same songs, so you might need to be a big country buff or Davis fan to really get into this disc. Still, it ain't bad.
Eddie Dean "On The Banks Of The Sunny San Juan" (Soundies, 2000)

Stylistically, these transcription recordings are as close to crooners like Bing Crosby as they are to rougher, tougher country singers. It's mostly pretty corny material; Dean later had a bit more bite to his tunes, with a heavier dose of honkytonk style thrown in on top. Some of the later tracks on here, when he gets deep into the singing cowboy stuff, is pretty sweet.
Pee Wee King "Pee Wee King's Country Hoedown" (Bloodshot/Soundies, 1999)

One of the most ambitious of the Soundies releases... this 2-CD set unleashes 51 tracks by one of the most sprightly (and prolific) of the western swing bandleaders... These early '50s transcriptions caught him at the height of his commercial success -- Patti Page's 1951 version of King's "Tennessee Waltz" was one of the biggest pop hits of the postwar era, and suddenly his name was a household word. What we get here is a pretty swinging, cool country sound, but with plenty of the hayloft square dance influences left intact. King passed away in March of 2000, and there couldn't have been a more fitting tribute to him than this collection, which demonstrates his live sound at its best. Recommended!
Roy Lanham And His Whipporwills "Hard Life Blues" (Soundies, 2000)

Cool stuff. Although they dressed western, this was actually a solid 1950s pop-jazz vocals act, built around the sultry, girl-next-door vocals of Juanita Vastine (aka Sweet Georgia Brown) and the dynamic, lightning-fast guitar work of Roy Lanham. Clearly influenced by Les Paul and Mary Ford, as well as by hotshot pickers such Speedy West and Jimmy Bryant, Lanham's outfit played solid, flawless pop material. They also reached into sleek group vocals reminiscent of wartime ensembles like the Pied Pipers and Mills Brothers. This is really a remarkable disc, collecting over thirty transcription disc tracks by this little-known group. Lanham himself was a popular and highly sought-after session picker, working with Merle Travis, Hank Penny and Roy Rogers, and even had cut a few tunes with Frank Sinatra and various obscure rockabilly artists. In the early '60s, he eventually signed on with a later edition of the Sons Of The Pioneers -- a steady paying gig that subsumed the brilliant guitar work heard on these tracks. Great material -- well worth checking out!
Hank Penny "Crazy Rhythm: The Standard Transcriptions" (Bloodshot/Soundies, 2000)

Go get this disc now. For sheer fun value, this is one of the best releases in the Soundies series... Penny was one of western swing's most impish, playful performers, and also one of the fellows who had the deepest connections to the jump blues scene that was blossoming alongside the postwar country boom. Penny regularly covered popular R&B tunes, and found his own songs picked u by blues bands (most notably, Wynonie Harris' version of "Bloodshot Eyes"). The thirty tracks on this CD are all killer -- ranging from bouncy, upbeat novelty tunes to quite pleasant romantic schmaltz. A hefty chunk of the songs are Hank Penny originals, and the other are pretty well chosen, top-notch material. Although Penny is often cited as a favorite by revivalists such as The Dave and Deke Combo and Big Sandy, his material is pretty hard to find. The recent collection on Krazy Kat Records was fairly disappointing -- this one on the other hand is HIGHLY recommended. Like I said, go get it. Now.
Sons Of The Pioneers "Symphonies Of The Sage" (Soundies, 2001)

The best of the singing cowboy bands, performing in the prime during a 1940-41 lull in their recording career. These transcription discs have great sound quality and even greater song selection. The brother duo of Hugh and Karl Farr provide excellent lead and backup on fiddle and guitar, the vocals are peppy and precise as always. Fans of the Pioneers sound will have to snap this one up -- it's rare material that's seeing CD release for the first time ever. Very nice... highly recommended!
Sons Of The Pioneers "The Teleways Transcriptions" (Soundies, 2001)

This disc represents four complete radio shows from 1946-47, each show running fifteen minutes in length, with five songs apiece. It's a great snapshot of the band's professional presentation and ongoing showmanship in the postwar era... And with Hugh and Karl Farr still on board, a treat for string jazz fans!
Sons Of The Pioneers "The Essential Collection" (Soundies, 2001)
This made-for-TV double disc collection overlaps heavily with the other Soundies transcription albums, but has more material than either one... Apparently it's only available through the soundies website, though, so check out the link below for more info.
Hank Thompson "Hank World" (Bloodshot/Soundies, 1999)

Thompson did a lot of these radio discs, starting back in the 'Forties and continuing well into the 'Fifties. Lots of folks have been putting out CDs and LPs based on these transcriptions, most notably Cowgirlboy/Binge Discs and Interstate Music... Bloodshot's entry into this field is certainly no disappointment, though. Hank Thompson has always been one of the warmest, most appealling performers in country history, and his heart song sweet side is a thing to behold. Highly recommended!
---
Links
---
The Soundies website has information about their country and jazz reissues, as well as their slightly less glamourous duplication services... check it out for details on other releases not reviewed on this page...
Bloodshot Records is the self-proclaimed home of "insurgent country", although lately they've stepped away from their punky roots to sponsor the countrified end of the soundies catalog... Their punky stuff can be fun, too!
This page looks at some of Soundies' best country music CDs. Many of their fine jazz and pop vocals releases are reviewed on a separate page.
---


Favorite Roots Labels
Hick Music Index
Slipcue Main Index


---
Copyright 1998-2006 Slipcue.Com. All Rights Reserved.
Unauthorized use, reproduction or translation is prohibited.
---