---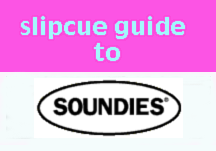 Soundies is an unusual label, an outgrowth of a commercial duplication service that presses albums for various specialty labels. Under it's own imprint, Soundies delves into a rich collection of old radio transcription discs -- recordings from the 'Forties and early '50s that were made originally made to be broadcast on radio shows. This series should turn a few heads, with plenty of rare recordings and material by several artists who have been forgotten for years. Nice stuff from the goodle days, and some of the most interesting reissues coming out in the States these days.
This page looks at some of Soundies' best jazz and pop vocals CDs. Many of their fine country releases are reviewed on a separate page.
---
Soundies Jazz Albums
---
George Barnes "The Complete Standard Transcriptions" (Soundies, 2000)

A 2-CD collection of rare radio transcriptions by one of the forgotten pioneers of jazz guitar instrumentals. A regular on the Chicago scene who started out playing blues and country sessions with the likes of Big Bill Broonzy and Washboard Sam, Barnes led various ensembles over the decades. After WWII he concentrated on instrumental material, and is cited as a primary inspiration by many better-known guitarists such as Charlie Christian and Les Paul. His influence on Chet Atkins can readily be heard on many of these recordings, where a similar chicken-pickin' style can be heard. Some of this material is a bit static, but a lot of it quite whimsical and eccentric. Worth checking out if you're a big guitar fan.
Tex Beneke "Music In The Miller Mood" (Soundies, 1999)

After the Air Force plane carrying big band legend Glenn Miller was lost over the English Channel, leadership of his crackerjack dance band fell on the shoulders of saxophonist Tex Beneke, who kept the organization humming at a fast clip for many years afterwards. These postwar radio transcription recordings show Beneke keeping the Miller tradition very much alive, with smooth, formidable and familiar charts, as well as a few new, modern touches that showed the band was more than just a museum piece. A nice 2-CD set that Miller (and Beneke!) fans will definitely want to check out.
Eddie Condon "... And Friends" (Soundies, 1999)

More sweet Dixieland-tinged sessions by jam session-master, guitarist Eddie Condon. To be certain, there are other, more varied and more lively Condon jam sessions out there on record, but this is still nice stuff. Amazing how prolific he was!
Doris Day "The Complete Standard Transcriptions" (Soundies, 1999)

This disc is a real treat for anyone who's ever lamented how Doris day's gal-next-door vocals often got buried under heavy string sections (or was bouyed by them, depending on your point of view...) The opening tracks simply feature her and a spare piano accompaniment, courtesy of Page Cavanaugh and his lightly audible trio... Even when backed by a slightly larger combo, Day's vocals are still unchallenged, and fill center stage. Maybe not the most vigorous performances of her career, but a nice chance to hear her in a relaxed, casual setting. Doris Day fans will definitely not want to miss out on these rare early 'Fifties radio transcription recordings.
Jimmy Dorsey "The Complete Standard Transcriptions" (Soundies, 1999)
Helen Forrest "Complete World Transcriptions" (Soundies, 1999)

One of my favorite big band singers, Helen Forrest entered the pop vocals era as a strong contender, letting loose with her full range as a torch singer. This generously programmed 2-CD set is packed with dozens of 1949-50 radio recordings made for the World Transcription company while Forrest was working with the Carmen Dragon orchestra, music that's been unavailable for several decades. The arrangements are uniformly sentimental and syrupy, but they serve her soft crooning well... There's a hint of Judy Garland in Forrest's phrasing, as well as Doris Day, etc. But there's definitely Forrest in there, too -- a uniquely inviting tone, and a strong command of the material. This set is much stronger than the previously-released LP which covers the same period: the sound quality is great and the selection offers a comprehensive overview of her work at the time. Recommended!
Roy Lanham And His Whipporwills "Hard Life Blues" (Soundies, 2000)

Cool stuff. Although they dressed western, this was actually a solid 1950s pop-jazz vocals act, built around the sultry, girl-next-door vocals of Juanita Vastine (aka Sweet Georgia Brown) and the dynamic, lightning-fast guitar work of Roy Lanham. Clearly influenced by Les Paul and Mary Ford, as well as by hotshot pickers such Speedy West and Jimmy Bryant, Lanham's outfit played solid, flawless pop material. They also reached into sleek group vocals reminiscent of wartime ensembles like the Pied Pipers and Mills Brothers. This is really a remarkable disc, collecting over thirty transcription disc tracks by this little-known group. Lanham himself was a popular and highly sought-after session picker, working with Merle Travis, Hank Penny and Roy Rogers, and even had cut a few tunes with Frank Sinatra and various obscure rockabilly artists. In the early '60s, he eventually signed on with a later edition of the Sons Of The Pioneers -- a steady paying gig that subsumed the brilliant guitar work heard on these tracks. Great material -- well worth checking out!
Jerry Gray "Re-stringing The Pearls" (Soundies, 1999)

These late '40s, early '50s transcript recordings, made for Standard Radio Transcription Sevices, are a perfect snapshot of the searching, experimental efforts of the big band scene as it groped its way into the pop vocals era. Gray was a former arranger in the Artie Shaw and Glenn Miller bands, and many of these tunes nakedly refashion the old Miller sound -- big, muscular, melodic juggernauts, with an added brassiness that reflected the toughened machismo of the '50s arrangers. There are also some goofy, glitzy, softer tunes that feel more like movie music or show tunes, as well as several vocal numbers, featuring Tommy Traynor and the Crew Chiefs. It's the vocal tracks that save this disc for me, as well as the quaint spoken introductions that speckle the disc. For the most part this set is too brusque and too square for me -- more like Ray Anthony or Stan Kenton than Benny Goodman -- but there are some sweet moments worth checking out.
Ray Noble "The Complete World Transcriptions" (Soundies, 1999)

These later (1940-41) recordings of British "sweet band" leader Ray Noble leading the second of his American orchestras may be a bit fusty for most jazz fans. Although his first band, from the mid-'30s, was a proving ground for many of America's best dance band leaders --notably Glenn Miller, who picked up on Noble's fastidious perfectionism -- Noble himself never quite made the leap into full-on American-style big band. Thus these recordings sound a bit old-fashioned and cerebral, as Noble tries out different compositional jokes and musical notions. He doesn't quite recapture the effervescent twee of his older work, nor the rugged mania of the Stateside swing scene, but it's still an interesting footnote to an influential career.
Kay Starr "The Best Of The Standard Transcriptions" (Soundies, 1999)

An absolute delight for fans of this husky-voiced, savvy pop singer, performing both with a punchy studio orchestra, and in the most intimate of settings, accompanied only by guitar and violin (Les Paul and Joe Venuti, no less!) Starr's command of phrasing and emotion are masterful; she nails song after song in this rich collection of torch songs and standards... A great 2-CD set of rare recordings from 1948-49, when her postwar career was really starting to take off, revealing a confident Starr giving the world her best. Recommended!
Martha Tilton "The Complete Standard Transcriptions" (Soundies, 1999)

This fab set of radio transcription recordings features Tilton at her swinging best... if anything, she sounds even better here than she does in the Capitol studio session collected on the Liltin' Miss Tilton set reviewed above. The bulk of these recordings come from 1941, just before she became a Capitol hitmaker; other sessions date from the end of the War, and from around 1948. They're all quite good, and feature some lesser-known songs from the era (as Tilton set out as a solo artist at just the same time as ASCAP mounted an unsuccessful boycott of he recording industry; hence many relatively obscure composers who had signed up with BMI made it onto her playlists. What comes through more than anything else, though, is Tilton's command of the pop vocal format, and her dynamic embodiment of the lightly-disguised eroticism of many of the romantic lyrics of the time. One song in particular stands out, though, and that's Hy Zaret and Joan Whitney's "My Sister And I," an absorbing and rather unusual ballad about two sisters who have fled oppression and war to live in America, with a chorus in which they recount their night terrors and guilt about the friends and family they left behind, with a chorus that ends, "...But we don't talk about that." Pretty heavy stuff, and more directly political than your average big band dance tune! Anyway, this is a great collection, and raised my appreciation of Tilton's work to a much higher level.
Mel Torme "The Complete World Transcriptions" (Soundies, 1999)

Subdued yet compelling performances by one of the greatest pop/jazz singers of the postwar era. Torme takes on various standards at a uniformly moderate pace, with a solid, but undistinguished (and unfortunately, anonymous) studio orchestra backing him up. Just 'cause we don't get the panache of his later collaborations with arranger Marty Paich, though, doesn't mean this collection isn't an absolute goldmine for Torme fans to revel in. These early-1950s recordings are a nice portrait of his postwar prime, made even more valuable by their previous unavailability... Nice stuff by one of the masters!
---
Links
---
The Soundies website has information about their country and jazz reissues, as well as their slightly less glamourous duplication services... check it out for details on other releases not reviewed on this page...
Soundies country albums are reviewed on a separate page.

---


Favorite Roots Labels
Hick Music Index
Slipcue Main Index


---
Copyright 1998-2006 Slipcue.Com. All Rights Reserved.
Unauthorized use, reproduction or translation is prohibited.
---