<! MP3 00/00/00 > <! update 00/00/00 > <! pix 00/00/00 > <! icons 01/31/11 >
---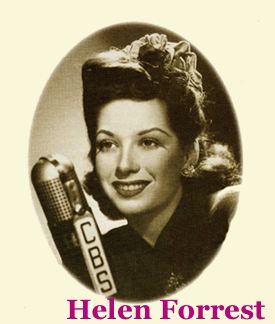 Helen Forrest (1918-1999) is one of my favorite big band vocalists, with her truly swinging, fluid sense of melody, beautiful tone, and an uncanny knack for bringing out the emotional content of even the most standard lyrics. Forrest's career really took off when she signed on as the "girl" singer for Artie Shaw's band, taking over for Billie Holiday in the fall of 1938. Like Holiday, Forrest had a way of making any song she sang, no matter how banal the lyrics, sound utterly sublime. Forrest was one of the many swing singers who couldn't quite make the transition into the pop vocals era, and her career stalled out in the early 'Fifties, nonetheless leaving behind a wonderful, though all-too-modest body of recorded work. Here's a quick look at her legacy, moving through the orchestras of Artie Shaw, Benny Goodman, Harry James and others. It's all great stuff!
---
Discography - Collections
---
Helen Forrest "I Had The Craziest Dream" (ASV Living Era, 2000)


A wide-ranging set that gathers Forrest's work with Dick Haymes, Artie Shaw, Benny Goodman and Harry James... ASV's collections are usually pretty good, so this may be the optimal overview album if you just want to check Forrest out.
Helen Forrest "The Voice Of The Big Bands" (Jasmine, 1997)


Like the ASV collection above, this European disc gathers Forrest's work with Dick Haymes, Artie Shaw, Benny Goodman and Harry James -- the full span of her wartime career.

Helen Forrest "Original Studio Radio Transcriptions" (Swing Factory, 2001)
An outstanding set of live performances made with both the Artie Shaw and Harry James bands... There's some buzz and chatter in the background of a few of these tracks, but the ensembles are in full swing, and these tunes really rock. Great treatments of the signature tunes she sang with each band, as well as some other unexpected standards. Highly recommended!
Helen Forrest "I Wanna Be Loved" (Hindsight, 1993)

Helen Forrest "The Cream Of Helen Forrest" (Pearl, 1996)

Helen Forrest "Sentimental Swing" (Sony Special Products, 1995)


A too-short sampling of Forrest's work... 10 songs is the best a major label can do? Still, it's a Helen Forrest CD; how could you go wrong?

Helen Forrest "Them There Eyes" (Mr. Music, 1995)


Her later career in the 1950s, as big band gave way to pop vocals, is covered on this disc, which highlights Forrest working with swing refugees such as Larry Clinton, Sy Oliver and swanky arrangers like Ray Bloch and Arthur Norman. The tunes tend to be either a bit too bim-bam-boom and brassy, or a little soft around the edges. This 20-song selection isn't as much fun to listen to as her early works, but it's an invaluable collection for anyone who wants to check out Forrest's career in full.
---
Discography - Chronologically
---

Helen Forrest "Sweeter As The Years Go By" (Jasmine, 1998)


The first of two volumes collecting Forrest's work with the Artie Shaw orchestra, which many fans consider her best work. You'll certainly get no complaints from me! It's heavenly stuff, for sure, and the sound quality on these transfers is first-rate -- very clear and bright-sounding. And, oh! That voice!
Helen Forrest "Volume 2: Sweet And Simple" (Jasmine, 2000)


A nice follow-up to the first Jasmine disc, with more recordings with Artie Shaw's band. Great stuff!!

Helen Forrest & Benny Goodman "The Complete..." (Collector's Choice, 2001)


One of the sleekest and most compelling singers of the big band era, Helen Forrest landed in Benny Goodman's orchestra after a stint with Artie Shaw. This sumptuous 3-CD collection gathers all their collaborations from 1939 to 1941, when she left Goodman for another gig in Harry James' band. Forrest was a consummate singer, equally comfortable with ballads and uptempo material, and her work was entirely free of the unevenness that sometimes spotted the work of other big band singers. Apparently, though, she intensely disliked working with Goodman, who by all accounts was absorped in his music to the expense of human relations within his band, and without. None of those tensions are audible on these recordings, though -- this is classic Goodman material, with tight, sharp arrangements by Eddie Sauter, and first-rate material provided by all the great songwriters of the day. Goodman never slowed down the pace to try and craft the kind of sensitive accompaniment that Shaw gave Forrest -- in fact, he saw vocal tunes as a distraction from the hot swing he was hooked on, a mere concession to pop commercialism. Forrest made the most of the verse-chorus-verse constraints of Goodman's arrangements, and these recordings are top-flight swing from start to finish. Recommended!
Helen Forrest & Harry James "The Complete Helen Forrest With Harry James" (Collector's Choice, 1999)


From the Goodman orchestra, Forrest moved to a two-year stint with Harry James, a smoothie with a certain panache. These 1941-42 recordings include a slew of war-related novelty tunes.
Helen Forrest & Harry James "1942-1943 -- Broadcasts with Helen Forrest" (Soundcraft, 2001)

Helen Forrest & Dick Haymes "Two Of A Kind" (Mr. Music, 1999)


Helen Forrest "Complete World Transcriptions" (Soundies, 1999)



Forrest entered the pop vocals era as a strong contender, letting loose with her full range as a torch singer. This generously programmed 2-CD set is packed with dozens of 1949-50 radio recordings made for the World Transcription company while Forrest was working with the Carmen Dragon orchestra, music that's been unavailable for several decades. The arrangements are uniformly sentimental and syrupy, but they serve her soft crooning well... There's a hint of Judy Garland in Forrest's phrasing, as well as Doris Day, etc. But there's definitely Forrest in there, too -- a uniquely inviting tone, and a strong command of the material. This set is much stronger than the previously-released LP which covers the same period: the sound quality is great and the selection offers a comprehensive overview of her work at the time. Recommended!
Helen Forrest "On The Sunny Side Of The Street" (Audiophile, 1994)


These 1950 sessions with the Carmen Dragon orchestra are some of the few disappointing recordings of hers that I've ever heard. The fault lies mostly with the band; by the time these tracks were recorded, bebop was all the rage and the big band scene was pretty much over, and you tell listening to these guys that the thrill was gone as well. worth checking out if you're a Helen Forrest loyalist, but it's definitely not as wow-erific as her earlier work.

Harry James "Trumpet Blues: The Best Of Harry James" (Capitol, 1999)



I picked this CD up because of the lure of Helen Forrest, one of my favorite songbirds from the big band era. She only sings on a trio of tunes (including a reprise of James' big wartime hit, "It's Been A Long, Long Time"), but it doesn't really matter. The vocal numbers are swell, and Forrest fans will be pleased to hear them. Still, these latter-day swing sessions (from 1955-'58) lack the fresh, light feel of James' classic 'Forties hits... Instead, the arrangements are too brash and punchy, with a muscularity that more often than not simply overpowers the melody. OK for the Eisenhower-era crowd who may have enjoyed these tracks the first time around, though younger fans might want to look to the older, sweeter material first.
Helen Forrest "Now And Forever" (Stash, 1983)

Helen Forrest "1983 Studio Sessions" (Viper's Nest, 1996)

Helen Forrest "Embraceable You" (Hindsight, 1995)


Not sure what vintage these recordings are... Still, it's on a good label...
---
Books & Film
---
"I Had The Craziest Dream"
Helen Forrest, with Bill Libby (Coward Mc Cann, 1982)

Forrest's autobiography is apparently a pretty good read, but also apparently long out of print. If I track down a copy, I'll be sure to let you know what I think!
---
Links
---
---



Main Jazz Index
Sisters Who Swung




---