<! MP3 00/00/00 > <! update 00/00/00 > <! pix 00/00/00 > <! icons 01/31/11 >
---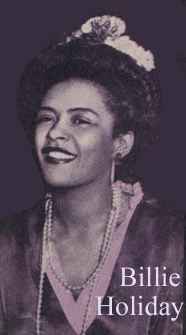 Does the world really need another Billie Holiday discography? I dunno, maybe not, but I've loved her stuff for so long that, now that I'm getting around to writing about the blues and jazz I love, it seems right for me to give Lady Day her propers as well...
Billie Holiday (1915-1959) was, quite simply the greatest torch singer the world has ever known, and many rank her as the world's best jazz singer as well. She came to prominence at just the right moment in history, when electrical amplification allowed even someone with as quiet a voice as she to captivate a crowd, and to sing as softly as need be to carry a mood. People often focus on the sorrow in her life; I prefer to think about the great music and the immense soulfulness that she brought to bear to her best recordings. She cast a long shadow, but the light that it came from has never truly been extinguished.
---
Discography
---
Billie Holiday "Golden Years, Vols. 1&2" (Columbia, 1973) (vinyl only)
Whenever confronted with the eternal question of what my "desert island discs" would be, the first artist to come to mind is Billie Holiday, and these are the records I'm thinking of. Just as inevitable is the response, "God -- how depressing!" Holiday has kind of a bum rap as a downbeat performer, which is mainly due to the notoriety of her personal life, rather than her actual recorded legacy. She was actually a great romantic singer, with a unique combination of emotionality and restraint that has beguiled listeners across the world for decades. Far from being morbid, Holiday's early repertoire was mainly comprised of run-of-the-mill moon-june love tunes, which she made beautiful and profound simply by being the most gifted torch singer in the history of jazz. These early, exhilarating swing recordings are the music that built her legend -- beautiful stuff that is a must-have, must-love for anyone serious about Depression-era music. Along with the silken, playful vocals, these recordings feature outstanding accompaniment from some of the most talented musicians of the big band era, including Benny Goodman, Lester Young, Ben Webster and Gene Krupa. Holiday's collaborations with pianist Teddy Wilson, in particular, rank among the most glorious swing music ever recorded. Very classy and hauntingly sublime.
Billie Holiday "The Quintessential Billie Holiday, v. 1" (Columbia, 1987-91)


Billie Holiday "The Quintessential Billie Holiday, v. 2" (Columbia, 1987-91)


Billie Holiday "The Quintessential Billie Holiday, v. 3" (Columbia, 1987-91)


Billie Holiday "The Quintessential Billie Holiday, v. 4" (Columbia, 1987-91)


Billie Holiday "The Quintessential Billie Holiday, v. 5" (Columbia, 1987-91)


Billie Holiday "The Quintessential Billie Holiday, v. 6" (Columbia, 1987-91)


Billie Holiday "The Quintessential Billie Holiday, v. 7" (Columbia, 1987-91)


Billie Holiday "The Quintessential Billie Holiday, v. 8" (Columbia, 1987-91)


Billie Holiday "The Quintessential Billie Holiday, v. 9" (Columbia, 1987-91)


These single-volume albums, issued at the end of the major label vinyl era, were also mirrored in CD form. For some reason, though, they never had the same sensuous resonance for me as the old Golden Years LP boxes, even though it's the same great music. Still, these are the affordable, standard-issue Holiday discs out there today, the easiest, most readily available way to check Holiday's classic early work out. How could you go wrong?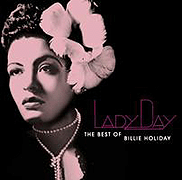 Billie Holiday "The Complete Billie Holiday On Columbia: 1933-1944" (Sony Legacy, 2001)


Those of us who had despaired of ever seeing a Holiday package as classy as the multi-LP box sets reviewed above now have cause to celebrate anew... This 10-CD collection picks up where the Golden Years discs left off; it's the Holy Grail that the Lady Day cult has long been questing for, gathering all of Holiday's best, most delectable material, from her Depression-era heyday to the end of the Second World War, when personal troubles began to cripple her career. In addition to dozens of well-beloved standards from her Columbia years, this set includes three discs worth of previously unreleased radio performances and wartime "Victory Discs," music originally intended only for broadcast to the Allied troops in Europe. It's all great, and while the sticker price may be daunting, there's no good reason not to get this collection. It's amazing.
Billie Holiday "Lady Day: The Best Of Billie Holiday" (Sony Legacy, 2001)


A more modest, condensed version of the big box set, this is a 2-CD set of pure, pure gold. Great stuff. Highly recommended.
Billie Holiday "Lady Day: The Master Takes And Singles" (Sony-BMG Legacy, 2007)


An expanded, 4-CD box set. Also yummy.
Billie Holiday "The Legacy: 1933-1958" (Columbia Legacy, 1991)


A mysteriously unsatisfying 3-CD retrospective... I've heard some folks complain about the sound quality, some about the song selection, others about the pacing. Perhaps compact discs were just too new to us at the time, or maybe we just wanted more... more... more! One problem is the mixing of the old with the new: Holiday's later work in the '50s is simply not of a piece with her early Columbia recordings, so what was the point of hopscotching over the War years to pluck out only two of those later tracks? At any rate, the chronologically-ordered, single disc Quintessential series is much more rewarding. Sure, this is Billie, and sure, it's great, but there are groovier options.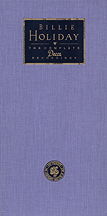 Billie Holiday "The Complete Decca Recordings" (MCA/GRP, 1991)


"Real" jazz fans often prefer these 1944-50 recordings over Holiday's earlier, big band-flavored recordings. Certainly she was at her stateliest and perhaps most subtle on these sensuous, restrained ballads... This was also the period in her life when her private life, and her drug problems in particular, became painfully public. At the start of this collection, in 1944, Holiday was at the peak of her professional career, gaining awards as the best jazz singer in America. By the end of the decade, the hounds were on her trail. None of this seems to have effected these Decca sessions much, though -- all these songs are quite sublime. Even with the often-questionable jazzophile inclusion of alternate takes of the same song set side-by-side, these two CDs flow well and present a lovely picture of Holiday at the height of her powers.
Billie Holiday "The Billie Holiday Story" (Decca)
This double LP set features much of the same material as the Decca Recordings CDs above, but it's in a bastardized, adulterated form, ie., with bad, fake stereo mixes. I think there is also a monophonic version out there, but unless you're a vinyl-only fanatic, the CD version is vastly preferrable.
Billie Holiday "The Best Of Billie Holiday: The Millennium Collection" (Hip-O/Verve, 2002)


Although not generously packed with tons of material, this is a thoughtfully-programmed selection of Holiday's later, non-Columbia material. Ten tracks, drawn from various sessions at Decca, Commodore, Clef and Verve, starting with "Strange Fruit" and ending with a 1956 live version of "God Bless The Child." This set is nice in that it avoids the usual emphasis on her difficult-sounding later performances, avoiding the tragedy-laced version of her career in favor of a more positive, musically triumphant telling of the tale. For a budget-line release, it's pretty darn nice.
Billie Holiday "Rare Live Recordings: 1935-1959" (ESP-Disk, 2007)


A 5-CD set that collects dozens of live performances, spanning Holiday's career from the mid-1930s up through her years in the woods in the late '50s. Taken from a variety of sources, this gathers material that has appeared here and there throughout the years, mainly on fly-by-night indie labels and whatnot. The first disc is made from two concerts in the 1930s -- a gig with Duke Ellington in '35, and a 1937 show with Count Basie. The other discs are of later vintage, and may be of even greater interest, as the '40s and '50s were when Holiday really began to experiment with her style.

Billie Holiday "Lady In Satin" (Columbia, 1958)


During her final years, when drug addiction and a grueling performance schedule ground her down, Lady Day recorded a series of agonized, heart-wrenching sessions Ð as painful for us to listen to as it must have been for her to complete. These 1958 sessions softened the impact of her sadly-diminished voice by including over-the-top string arrangements, more appropriate, perhaps, to pop vocalists like Kitty Kallen or Kate Smith, than to the greatest of jazz singers. Still, there is a compelling side to these recordings, an anguished emotionality to her performance that transcends mere morbid fascination, or simplistic "suffer to sing the blues" constructs -- even as she was dying, Holiday was a superior torch song stylist, and a canny jazz musician. Behind her prematurely ravaged voice and her spacy, irritable disconnection was a wealth of feeling and expertise, bitterly expressed, but knowingly crafted. This is worth checking out, and worth reexamining even if it doesn't take the first few times. Recent CD editions include interesting studio outtakes, such as an a capella vocal track on one song, followed by the completed, slushy, poppified version.
Billie Holiday "Billie Sings The Blues: Rare Recordings 1949-1957" (Sandy Hook, 1982)
A rarites disc with a depressing tone. It's great to hear Holiday at work in venues such as Eddie Condon's radio show, but also sad to hear her sound as wobbly and dissolute as she does on many of these tracks. Particularly painful are hearing her forget the words to "God Bless The Child," a song she took credit for writing, and the banter between her and host Art Ford, where he speculates about future torch singers seeking Holiday out as she said she'd done with Bessie Smith. The performances are also uneven; with sleek ensembles such as Lester Young behind her, Holiday could do no wrong, while some of these house bands were unable to rouse her to her full glory.
---
Filmography
---
"Emperor Jones" (1933) ( On VHS
)
The famous film adaptation of Eugene O'Neill's play about a Carribean despot, featuring Paul Robeson in the lead role. A very young Miss Holiday apparently is in the background as an extra.
"Rhapsody In Black" (Paramount, 1935)
A nine-minute short film featuring Duke Ellington, with a slew of great jazz talent surrounding him.

"New Orleans" (Paramount, 1947)



A rah-rah fictionalization of the early New Orleans jazz scene, as viewed through the eyes of a white enthusiast who helps bring this hot new music into the mainstream. Somewhat reserved, slightly gaunt, Billie Holiday plays a housemaid in love with Louis Armstrong (who plays himself, more or less...) She gets a small speaking part, and as this film has its heart in the right place, it's not your typical, stereotyped eye-rolling, happy darkie part. Mostly this is pretty corny, but any film that could inspire music archeologist Chris Strachwitz to become obsessed with jazz can't be half bad. Worth checking out, if just to see Holiday and Armstrong in action.
"The Long Night Of Lady Day" (BBC, 1984)
This documentary was features archival footage and interviews with various Holiday friends, associates and scholars... I haven't seen it yet, but when I do, I'll give you a report.
---
Other Resources
---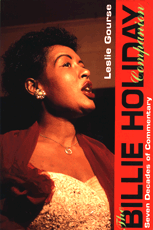 "The Billie Holiday Companion: Seven Decades of Commentary"
ed. Leslie Gourse
(Schirmer Books, 1997)

Like the other volumes in Schirmer Books' excellent Companion series, this anthology draws on a wide range of sources, including artist interviews and autobiographies, contemporary newspaper reviews and formal music criticism. This patchwork of Holiday's admirers and intimates creates a warm and frequently contradictory portrait of the world's greatest jazz vocalist. An extremely vulnerable yet extremely toughened, capable artist, Holiday's life is often seen through the filter of her tragic drug abuse, which led to her complete physical breakdown and death in 1959. This sordid reduction of Holiday's life has led many of her biographers to protectively soften or cover up aspects of her personality, which in turn has contributed to the confusion about her life. Editor Leslie Gourse skillfully weaves through these various accounts, offering illuminating commentary as to their relative strengths and blind spots. Included are entries by musicians such as Buck Clayton, producers John Hammond, Milt Gabler and Leonard Feather, and a host of journalists and biographers, including Gourse's own essay, "There Was No Middle Ground With Billie Holiday". This is an invaluable resource for anyone who wants to find out more about Lady Day, her influence on modern vocals, and her sad yet glorious life. I, for one, feel somewhat vindicated by this book's firm assertion that Holiday was not, in fact, a downcast, depressing performer. Highly recommended.
---
Links
---
---



Main Jazz Index
Sisters Who Swung




---