---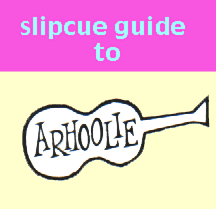 Founded in 1960 by folklorist, record collector and cultural good samaritan, Chris Strachwitz, Arhoolie Records has long been the champion of all things rootsy. Blues, jazz, country, string-band and international music all get their due in the vast and mysterious Arhoolie catalog. The greatest thing about Arhoolie is Strachwitz's meticulous honesty with his reissue efforts: whenever possible he has tracked down the artists (or their family) and made sure they get performance royalties paid off of any Arhoolie sales. Speaking of which, here are a few recommendations from the Arhoolie catalog...
---
The Big Picture
---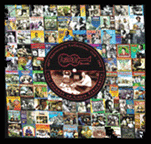 Various Artists "THE JOURNEY OF CHRIS STRACHWITZ: ARHOOLIE RECORDS 40TH ANNIVERSARY COLLECTION" (Arhoolie, 2000)

In celebration of the label's 40th anniversary, Arhoolie's archivists put together this stunning 5-CD collection of material drawn from hundreds of albums, live performances and unissued back catalog. It's an astonishing mix of material, and reflects the breadth of the label's legacy. Chris Strachwitz started out recording blues music, his interests slowly broadened to include cajun and zydeco, jazz, bluegrass and folk music, European ethnic dance music, Mexican folklore and African-American gospel. In all these fields, Arhoolie has collected and presented material that's off the beaten track and in many cases stuff that has helped revolutionize awareness of previously neglected styles. This box set, which also includes a large booklet full of really cool archival photos, is rather impressive. If you want a comprehensive look at what Arhoolie is all about, this is it.
---
Featured Artists
---
The Carter Family - A few years ahead of Rounder's own fab Carter Family series, Arhoolie issued several LPs worth of transcription disc performances made when the Carters were broadcasting on border radio station XERA. Recently reissued on CD, these discs have choppy sound quality, but are a great glimpse into the stage persona of this legendary group.
Rose Maddox/Maddox Brothers and Rose -- Arhoolie has long championed the late Rose Maddox, and has a whole slew of her records in print, ranging from her earliest on-air recordings to the many releases she did later in life, specifically for Arhoolie.
---
Recommended Records
---
Any Old Time String Band (Bay Records, 1978, 1980 /CD issue: 1996)

This San Francisco Bay Area ensemble was one of the most charming -- and accomplished -- of the late -'70s string band revivalists. The 1996 CD reissue combines two LPs originally released in 1978 and 1980, and features their lovely version of the melodic oldie, "C-U-B-A," originally a hit for Billy Murray in 1920. The lineup changed between albums, but Kate Brislin and Sue Draheim were core members of the band, along with Genny Haley on guitar... and their sense of "old-time" music, including old-time jazz and Tin Pan Alley material, was right on the button. Very sweet and highly recommended.
Cliff Carlisle "Blues Yodeler And Steel Guitar Wizard" (Arhoolie Folklyric, 1996)

Well, the title of this album pretty much says it all... but I'll add my two bits as well. Of the same breed and era as bluesy country artists such as Jimmie Rodgers and Jimmie Davis , Carlisle was by far a superior musician. His flashy guitar work is reminiscent of Tampa Red, and many of these tracks are quite strikingly bluesy and raw. Fun stuff!! HIGHLY RECOMMENDED.
Harry Choates "The Fiddle King Of Western Swing" (Arhoolie, 1982)

Classic backwoods fiddle music from the Louisiana bayou... These late-'40s recordings are an interesting mix of cajun, straight old-timey fiddle music and honkytonk-heavy western swing tunes. A veteran of the Louisiana swamp scene, by the postwar years Choates seemed ready to try just a little bit of everything and see what would stick -- fortunately, he was pretty darn good at any style he played, and this album is pure fun from start to finish. The CD version includes ten extra tracks that weren't on the original LP (although his big hit version of "Jole Blon" is still sadly absent...) Cool stuff, and a little off the beaten track.
Elizabeth Cotten - see my page on women in the blues page
Lightning Hopkins "The Best Of Lightning Hopkins" (Arhoolie, 2001)

Texas bluesman "Lightning" Hopkins had recorded some killer tracks in the late 1940s and early '50s, then sort of faded out of sight, until 1959 when Arhoolie's Chris Strachwitz found him living (and still performing) in Houston. Strachwitz was inspired to record Hopkins -- and even to start his own record label! -- helping to bring Hopkins back into the public eye. This disc is a great mix of Hopkins' older work on the Gold Star label, along with several select tracks recorded for Arhoolie in the early '60s. It's a nice sampling of the seven Lightning Hopkins albums out on Arhoolie, and has plenty of jaw-droppingly good material on it. You might also want to check out some of the regular albums, in case this disc whets your interest.
Lightning Hopkins "The Gold Star Sessions, v. 1" (Arhoolie, 1991)

Lightning Hopkins "The Gold Star Sessions, v. 2" (Arhoolie, 1991)

These two CDs have some of Hopkins best and most raw, electrifying performances, including plenty of material that went unreleased back in the days of Lightning's jukebox fame. The sound quality is variable, but the quality of the music is stellar, with Hopkins wailing away in his inimitible style. In that unique space where country blues meet urban, Hopkins plays some of the gnarliest, most compelling tunes of his career. Recommended!
Kalama's Quartet "Early Hawaiian Classics: Historic Recordings 1927-1932" (Arhoolie/Folklyric, 1993)

Lovely stuff. An expanded version of a 1978 LP that led the pack in classic Hawaiian reissues, this disc collects recordings by one of the sweetest, most melodic Hawaiian acts of the 1920s. The Kalamas Quartet's sound is distinguished by elegant four-part harmonies and the interplay of two steel guitars. Even though they worked on the mainland, a lot of their repertoire is notably old-school in comparison to their pop-oriented contemporaries; although accomplished, they have a folkloric, 19th Century feel to some of their rougher material. Acoustic revivalist Bob Brozman wrote the original record's liner notes -- and an endorsement like that should be enough to pique your interest! Recommended.
Mance Lipscomb "Volume 1: Captain, Captain" (Arhoolie, 1960)

Mance Lipscomb "Volume 2: You Gotta Reap What You Sow" (Arhoolie, 1960)

Mance Lipscomb "Texas Sharecropper & Songster" (Arhoolie, 1989)

Some of the sweetest country blues in the Arhoolie catalog, with a graceful, offhand masterfulness. Nice picking, and charmingly offhand vocals, slurred in the same style that Leon Redbone would adopt decades later. Fans of early Taj Mahal might wanna check these discs out...
Fred McDowell "The Best Of Fred McDowell" (Arhoolie, 2002)

Ever wonder where Bonnie Raitt got that funky version of "Kokomo Blues"? Well, check out Fred McDowell's classic recordings from 1964, where he feels acoustic, but plays electric... A funky, slightly grungy electric style that is tremndously soulful. McDowell's slide work doesn't seem technically advanced, but it is charged with power, and completely arresting. Raitt took that power and smoothed it out a bit -- you might find you like the unburnished originals even more!
Los Montaneses Del Alamo "Primer Grabaciones 1940-1950" (Arhoolie, 2002)

A great set of old-fashioned Mexican border music from the Sierra Madre Oriental region in northeastern Mexico. The music on this collection is archaic, a "salon" style that is based on colonial, European roots, particularly on French society music, with plenty of waltzes, polkas and schottiches among the Spanish-influenced danzas and habaneras... Although the Mier family, who were the heart of this long-lived ensemble, performed and recorded at the same time as many of the popular Mexican conjuntos, their style predates the accordion-based music that is most often associated with Tex-Mex border music, so the gentle flute-and-fiddle arrangements on this album are a pleasant contrast to the Mexican music we're used to hearing, much closer in tone and temprament to early Cuban popular music. A very nice disc, highly recommended!
Bill Neely "Texas Law And Justice" (Arhoolie, 1974)

One of the most unusual-sounding albums in the Arhoolie catalog (and that's saying a lot!) This CD is an expanded version of a 1974 LP made by an obscure white Texas country/blues picker who plays a basically acoustic style, though amplified in a rather remarkable way. The overall effect is spooky and unnerving, which, as it turns out, is perfectly suited to the intense, unsettling nature of the songs themselves. Neely, a lifelong devotee of the legendary Depression-era country pioneer, Jimmie Rodgers, dwells in the darker areas of the country blues tradition, with stream-of-consciousness tunes about jail time and street crimes. Particularly striking are the preachy-but-raw religious tune "Satan's Burning Hell" and the previously unreleased "Skid Row," which detailed the seaminess of life in the lower rungs of big city life. I thought this album was particularly compelling, and certainly worth checking out. Just the kind of record that only Arhoolie could put out.
Savoy-Doucet Cajun Band "The Best Of..." (Arhoolie, 2002)

Cajun music simply does not get any better than this. Fiddler Michael Doucet is one of the great innovators and modernizers of this often-inaccessible Louisiana art form; anyone who's ever found themselves turned off by the raspiness of the classic cajun "chanky-chank" style should check this excellent best-of collection out. Doucet's fiddle and Marc Savoy's bouncy accordion, along with guitarist-singer Ann Savoy's solid backup bring the style up to sweet, melodic heights hitherto undreamt of. Their playing is tight and hypnotic -- check out an instrumental number such as "La Valse De Vachers (The Cowboy Waltz)" and you'll see what I mean. Personally, I'm not the biggest cajun-zydeco fan in the world -- for the most part this stuff drives me nuts -- but even I can hear the enchanting magic of this trio's work. Recommended!
Jim Smoak & The Louisiana Honeydrippers "Bayou Bluegrass" (Arhoolie, 1972/2002)

Blistering old-fashioned bluegrass from this sharp Louisiana combo. In the 1950s, hotshot banjo plunker Jim Smoak was a longtime member of Bill Monroe's Blue Grass Boys, and later on part of Hylo Brown's band. In the early '60s he formed his own band, the Honeydrippers, which he headed up until 1972, when this album originally came out. In addition to Smoak's hot, old-fashioned five-string banjo playing, the group had a great fiddler and a tireless rhythm section. Fans of the lively, rougher end of old-school bluegrass will want to check this one out. Pardon the pun, but... it smokes!
Strange Creek Singers "Strange Creek Singers" (Arhoolie, 1972)

A classic album of the old-timey music revival, uniting the considerable talents of Hazel & Alice along with Mike Seeger and Tracy Schwartz, of the New Lost City Ramblers. They open the album with a shape-note song ("When I Can Read My Titles Clear"), just to let us know that they've got the real low-down on this raspy old mountain music... Then they gradually ease into more melodic, bluegrassy terrain. It's great stuff from start to finish, originally recorded between 1968-70.

Various Artists "ANGOLA PRISON: SPIRITUALS" (Arhoolie/Folklyric, 2003)

Hey, not that I'm trying to get all O Brother, Where Art Thou on you, but there is undeniably something extra-mournful and powerful about hearing an old gospel song sung by a man in a prison camp. This disc collects some of the finest spiritually-oriented songs recorded by folklorist Dr. Harry Oster in his sessions at the Louisiana State Penitentiary at Angola, during the late 1950s. Among Oster's many discoveries was the remarkable bluesman, Robert Pete Williams, who is heard on several tracks here; other impressive finds include some of the quartet and choir recordings (many of which were previously unissued). This CD version includes nine "new" songs, and is yet another example of the fine work Arhoolie does preserving the hidden and fragile folk culture of America. Plus, it's pretty eerie, haunting material!
Various Artists "BLUIE LOUIE" (Soundtrack) (Arhoolie, 1998)

Documentary filmmaker Terry Zwigoff (director of Crumb and Ghost World) has a major sweet-tooth for the blues, and this awesome little album sure fills the bill. These are wonderfully informal, scraggly performances, quite compelling due to the absolute lack of layered, alienating studio production: this is back-porch picking and singing at its finest. Also, there's some super-raunchy material on here, complete with plenty of coarse swearing and low-down, dirty language... A refreshingly real album.
Various Artists "HAWAIIAN STEEL GUITAR CLASSICS - 1927-1938" (Arhoolie-Folklyric, 1993)

Hot picking, Hawaiian style, drawing on rare discs from acoustic revivalist Bob Brozman's private stash of old 78s. When this album first came out in 1981, it was unique - this is one of the early fonts of Hawaiiana for modern listeners. Brozman's passion is for the early acoustic recordings, before amplified guitars gained popularity and likewise, the music itself shifted into poppier terrain; there's a ragtime-y feel on these old tunes that adds a little bounce which later was smoothed out in favor of swaying-palm steel guitar melodies. Over the years, many of the best songs here were anthologized elsewhere -- especially upbeat novelty numbers like Sol K. Bright's "Hawaiian Cowboy" and Sol Hoopii's "Hula Girl" -- but this album still retains it's unique charm and tight craftsmanship. There are plenty of songs on here that haven't been reissued elsewhere, like tracks by cowboy singer Hoot Gibson and the latin-flavored Trio De Hawaii, as well as a couple of sweet tracks that didn't appear on Arhoolie's fab Kalamas Quartet album listed above. Highly recommended!
Various Artists "LAMENTO BORINCANO -- EARLY PUERTO RICAN MUSIC: 1916-1936" (Arhoolie, 2001)

If you want to delve deep, deep down into the primorial history of Puerto Rican acoustic music, this collection is pretty hard to beat. These recordings include some of the oldest examples of the various danzas, plenas and guarachas that immigrant performers brought with them in the interwar exodus to New York City... On the whole, this 2-CD set may be a bit too stark for all but the most dedicated fans, but it's certainly an amazing collection, drawing on dozens of rare 78s by bands such as Canario Y Su Grupo, Los Reyes De La Plena and the Sexteto Flores... Also of note are the rigorously political liner notes, which see the development of Puerto Rican pop in terms of cultural colonization and the like... Ah, Berkeley!
Various Artists "THE MEXICAN REVOLUTION: CORRIDOS ABOUT THE HEROES AND EVENTS 1910-1920 AND BEYOND" (Arhoolie, 1996)

This is the kind of collection that, really, only the folks at Arhoolie could put out. Drawing on label head Chris Strachwitz's vast library of Mexican music, this includes recordings that date back as far as 1904, and also collects post-revolution recordings over the decades. The style is the corrido, a form of folkloric/political ballad that can be propagandistic as well as historical. An entire CD's worth of songs are dedicated to the legend of the revolutionary leader, Francisco (Pancho) Villa, and others cover less prominent leaders and mythic figures. You might expect some of this stuff to be pretty dry, musically speaking, but actually it's quite nice -- Mexican and Mexican-American folk music at it's best. A 4-CD set may be more than the average listener can sit through, but then again... Arhoolie itself isn't necessarily for the average listener! Cool stuff.
Various Artists "ORQUESTAS DE CUERDAS (STRING BANDS 1926-1938)" (Arhoolie, 1996)

Delightfully antique recordings from Mexico's fading "string band" tradition. If you normally find Mexican music too shrill to deal with, give this disc a shot... It's more closely tied to the European orchestral traditions that led to early Cuban and Puerto Rican dance style such as the danzon and tipica. Mexican polkas later became more manic and aggressive, but here the style is more relaxed and laid back -- really, it's quite lovely. The second half of this collection has even bigger suprprises: Mexican versions of the Hawaiian steel guitar style, and even a few gringo-style country tunes. Great stuff from the Depression era. Recommended.
Various Artists "PACHUCO BOOGIE: THE ORIGINAL HISTORICAL RECORDINGS" (Arhoolie, 2002)

A great set of swinging, jazz-tinged California Chicano R&B from the height of the postwar "pachuco" scene. Most folks know this as a the music of the "zoot suiters" -- the latino hipsters who pioneered Mexican-American popular culture during the late '40s, and whose outlandish inhibitions met with a white backlash that became known as the "zoot suit riots." It's all fun and games as far as the music was concerned, though -- and this disc is a delight from start to finish. It all began in 1948 with the title track, "Pachuco Boogie," which was recorded as a goof by Don Tosti, a veteran big band bassist whose roots were in the barrio. The song features a super-catchy riff and a slang-filled rap in the barrio lingo known as calo, a forerunner of contemporary Spanglish. The song was runaway hit in the Southwest, touching off a fad that lasted a couple of years. This collection has some of the best, and rarest, of the pachuco jazz singles. Although the most famous track, Lalo Guererro's crosscultural stoner classic, "Marijuana Boogie," a couple of other Guererro tracks do make the grade, along with a ton of Don Tosti's follow-up singles. This disc is a real find -- chaotic and fun, great music saved from obscurity and lovingly curated by our pals at Arhoolie.
Various Artists "PRISON WORKSONGS" (Arhoolie, 1959)

Where better to find real blues music than inside a prison? Although myriad earlier folklorists had already mined a various prisonyards for their blues material, these recordings made at the Louisiana State Penitentiary in Angola have a richness and sadness to them that isn't quite conveyed in earlier efforts. Accompanied by work sounds such as shoveling and raking, these people have the same undeniable "authenticity" as the back porch Appalachians so beloved by the Lomaxes, Seegers and other scholars, but with an added layer of misery and hopelessness that makes the music even more compelling. Included in these recordings is the great Robert Pete Williams, who went on to record several excellent albums for Arhoolie. Recommended.

Various Artists "SACRED STEEL" (Arhoolie, 1997)

A thoroughly captivating collection of one of the most obscure offshoots of the blues/gospel music axis, this disc collects 20 tracks of African-American gospel music as performed on electric steel guitars. The liner notes trace the style back to the 1930s, when steel guitars came into vogue; the performances are by a handful of contemporary performers who come from a Pentecostal church in Florida, where the tradition is still very much alive. Blues, R&B and gospel have always had an interesting Saturday night/Sunday morning interrelationship, and these recordings inject a distinctive "white" country flavor into that mix. This is one of Arhoolie's biggest-selling and best received releases in recent years and when you check it out, you'll understand why. Cool stuff. (There have also been several follow-ups and solo albums featuring the same artists on here, but this is the disc that, to me, seems most magical.)
Various Artists "SEXTETOS CUBANOS v. 1" (Arhoolie, 1991)

Various Artists "SEXTETOS CUBANOS v. 1" (Arhoolie, 1995)

The sexteto was once the classic Cuban ensemble: guitars, bass, trumpet and percussion; although stylistic innovations and changes in popular taste led other sounds to take over, the sextetos remain at the root of much of the Cuban popular music. These CDs predate the late-'90s resurgence of old-school Cuban son, and not coincidentally are of very high calibre. On Volumne One, Antonio Machin is heard in 1929 with his Havana ensemble, on the eve of his departure for New York and, ultimately, for Europe. "Vengan, Vengan" may turn the ears of blues fans who recognize its playful theme; Volume Two features even earlier recordings by venerable bands such as Sexteto Bolona and Sexteto Nacional. There are dozens of similar releases available on import labels such as Harlequin and Tumbao, but there is certainly no faulting these outstanding CDs for their quality and depth. Recommended!
---
Links
---
Check out the Arhoolie website -Includes a detailed essay on the history and philosophy of the label, which you may find interesting, plus mail order info, and information about the Arhoolie Foundation, which is aims to preserve and keep alive the "vernacular" culture that the label has done so much to promote.
Down Home Music, Arhoolie's sister company, has a stunning selection of country, blues, jazz, oldies and international music. Check out their website, which also has mailorder links, or if you're in the San Francisco Bay Area, check out their store... and be prepared to lose a few hours doing it!
Finally, here's an article I wrote for a local paper, profiling Chris Strachwitz and the Arhoolie label... A fabulous piece of intense investigative journalism, if I do say so myself...
---


Old-Timey Music
Favorite Roots Labels
Hick Music Index



---
Copyright 1998-2006 Slipcue.Com. All Rights Reserved.
Unauthorized use, reproduction or translation is prohibited.
---