<! cd= 9/22/04> <! MP3 04/13/09 - no RCA/BMG stuff, 03/29/13 > <! outside 00/00/00 > <! pix 00/00/00 > <! 208-pix: 00/00/00 > <! icons 04/08/11 > <! 04/09: no portrait > <! UPDATES: 04/13/09 03/29/13 >
---
Singer Vince Gill got his start in the 1970s in various bluegrass outfits, was recruited to the commercially successful country rock outfit the Pure Prairie League then worked with Rodney Crowell and Emmylou Harris, and in the early 1980s finally graduated into his own solo career. In the late '80s and early '90s he was a top country draw, specializing in soft, tender ballads -- sometimes reaching back to the roots of the country heartsong sound, sometimes hewing close to the prefab pop sounds of his times. Although you could easily write him off as a Top Forty pretty boy, at his best, Gill is one heck of a singer and a fine picker as well. Here's a quick look at his career...


<! In September 1978 auditions found Vince Gill (vocals, guitars, mandolin, banjo, fiddle), who had played with the bluegrass outfit Mountain Smoke, as well as Boone Creek (with Ricky Skaggs) and Byron Berline and his band Sundance. >

---
Discography
---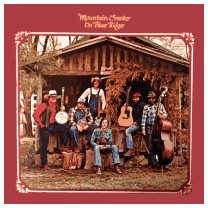 Mountain Smoke "On Blue Ridge" (Smoke Records, 1975) (LP)


(Produced by Jim Hurst & Dave Hemphill)
A decent progressive bluegrass band from Oklahoma City, Olahoma, probably best remembered as one of Vince Gill's earliest bands -- he's credited as playing banjo, dobro and guitar, as well as singing harmony vocals (...and possibly lead on a couple of tunes? I think that's him on "Rocky Road Blues," but there aren't song-by-song credits to verify that guess...) These guys were okay, though not dazzling, and at this point were working pretty strictly in the bluegrass style -- their second record had more of an outlaw country vibe, and the closest thing here is a cover of Arlo Guthrie's stoner anthem, "Comin' Into Los Angeles." Otherwise, it's mostly a Country Gentlemen/Seldom Scene 'grass sound. Worth a spin, though, especially if you're a Vince Gill fan. Love that cover photo of him in longjohns and overalls!
Bluegrass Alliance "Kentucky Blue" (American Heritage, 1975) (LP)





<! then in a band called Lazy River w/ other B.Alliance members? -- no albums, but several live recordings extant -- http://archive.org/details/LazyRiver in Boone Creek - on any albums? >

Eddie Shelton "Expedition" (STN Music, 1976) (LP)


(Produced by John Tarver & Rim Nall)
Vince Gill plays bass and dobro on this instrumental bluegrass set, recorded in Denison, Texas with banjo player Eddie Shelton.
Jimmy Henley "One For The Record" (TIG, 1976) (LP)


(Produced by James Henley & Gene Dillehay)
Vince Gill is listed as the bass player, backing Jimmy Henley, a 12-year old bluegrass banjo player from Oklahoma who later joined Roy Clark's band...


<! - James Henley - guitar; Bobby Clark - mandolin; Vince Gill - bass >

Billy Perry "Bluegrass Jam" (King Bluegrass, 1976) (LP)


(Produced by Cecil Jones, Jerry Douglas & Ricky Skaggs)
An all-instrumental set led by guitarist Billy Perry, backed by an all-star cast that included Vince Gill along with Jerry Douglas on dobro and Ricky Skaggs on fiddle, as well as Mike Perry on bass, and Bobby Clark pickin' mandolin. Perry cut a second instrumental set for King Bluegrass, More Bluegrass Jam, though Vince Gill wasn't on board for that one.
Pure Prairie League "Can't Hold Back" (RCA, 1979)


Pure Prairie League "Firin' Up" (Polygram, 1980)


Pure Prairie League "Something In The Night" (Polygram, 1981)


Here Today "Here Today" (Rounder, 1982)



A super-grassers jam session with David Grisman, Emory Gordy, Jr., Herb Pedersen and fiddler Jim Buchanan.

Vince Gill "Turn Me Loose" (RCA, 1984)


(Produced by Emory Gordy, Jr.)
His years spend hangin' around with Rodney Crowell are readily apparent, with the dorky, rock-tinged feel of the album's title track, and the well-sculpted (if somewhat tinny) production of the album itself. Emory Gordy, Jr. helmed the project, and the leftover country-pop gloss of the Emmylou/Happy Sack alumni is pretty evident. Still, mixed with the new wave-ishness of the early '80s, this made for a fairly lightweight, chirpy record, and while you can't really fault it in any way, the album doesn't really stick to your ribs. Worth noting, though, is that Gill wrote almost all the songs on here; a couple of the more George Jones-ish heartsongs, like "Half A Chance" and " 'Til The Best Comes Along," are pretty durn nice. Chartwise, this disc barely dented the Top 40, but his version of Delbert McClinton's "Victim Of Life's Circumstances" was his first Billboard entry... A humble start, but he sure took the ball and ran with it! (Hey... the CD version only has eight tracks on it... did they delete some songs?)
Vince Gill "The Things That Matter" (RCA, 1985)



(Produced by Emory Gordy, Jr)

Vince Gill "The Way Back Home" (RCA, 1987)


(Produced by Richard Landis)


Vince Gill "When I Call Your Name" (MCA, 1989)



(Produced by Tony Brown)
Moving to MCA and pairing up with super-producer (and onetime bandmate) Tony Brown, Gill really tightened up his sound, and perfected the midtempo, soft-pop tinged omantic material that would become his trademark. He overdubbed his own harmonies on several tracks, and the trick works wonders; fellow Oklahoman Reba McEntire duets with him on one tracks, as does Emmylou Harris and Patty Loveless, whose soft, haunting harmony on "When I Call Your Name" no doubt helped push the song up the charts to #2, making it Gill's first really big success. (The song was also voted CMA "Single Of The Year" in '88, and put Gill's name firmly on the map as a country music player.) Sure, he gets plenty sappy on a tune or two, but overall this is a pretty fine-sounding record.

Vince Gill "Pocket Full Of Gold" (MCA, 1991)



(Produced by Tony Brown)
Rock solid. The slow songs are sweet and soulful, the uptempo stuff is a lot of fun, and the harmonies are sublime. Great record, and aptly titled. Recommended.

Vince Gill "I Still Believe In You" (MCA, 1992)



(Produced by Tony Brown)
Okay, see, now they're just going through the motions... See how easy it is? Rack up a few big hits, and then -- bam! -- ya go and get all slick and prettyboy about it. I mean, sure, this is still kind of okay, but they are laying it on a little thick productionwise, and all of a sudden he's got this blue-eyed soul thing going on ("Nothing Like A Woman" and other tunes...) and they're starting to over-sweeten his vocals (as on the title track...) This album kicks off with his biggest career hit, "Don't Let Our Love Start Slippin' Away," but it also includes a lot of lame stuff... Well, whaddya gonna do? Guess you can't fight success, but I prefer the more traditional sounding stuff. This album's about half-good, but writing's on the wall... Oh, well.

Vince Gill "Let There Be Peace On Earth" (MCA, 1993)



His first Christmas album.

Vince Gill "When Love Finds You" (MCA, 1994)



(Produced by Tony Brown)
Hmmm. Pretty formulaic... "Which Bridge To Cross, Which Bridge To Burn" is a nice, sweet heartsong, but most of these tunes are lackluster and by-the-numbers, and full of generic, croony romantic stuff. It's inoffensive, but unexciting.

Vince Gill "The High Lonesome Sound" (MCA, 1996)



Well, judging from the title, I woulda thought this'd be some kind of almost-supercool back-to-basics bluegrass album, with Gill dipping back into his truegrass past. Nope. It's actually a fairly lame set of commercial country, with way too many "blues" guitar riffs added into the mix to spice things up and add vigor to his sometimes stuporific production style. Plus, there's a lot of Cajun flavoring in there as well... some Louisiana fiddling, etc. There is one 'grassy song towards the end (the title track) but that's about it for the acoustic twang on this disc... Nothing on here really grabbed me. Hmmmmm...just noticed how much he sounds like Michael MacDonald, too. Yeesh.

Vince Gill "The Key" (MCA, 1998)


(Produced by Tony Brown)
A fine, fine album, mostly of old-fashioned heartsongs and mid-tempo honkytonk weepers and rompers. Lotsa bigname, roots-oriented guest stars, including Sara Evans, Patty Loveless, Shelby Lynne and Lee Ann Womack. Apparently, this album was too traditional for country radio, and Gill got a lot of grief for it.. It remains a "critic's favorite," though, and you can count me in on that tip! I dig it. Highly recommended.

Vince Gill "Breath Of Heaven: A Christmas Collection" (MCA, 1998)


His second Christmas album!

Vince Gill "Let's Make Sure We Kiss Goodbye" (MCA, 2000)



Predictably, after the lack of chart success on the last album, Gill retreated into the blandest of pop stylings, and as sublime as The Key sounded, this disc is quite bland and strained. I'm sure plenty of his more pop-oriented fans love this set, but for me it's pretty much a null set. Oh, well. At least he made The Key first.

Vince Gill "The Next Big Thing" (MCA, 2003)



(Produced by Vince Gill)
This is a solid, well-produced set, with several fun, upbeat tunes, including the catchy title track, which takes a few clever, good-natured pokes at the whole Nashville star system, and its penchant for pretty-boy hat act dudes... (Yeah, sure, look who's talking, right? But still, it's a fun song.) This didn't do very well on the charts, and he still goes overboard on some songs, but it's a stronger effort than many of his recent albums... Worth checking out.
Vince Gill "These Days" (MCA-Nashville, 2006)



A 4-cd set covering a variety of moods and styles...
Vince Gill "Guitar Slinger" (MCA-Nashville, 2011)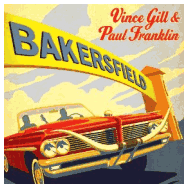 Vince Gill & Paul Franklin "Bakersfield" (MCA Nashville, 2013)



(Produced by Vince Gill & Paul Franklin)
A richly twangy tribute to the honkytonk-flavored "Bakersfield Sound" popularized by Buck Owens and Merle Haggard in the late 1950s and '60s. Vince Gill is one of the few Nashvillers where I don't mind it when he does slick stuff, but his hard country/neotrad roots are also never in question, and it's a treat to hear him delve so deep into the hard stuff. His collaborator here is steel guitarist Paul Franklin, a versatile player who's equally comfortable with the choppier, more clipped style that Owens sometimes favored, or the more fluid, lyrical, lazy pedal steel sound that has helped many a beer go down easy over the years. Veteran pickers who really "get" it, Franklin and Gill keep things simple, making it all about the songs and not the singer, giving these great old heartsongs and boozer tunes the respect they deserve. While they pay homage to the Owens and Haggard catalogs, they manage to slip in a few lesser-known gems, such as the Buck Owens/Arty Lange weeper, "He Don't Deserve You Anymore" and the equally sweet "But I Do," the lone entry here from songwriter Tommy Collins. Every track on here is pure catnip for hard country fans, with plenty of sentiment and twang to go around... Highly recommended!
---
Best-Ofs
---
Vince Gill "The Best Of Vince Gill" (RCA, 1989)


This samples his three albums for RCA, condensing it all down to a handy-dandy single-disc set. This has pretty much been superceded, though, by the newer Essential collection (below), which has all the same songs and several more, as well as better sound quality.

Vince Gill "I Never Knew Lonely" (BMG, 1992)


(Produced by Emory Gordy Jr., Barry Beckett & Richard Landis)
An 8-song sampling of his RCA years, which is fine, but it's a little cheesy that it's represented as a regular album, rather than some sort of best-of. No biggie. Also kinda lame there are so few songs on it, but whatever. I guess that makes it cheaper to sell...

Vince Gill "...And Friends" (RCA, 1994)


(Produced by Emory Gordy Jr., Barry Beckett & Richard Landis)
Odds & ends from his RCA albums, with Rodney, Emmylou, Bonnie Raitt, Herb Pedersen and Sweethearts Of The Rodeo on it... Nice, if you can't find the original albums... Downside: it only has eight tracks on it.
Vince Gill "The Essential Vince Gill" (RCA, 1995)



Vince Gill "Souvenirs" (MCA, 1995)



This best-of set, which draws on three of his MCA albums -- When I Call Your Name, Pocket Full Of Gold and I Still Believe In You -- is pretty darn good. It ably balances slow numbers with fast ones, and the ballads are generally pretty heartfelt and effective, rather than cloying or icky. I rarely recommend best-ofs over the original albums, but this disc might be a welcome exception: it's a really good look at some of Gill's best work. Plus, it's a lot of fun to listen to! Highly recommended.
Vince Gill "The Millennium Collection" (MCA-Nashville, 2003)


Vince Gill "Ballads" (MCA-Nashville, 2013)



A best-of collection gathering some of Vince Gill's softer, sweeter, more romantic stuff... We still believe in you, too, Vince!
---
Links
---
---