<! cd = 12/01/12 > <! MP3 00/00/00 > <! outside 00/00/00 > <! pix 00/00/00 > <! 208-pix: 00/00/00 > <! icons 00/00/00 > <! UPDATE: 05/05/12 - posted 08/14/13 - Tompall Glaser passes away >
---
Tompall Glaser (1933-2013) and The Glaser Brothers came to Music City in the early 1960s under the auspices of Marty Robbins and Johnny Cash... They sang backup on stage and in the studio for various artists before getting a shot at a 'solo' career in '66. They did alright, sneaking into the Top 30 with fair regularity, starting off as a folk-country trio, and gradually edging into a more classic country style. Then Tompall, the group's driving creative force, started getting a little bit weird, pioneering, in fact, the rebellious "outlaw" sound that Waylon & Willie & The Boys took to the bank later in the decade. The Glaser Brothers remained a lower-rung '60s/'70s Nashville act, but Tompall managed to be a notorious figure during the rebellious 'Seventies scene. Here's a quick look at his (and their) work...
---
Discography - Best-Ofs
---
Tompall Glaser & The Glaser Brothers "The Best Of..." (Collector's Choice, 2001)


A top-notch retrospective. This disc has got it all, from their soft-edged Nashville singles to their early '70s forays into an increasingly rough'n'tumble style. Notable here is their cover version of John Hartford's "Gentle On My Mind," a song that the Glasers invested in when they set up their own publishing house... When Glen Campbell took the tune to the top of the charts, the Glaser's struck gold, and then turned around to invest their profits in a recording studio, and it was the relaxed, rowdy atmosphere at "Hillbilly Central" that served as the incubation chamber for the young, druggie rebels that were challenging the conservatism of the Nashville establishment. You can hear the upside and the down of this new freedom: Tompall's rowdy, raunchy "Put Another Log On The Fire (The Male Chauvinist's National Anthem)" and the scary "Texas Law Sez" were early outlaw high points -- these are accompanied here by decidely lesser recordings, such as his drunken versions of "T For Texas" and "The Wild Side Of Life," which are a nice nod to tradition, but a little sad to listen to now. All in all, though, a great collection, revealing an important missing link between the old Nashville Sound and the new vigorousness that the freaks brought into the mix. Plus, there's thankfully very little overlap between this disc and the Bear Family collection reviewed below...
Tompall Glaser "The Outlaw" (Bear Family, 1992)


What, exactly, constitutes an "outlaw" country record? A willingness to get drunk and/or stoned while recording, or a devotion to old-fashioned hillbilly tunes, when the rest of Nashville is going pop? In the 1970s, Tompall Glaser of the Glaser Brothers, possessed of modest vocal talent but a long track record as a sideman and a flash of stardom early in the decade, set up shop with his own production studio, Hillbilly Central, and played host to Waylon and Willie and the boys, and puffed a few as he recorded an album or two of his own. The thump of the bass is there, but for the most his perfromances on these songs are a bit lackluster; a pity, since there's some really interesting material to be heard, songs by Bill Chapell, Mickey Newbury, Jesse Colter and Bobby Charles, and other semi-marginal figures. An interesting footnote to both Glaser's commercial career and to the '70s "outlaw" scene, but ultimately -- as Glaser himself says in the liner notes -- not music you'd go back and listen to often. (Ironic note: Jimmy Bowen, who helped sculpt the sound of country pop in the '80s, came in to produce Glaser's first solo album on the ABC label, in 1977 -- one of Bowen's first big gigs in Nashville! )
Tompall Glaser "The Rogue" (Bear Family, 1992)

Tompall Glaser "My Notorious Youth" (Bear Family, 2006)

Tompall & The Glaser Brothers "Lovin' Her Was Easier (1981)/After All These Years (1982)" (Collector's Choice, 2006)


A welcome reissue of two long out-of-print albums, 1981's Lovin' Her Was Easier and After All These Years, from 1982 -- the last two albums from this on again/off again brother act. In the late 1960s, the Glaser Brothers emerged out from the shadows of their various benefactors -- Marty Robbins, Johnny Cash -- and became a reasonably successful working band. Things fragmented in the early 'Seventies and each brother went his own way, with Tompall Glaser becoming an icon of the shambling "outlaw" country scene. These records came out after years of individually muddling along, until finally the time seemed right for the trio to reunite. Their version of Kris Kristofferson's "Lovin' Her Was Easier" was a surprise hit in '81, and led to the group's first full album in nearly a decade. It's a nice record, filled with covers of numerous old country standards, songs like "Busted," "Mansion On A Hill," a cover of Tom Paxton's "Last Thing On My Mind," and a tune or two from Tompall's solo years. Shorn of the outlaw posturing and the countrypolitan pretense of their earlier work, the Glasers delivered a nice, low-key set of straightforward country ballads -- and Tompall's vocal likeness to his onetime boss, Marty Robbins, was never more apparent. The followup record was the group's swansong -- it barely dented the charts, and they went splitsville again not long after it came out. But it's a nice record, too, of a piece with the first, even though the songs were of a more recent vintage. This disc is certainly worth checking out if you like country harmony songing, and songs sung simply and straight from the heart -- not the greatest stuff ever, but still pretty darn nice.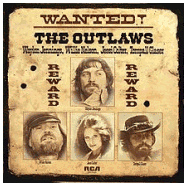 Tompall Glaser/Various Artists "Wanted: The Outlaws" (RCA, 1976)



Great record, and a touchstone of '70s country. Although this chart-topping country/pop crossover was mostly a showcase for Waylon, Willie and Jessi Colter, Tompall got his licks in, too. His infamous ode to the healing power of sexism, "Put Another Log On The Fire," was a tongue-in-cheek novelty song considered so reactionary there were actually boycotts organized against radio stations that played it... Now there's an outlaw country song for you! (Though for some reason, "Put Another Log" keeps getting left off the album's varous reissues... not sure whether that's because of copyright issues or because of the content, but sometimes it's there, sometimes it's not. Currently, it's not... sorry!) Lots of other great songs on here, too, including the chart-topper, "Good Hearted Woman," as well as "Suspicious Minds," a Waylon Jennings/Jessi Colter duet that hit #2, Waylon's "Hony Tonk Heroes" and Colter's "I'm Looking For Blue Eyes," Great stuff!!
Tompall & The Glaser Brothers "The Award Winners/Rings & Things" (Hux Records, 2012)


A twofer reissue with songs from 1971's Award Winners album and Rings And Things, from 1972.
Tompall & The Glaser Brothers "Greatest Hits" (MGM, 1974) (LP)

---
Discography - Albums
---
Tompall & The Glaser Brothers "This Land: Folk Songs By The Glaser Brothers" (Decca, 1960) (LP)

Tompall & The Glaser Brothers "Country Folks" (Vocalion, 1967) (LP)

Tompall & The Glaser Brothers "Tompall & The Glaser Brothers" (MGM, 1967)

Tompall & The Glaser Brothers "Through The Eyes Of Love" (MGM, 1968) (LP)

Tompall & The Glaser Brothers "The Wonderful World Of The Glaser Brothers" (MGM, 1968) (LP)

Tompall & The Glaser Brothers "Now Country" (MGM, 1969) (LP)

Tompall & The Glaser Brothers "...tick...tick...tick..." (Soundtrack) (MGM, 1970) (LP)

Tompall & The Glaser Brothers "The Award Winners" (MGM, 1971)

Tompall & The Glaser Brothers "Rings And Things" (MGM, 1972)





<! Tompall Glaser "Take The Singer With The Song" (Polydor, 1974) UK release >

Tompall Glaser "Charlie" (MGM, 1973) (LP)

Tompall & The Glaser Brothers "Vocal Group Of The Decade" (MGM, 1975) (LP)

Tompall Glaser "Tompall (Sings The Songs Of Shel Silverstein)" (MGM, 1975) (LP) <! several ASINs >

Tompall Glaser "The Great Tompall And His Outlaw Band" (MGM, 1976) (LP)

Tompall Glaser "...And His Outlaw Band" (ABC, 1977) (LP)

Tompall Glaser "The Wonder Of It All" (ABC, 1977) (LP)

Tompall & The Glaser Brothers "Lovin' Her Was Easier" (Elektra, 1981)

Tompall & The Glaser Brothers "After All These Years" (Elektra, 1982)

Tompall Glaser "Nights On The Borderline" (MCA-Dot, 1986) (LP)

Tompall Glaser "Outlaw To The Cross" (Clint Miller Music, 2007)

---
Links
---
---