<! MP3 04/16/09; 09/26/10 > <! outside 00/00/00 > <! pix 09/26/10 - added some, stored others > <! 208-pix: 00/00/00 > <! icons 04/09/11 > <! UPDATES: 04/16/09 07/30/14 - split tributes and best-ofs into separate pages >
---
Soulful and rugged, Texas native Waylon Jennings (1937-2002) tasted the sweet and bitter sides of fame only after decades of hard work breaking into -- and then out of -- Nashville's tender embrace. Jennings was the bass player for a late edition of rock pioneer Buddy Holly's band, The Crickets; he narrowly avoided dying in the same airplane crash that killed Holly when he gave up his seat on the plane to Holly's fellow headliner, The Big Bopper. Although shaken, Jennings forged ahead, and built up his own regional following in the Southwest, eventually coming to the attention of the label bigwigs back East. His contract with RCA-Nashville lasted nearly twenty years; by the end of his first decade with the label, Jennings had become dissatisfied with the label's narrow artistic vision and, like his future collaborator Willie Nelson, Waylon asserted full artistic control over his own work. The results were glorious: Waylon's 1970s records remain creative highlights of the so-called "outlaw" scene, defined by his uniquely soul-drenched vocals and bluesy arrangements, and the loose, laidback power of his backing bands. He was also a huge commercial success, topping the charts and touring like mad. Waylon's wife, Jessi Colter, also had considerable success throughout the decade. Although his star fell a bit in his later years, Jennings always kept his edge and his commanding artistic presence. His son, Shooter Jennings set out on his own career in the years after Waylon passed away, playing outlaw twang with a hefty dose of Southern rock.
---
Waylon Jennings: 1960-79 | 1980-On | Best-Ofs | Tributes & Links
---
Waylon Jennings "Phase One -- The Early Years: 1958-1964" (Hip-O, 2002)



An interesting, if sometimes underwhelming, set of Waylon Jennings rarities, recorded before he signed to RCA Records in 1965. This includes an early rock'n'roll single he recorded in 1958, under the guidance of fellow Texan Buddy Holly, whose last band Waylon was in for a short time, as well as several indie releases and singles made for A&M, just before RCA got wind of him. A lot of cover tunes, and some early stabs at the folk-country sound he would mine throughout the rest of the decade. Some of the material is flat, some of it a little strained, but Waylon fans will still want to check it out, just to hear where it all began.
Waylon Jennings "Waylon Jennings At JD's" (1964)


More early recordings from Waylon's Arizona days, recorded live at a local honky-tonk called JD's... A nice glimpse into his deepest roots... Reissued on CD by Bear Family Records.
Waylon Jennings "Folk Country" (RCA, 1966)


On his major label debut, Waylon was saddled with the folk/country crossover concept that Nashville had been toying with throughout the 'Sixties (a belated effort to coopt the commercial success of the college-coffeehouse folk scene...) Despite the iffy musical premise, this album is really quite nice, with Waylon's powerful musical presence bursting through past the sometimes-stuffy studio sound. What's amazing is how completely the elements that would define his style are already in place: most of all, there's that voice, the rich, smoky, world-weary growl that was his trademark, sounding just like it would through the rest of his career. His curlicued, bluesy guitar style is also mostly fully formed, drifting to the foreground on several songs. And even with the "folk" elements, this is a pretty compelling record, particilarly on songs like his cover of Carl Belew's "Stop The World And Let Me Off," where a brash, twangy, Buck Owens-styled lead guitar whomps your ears into submission. Waylon contributes a couple of songs to the album (including his version on the folk song "Man Of Constant Sorrow") and covers several songs each by songwriters Don Bowman and Harlan Howard. This might not be the best Waylon Jennings album ever, but it's still pretty darn fun to listen to... Recommended.




Waylon Jennings "Leavin' Town" (RCA, 1966)



<! LP - B003XX9YLM >
Waylon Jennings "Nashville Rebel" (Soundtrack) (RCA, 1966) (LP)


The soundtrack to a countrysploitation film that starred Waylon himself... in a big way! Nashville was still trying how to best to use Jenning's considerable charisma, but his star quality was already easy to see.
Waylon Jennings "Waylon Sings Ol' Harlan" (RCA, 1967)


A tribute to fabled Nashville songwriter Harlan Howard, who is seen posing with Waylon on the cover... I'm not sure if Howard plays on this album as well, but it sure is a cool early work from ol' Waylon.


<! 09/10: GIF is a little funky >
Waylon Jennings "Love Of The Common People" (RCA, 1967)



(Produced by Chet Atkins)
The "folk" angle got mined pretty deeply on this one, generally not to great effect. The sunshine-y, popped-up Nashville arrangements are both too tame and too outlandish, with one almost-but-not-quite moment after another. Some stuff is okay -- the title track (which cracked into the lower rungs of the Top 100) sounds like the hep country-soul that Charlie Rich was laying down for the Smash label around the same time, and a few tunes, like "Destiny's Child" and the last song, "Two Streaks Of Steel," are nice. There are only a couple of outright duds, notably the leaden, shaky cover of the Beatles' "You've Got To Hide Your Love Away." This isn't actually a bad album, it's just that it wasn't the right style for Waylon, and isn't as good as it should have been. Still, it's an interesting time capsule, and worth checking out, regardless.
Waylon Jennings "The One And Only" (RCA, 1967)





<! twofer - B0002199IG (w/ "Heartaches By The Number") >

Waylon Jennings "Hangin' On" (RCA, 1968)





<! twofer - B002Q9MZN8 (w/ "Love Of The Common People") >

Waylon Jennings "Only The Greatest" (RCA, 1968)

Waylon Jennings "Jewels" (RCA, 1968)
(Produced by Chet Atkins)
Nice record... there are some interesting arrangements and textured production touches that suit Waylon well. There's a gogo-delic feel to the album's opener. "New York City, RFD," and subtle bluesy curliques in the songs that follow.... Then slowly but surely, Waylon sneaks up on you with some great vocals and produces several surprisingly resonant songs, notably "If You Were Mine To Lose," "You Love The Ground I Walk On," and the fuzzed-out Jennings original, "Six Strings Away." There's an interesting photo on the back cover of a grumpy Chet Atkins sitting behind the studio console, with a somewhat vexed Waylon sitting next to him... I'm not sure, but I get the sense that this might have been one of those records where Waylon was pushing for creative control... If so -- bravo: well done. This isn't a classic, but it certainly has a lot of very satisfying, sadly underrated, little-known material. Them fellers at the big record company might wanna take a second look at this set, and put it back out so more folks can hear it... It's cool.
Waylon Jennings "Just To Satisfy You" (RCA, 1969)
(Produced by Chet Atkins & Felton Jarvis)
Although it kicks off with a wild electric guitar riff, this is yet another "folk" album, a bit on the slow side and not much like his classic work of the "outlaw" era. The arrangements on the first few tune get a little garish and baroque at times, and Waylon's vocals sound kind of strained, as if he was chafing at the bit, trying to get something to happen; it doesn't work. Then things start to settle down, and as the record takes on a more sedate tone, Waylon ekes out a few fine performances. Anita Carter sings two duets and, though they don't list him on the credits, I'm pretty sure that's Bobby Bare singing along on an oddly tame version of "Sing The Blues To Daddy." It also sounds like Chet Atkins was pickin' the guitar on a tune or two. Notable songs: "Farewell Party" (which would make a nice segue with Irene Kelly's "A Little Bluer Than That") and the similarly doleful "I Lost Me" and "I've Been Needing Someone Like You." The Anita Carter duets are also kind of nice, and the upbeat closer, "Straighten My Mind," is kind of interesting. The title track was co-written with Don Bowman, and was re-recorded later by Waylon, notably in a chart-topping single sung with Willie Nelson in 1982. The version here is pretty tame, however, like most of the other tracks on the album. Not the greatest, but it has its moments.


<! LP - B002CHBPQC > <! GIF - close cropped >

Waylon Jennings & The Kimberlys "Country Folk" (RCA, 1969)








Waylon Jennings "Waylon" (RCA, 1970)



<! Tracks: Brown Eyed Handsome Man; Just Across The Way; Don't Play The Game; Shutting Out The Light; I May Never Pass This Way Again; The 33rd Of August; Yellow Haired Woman; Where Love Has Died; All Of Me Belongs To You; Yes Virginia; This Time Tomorrow I'll Be Gone - 01-70 >

Waylon Jennings "Don't Think Twice" (A&M, 1970)



<! B00006LET4 - CD? or cheapo reissue of other material? >
Waylon Jennings "Singer Of Sad Songs" (RCA, 1970)
(Produced by Lee Hazelwood)
Legendary pop-folk producer Lee Hazelwood gives this album a somewhat pedestrian feel, recycling various studio motifs from years gone by -- the isolated trap drum, the perky fuzz guitar, etc. Although the mix is relatively sparse, the pacing and tone don't leave many empty spaces for Waylon's voice to resonate; this album seems perfunctory and glib, with most of the action happening on the surface and with far less depth than Waylon's usual offerings. It all feels kind of phoned in... There's nothing on here that I would play on the radio, even stuff like the folked-up cover of the Rolling Stones' "Honky Tonk Woman" (which could have been a great moment in country history!) This is skippable.
Waylon Jennings "The Taker/Tulsa" (RCA, 1971)

Waylon Jennings "Cedartown, Georgia" (RCA, 1971)

Waylon Jennings "Good Hearted Woman" (RCA, 1972)

Waylon Jennings "Heartaches By The Numbers" (RCA-Camden, 1972)


A Camden budget reissue, mainly featuring tracks from Waylon's 1967 Harlan Howard tribute, and a few other tracks thrown in for good measure.


<! B000778JJ0 ? >

Waylon Jennings "Ladies Love Outlaws" (RCA, 1972)

Waylon Jennings "Ruby, Don't Take Your Love To Town" (RCA, 1973)

Waylon Jennings "Lonesome, On'ry and Mean" (RCA, 1973)



(Produced by Danny Davis, Waylon Jennings & Ronny Light)
The classic "outlaw" sound has really fallen into place here, although along with the gold, there's a little tin. There are a pair of stone cold classics on here, the title track and "Just Pretend I Never Happened," which both regularly make it onto best-of sets... There are also plenty of nuggets worth mining for, such as his smouldering, soulful readings of Danny O'Keefe's "Good Time Charlie's Got The Blues" (which doesn't quite hit the same heights as the original) and Mickey Newbury's "Frisco Mabel Joy" (which is quite good). There are also a few misses, notably his bombastic cover of the rock-soul oldie, "You Can Have Her," where Waylon's playful, off-meter shoutin' and hollerin' in front of a large, bright vocal chorus sounds a lot like what is was: some guy who was really too stoned in the studio, lettin' the tape roll along with all the doobies. It's worth noting that all the best, simplest tracks on here were the ones that Waylon produced himself and the iffier ones were done by the Nashville fellas. All in all, though, this is a great record. Ya gotta check this one out if you want to know what Waylon was ll about.
Waylon Jennings "Honky Tonk Heroes" (RCA, 1973)


Waylon Jennings "Only Daddy That'll Walk The Line" (RCA-Camden, 1974)
A best-of sampler set with older stuff and singles...
Waylon Jennings "This Time" (RCA, 1974)



Although many of these excellent songs on this album are staples of Waylon best-ofs, this is an album that deserves to be owned in its own right. It's one of Waylon's strongest, bluesiest efforts of the '70s, full of the kind of downtempo crooning that was uniquely Jennings's forte. He was just such a soulful singer, with such a great band... and this is him at his peak. Highly recommended.
Waylon Jennings "The Ramblin' Man" (RCA, 1974)



If you're looking for some of Waylon's lesser-known gems, this is a great album to pick up... Oh, sure -- it's got the catchy, loping title track, as well as Bob McDill's "Amanda" (one of my all-time favorite Waylon songs!) and the equally fab "Rainy Day Woman," but otherwise these are all tunes that never make it onto the best-of collections, despite being as rich and emotionally resonant as anything Waylon's ever done. Really, this is Waylon at his peak -- the guy was on fire, and every song's a winner. Tracks like "Cloudy Days" and "I Can't Keep My Hands Off Of You" are standouts; the album as a whole is a great meditation on middle age creeping into the life of an inveterate carouser. BMG's year 2000 CD reissue includes several "new" bonus tracks, each of equal calibre to the material on the original disc -- it's well worth tracking down!
Waylon Jennings "Dreaming My Dreams" (RCA, 1975)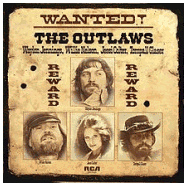 Waylon Jennings/Various Artists "Wanted: The Outlaws" (RCA, 1976)



Great record, and a touchstone of '70s country. Waylon and Willie, Jessi Colter, Tompall Glaser and other joined forces on this best-selling celebration of the "outlaw" movement -- signifying both a marketing gimmick and a seismic shift in the country music landscape. When Jennings and Nelson left Nashville and took their songs with them, giving a one-finger salute to Music City, they opened new doors for new artists who wanted to break out of the confines of the studio system. They also provided a creative critical mass for the nascent indie scene in Texas, where a generation of alt-country pioneers was waiting in the wings. Not coincidentally, when this album went mega-ultra-platinum (topping the Country charts and crossing over into the Pop music Top 10) Waylon and Willie also make a mint and cemented their places in the country music firmament. Lots of great songs on here, including the chart-topping hit, "Good Hearted Woman," and "Suspicious Minds," a Waylon Jennings/Jessi Colter duet that hit #2. Also included is Colter's "I'm Looking For Blue Eyes," Waylon's "Hony Tonk Heroes" and -- of course -- Tompall Glaser's infamous ode to the healing power of sexism, "Put Another Log On The Fire," a tongue-in-cheek novelty song considered so reactionary there were actually boycotts organized against radio stations that played it... Now there's an outlaw country song for you! (Though for some reason, "Put Another Log" keeps getting left off the album... not sure whether that's because of copyright issues or because of the content, but sometimes it's there, sometimes it's not. Currently, it's not... sorry!)
Waylon Jennings "Are You Ready For The Country" (RCA, 1976)






<! (Re-released on CD along with "What Goes Around Comes Around.") B00008XRTL >

Waylon Jennings "The Dark Side Of Fame" (RCA, 1976)
(A reissue of The One and Only.)



Waylon Jennings "Waylon Live" (RCA, 1977)


Waylon Jennings "Waylon Live (Expanded Version)" (RCA, 1977/2003)


Waylon Jennings "Ol' Waylon" (RCA, 1977)


Waylon Jennings & Willie Nelson "Waylon And Willie" (RCA, 1978)



It's hard to imagine how great it must have been to the scruffy proto-alt.country movement of the '70s having Willie and Waylon doing their "outlaw" trip, and acting as bad-boy icons for the whole scene. The two banded together after the Outlaws album and became a sort of a brand name, with this album being the high point of their collaboration. It's jam-packed with great material such as "Mammas Don't Let Your Babies Grow Up To Be Cowboys," "Wurlitzer Prize," "I Can Get Off On You," and a reprise of "Pick Up The Tempo," which was kind of like Waylon's anthem by that time. Great album. One of the must-haves for the '70s country fan.
Waylon Jennings "I've Always Been Crazy" (RCA, 1978)


Waylon Jennings "What Goes Around Comes Around" (RCA, 1979)


(Re-released on CD along with Are You Ready For The Country.)
---
Waylon Jennings: 1960-79 | 1980-On | Best-Ofs | Tributes & Links
---
---